SEO Optimization Strategy for Large Travel Ticketing Website
The main task of digital marketing and SEO services for a large website is constant traffic, sales, and business growth. This task gets complicated because most of the market segments are occupied by large players. It takes a lot of work and investment to become the leader in your niche.
What will help a big website in the travel industry grow?
If you want to succeed as fast as possible, draw up the right SEO optimization strategy for a large travel ticketing website. Hence, our team always evaluates urgent tasks to be done in the first place and those which can be postponed.
We believe that Pareto's principle works in any business, and 80% of outcomes result from 20% of all causes.
This case study about SEO for a large travel ticketing website will tell you how to choose the right solutions to grow both traffic and business profit for a travel company.
The result is a 180% increase in organic traffic.

How did we manage to achieve this result in travel SEO? Keep reading to find out.
Site peculiarities and problems
An extensive website has hundreds of thousands of pages.

The region — all countries of Southeast Asia.

There was competition with the ticket carriers' branded sites, large aggregators, and special search engine segments — for example, Google Flights for

airline

tickets.

There could be a risk of losing current indicators connected with incorrect changes on individual pages or the site.

Constantly changing search results.
Technical difficulties
One of the main problems is that such sites are technically complex, and we faced two main issues:
1.A lack of developers who can work with such volumes of information.
NB: the client has in-house developers, but they are loaded with the product itself and didn't have time for SEO tasks.
2.A long and labor-intensive process.
Since the site is large and multifunctional, each implementation took up many resources and, what is important, could lead to new technical problems.
Considering this fact, we set a regular task to check up on new critical errors.
Problems of SEO for Large Sites
There are other issues that appear within SEO optimization for a large website:
Full and partial page duplicates,

A lot of low-quality pages,

Complex website;

Possible issues with indexing;

Too deep page nesting.
Negative experience with a previous contractor
The endless semantic core collection is a common mistake of SEO for a travel ticketing website. The work can extend over months or even years, bringing no significant results. What is more, the company's budget gets wasted. Having such an unpleasant experience with the previous contractor, the client decided to work with Livepage, and it paid off.
Digital Marketing Strategy for Traveling Ticket Service
The main feature of SEO for a large website is working with numerous pages. The result depends on the approach to the task. First, this refers to the site's technical issues as critical errors often postpone the moment when you see the first results. We decided to get the fastest visible result requiring minimal changes to the site.
The main tasks:
Analysis of the niche, current and possible competitors;

Full technical analysis of the site and elimination of critical errors;

Defining page types to work with many URLs at once;

Choosing the priority pages for in-depth

SEO optimization for a travel ticketing website

.
Focus on solutions to get fast results
As mentioned above, we focus on 20% of the tasks that bring 80% of the result. Based on our experience with SEO for travel ticketing services, we made a plan:
Work with low-quality pages;

Expand the site structure with standard pages;

Add interlinking;

Improve user experience.
Below you will find how we implemented each of the points and what results we achieved.
Removing duplicate content
Making site pages unique is one of the key points in site optimization. In the case of a large site with thousands of pages, the right solution is to prepare template recommendations for each particular page type. Using variables in template recommendations, you can quickly and efficiently influence the quality of digital marketing for a large travel ticketing website and the SEO performance of many website pages. Therefore, this task was of the utmost priority during our cooperation.
Optimizing destination pages
According to Google, one of the main reasons that caused multiple page duplication was destination pages. For example, the "Hong Kong → Bangkok" direction page and the reverse "Bangkok → Hong Kong" one. However, these are two different pages that solve different problems of a potential client.
These pages contained little unique content, so the search engine considered them duplicates. We marked the problem as a priority and started preparing the terms of reference.
Optimizing transport pages
We found out that the content on the main pages of the routes was duplicated on the pages of modes of transport (train, bus, flight, taxi, etc.). To solve the issue, we started writing unique content for some transport types pages. But this process could drag on indefinitely due to the vast number of such pages. Therefore, we decided to remove duplicate content from the transport type pages so that the main directions pages become unique and the site's ranking was improved. Finally, we filled the transport type pages with unique content.
The Way to Optimize Ticket Site Pages
Create metadata template;

Create a dynamic placeholder.
NB! We must not forget that the content must provide the user with a useful source of information to evoke interest and help choose a ticket for booking.
In the tourism business, this can be:
Advice on choosing the best transport,

Advice on choosing a carrier,

Recommendations on how to find the best price,

Information on the number of trips per day,

The fastest, most popular and comfortable flights,

Departure station,

Departure time,

The distance between cities,

Travel time, etc.
The pages will be similar in content, but it doesn't matter much due to their usefulness and quality.
Pro tip: another way to diversify each page type's content is to swap the text template paragraphs. This also applies to other content elements.
An example of writing a template
How to get from $Point A to Point B by $transport_type
$Point A to Point B each offer something different to travelers, $Point A with its stunning beaches and $Point B with the world's most exciting theme parks. What's even better is that it's easy to get from $Point A to Point B by $transport_type in just a few hours, making the bus a viable low-stress alternative to flying!
The result of solving duplicate content issues
Right after we'd implemented the changes, the client noticed a traffic and profit rise. You can see this point in the graph below:

We can't claim that it was only removing the duplicate content that influenced the traffic as we carried out several key tasks simultaneously. However, it is the set of correctly implemented tasks that led to such a result.
Improving Interlinking
When your site has millions of links that lead to each other within your site, ensure that the highest priority pages get the most mentions. Therefore, it is vital to study the internal linking of the entire site to understand the current situation and formulate ​​the tasks for SEM for a ticketing website.
The scope at the start of interlinking optimization
Using JetOctopus — a special tool for analyzing the site — we got a full picture of the site's interlinking and saw how to improve it. The main mistake was that some of the most ineffective pages (in terms of business) had the maximum link juice.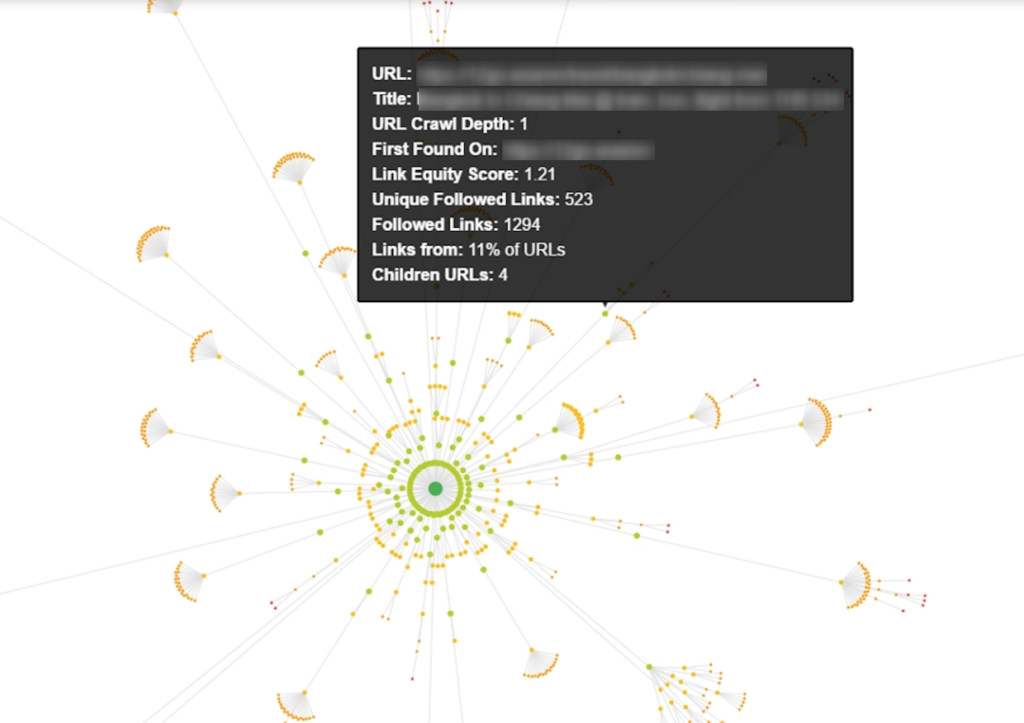 At the same time, the high-converting pages got a minimum of internal links. As you can see in the screenshot below, one of the top business pages gets only 11% of links.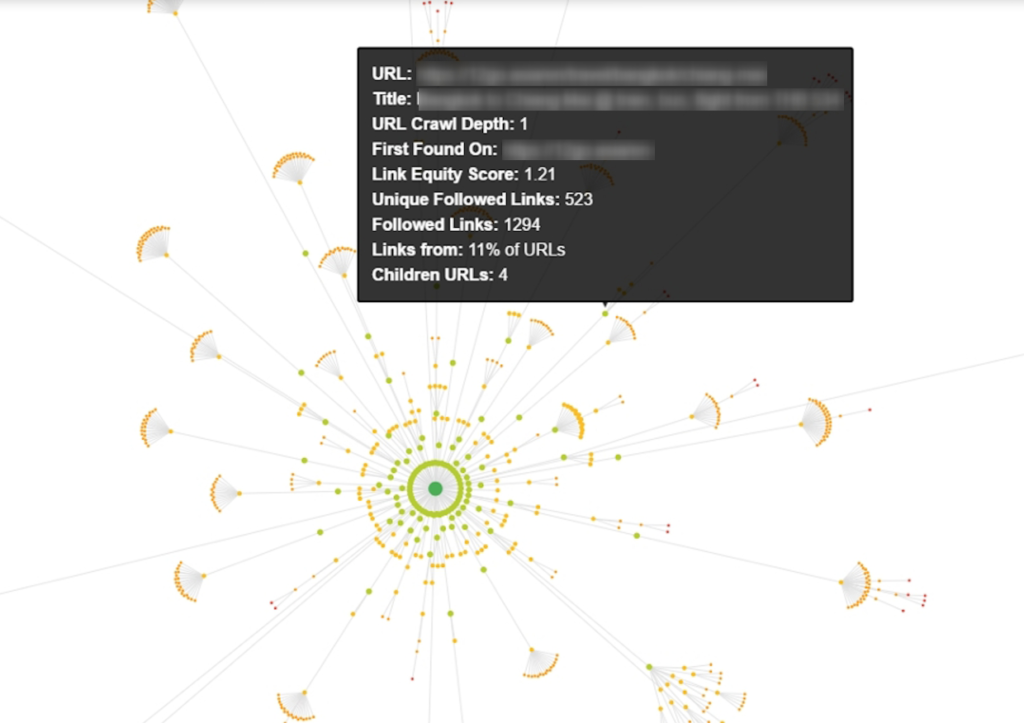 In some cases, important pages were hardly ever mentioned on the site.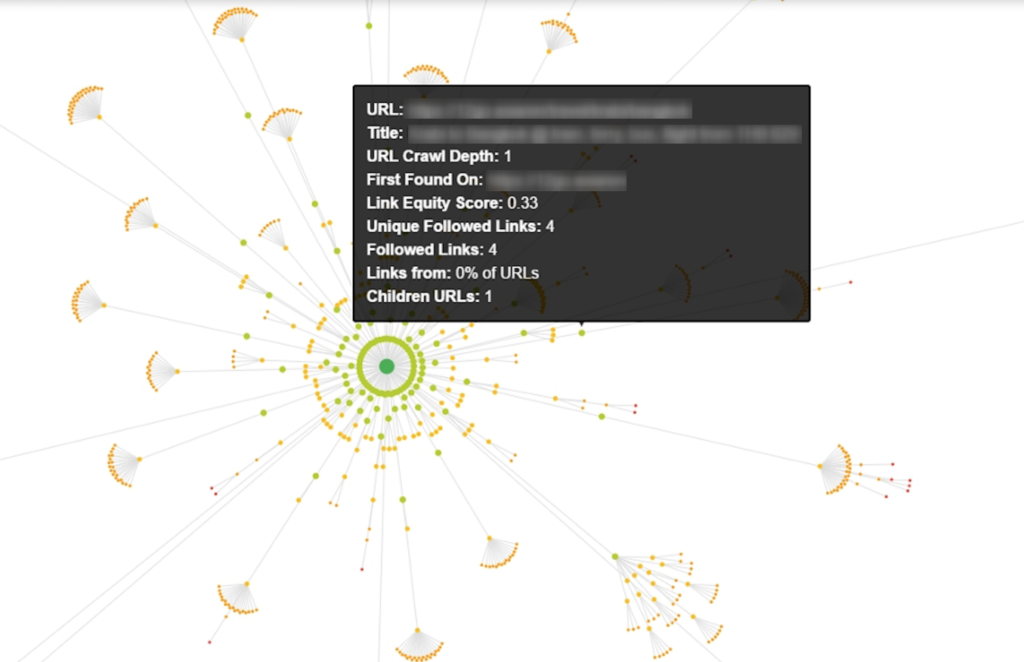 The analysis allowed us to identify the tasks for internal linking optimization. Thus, we directed the link juice to the most profitable pages for the website of the travel agency.
The main tasks included:
Boosting the direction pages that convert,

Creation of catalog pages for each country,

Removing links to ineffective pages,

Optimization of station pages.
Below we'll show how each task benefited the client business within SEM services for a ticketing website.
Destination pages
The city destination pages are the main conversion pages on the site that bring the most profit.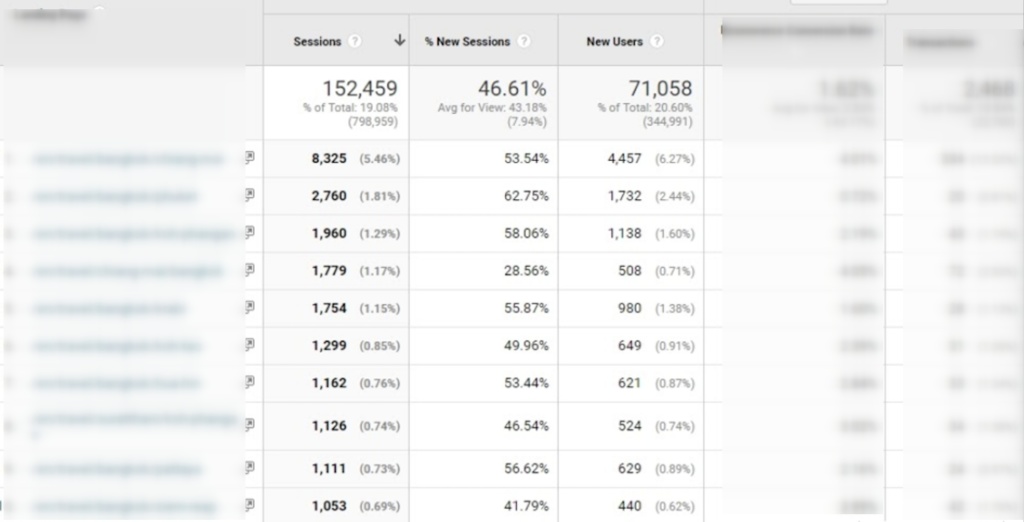 Therefore, to increase the internal link juice, we decided to:
Add links of popular countries to the main page of the site; for example, we added a block with the main destinations in Thailand;

Interlink the blocks with each other.
Interlinking the route pages with each other
We interlinked the priority route pages (e.g., Point A → Point B) using specially created blocks with links to routes "from the city" and "to the city".
Below is an example of the Bangkok → Chiang Mai route page:
Block 1
Top 5 destinations from this city for the first city;
Top 5 destinations to this city for the first city.
From Bangkok
To Bangkok
Bangkok → Koh Phangan

 

Bangkok → Koh Tao

Bangkok → Ranong

Bangkok → Chumphon

Bangkok → Krabi

From Phuket → Bangkok

 

From Krabi → Bangkok

From Chiang Mai → Bangkok

From Chumphon → Bangkok

From Bangkok → Pattaya
NB! We didn't include the main direction of the page (Bangkok → Chiang Mai) in this block as it makes no sense to interlink the page with itself.
Block 2
Top 5 destinations from this city for the second city;
Top 5 destinations to this city for the second city.
From Chiang Mai
To Chiang Mai
Chiang Mai → Bangkok

 

Chiang Mai → Koh Phangan

Chiang Mai → Koh Tao

Chiang Mai → Ranong

Chiang Mai→ Chumphon

From Phuket → Chiang Mai

 

From Krabi → Chiang Mai

From Bangkok → Chiang Mai

From Chumphon → Chiang Mai

From Bangkok → Chiang Mai
Block 3
We collected ten links to top destinations in this country (here, Thailand).
Popular routes in Thailand
Bangkok → Pattaya

 

Bangkok → Hua Hin

Bangkok → Suratthani

Krabi → Suratthani

Bangkok → Hat Yai

Phuket → Koh Samui

Suratthani → Krabi

Koh Phangan → Suratthani

Koh Samui → Suratthani

Koh Lipe → Pak Bara
When we added this block to the site, the link juice got distributed between the site's priority pages. It also allowed to improve the ranking of queries in Google, as well as simplify the indexing and re-indexing of the site as a whole.
Next step in the internal linking strategy
To make the priority pages rank better in search results, you need to ensure all the site links contribute to it. When optimizing internal linking, we need to refer to the important pages as much as possible, leaving minimum references for the secondary pages. It makes no sense to transfer value to pages that are not particularly useful for users and don't generate income for the client.
Such pages include:
Travel pages;

Block with links to news;

Links to station pages.
Travel pages
Travel guide pages include:
Country reviews and transport recommendations to get around;

Brief information about the main cities of these countries;

Advice on where to go and what to see;
As a result of site analysis, we concluded that these pages are not very effective for business.
| | | |
| --- | --- | --- |
| Country | Visits per month | % of total traffic |
| Thailand | 1949 in total for all pages with the URL /en/thailand | 0.24% |
| Vietnam | 849 in total for all pages with the URL /en/vietnam | 0.11% |
| Malaysia | 81 in total for all pages with the URL /en/malaysia | 0.01% |
| ect. | etc. | etc. |
The travel guide page data from Google Analytics
All the pages account for about 0.5% of the total website traffic. However, the problem is not that these pages have few visits. The links to these pages were sitewide links in the main menu; thus, users saw them on every page. This means that the site's link juice worked for pages that did not bring even 1% of traffic in total. Hence, we recommended removing these pages from the main menu.
The news section
Users could find a block with some news about a country almost everywhere on the site. However, sometimes news was irrelevant, very old (articles of 2014–2016), and generally pointless. Besides, the news links were at the very bottom of the pages, where 99.9% of users would never see them. Therefore, we decided to remove this block.
Station pages
Our client thought that station pages were non-conversion and ineffective.
Station pages contained:
A map with the

location

of the current station,

A list of links from 'current station' to 'arrival station',

Departure/arrival time.
Therefore, initially, the pages were closed from indexing by search engines using <meta name="robots" content="noindex" />. Nevertheless, the links to these pages decreased the juice of all the pages where they were posted. This is especially critical for priority landing pages (routes).
Having analyzed the search results, the competitors, and the semantic core, we decided to remove the noindex tag. As a result, Google Analytics showed that, even with no changes, these pages began to attract users from search results through the organic channel.

Why it is worth indexing these pages:
These are conversion pages,

These pages can generate search traffic,

Users need them,

They are not identical but have a similar structure (the same with the Point A → Point B pages),

A big number of such pages isn't a problem if they are unique (primarily for users).
Now, the developers are working on a technical task for optimizing these pages, namely:
Template metadata;

Crosslinking;

Optimizing subheadings for the page;

General UX recommendations.
Category Pages for Each Country
We offered to create category pages for each country to better distribute the internal link juice to the profitable pages. Also, we decided to place sitewide links in the header or footer of the site.
It is worth mentioning that we didn't plan to include any keywords on these pages as there were no keywords. However, if there are no requests now, it doesn't mean that the site won't collect them if such pages are created. The practice has shown that users visit these pages via "brand + country" queries.
What we did:
We created country pages and placed links to them in the sitewide header menu.

On these pages, we displayed the top 10 directions (and more for large cities), which are very important for marketing in general.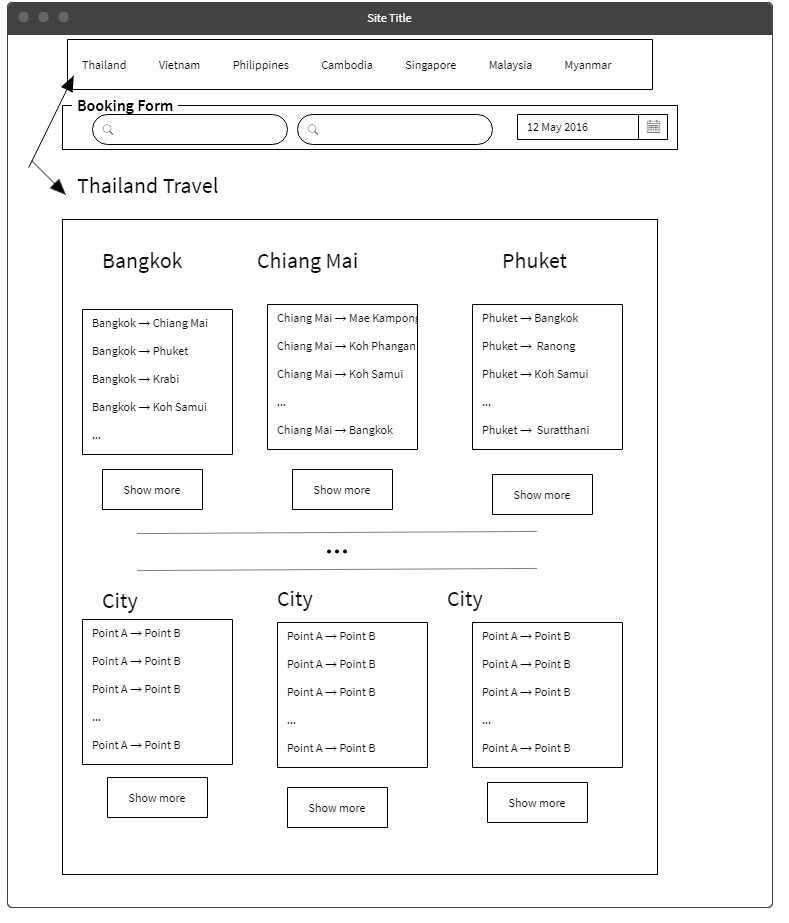 Thanks to this, our priority pages receive the maximum link juice within the entire site. Besides, it also led to improving ranking factors.
Improving User Experience
An equally important aspect of digital marketing strategy was the work on improving user experience. Before we introduced the changes, the impressions and emotions from the interaction with the service were at a reasonably low level.
The main issues were:
Numerous empty reviews;

The departure timetable design.
Working with reviews
The site had many empty reviews that were of no value either to users or to the search engine. We recommended removing such reviews and displaying only relatively new reviews (not older than 12 months) as earlier reviews will unlikely be useful to the users.
Timetable creation
The analysis of competitors, niches, and related areas allowed us to find another element to improve user experience — timetables for each direction.
Such a solution made the directions pages more unique and useful — now, each visitor could see available tickets from point A to point B, and find out the schedule and carriers' fare.
Peculiarities of Link Building for Large Sites
For large sites, link building is one of the most expensive things as there are many priority pages requiring thousands of backlinks.
The main problems we faced:
Limited budget for buying links,

Travel websites are very expensive (even the low-ranked ones).
Thus, we had to use the reference resource wisely. We've chosen the 'less is more' strategy, refusing numerous backlinks from rather dubious sites.
Even though Google says that there are no automatic sanctions for low-quality links (it just does not consider them), why tempt fate by risking the site's positions and the business? Besides, the effectiveness of such backlinks is highly questionable.
How to get the most out of your links on a tight budget
In our case, an effective way was to get references to the most conversion (lead-generating) pages (pages of directions between cities).
We created a list of pages that were considered the most conversion according to analytics. Based on this list and the Google Search Console for webmasters, we made an anchor list for these pages.
The strategy was to find keywords that already were in the top 10 (but in 4th–10th places) and use links to promote them to the top 3. After all, if a query goes up in search results from top 10 to top 3, it is much more profitable in terms of traffic and business than if we did the same from the 30th position to the 20th.
Below is an example of queries on one of the site's conversion pages, which are perfect for implementing a link-building strategy.

The strategy result:



There are traffic peaks due to the seasonality of this direction (rainy season).

Results of SEO strategy
Prior to the COVID-19 pandemic, organic traffic grew by 180%.



At the same time, there was a 288% increase in the number of conversions and a 278% increase in income.

Yet, it's not the limit. There is still growth potential, and if the client follows the planned SEO strategy for a travel ticketing website, the results can be improved significantly.
The traffic during the pandemic and now: growth after the fall
Unfortunately, now, we've suspended the project due to the COVID-19 pandemic. As with all sites from the niche, the pandemic had a disastrous effect decreasing the site users and, correspondingly, income.

As you can see from the graph above, starting in mid-January 2020, traffic began to decrease gradually, resulting in a sharp drop in March. Over the past four months, the traffic has been growing but slow due to the pandemic.

Things to consider
The pandemic will end sooner or later, everything will return to its usual rhythm, and people will begin to travel again. Therefore, even at times like this, you shouldn't completely abandon digital marketing and continue to work on the site's quality and its visibility in the search engine, at least by yourself. Thus, after the pandemic ends, you'll easily make up for lost opportunities in the form of users and income and leave your competitors behind.
Conclusion
The most important thing is to correctly prioritize tasks when working with sites with hundreds of thousands and millions of pages.
First, focus on changes that will immediately modify many pages and positively affect their search engine ranking.
It can be:
Technical

SEO services for a large travel ticketing website

;

Preparation of template metatags for typical site pages;

Adding linking blocks between priority pages and others.
After that, you can improve the individual pages of the site to get to the top. Don't forget to make a technical SEO audit. This is very important because even a minor mistake made by a developer can become very critical for an entire business's digital marketing.
Still have questions?
Leave a request, and our team will answer your questions and provide you with effective and advanced SEO services for the travel ticketing website.