SEO Optimization and Digital Marketing Strategy for Tech Company
Every business faces a moment when they need extra customer acquisition channels to reach a new level.
In this sense, Tech companies are no exception. Here, digital marketing can potentially become the primary source of leads. However, the competition in the tech niche is extremely high.
What should you do in such a case? How to choose an effective digital marketing strategy to attract potential customers through search engines?
In this case study, we reveal how to get impressive results with the help of SEO services for a tech company if the marketing team understands the business specifics and the direction where it wants to grow.
The result:

During the work with Livepage, there was a +1,775% traffic growth due to powerful strategy and SEO for technology companies we've practiced for years.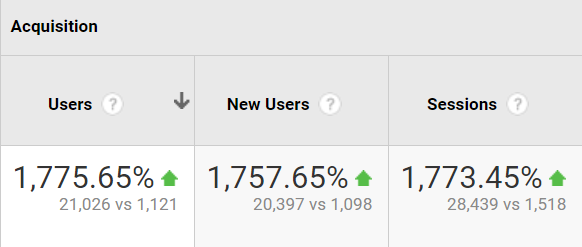 We managed to increase the number of users from 1,100 to 21,000 per month in 18 months. 
How did we achieve this result?
Read on in the blog post.
The client
Digiteum.com is a custom software development and IT consulting company based in Gdańsk, Poland.

For Digiteum, it was the first experience collaborating with a digital marketing agency. Before the cooperation, the client created the blog content without focusing on and analyzing its traffic potential. Predictably, such an approach could not bring the expected result, making the company seek professional help.
The client goals within the SEO for business growth:
to reach a steady increase in targeted traffic;

to receive inbound leads;

to get help in creating their digital marketing strategy.
Teamwork is a foundation for success
The synergy between the Digiteum and Livepage teams is one of the success factors of our collaboration.
Constant communication allowed each team member to clearly understand the goals and objectives of SEO optimization strategy for IT outsourcing company and how to achieve them.
Why is it important to choose a niche for tech digital marketing
When tech companies try to execute digital marketing themselves, one of the main challenges is selecting several key niches. Failing to do that leads to the content being published without a specific focus on any direction in SEO for tech business.
In this case, the correct and effective solution would be to choose 1 to 2 priority areas, launch content marketing, and create in-depth expert content on the selected topics. Besides, you can cover numerous queries from potential customers with this approach.
So we did just that at the start of the project.
We've communicated with the client about the company's experience, learned about their case studies and niche expertise, and analyzed competitors in search results. As a result, we've chosen IoT (Internet-of-Things) as the direction for digital marketing for the tech company.
During one year of work, the company wrote more than 40 blog posts to reveal its expertise in the IoT niche. We quickly took the top ranking for the main queries thanks to medium/low competition and low coverage of this topic on Google. What is more, we managed to get targeted traffic to the blog pages very fast.
As a result, we increased traffic, 2854 users per week (as of November 2020).

This isn't the only factor in the site's success but only a part of the overall digital marketing strategy that we chose for the business development.
Below we talk about the strategy implementation in detail.
Digital marketing strategy
As mentioned above, the fundamental part of this project was to determine the best directions to fully reveal the company's expertise via content marketing. Besides using our expertise in tech marketing and non-technical site optimization, we managed to create a strategy to obtain the results of SEO optimization for the tech company as fast as possible.
To achieve the goal, we chose the following tasks:
create niche content;

perform website technical optimization;

conduct a competitor analysis;

do link building.
Let's consider each of the tasks in more detail.
Creating niche content
Content marketing is one of the main tasks of search engine optimization for a tech company.
If you want to see traffic growth, it's necessary to publish new, relevant content regularly (4-5 articles per month). In our case, all articles were about IoT. It was difficult to analyze the traffic potential because the niche is relatively young, and there were few unique materials in the search results.
However, the well-coordinated work of the client's and Livepage teams saved the situation.
The client-side content marketer had a better understanding of the niche and the company's experience, so she suggested topics, and the Livepage SEO team analyzed their potential in SEM for the tech company.
Last but not least, creating a well-developed technical task for writing content is equally important. An article's competitiveness in search results will be minimal without a detailed semantic core and text structure.
Website technical optimization
Technical site optimization is a set of tasks that improve the content, design, and code structure to help search engines crawl and index pages.
If there are no critical errors in the site's work, other page optimization tasks can be performed more effectively.
We prepared recommendations for eliminating critical issues and monitored their implementation.
The main issues included:
Low website loading speed;

Low-quality pages in the search results;

Duplicate pages by metadata;

Closing test domains from indexing, etc.
After fixing the main problems, we continued to make technical audits of the website every month to detect new errors.
Competitor analysis
If you know your competitors and how they've achieved success in the ranking, you can apply their successful practices to your website. It also helps to plan future business development.
Therefore, we analyzed the client's main competitors in the search results before issuing recommendations for improving the site pages and implementing SEM services for the tech company.
How did the competitors get a high ranking?
We made several assumptions about improving on-page SEO optimization for the tech company and UX to increase page conversion based on competitors' analysis.
It's worth mentioning the importance of competitor analysis for creating a content plan.
You can create a content plan for your blog several months in advance if you understand which pages bring leads to the niche leaders. What is more, if you have already worked with such a business, you know which topics will bring leads.
Effective link building
Link building has always been one of the most essential and effective tasks in SEO and SEM for tech companies. This fact won't change in 2021.
Thanks to knowing the effectiveness of different types of links, as well as budget constraints, we chose the following strategy to build the link mass of the site:
Sponsored links;

Scholarship strategy.
Sponsored Links
Getting sponsored links from trust sites is currently one of the most effective link-building methods. The only drawback is their cost. The price starts from $200-250. Therefore, to get the most out of these links, you need to be smart about your buying strategy, especially about anchors and page types.
Having analyzed the project budget, we decided to buy five links per month for the priority site pages, in this case — the IoT pages.
Scholarship
The Scholarship strategy is a method of getting high quality .EDU links from university and government websites. To do this, you need to create a separate page for the Scholarship program on your website. It should contain:
Reasons for creating this Scholarship Program;

Conditions of the program;

Deadline (the last date for submission of an application);

Requirements for program participants;

How to apply;

How the winners are determined, etc.
After you've created the page, the link-building team collects the base of universities, colleges, and other educational institutions. Next comes the mailing on the collected base to receive links to our Scholarship page.
The main advantage of this link-building method is that you can get dozens of links from sites related to universities, including .EDU domains in a fairly short period. The cost of obtaining such a number of links is less than other types of placement. Also, the method does not require content generation, which reduces costs.
Check out our case study to learn more about one more effective digital marketing strategy for a tech company.
How to get traffic to service pages
It is believed that service pages of a Tech company website cannot receive traffic due to very high competition at the top of search results.
Is it true?
In fact, there is a chance to get a high ranking on the key queries of service pages. To achieve this, you need to provide the complete information on this service on a page. Besides, show your expertise in the direction, reinforcing your experience with additional factors to make users trust your company. Add case studies, testimonials, and additional materials to the topic of the page.
With all this in mind, we created landing pages for the primary company services. One of them is the Mobile App Development Services page.

We wouldn't have achieved such a result if the page had been created without the SEO tactic for tech companies prepared by the Livepage team. We collected recommendations on page design (information blocks, conversion forms, etc.) and SEO technologies recommendations (metadata, queries, content structure).
The page continues to improve its ranking in the search results to this day.
Below is the data from the tracking service for the main queries in comparison: May 2020 – December 2020.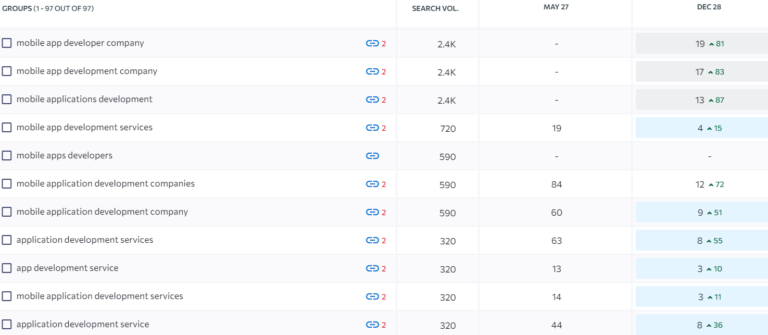 In the future, we plan to support and improve the ranking through additional optimization and the purchase of high-quality links from trust sites.
Company case studies for getting targeted traffic
Case studies are essential for converting a user into a customer. However, these pages can be more than a conversion element. Case studies can also become landing pages that can bring additional targeted traffic.
There were a lot of such pages on the client's site, so we couldn't ignore them in the process of digital marketing.
We created template recommendations to optimize the content on these pages.
As a result, we got the ranking growth and, accordingly, targeted traffic.

The case study "IoT Power Consumption Control and Monitoring" has become the most striking example of optimizing these page types.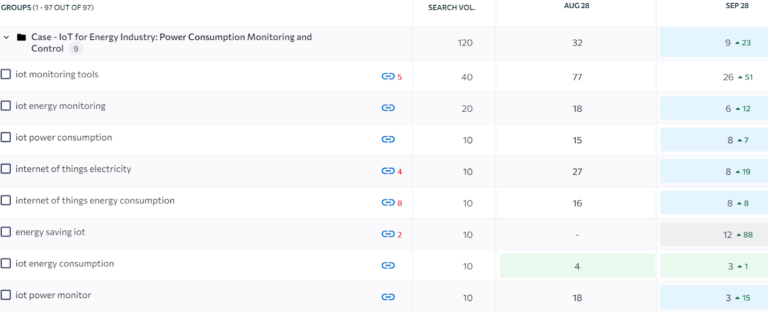 At the moment, the company constantly publishes new case studies. We prepare recommendations for their optimization (before publication) so that they can immediately get visibility in the search engine.
Result
During the work with Livepage, there was a +1,775% traffic growth.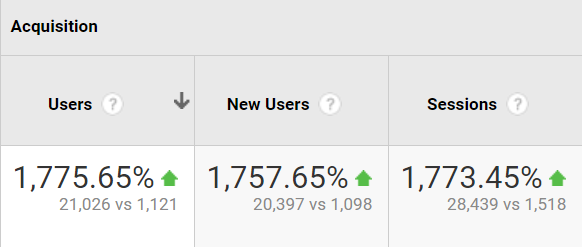 The average ranking has been consistently growing throughout the entire period of work on the project. This is the confirmation of the correctly chosen digital marketing strategy and powerful SEO for the tech company.
We are not going to stop. Shortly, we expect even more significant growth by priority pages.
Conclusion
When starting to promote any Tech company, it is vital to understand its features and uniqueness.
This case study is an excellent example of great results achieved with the right and effective SEO services for the tech company.
Check out our other case study of SEO for the software development company.
You shouldn't multitask trying to take over the world and generate a lot of content on various topics. Choose 1–2 niches in which the company is an expert, develop them, and build all content marketing around them.
Do you still have questions?
Leave a request, and our team will be happy to develop an effective digital marketing strategy for your site based on our experience in tech marketing.