Getsocio Case Study: 70 Times Organic Growth in Highly Competitive Niche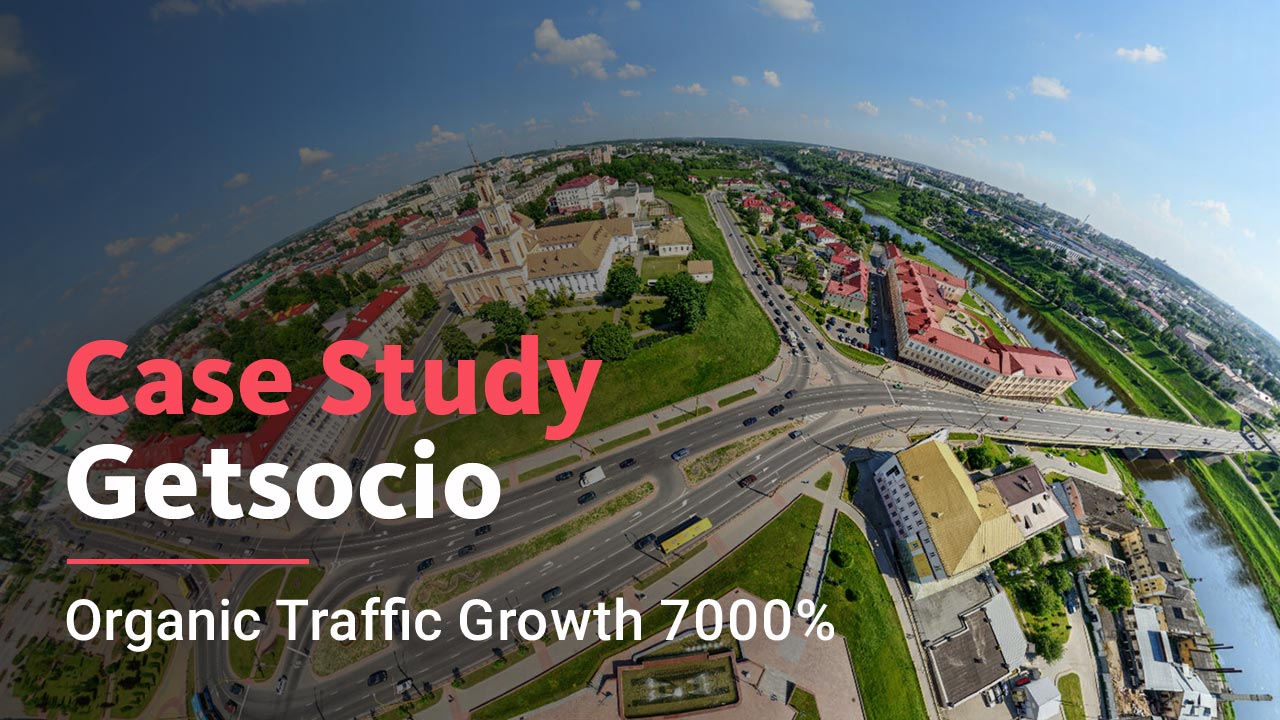 Have you ever been in a situation when it is impossible to get more search traffic for your business than you have now?
Or when competition for keywords is so high that there is no sense to strive for them?
There is a way out.
Additional search traffic in the business related niches.
In this case you will learn how to get traffic (convertible into leads) in a highly competitive niche.
Customer
Getsocio is an e-commerce platform for small business which allows to create an online store website without having programming skills.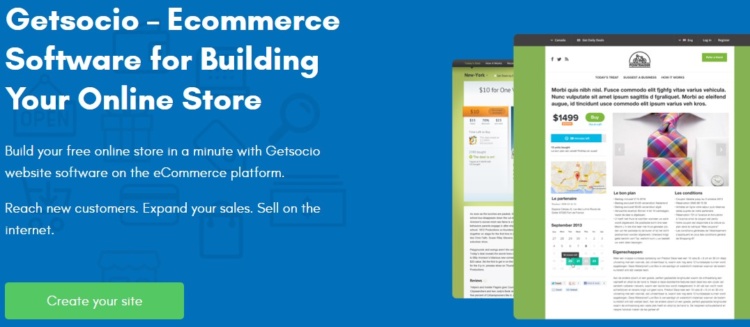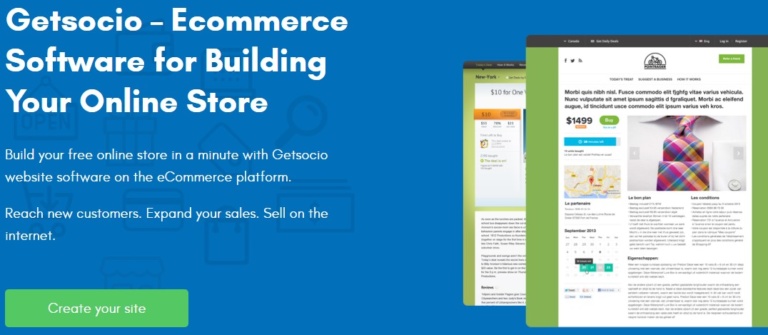 The project was not promoted previously.
Initial search traffic — up to 20 daily visitors.
Competitors
Result
Search traffic increased 70 times — from 20 to 1400 + daily.


The number of target actions made also increased.


Difficulties
Huge competition for search queries.
Competitors with budgets worth millions.
No brand recognition.
Important!
This case does not describe a number of simple steps made to improve online visibility of the business.
The case focuses on solutions which allowed to get much search traffic in a highly competitive niche without large budgets. Remember that you definitely need to do SEO if the niche is saturated.
Why we had to turn to traffic from business related niche
Shopify, Wix, and Bigcommerce are competitors dominating in search results.
To at least come close to top 10 results for money generating keywords, you need to make huge investments into link building and PR of the product.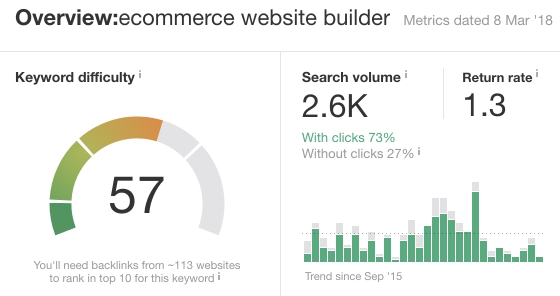 The example shows that it is necessary to get over 110 referring domains to a page in order to rank in top 10 for a certain query.
Besides, getting links to a product page is a serious challenge.
Paid traffic?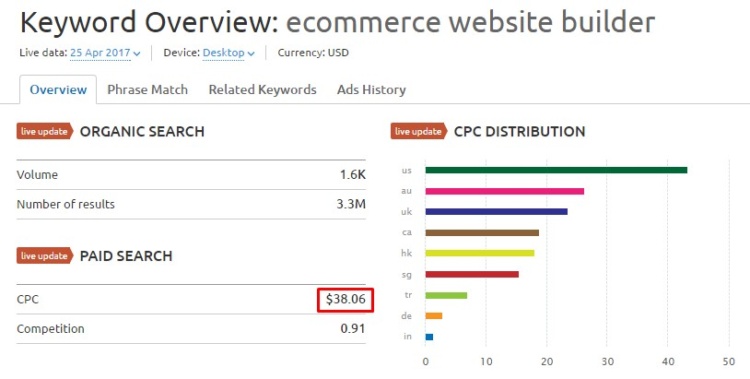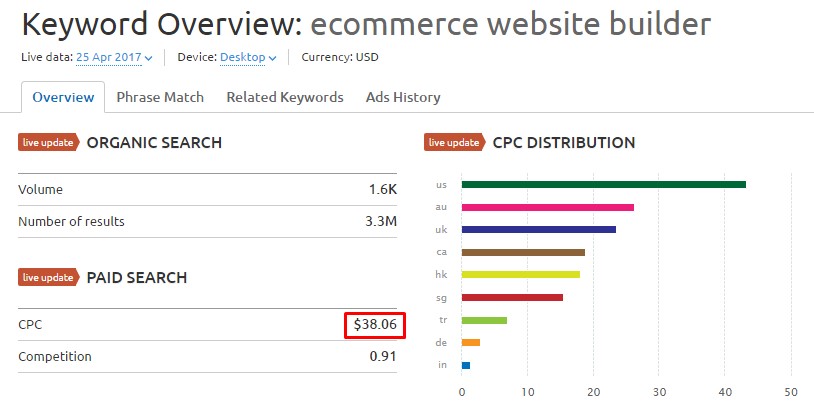 Example, keyword analysis in Semrush.com
It's not an option as the cost of 1 click is over 38 US dollars.
Competition made us look for alternative methods of getting free search traffic.
Strategies to get additional search traffic in highly competitive niche
Content marketing
It will be a very converting channel if done correctly.
For effective content marketing a SEO specialist and copywriter should:
deep dive into the product;
communicate with the product team;
understand problems of the target audience;
monitor the niche trends.
Want to know more?
Read our case about IT company promotion through content marketing. More details about content marketing and other strategies to attract search traffic. Recommended!
Landing page generation
The aim is to create pages which will be of interest to customers before registering their first domain or ordering to build an online store.
What we decided to create:
business name generator;
slogan generator;
guides how to sell various products online.


Besides, all the above types of pages were divided into specific niches. So, we designed and created dozens of pages like:
cafe name generator;
coffee shop name generator.
or
how to sell shoes online;
how to sell handmade online.
How strong is competition for such queries?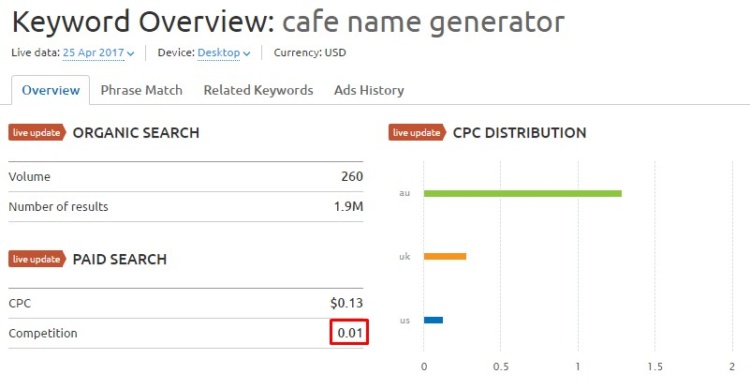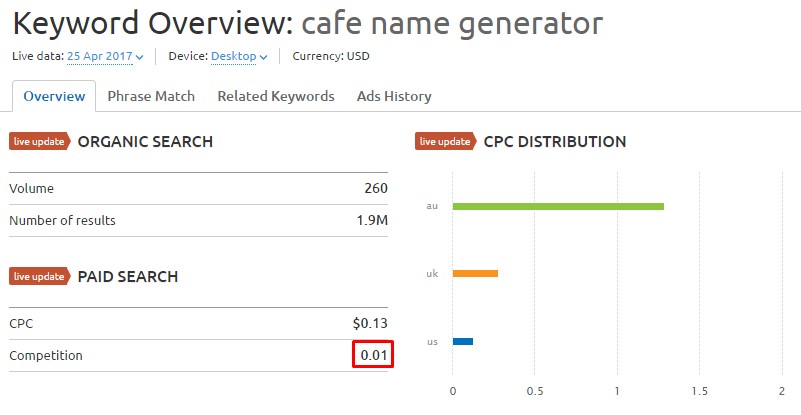 Thus, under this strategy we created dozens of pages with very low competition but quite high volume.
The point is that people asking about setting up their business or generating a name for it will need a platform for a quick start. We decided to play on it.
Do you think our strategy will suit you?
Read our case about attracting over 100 000 search traffic daily to the niche content website.
Result
The chosen strategy has quickly brought results even without building links to generated pages.
There were some mistakes though. Read further.
Traffic for slogan pages:


Traffic for business name pages:


Traffic for pages how to sell online:


Important conclusion
Landing page generation strategy is suitable where a visitor expects to get service, instead of content. Or you are able to write a lot of unique content.
Those pages which did not require unique content succeeded.
Those requiring unique content didn't grow.
Completing goals
In conclusion I would like to mention that the SEO strategy to a competitive niche caused a rise in the number of goals completed.


Not all the projects can get traffic only through landing page generation and there should be a focus on building links. Read our case about promoting educational start-up Ratatype through link building.