Local SEO Optimization as a Part of Marketing Strategy for Appliance Repair Company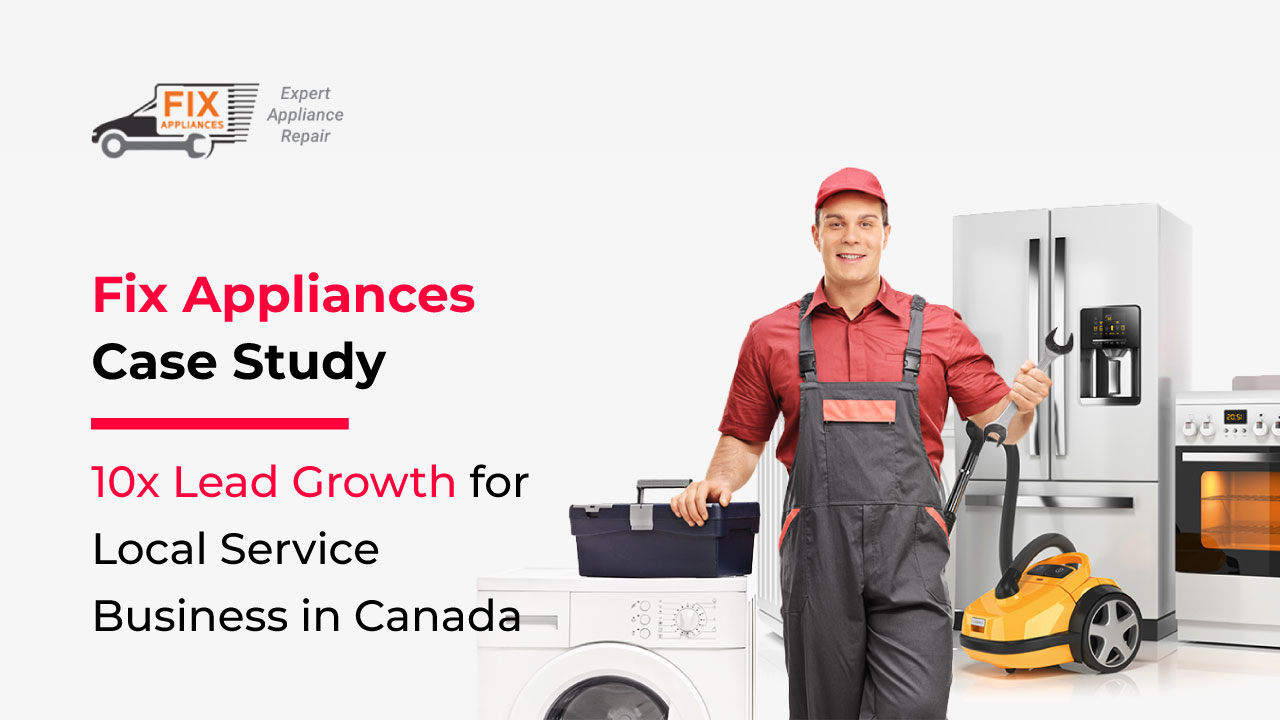 Is It Possible to Generate Leads for a Local Appliance Business in Canada with the Help of SEO?
Yes! Meet Oleg.
Oleg is an immigrant from Israel. After moving to Canada, he opened a local business offering appliance repair services in Toronto and the greater area. He knew that he would have to market the appliance repair business to get clients.
From the outset, preference was given to online marketing, which back then was a newly-established and promising way of business promotion. Hence, finding a marketing contractor was just a matter of time.
Prior to working with Livepage, Oleg had experience working with other appliance repair marketing agencies. However, during the three years of promotional efforts, the results were still way below his desired level.
And then he came to us. It took us just a year to help Oleg experience several times the growth of his business.
But what about the numbers?
Well, keep reading.
Here is a client's direct testimony on his experience working with Livepage:
«Good morning, Marina.

The day was literally over and above, we've never experienced such a number of calls before. We processed a ton of orders today. I checked last month's report and compared it to the last year. Organic search has increased by 712.90%. Like… Wow. I am impressed. Marina, you rock!!! Please promise you won't throttle back, we really need more days like this!

Have a super nice day!»
Genuine emotion is the best measure of our joint work efforts.
So.
In this real-life business example, you will learn how to get leads via your appliance repair business website in Canada using SEO (Search Engine Optimization) techniques and tactics.
Results
The project results from the last update to the first update are presented below.
Case Study Update September 2021

Case Study Update March 2021

Case Study Update March 2020

Case Study Update November 2019


Case Study Update October 2018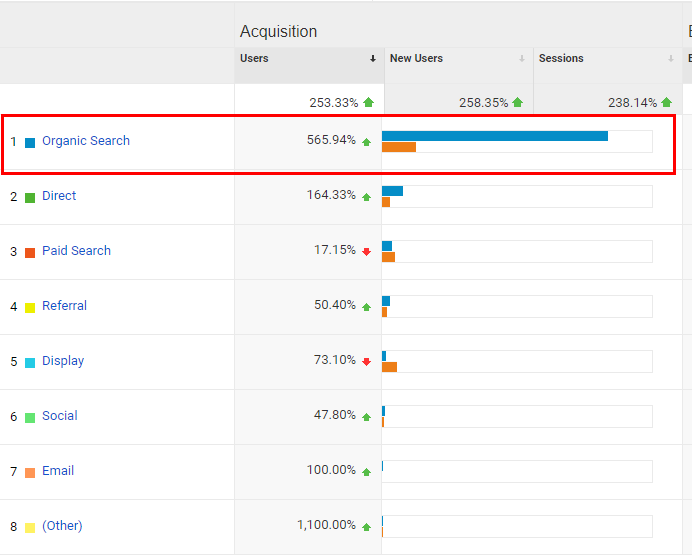 Founder of Fix Appliances about cooperation with our team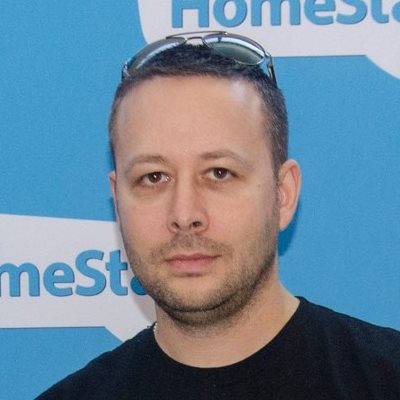 Client
Website — Fixappliances.ca. Appliance repair business in Toronto and greater area.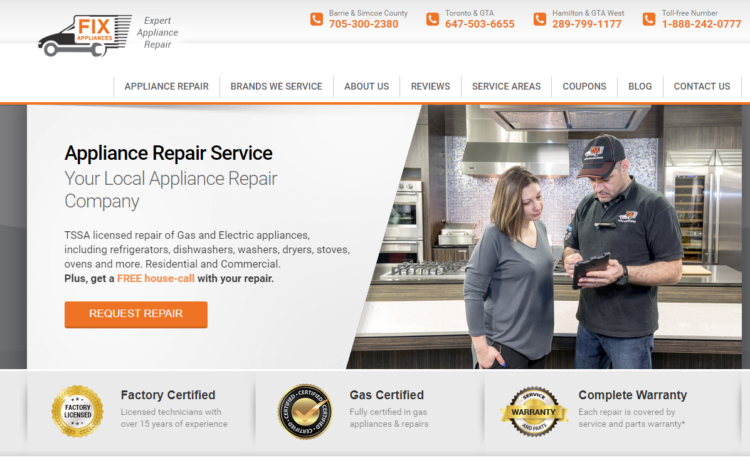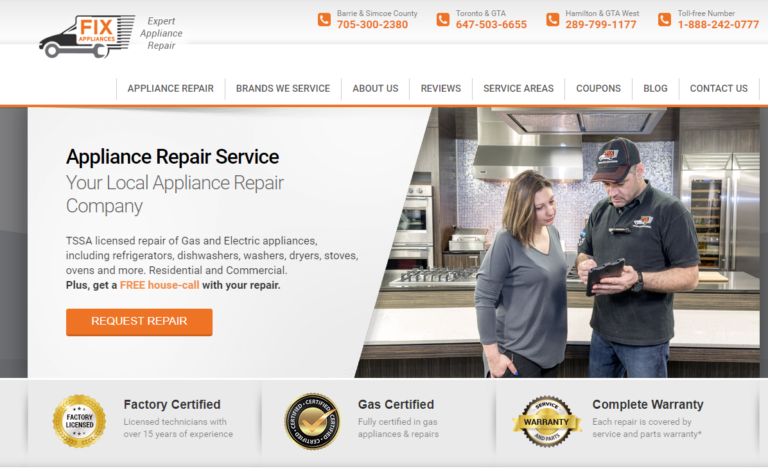 Founder of Fix Appliances about cooperation with our team
Here's what had already been done by the client prior to us taking over (direct quote):
«At the end of 2014 we rolled out our first website.

In the beginning of 2015 we ran three-month Link-building campaign over the search query «Appliance Repair Toronto," we got lots of low-quality links, but for the most part the campaign went fine.
In the beginning of 2016 we updated our website, the further developed version of which you see now.
In the beginning of 2016 we started SEO campaign with a contractor — a local digital marketing agency. Once a month we were doing a blog post. All posts were done by ourselves, speaking from our own experience. Also, once a month we were doing outreach, publishing content with direct links to our website on third-party resources with good SEO reputation.

By September 2016 we got solid numbers in terms of traffic and decided to pause the agency's services for 3–4 months. It was probably a mistake as in a few months after doing so the website traffic dropped significantly, and we never knew the reason why.

In 2017 we got a partnership offer, started hiring more people, rented a larger office space. Needless to say, this all meant we needed more clients than we already had. So we decided to sign a contract for SEO and PPC services with a large contractor.

It was the point where everything started going bad. There was no traffic, no phone calls. Eventually, our partner pulled out, taking his financial investments back. We were left with expenditures, a rented office, people, and empty promises from our digital marketing contractor.

Time passed and nothing changed. The number of orders was still below the acceptable level. All the advertising we were doing and investments of time and money weren't paying off at all.

September 2017 was the last month of us working with that contractor.
Start with Livepage
We started working on a project in November 2017. At the time of updating this case study, we had been working on a project for 46 months (September 2021).
Client's goals:
Get traffic back to 2016 numbers

Get appliance repair requests from needed areas/

locations

Grow business after two and a half years of stagnation
The best SEO for a local appliance repair business or for any other local businesses consists of the following points:
Competitor analysis and in-depth study of the client's business

Optimization of pages that directly generate money to the client

Increase of organic search visibility by adding new landing pages

Link building (local directories and outreach)
Step-by-step Guide on SEO for Appliance Repair Business in Canada + Real Life Case Study
Below you'll find a list of time-tested techniques which if adopted to your service area business will help you get clients from Google Canada.
Competitor Analysis
Main goal
It is necessary to know how competitors get their traffic and compare it to your website to understand which pages/sections of a website to prioritize first in growth marketing efforts.
By using Ahrefs.com, we analyzed all traffic-generating pages of the client's direct competitor.
Pro tip
Start by selecting the pages that fit your business best. Then, introduce them to your website.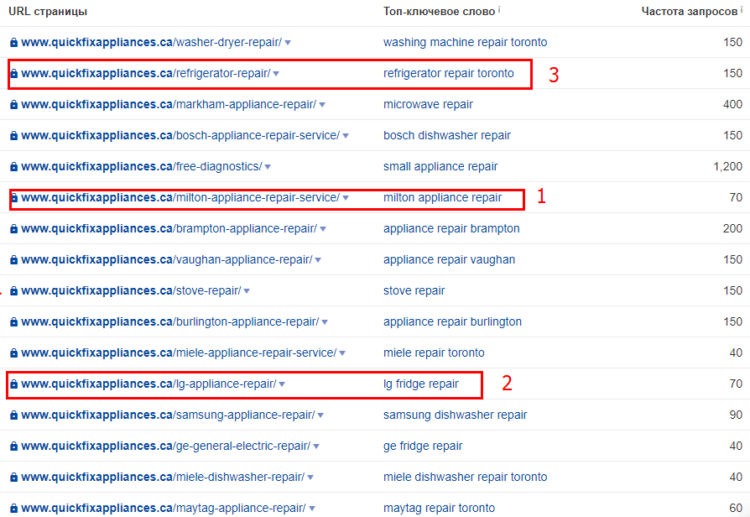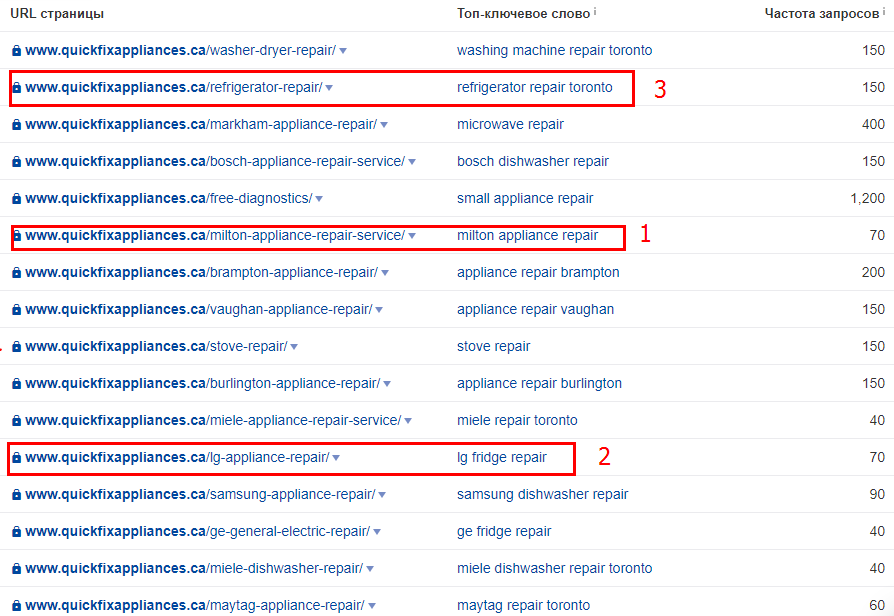 From what we see here, we can suggest that there are three types of pages that bring the most traffic to a competitor's website:
Town pages via search query «Appliance repair + town».

Appliance brand pages via search query «Brand name + Repair».

Generic types of pages, for example, Washing Machine Repair.
The 1st and 3rd types of pages are already present on our website.
There were also 10 town pages («Appliance repair + town») on a website. We considered increasing its number.
NB: Do this only if business allows you to do so. Meaning, if you can't service a particular region, rolling out a landing page that targets this region won't make sense.
At the time of writing this case study, we had the following list of towns in the Toronto area on a website.

We focused our local SEO strategies for the appliance repair company on pages of two types:
Appliance Repair + town

Brand name + Repair
And it worked.
Appliance Repair SEO Marketing Plan
After analyzing what was done by prior contractors, it became obvious why there was no traffic growth:
A poor understanding of the client's business and no competitor analysis.
Agencies tried to push forward a blog, engaging people that are looking for up-to-date information, but not those on the lookout for appliance services and ready to call a number.
Our idea was to focus on those pages that affected the client's business directly.
That's why when starting our work on a new project, we always conduct a meet-up (or conference call) with the client first — to better understand what actually brings them service requests in their business. It helps us generate marketing for an appliance repair company and find effective growth points for a project.
Pro tip
Growing a business is teamwork. Client engagement during the marketing process is what helps reach the greatest result.
If you want to learn about SEO optimization for US ecommerce, check our local business SEO case study in Florida, USA.
What you need to do:
Develop an SEO optimization strategy for your local business and discuss it with your SEO contractor.
Clearly define what pages need to be pushed forward in the first place

What pages could convert better

What pages your competitors focus on in their growth marketing efforts
After that, you should be able to clearly envision the development pace that you need to aim for. For example:
We promote a website page that is optimized for a search query «service+town» (for example, «Appliance Repair + Toronto»). We will also create five pages for the Toronto area that will be optimized for the query «service+region» (for example, «Appliance Repair + North York»)
Pro tip
A local SEO campaign for appliance repairs helps to separate important objectives from low-priority tasks.
Before handling any type of work regarding your website, ask yourself: «How will this task bring closer to my final goal?»
Choosing Traffic Growth Priorities
After another talk with a client, we came up with a list of priorities we needed to focus on first.
Town list
Town list
Barrie (We need to concentrate on this one).
There're a few other towns around Barrie which we could consider to be geographically adjacent to it. These were of high priority also.
Minesing

Midhurst

New Tecumseth

Alliston (a part of New Tecumseth)

Angus

Innisfil
The SEO team task was to analyze the search queries for these towns/regions.
However, not all towns made it to the end of our list. There were some towns with less than 10,000 people living there. In this case, a town was so small that there could be no traffic at all, so it's better to dedicate some extra time to analyzing such regions.
Pro tip
You shouldn't create new landing pages for the towns with less than 10,000 population.
It will be much more effective to run offline ads there.
When selecting pages to promote, focus on those towns where you are actually able to deliver your service to. After that, grow the list by adding nearby areas.
If you start getting lots of repair requests from the big cities, then you should consider opening a representative office there.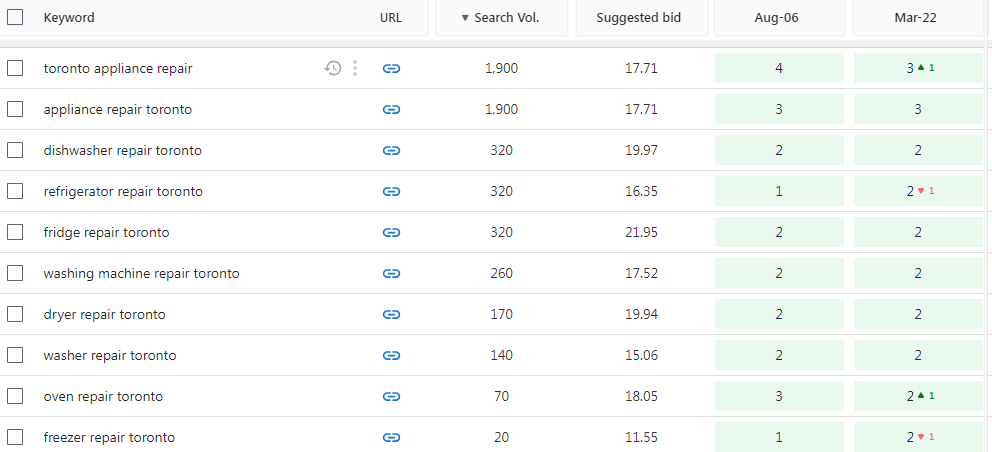 On-page SEO
After we were done with the town list, we started to work on the local SEO for the appliance repairs company and optimization of existing webpages.
It took us three main steps to get the needed result. We:
built up a semantic core and evenly distributed keywords across the webpages;

improved pages appearance;

fixed technical bugs and issues.
After following the same set of actions on your website, you are guaranteed to see the difference.
Website Semantic Core
While auditing the client's website we found pages like Appliance Type + Town. For example: refrigerator repair Barrie.
When analyzing Google results for such a query and local searches, it became clear that there was no need to create those pages. 
All pages of that kind were deleted while we moved some pieces of information to the main pages and set 301 redirects.
Important!
For other regions and niches, the opposite can also be true!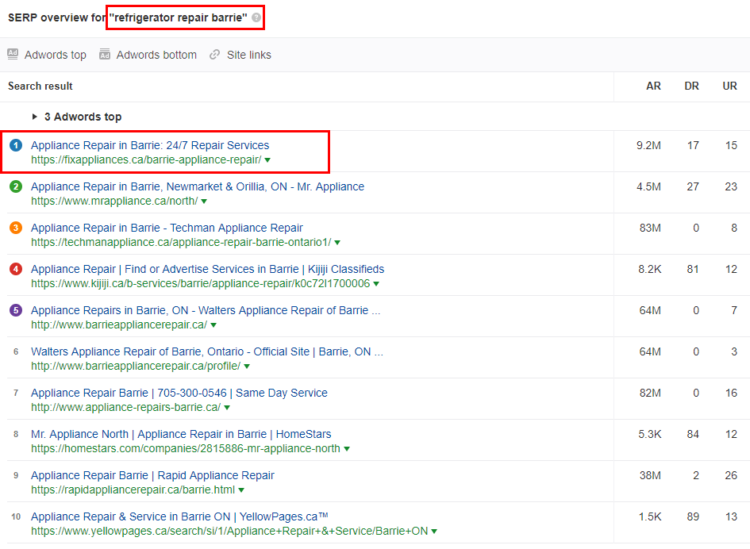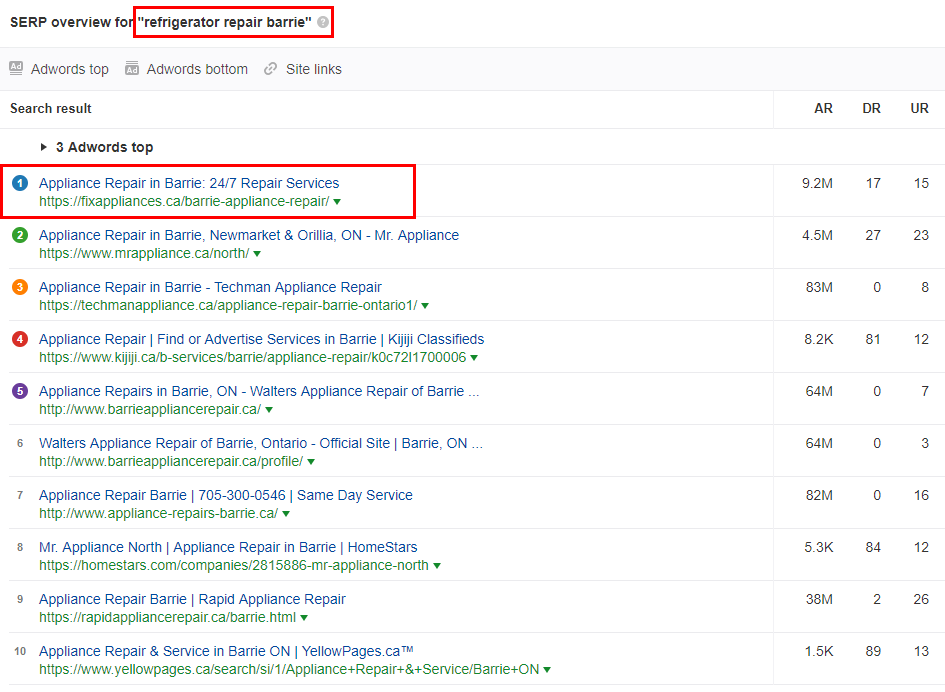 Pro tip
Dedicate your time to analyzing SERP and competitors before introducing any changes to your website. Make sure that you really need the pages you want to add.
We gathered the main 'town'-related keywords, as well as some of the additional keywords that could help us describe the client's services in more detail.
All 'appliance type' keywords we put on a town main page.

Learn more about our relevant experience in the on-page SEO optimization for local medical services case study.
Landing Page Appearance
We updated the overall appearance of the webpages by making them more informative for users.
The main goal of this aspect of local SEO optimization for home services is to bring answers to all possible questions that a prospective client could have and build a positive first impression of a company.
In order to do that, add to your pages additional sections, showing users:
What you are offering

Your advantages against competitors

Brands you are working with

Regions you are offering your services in

Certificates/Licenses

Your customer reviews

FAQ section
Meta Tags
We also revised meta tags on all pages, added a little bit more information there regarding client business, and a call to action.
Add to your meta tags any information that will help distinguish you from the competition.
In our case, it is the same-day appliance repair feature, 24/7:

To make your snippet visually appealing, add Local Business markup.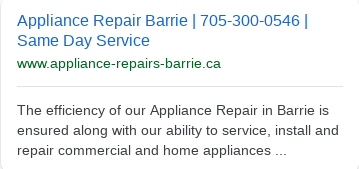 It is important that you optimize your headlines for mobile devices since most of the search traffic comes from smartphones.
If you are offering urgent services, then add a phone number right to the Title.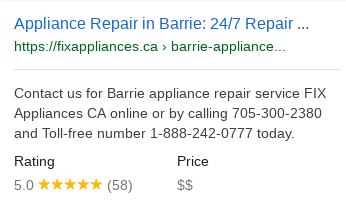 Fixing Minor Technical Issues
A website was developed on WordPress. There were common mistakes such as:
Empty Meta Tags

No or too many H1 headings on pages

Presence of low-quality (empty) pages

Broken links

Redundant redirects
Yoast plugin can help quickly fix some part of minor problems.
Local SERP
It's important to remember about the local pack section when promoting a website bond to a specific geographical region in Canada since this block takes a large part of the SERP.
Local SERP includes:
3–4 paid ads results.

Local pack section.

Organic search results.
Your goal is to get to «local pack» where a user can actually see you. Even if you end up on the 1st-3rd place in the organic search results, there is a high chance that users won't see you.
So you need to use any available means (described below) to get in the user's field of view..
PPC Ads Section
Going for PPC ads in Canada would cost a pretty penny. The average cost per click for the main keywords would be around $10.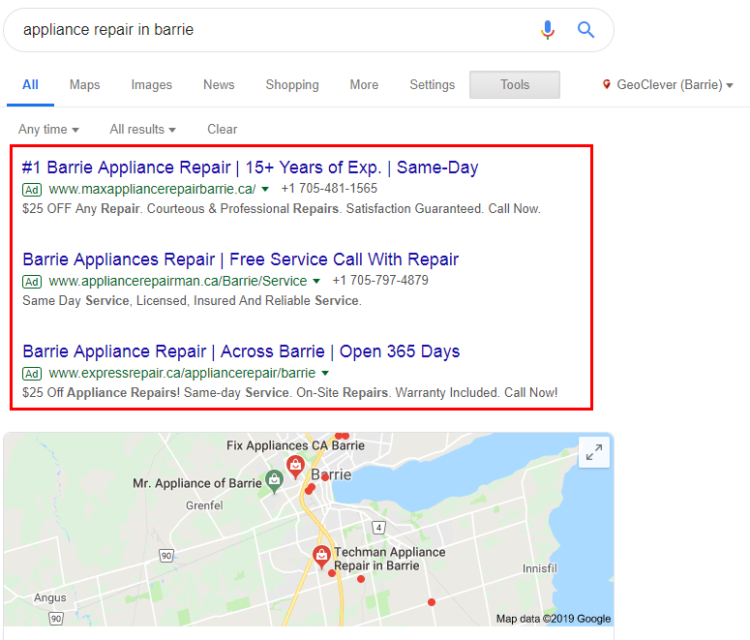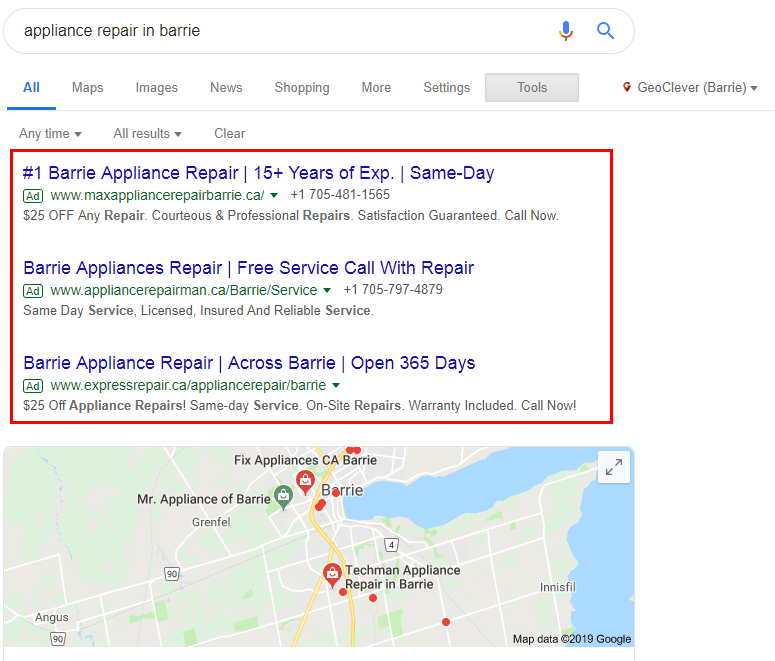 Local Pack Section
In order to make your business appear in this section, register your company at https://www.google.ca/business/.
Stick to the following recommendations while registering:
Optimize listing for the main keyword.
Choose the right business category.
Make sure to fill in all the necessary fields (telephone number, working hours, etc.).
Get customer reviews (they are really important!).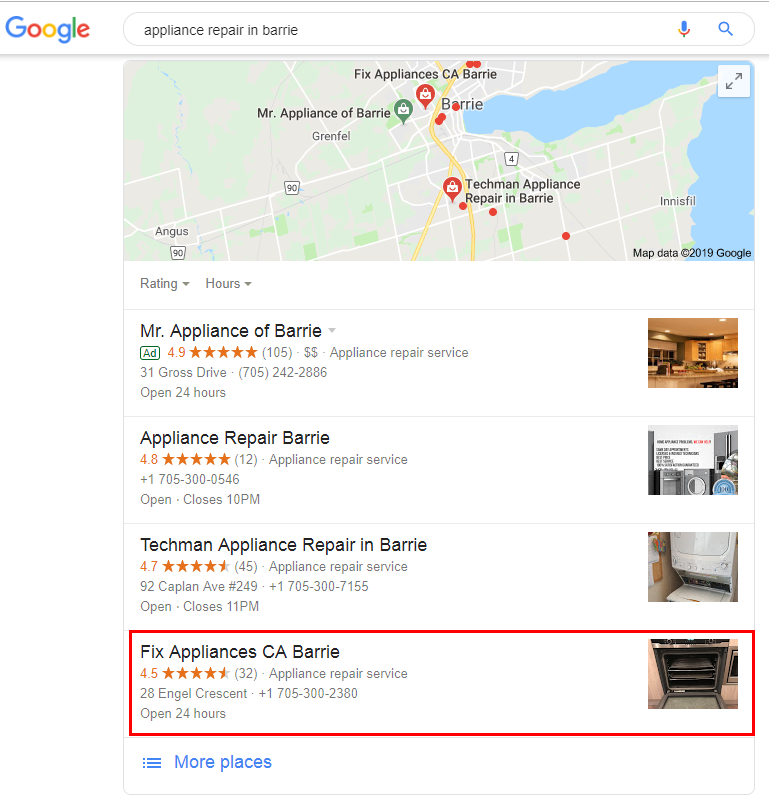 If you have representative branches in different towns/cities, you can register listings for those too.
Organic Search Section
Here is what an organic search for the query 'Appliance Repair Barrie' looks like.
From the screenshot, you see that there are six service websites and four catalogs on top. It's really hard to compete with catalogs so it's better to use them to promote your business.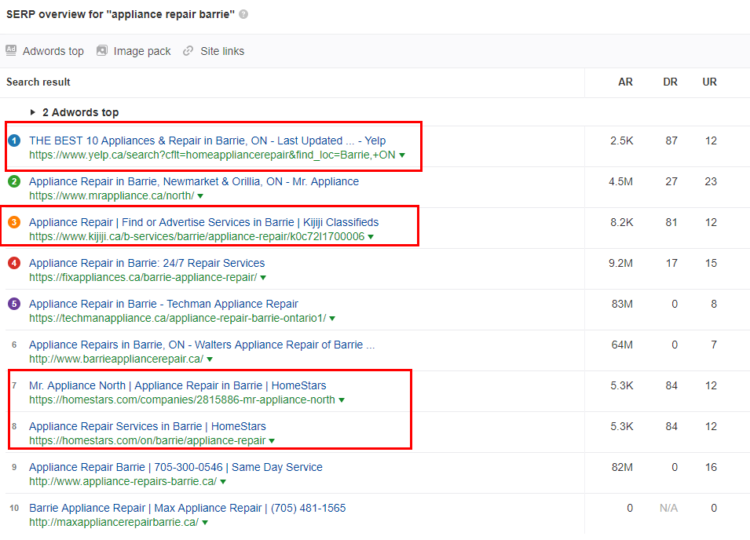 Adapt
Make sure you add your service area business in Canada to local catalog websites.
Ask your clients to write reviews on those platforms, it will help you get a higher ranking, as well as bring you more leads.
There are 4 most popular Canadian websites we recommend to add your company to:
On Yelp you can add a business in any local category.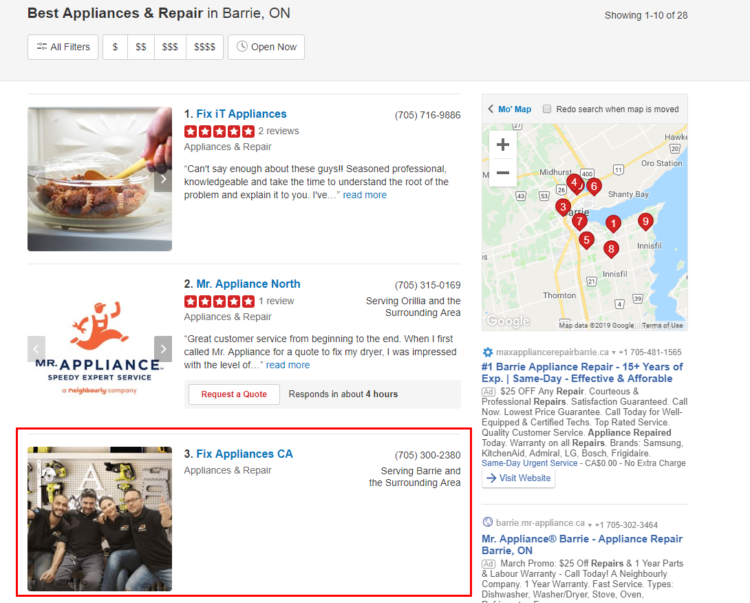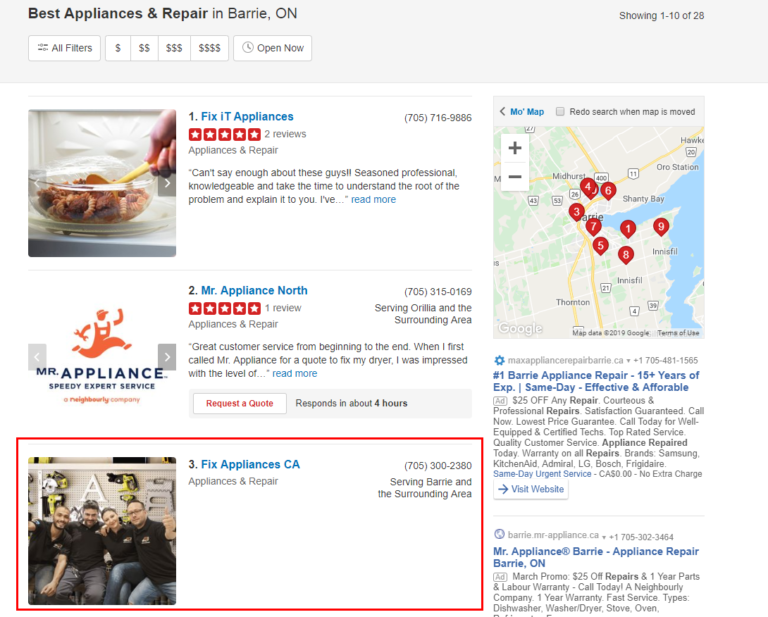 HomeStars is a local catalog focused mostly on home professionals.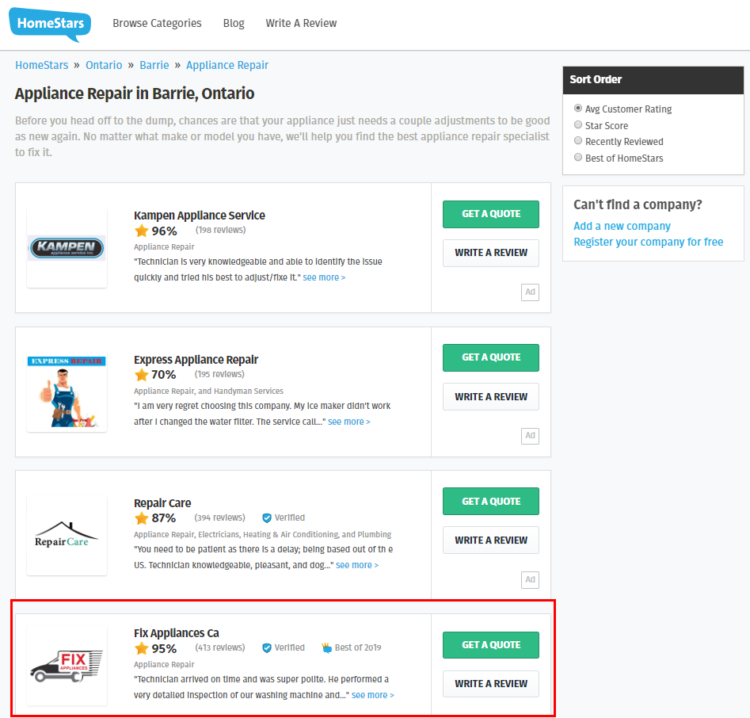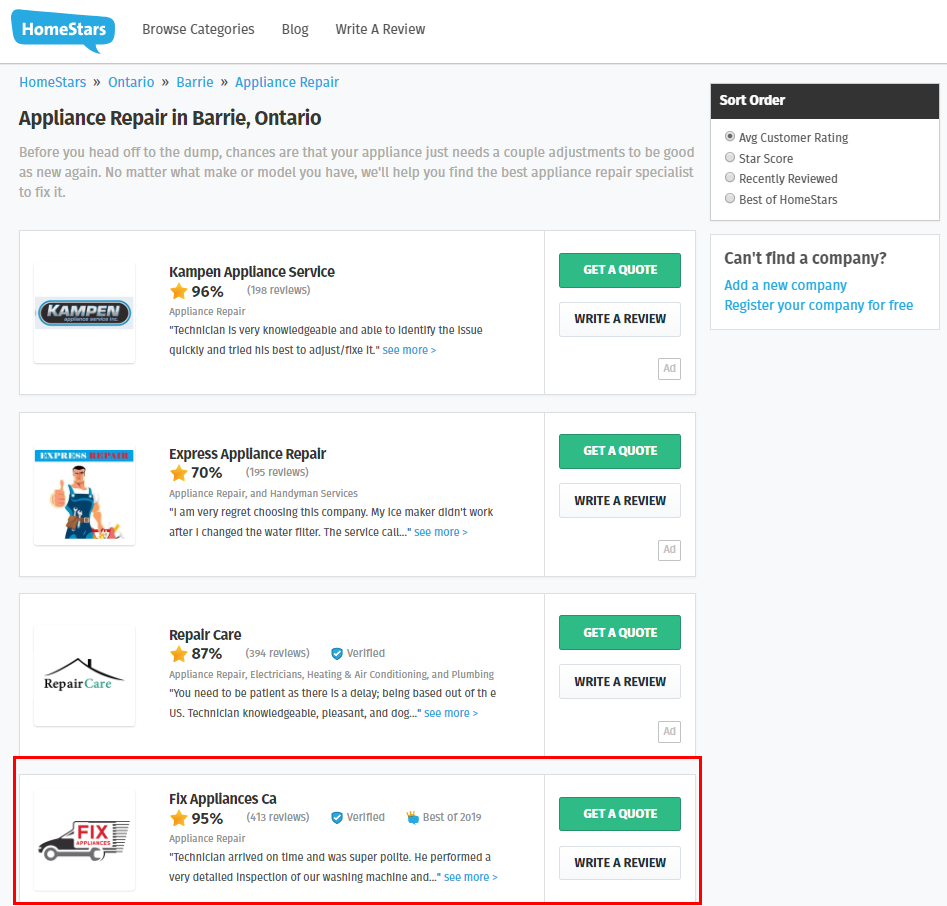 A Yelp.ca alternative.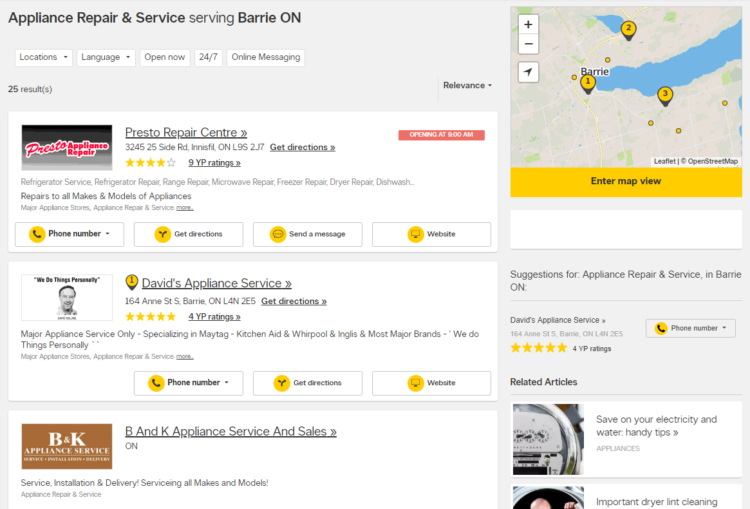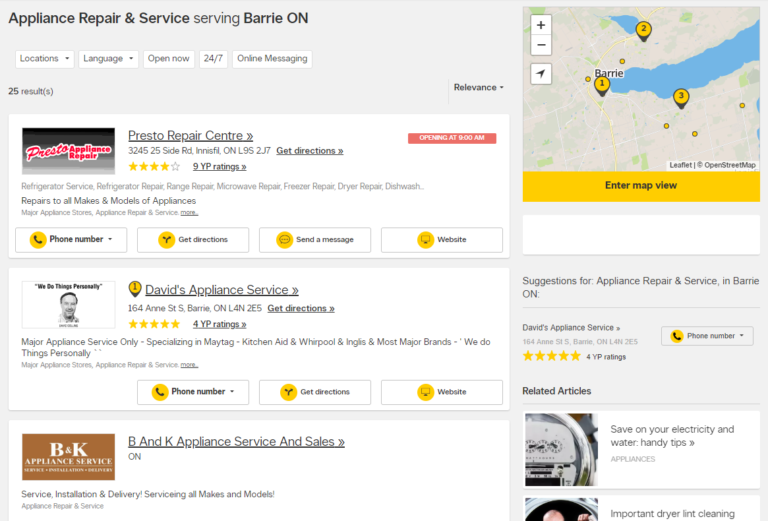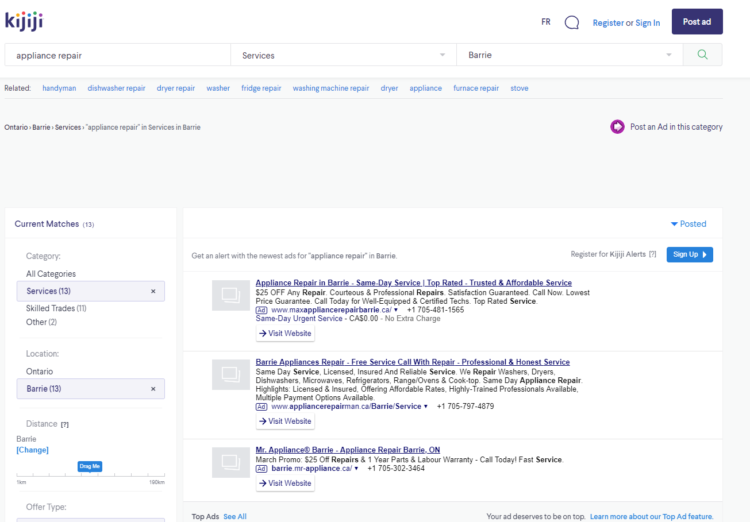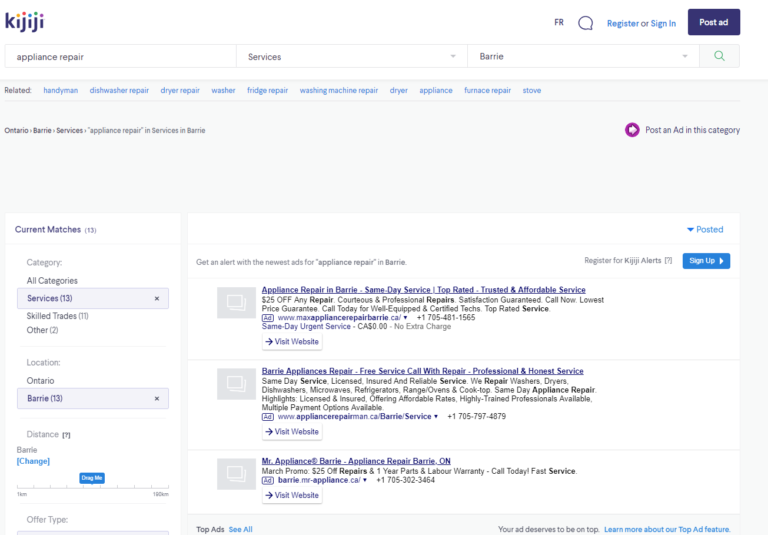 What Does Not Work Well When Promoting Appliance Repair Business in Canada
Content marketing within local SEO services for an appliance repair business barely worked for our client. The reason is quite obvious.
If you're offering services only in a few local regions, and your content covers broad types of search queries, the users will be coming from all over the country. The problem is that it's not physically possible for them to order your services.
Here's an example:
https://fixappliances.ca/4-reasons-stop-using-self-cleaning-oven-feature/
Plenty of traffic. No leads.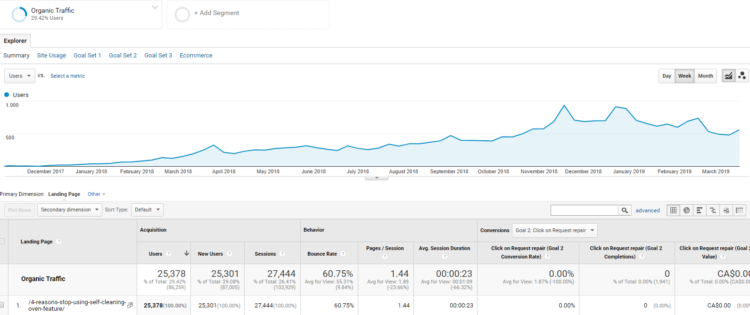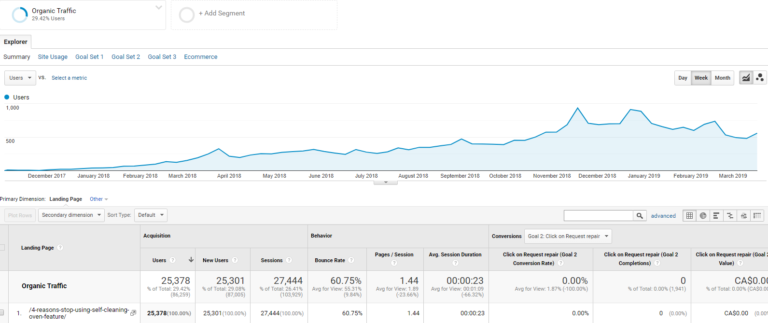 Appliance Repair SEO Case Study (Update November 2019)
The main problem with local businesses is that there are few pages on such websites that can be optimized for search engines.
As a result, when all the priority pages (or most of them) started to rank in local search results (TOP-10), the owners of such businesses stop investing in organic search and switch to other channels.
But our team and the Fix Appliances CA team continue to develop the website. What results have we achieved? See below.



We achieved such results due to the following changes:
"Services and cities" pages search engine optimization and growing them to TOP-3 organic results in Google.

Increasing the number of references for Canadian

local websites

.
Growing in Google Organic Search
Everyone knows that the higher your page is in the top 10, the higher the clickthrough rate (CTR).
Based on this, the main task of the Livepage team over the past 8 months has been to rank important commercial queries (for example, appliance repair + city, brand repair + city) within the top 3 of Google CA.


This allowed increasing not only traffic but also conversions almost 2 times. An example of traffic growth on one of the pages (appliance repair + city):
Traffic

Leads

Case Study Update – March 2020
Аfter publishing the previous update of this case study, the Livepage team kept searching for additional opportunities for project growth as well as improving the Search Engine Ranking Positions (SERP) of the existing pages.
The results we've got are displayed below.

Business got 60% organic traffic growth in 5 months.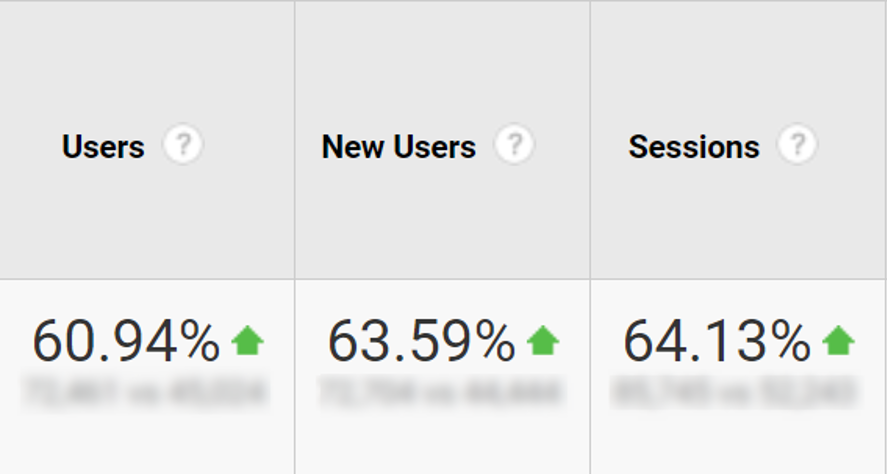 Key points which helped us achieve these results:
Getting the maximum amount of high-converting landing pages to the Top-3 of Google Search Results.

Improving CTR (click-through rate) of the search results.

Increasing the number of backlinks from the websites where Canada is one of the main traffic sources.
Improving content quality
Each landing page has to be created for readers not search engine bots. Therefore, we always create useful, understandable and informative local content while working on projects.
One of the solutions we found – creating a FAQ block with frequently asked questions.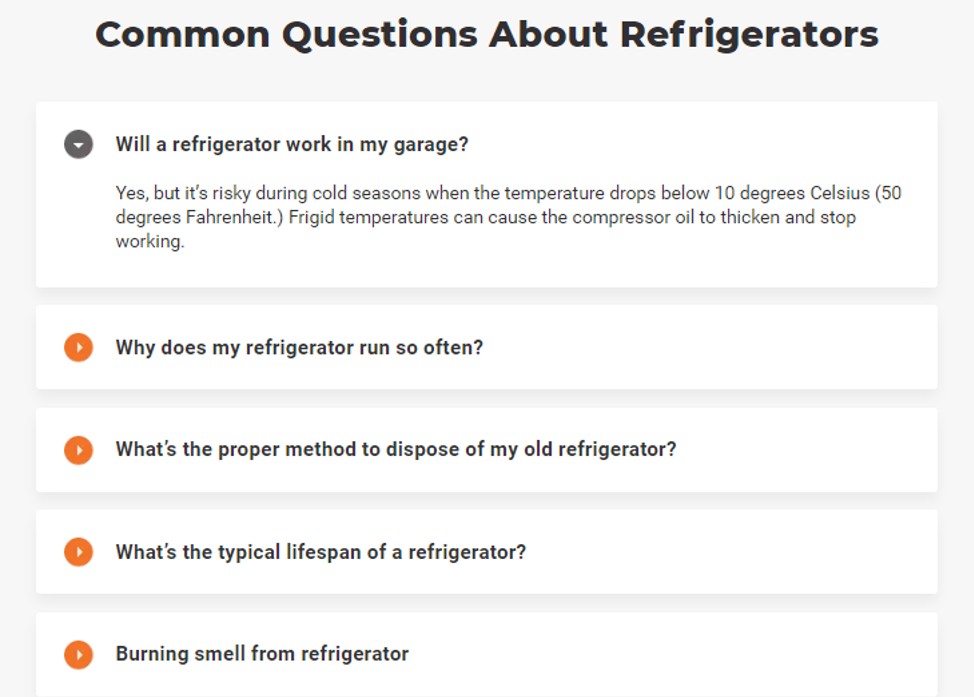 Thus, we were able to better expose the problems of potential customers and provide expert-based solutions.
Improving Organic CTR
It is very important how landing pages are displayed in search engines. Even being placed on the 5th position in Google, it's still possible to get more clicks than competitors from the top 2-3 if your website looks better on the search result page.
Previously, we've already implemented the star rating.

During this iteration, we integrated the special FAQ structure data using the block with frequently asked questions and answers which we'd created before.
As a result, all pages with FAQs started being shown up on Google search as follows: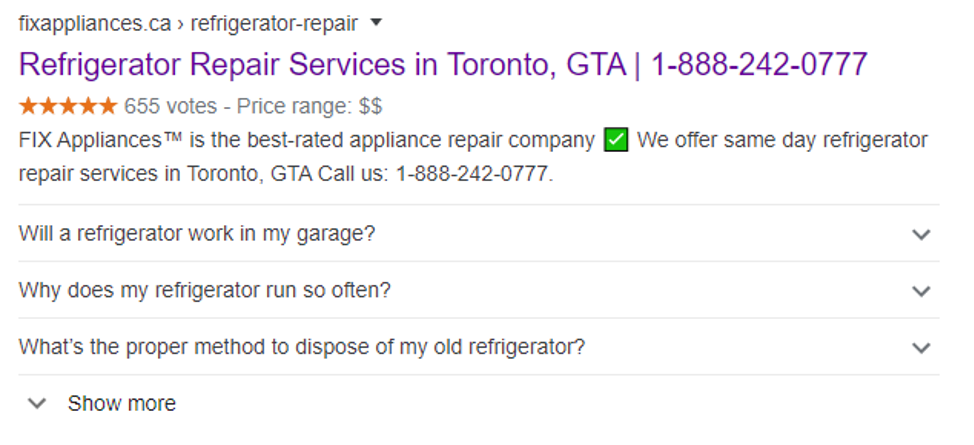 Our website gets more visibility than other businesses on the search result page which ends in more clicks.
Getting Top-3 Google Rankings
Your special attention should be given to the main search queries which are shown on the 4-10th positions on search results (close to the Top 3).

This strategy has led to an increase in website traffic and most importantly to an increase in the number of leads.
As an example, one of the pages where traffic has increased by 74%, and its conversion rate has grown 3 times!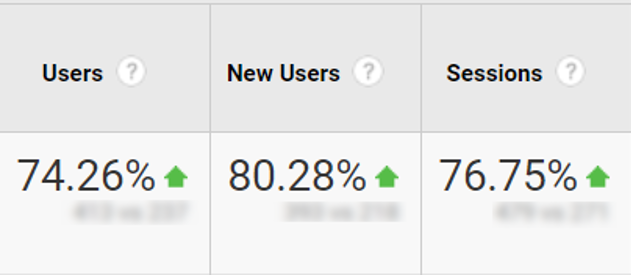 Case Study Update March 2021

Overall traffic: +108% compared year to year (March 2021)
Form submissions: +104%
40 months of effective cooperation
We started working on a project in November 2017. At the time of updating this case study, we had been working on a project for 40 months (March 2021).
Update March 2021
One more year has passed, we thought that traffic reached its peak since most of the search queries on City and Brand pages were in TOP-3 rankings for a long time. We focused on improving the location-based content, internal linking, minor technical issues, and trends.

The traffic steadily grew compared to the previous year, and on the 4th of December, when Google Core Update was announced, we saw significant growth — +119% compared to December 2019.
Late autumn and winter seasons are considered the lowest in the niche, so it was necessary to find more ways to increase conversions.
Traffic growth over the last 6 months


What about conversions?

Compared to the previous season, the number of request form submissions increased by 104%.
What we've done:
Moved fast, monitored trends

Continued gaining quality backlinks

Worked on minor SEO technical issues and Core Web Vitals

Improved internal linking

Performed deep search queries research and content improvement

Created useful informational content
Faster than competitors
Today's competition can be tough, so to keep up, you should consider following trends, especially Google's. And if you aim to take most of the market, it's better to move even faster to gain even more and leave your competitors far behind.
Collaboration with FixAppliances is a perfect example when long-term hard work and following trends grant you high rankings. As every big update was launched, such as Mobile-First Indexing, EAT factors, and Core Web Vitals, we were there to search, analyze and advise best practices to implement on the website.
More and more backlinks
You should never stop getting quality backlinks for your website; that's how the SEO world works. People trust people, especially when it comes to advising products and services to each other. A website advises other websites through linking, indicating that this particular site, page, image, video, etc., is useful.
That's why our goal is to gain as many good and personalized recommendations as possible to outperform our competitors and win the market.
Technical SEO and Core Web Vitals
Google advisors always say: "To rank in TOP-1, you should constantly improve your website to meet the expectations of your target audience". And that's what we always strive for along with our clients. Technical local SEO optimization for an appliance repair company is an essential part of the success of your large, medium-sized, or small business in digital.
So we revised the website each month, discovered and fixed technical issues like:
broken links,

301 and 302 redirects,

multiple h1,

thing content pages
And when Google announced Core Web Vitals as new factors in its Core Algorithm, we decided to improve overall website page speed. For that, we used Google's official tool Pagespeed Insights and GTmetrix. As the main page got to the yellow and sometimes green zone, we were assured we're prepared for any Core Web Vitals updates to come.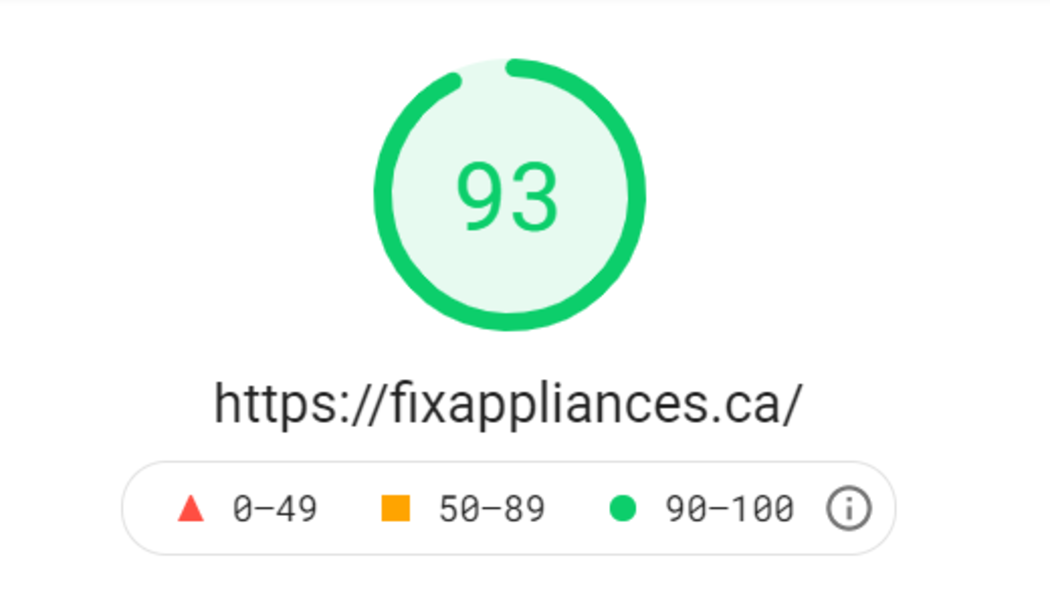 Internal linking
The main thought behind SEO internal linking is to show Google what pages are the most important on the website. But as we think about rankings, we also should think about users, so internal linking becomes an interesting task to solve.
We decided to steadily implement manual interlinking to the Service and Brand pages from the blog articles. That way we can lead users to the next stage of the website conversion pipeline and indicate the most important pages.
Deep Search Queries Research
When it comes to search queries research, you just need to go deeper as you search for the additional semantic core to enrich your landing pages. So we did just that and implemented it asap.
Useful Informational Content
When all is said and done, you can't help but think about less effective ways to increase traffic and form submissions. As it was mentioned, content marketing isn't effective enough to raise a local appliance repair business. But it's good enough when the business is steadily growing and have a budget to work on the:
increasing brand visibility

improving clients loyalty

growing the website authority
By creating useful informational content, we make an additional benefit for our targeted audience. As more people know the brand, its expertise, and specialists, the more loyal audience in the regions becomes for business to expand in the future. To tell you a secret, our client opened a US department and now considers expanding to Ottawa. We utterly believe they'll succeed.
What are we going to do next?
You should never stop achieving results. It's worth it to continue doing everything that has already proven itself, and simultaneously search for additional growth points.
Our plans for the nearest future include attracting even more website visitors and increasing the overall conversion rate. The website still has growth potential, and we should definitely develop it further.
To do so, we are going to:
strive for the Top-1 rankings for most of the search queries;

search ways to raise the website conversion rate with UI/UX improvements;

keep working on the content quality of landing pages to convert visitors into clients;

search new growth opportunities based on the competitor analysis, search results, new search queries in the industry;

increase the number of quality backlinks, so the website is constantly mentioned on the web.
If you want to generate leads for your local business in Canada or the US, you are welcome to contact us. Our team is ready to help you with your needs.
Case Study Update September 2021

Overall traffic: +217% users compared year to year (January-August 2020/2021)
Form submissions: +40,3%
2 months till a 4-year anniversary
We started working on a project in November 2017. At the time of updating this case study, we had been working for 46 months (September 2021).
Update September 2021
We've come so far and we did so much. After all the years of hard work in a splendid cooperation with the Fixappliances team we experienced great joy when traffic growth surged in May-August of 2021. We've been through two major Google Core Updates in June and July 2021 — Core Web Vitals and Spam Linkbuilding Filter. And we won.
Just look at this.

This is the best part of SEO that our team loves so much — to reap what we so thoroughly sow, in a good way.

We've been doing so much and for so long, it's hard to invent anything new at this point. How we succeed? We simply:
created new expertise content for our targeted audience;

perfectioned published articles with more useful content;

continued to gain more backlinks from authority websites;

monitored website overall health (even used a Disavow Tool);

suggested to implement How-to markup data.
New expertise content: is there any at this point?
From month to month we've searched for 4-8 article topics that might be interesting for our targeted audience. This time we concentrated on client's TOP-3 priority brands and found topics that we could use to empower our Brand Pages with internal linking and overall domain relevance.
How we perfected published articles in 6 easy steps
Some articles conquer the TOP-3 rankings right away, some don't. Our goal here is to find out what else should be done to get the top fast and cheap, so we:
looked through Google Analytics and Search Console;

picked articles that have 15-20 positions in SERP;

searched for any new content on the topic;

added or updated article's mark-up data;

implemented internal linking to empower most valuable pages;

if we considered it necessary we gained backlinks as well.
Don't forget to update the date of your article, freshness is vital as we all know. Let Google know your article is up to date through the mark-up data.
Getting links in Canada
In our linkbuilding strategy we always strive to get links from the donors of the same geolocation, especially we consider it vital for Local Business offsite optimization. Also it's important to think about whether or not a donor can acquire users that fit our client's ICP. If yes, there is a chance to gain quality referral traffic, and that could be a positive signal for Google as well.
With all the things said, it's natural that after almost 4 years we kinda got stuck, as there were less and less high authority Canadian websites that agreed to cooperate. Our next step is outreaching relevant TOP websites. We know it's a long, tough and pricey way, but we're ready for this challenge.
Unnatural backlink surge: to use or not to use Google Disavow tool
There is a strange tendency on the Internet: more and more websites recently got a huge amount of backlinks from blogspot subdomains. Fixappliances.com wasn't an exception, so we analysed its backlink profile using Ahrefs and Semrush, and filtered domains that looked suspicious.
Saying suspicious we mean that a website fits two or more conditions:
website's content has low uniqueness since apparently it was republished from the other sources

website is recently registered

website has no or few quality backlinks

website has the same design as other websites, it means they could be a part of the private blog network

website has a large amount of external links to a low quality websites
We've discovered 450+ domains that started appearing in April 2021 and considered such an amount potentially dangerous for the website rankings. So, we disavowed potentially toxic domains in the middle of July 2021, and as we can see it was a rather right thing to do than not.
How-to markup data (in process)
Fixappliances blog is full of instructions on what to do if something's wrong with home appliances, so we suggested trying out the How-to markup data to increase the CTR on the Google Search Engine Result Page. As your website snippet becomes larger on the SERP, it tends to attract more attention, thus more traffic, trust, brand awareness and form submissions.
What are we going to do next?
You should never stop achieving results. It's worth it to continue doing everything that has already proven itself, and simultaneously search for additional growth points.
Our plans for the nearest future include attracting even more website visitors and increasing the overall conversion rate. The website still has growth potential, and we should definitely develop it further.
To do so, we are going to:
strive for the Top-1 rankings for most of the search queries;

search ways to raise the website conversion rate with UI/UX improvements;

keep working on the content quality of landing pages to convert visitors into clients;

search new growth opportunities based on the competitor analysis, search results, new search queries in the industry;

increase the number of quality backlinks, so the website is constantly mentioned on the web.
If you want to generate leads in Canada or the US, you are welcome to contact us for local SEO for your appliance repairs company. Our team is ready to help you with your needs.