Hair Transplant Surgeon SEO: Get All Money Keywords in Top 10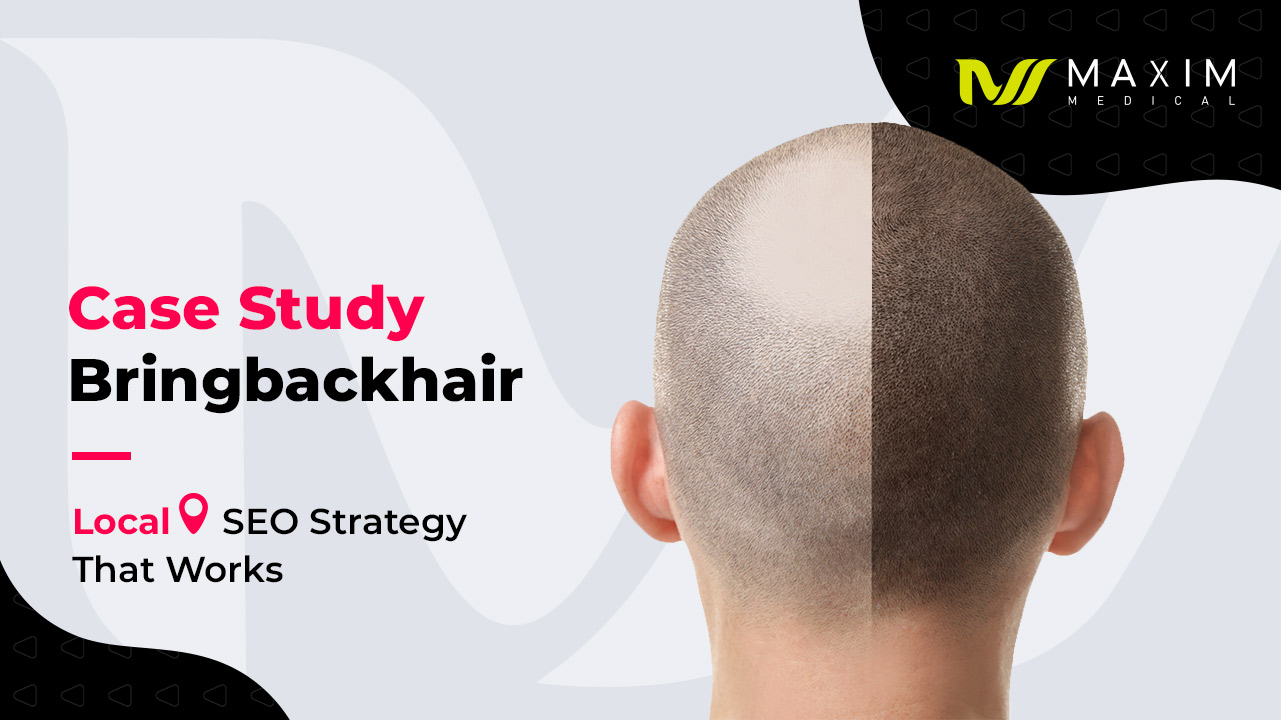 Being a small business in the USA is tough. The competition in the local market is like a rat race.
It is difficult for many local companies to make the right choice among internet marketing channels that are worth investing. About 95% of consumers look for goods and services through search engines.
Businesses create their first sites and start waiting for clients. They gain no results yet. If a site is situated further than the second page of search results, it is barely reached by anyone.
More than 90% of people who search for services on the Internet look through only the first two search results pages.
In this case, just having a website is not enough.
Local business SEO in the US is important for attracting new clients.
The goal of this case is to show how to get search traffic for a website of a company, which is tied to a specific location, by applying methods of local promotion.
You will get local search traffic by following our step-by-step Hair Transplant Surgeon SEO instruction based on Florida-based business case study.
What Results Can You Get?
After implementing our hair transplant surgeon SEO strategy, the majority of the website's pages took TOP-5 results on Google Search Results, Fort Lauderdale, Florida, USA.
Here are the changes in search rankings within 2 months of work: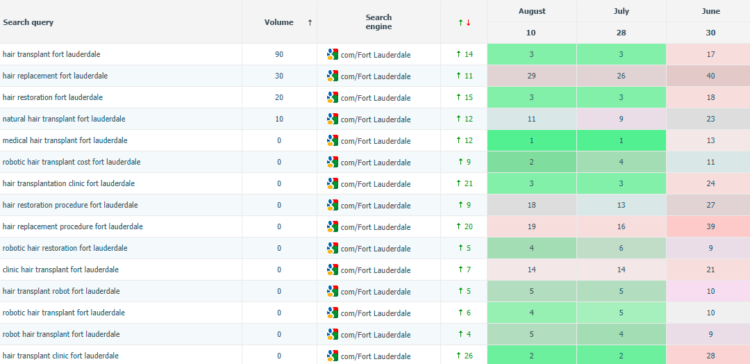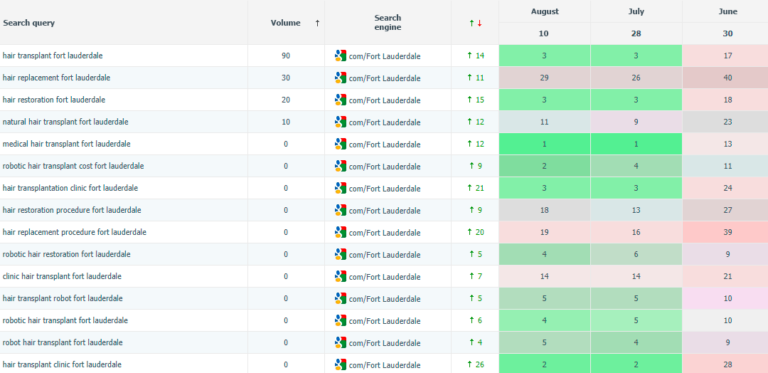 Hair restoration SEO — Case Study + Instructions
A few words about the client and results.
Bringbackhair.com is a clinic of the robotized system of hair transplantation in Fort Lauderdale, Florida.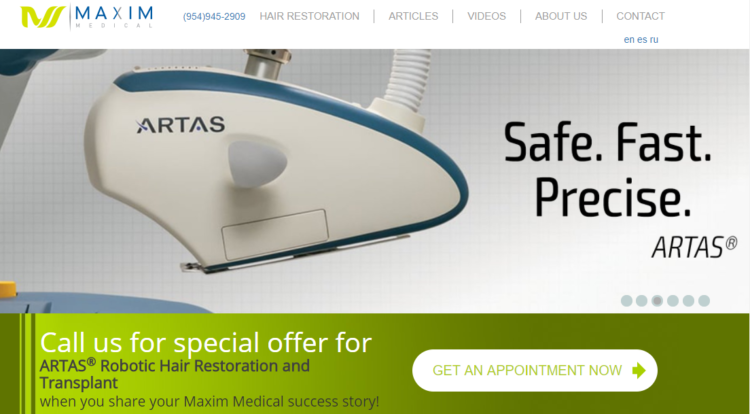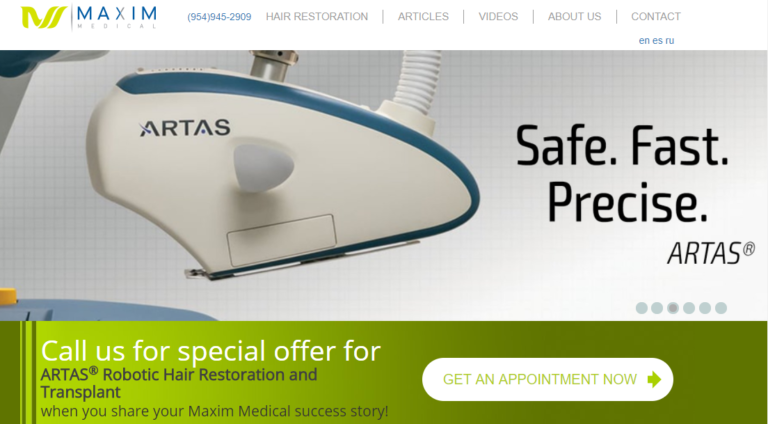 The client's goals:
Become the leader in Fort Lauderdale and later in Florida
Take the top positions in corresponding local search results
Define direct competitors with traffic amount
Peculiarities of a niche and project:
A narrow niche
Presence of powerful competitors even in local search results
A complicated business with a range of peculiar qualities
The strategy:
A competitive analysis of the leading websites that concern the niche was conducted. The reasons why and how they had become leaders were defined.
The factors that are important for search engines in this niche were discovered.
Successful solutions were singled out.
Onwards you will learn exactly what actions have to be performed in order to gain results in local business SEO. In particular, the described actions are perfect for online business promotion in Florida (FL).
Hair Transplant SEO Actions Sequence
How to grow fast in search results?
Proper setting up the lead generation process is important. Every new phase must be guided by the data received during the research stage.
One should focus on the key goal at all costs during every step of SEO marketing in Florida.
The logic of work and sequence of actions:
Competitors analysis.
Creating outstanding design for the website.
Website's pages optimization.
Technical optimization.
Working with Google My Business.
Links acquisition.
Research for additional traffic growing points.
Competitors Analysis
A search and analysis of competitors present in the niche are conducted with the main search keywords without definite locality.
It lets understand the business itself: how it is organized, what values it has got. Also, it helps with defining competitors' strong and weak points, which will help to organize a plan for search engine promotion.
Important! Without completely dipping into the essence of a niche, it is impossible to develop a high-quality SEO strategy.
Search queries are analyzed during this stage: both possible synonyms of the main keyword and additional ones. Inner optimization of the site, link profile, and usability of pages are estimated as well.
Analysis of competitors' traffic pages
This stage helps to understand which pages bring competitors search traffic and where we should focus during website's optimization.
We recommend using a service called SemRush for competitors' website analysis.
It lets download the whole list of pages that are seen in search engines.
Example for miamihair.com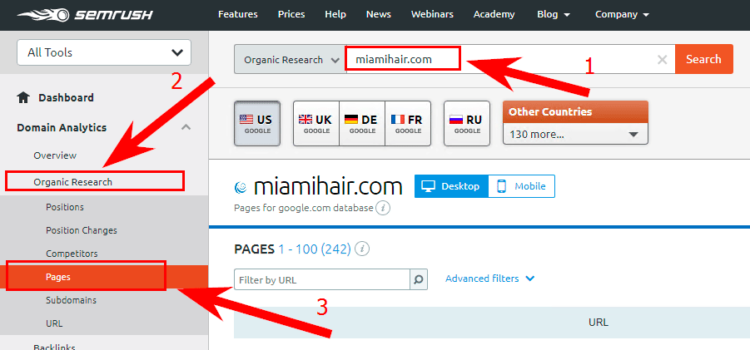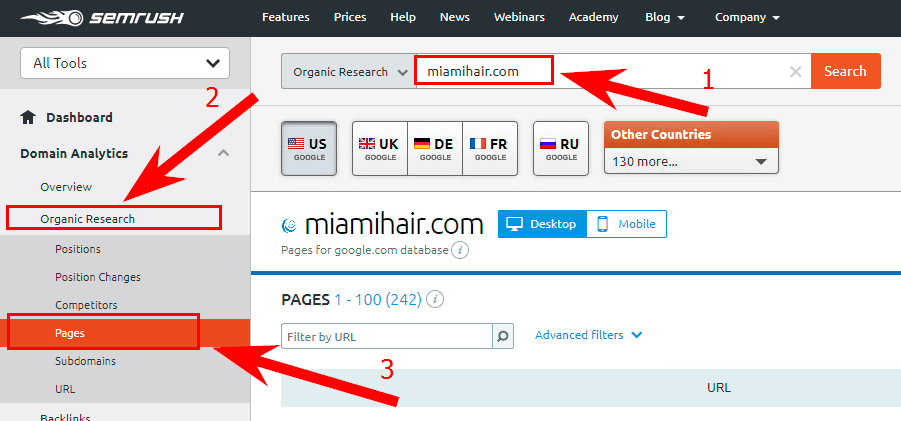 The majority of competitors get most search traffic from the main page.
That is why every effort was made for its optimization firstly.
Collecting a Semantic Core
It is better to collect a semantic core with one of two services: SemRush or Serpstat, «Related searches» from Google.
With SemRush
A semantic core is being gathered independently: according to the main keywords and according to competitors' URLs.
An example of competitor's URL: https://www.miamihair.com


An example of a single inquiry: hair transplant Miami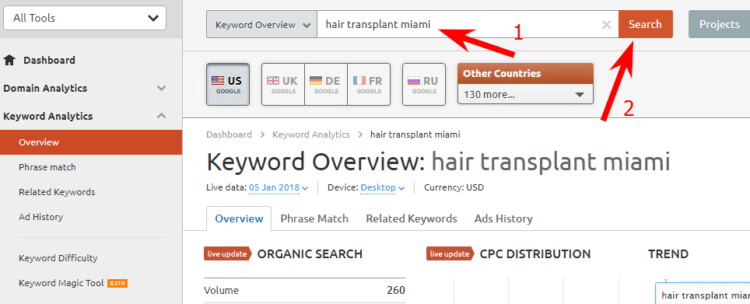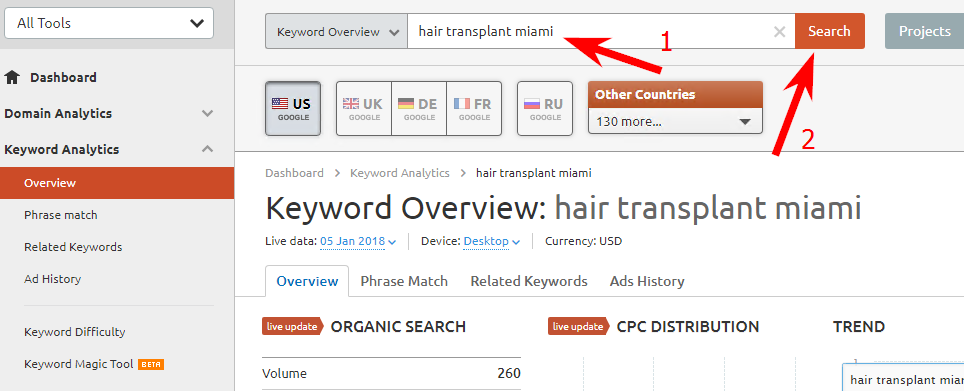 Open the whole list of keyword phrases that domain ranking for.


It is necessary to find all relevant phrases and synonyms for wider keywords coverage.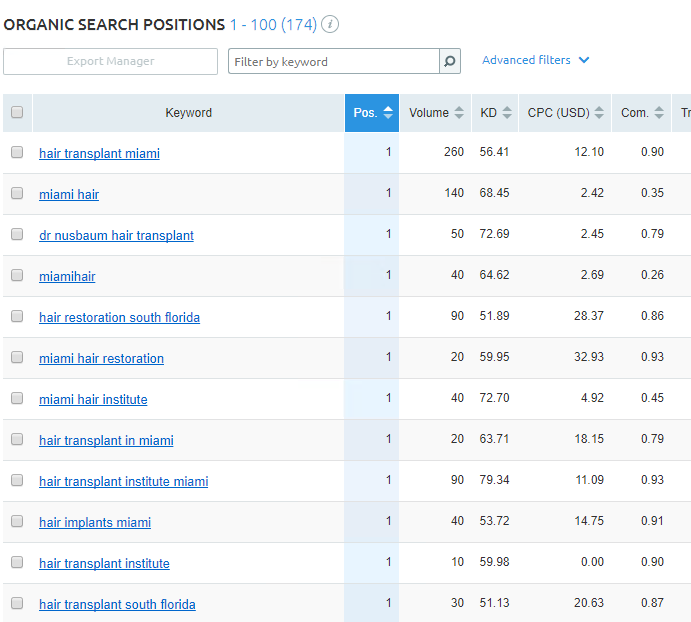 With Serpstat
The analysis is conducted according to competitors' URLs and a «Missed phrases» section.
An example of competitor's URL: https://www.miamihair.com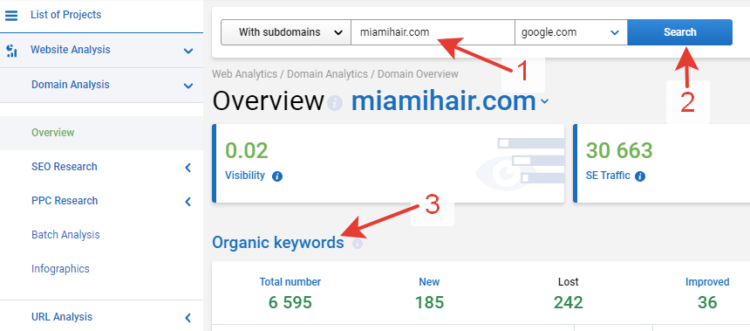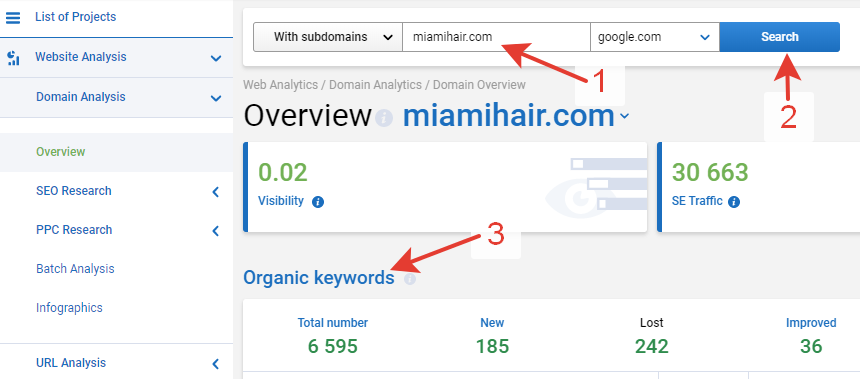 Open the whole list of keyword phrases for this page and analyze which will do well for us.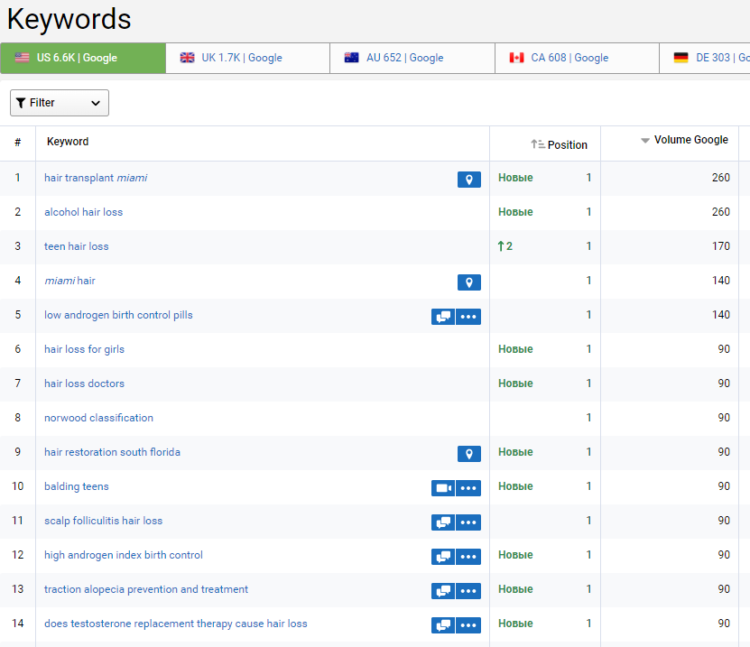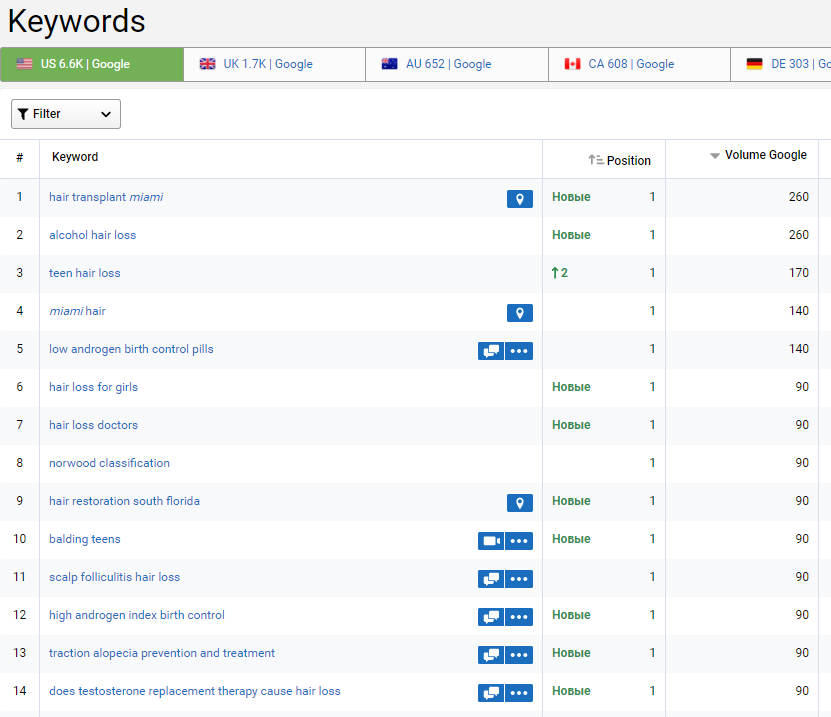 Missed phrases
The instrument helps to understand which keywords have not been used yet in a needed page.
Phrases are suggested by the means of comparing our pages to competitors'.
Important! It is necessary to research suggested missed phrases accurately. The instrument has got a delta and can show words that do not suit.
An example of competitor's URL: https://www.foundhair.com/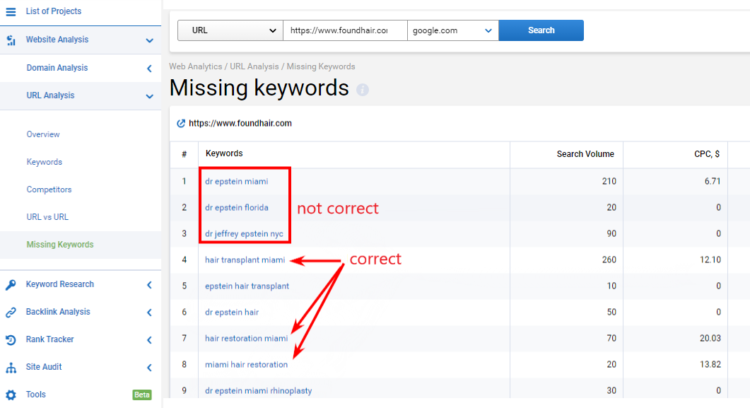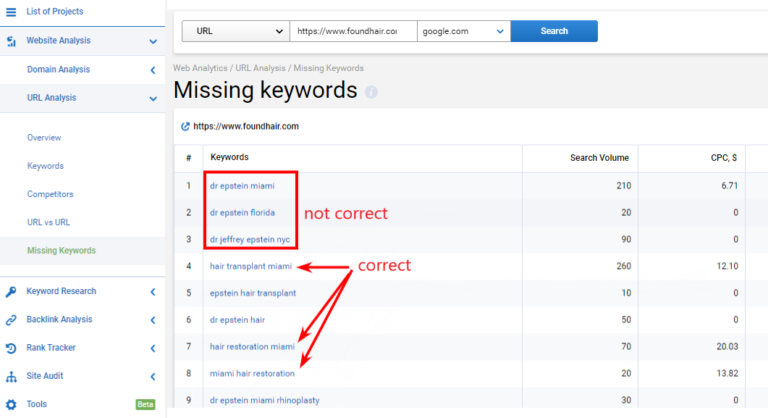 Google's «Related searches» on search results page


Google's suggestions are a good and coherent instrument for picking additional keywords.
A block with necessary suggestions is situated at the bottom of search results page.

Content analysis on competitors' pages
This approach is used for searching additional keywords, which will help a copywriter to write qualitative texts.
The more additional phrases you use in the task for content, the more useful and informative the page will be.
Important! If a keyword list is big enough, we recommend provide keywords to a copywriter in the order of diminution of their priority. It is not always possible to use all of them, especially when a text is rather short.
Let's find out some additional words and phrases: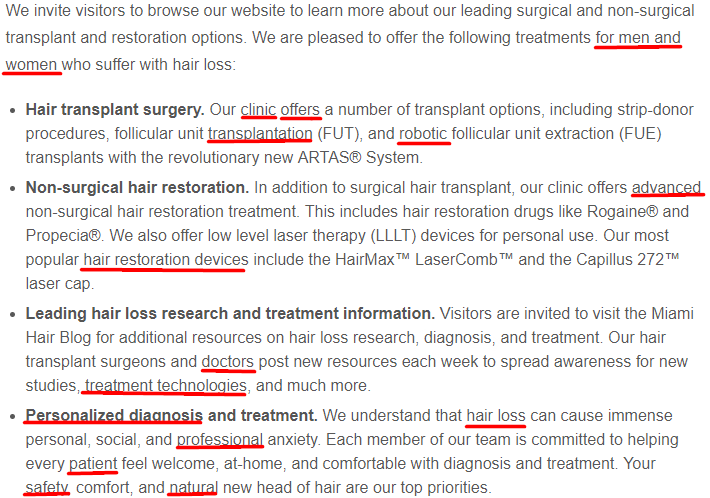 Even such a small piece of content on a competitor's page can give a rather big number of additional keywords.
Also, it is possible to pick several direct competitors, find pages that compete with your site, for example, the main ones, compare them and guess which words and phrases are found more frequently.
Probably, these will be the words we are looking for.
Google Search Console
We recommend using Google instruments if a site has already got own history and is seen by search engines.
In this case, an instrument called Google Search Console/Search Analytics interests us.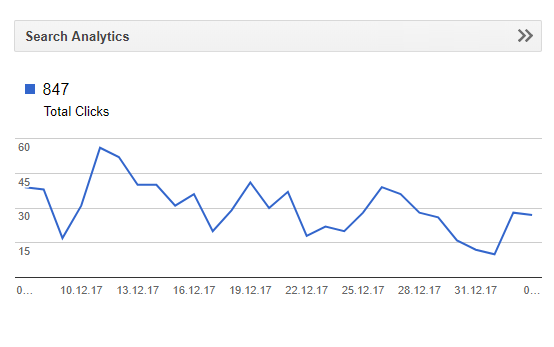 Look through the sections «Clicks» and «Impressions».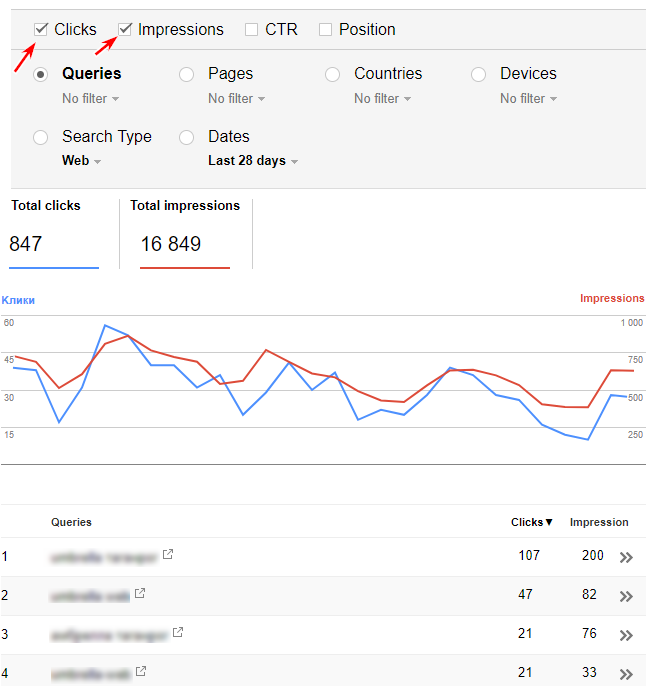 Hair transplant SEO – Search Console data
That is how the queries that are visible in Google can be shown. Then more perspective queries can be pulled to higher search result positions.
Website Main Page Optimization
The main page is the most important one.
It is the page that generates the majority of leads for a website in hair restoration niche.
Before composing a technical task, it is necessary to understand which optimization steps will naturally make a better page.
Important! During composing optimization recommendations, it is crucial to understand that the main page of a site is firstly aimed to solve business tasks and only then SEO goals.
It is important to understand that a service page (in our case it is the main page of the site) must attract users' attention and, with help of information blocks, accompany them to ordering.
Optimization of the main page was divided into two parts:
Optimization of the already existing content of the page.
Addition of needed information blocks.
You should understand content optimization as:
Composing a technical task for meta tags optimization that includes main keywords and the region of promotion;
Optimizing subheading structure;
Addition of the main and additional keywords into the content.
What information blocks were added
1. How It Works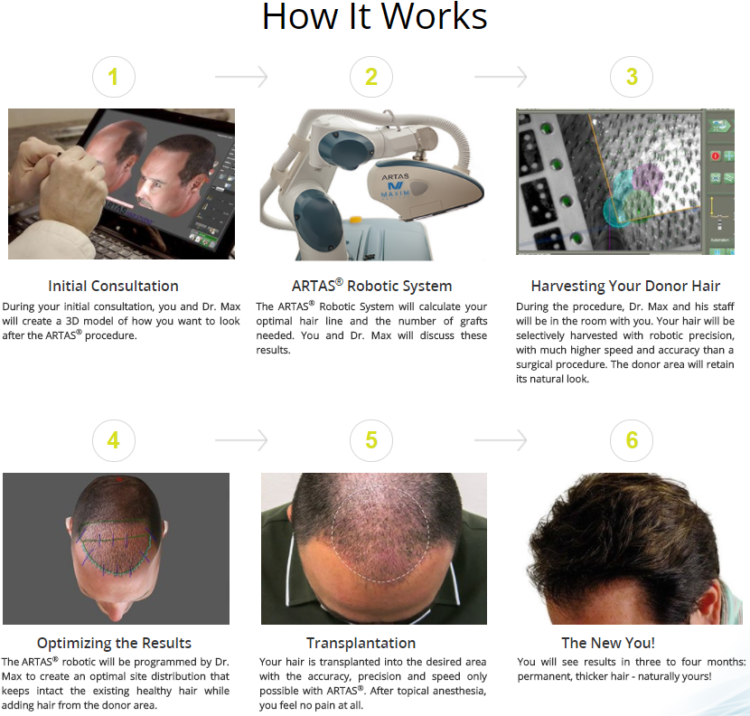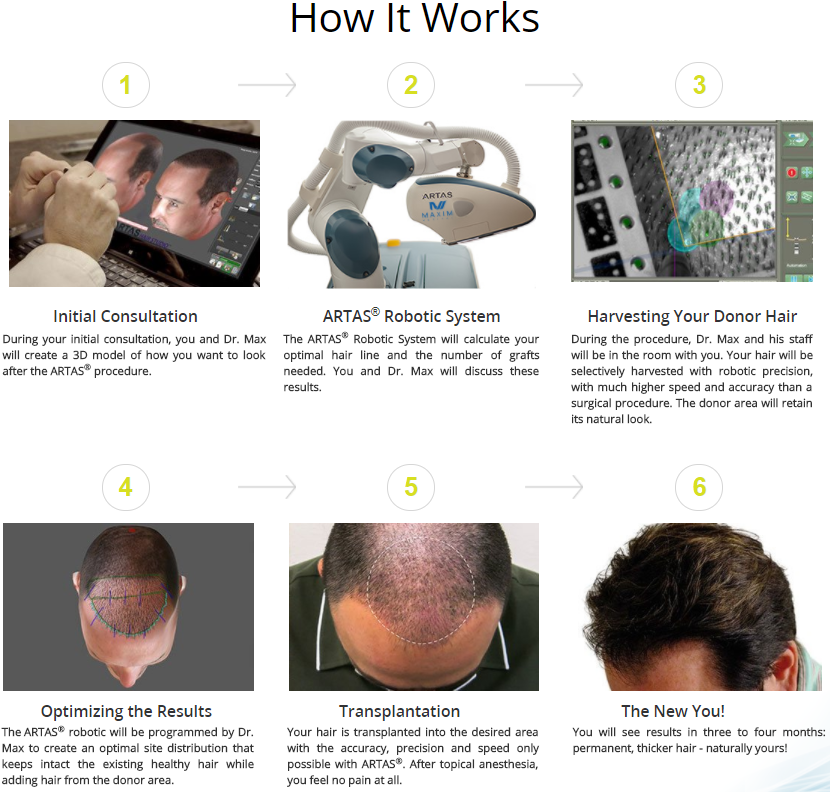 A demonstration of the service process is a very good approach. For SEO, stages' descriptions are used as places for placing keywords and for enlarging the content part of the page.
2. Before and After Gallery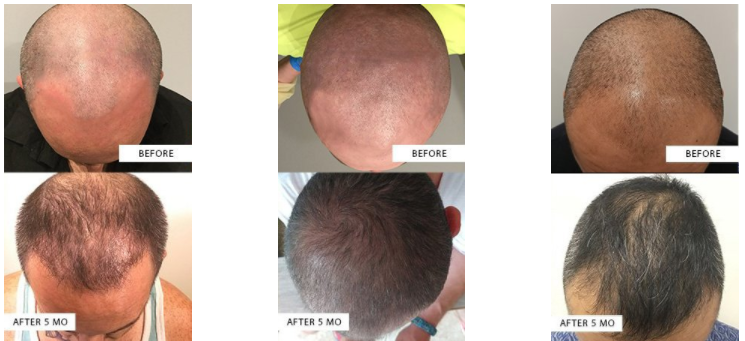 Almost any competitor had such block. According to the keyword analysis, users' queries of such type exist. It means they have to be used.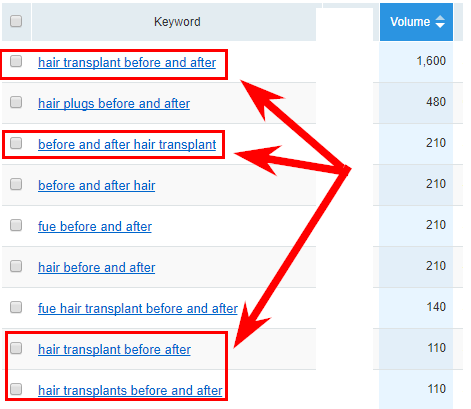 3. Recommended by


A good solution for showing professionalism and increasing authority in potential clients' opinion.
A block with logos belonging to companies or organizations that recommend this business adds some trustworthiness. It may become the last, governing factor that persuades a client to order the service.
4. A location map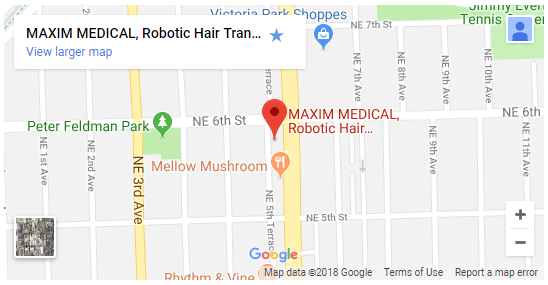 A map shows that the business has a physical address and helps users to orientate themselves.
Important! A local business must have a profile on Google My Business.
Further in the article, you can read about the advantages that the company will gain from a Google My Business profile.
Technical Optimization
The sites, like our client has got, either do not have problems or have miserable glitches.
However, if they are present, they can affect indexation and ranking of the website badly.
What actions have we performed for improvement?
Unique meta tags were created
A website's sitemap.xml was created.
Recommendations concerning the site's loading speed were given.
The images were optimized.
The Robots.txt was updated.
301 redirect for links with server response 404 Not Found were set up.
Duplicates of pages were deleted.
Read also: Appliance Repair SEO case study.
Google My Business
Users look for services, e-commerce sites, grocery stores, restaurants and other companies situated not far from them more and more frequently.
Adding a local business to Google My Business is one of the fastest and easiest ways to get into local search results of Google.
Google My Business is a free instrument from Google, which allows adding information about an organization to Google maps, Google+ account, and search results.
This is an overview of a complete organization's profile on Google My Business: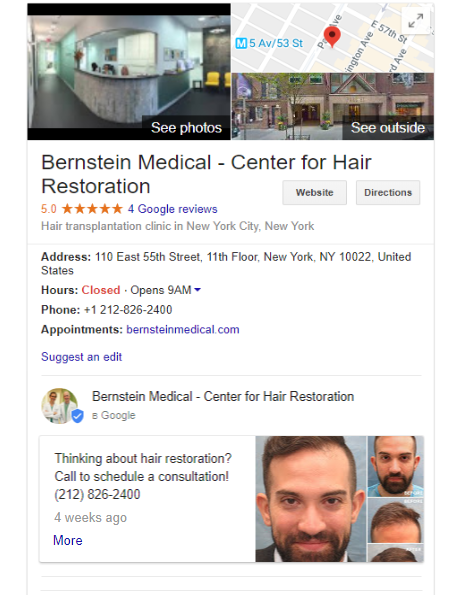 Important information about an organization a user will see directly in search results:
Operation time. It is important to set the work schedule, so your visitors can know when you are open and when you are closed.
Telephone number. It is necessary to add the main number and a mobile number as well if you are often out of the office.
Address (location) and a route. Your address can be shown on Google maps accurately to the single building you are situated in. A function «Calculate a route» is the second advantage, as it lets any person calculate the fastest route to your address and follow it.
Reviews. Positive reviews affect your clients' decision making. It is important to answer the reviews as well: that is how you show that you appreciate your clients and their feedback.
Description. A brief piece of information about a company and its services. Here you can also add an organization's motto and other additional data.
Photos or virtual tour. A block with photos or/and a virtual tour through the organization's office increases users' interest twice.
After adding an organization to Google My Business users will be able to find it on Google Maps.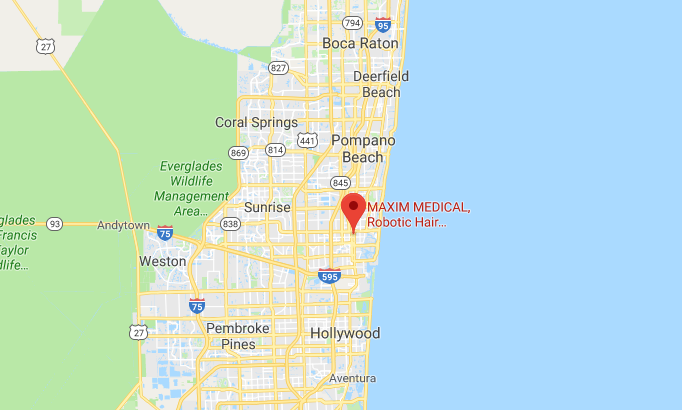 Also, Google adds a block with Google Maps into search results.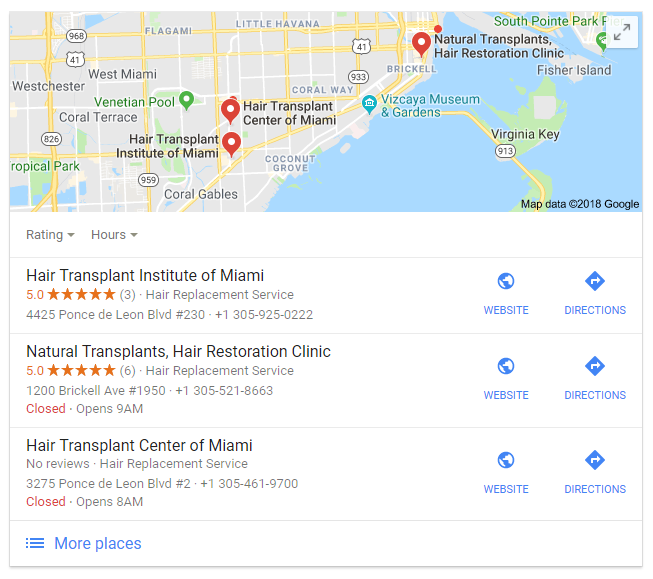 When a company's profile is on this block, it can get traffic. It is especially valuable when the website has no top positions in organic search results yet.
Important! The results of this search depend on the users' location. The closest locations will be picked for them.
Local SEO Link Building — a strategy of getting external links
Backlinks stay one of the most important factors in Google's ranking algorithm. The only things that change are requirements to these links.
The requirements stay the same: quality and relevance.
Our strategy is an analysis of competitors' link profiles for identifying backlink types and their number.
For getting full information related to backlinks we advise using an service called Ahrefs.com.
An example for miamihair.com


We go forward to the section «Backlinks» for getting a full list of competitors' links.


Choose a mode «One link per domain» and sort by a column DR («Domain Rating»). That is how you will begin analyzing links starting from the most authoritative resources.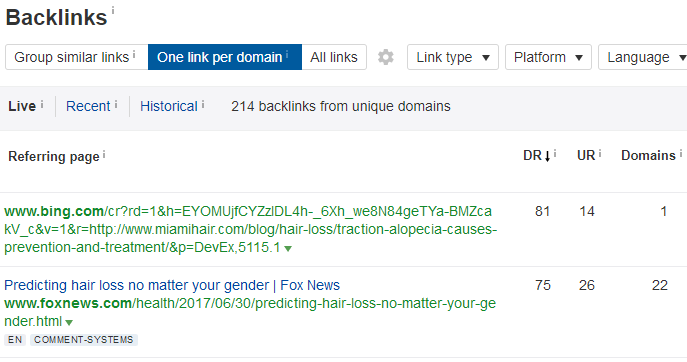 It was found that the link types and methods of their acquisition have nothing different from those recommended for the local business.
What are the main types of links and methods of their acquisition in Local SEO?
The Main Types of External Links
Business catalogs (Niche directories)
They can be freeware or paid. However, you can register in any of them, add information and leave a link to your resource.
An example of such profile: https://www.kudzu.com/m/Charles-Medical-Group-60548370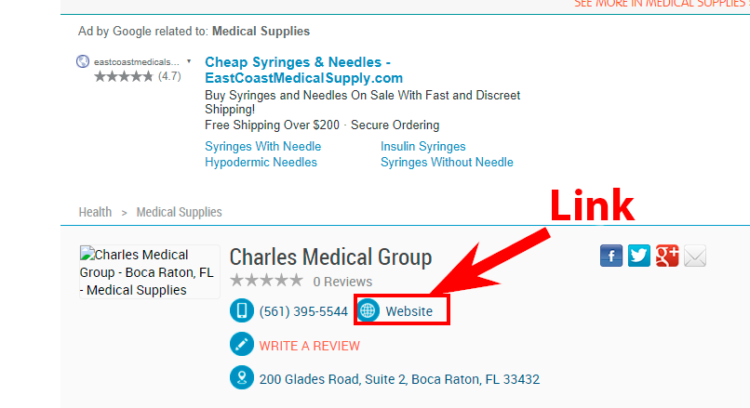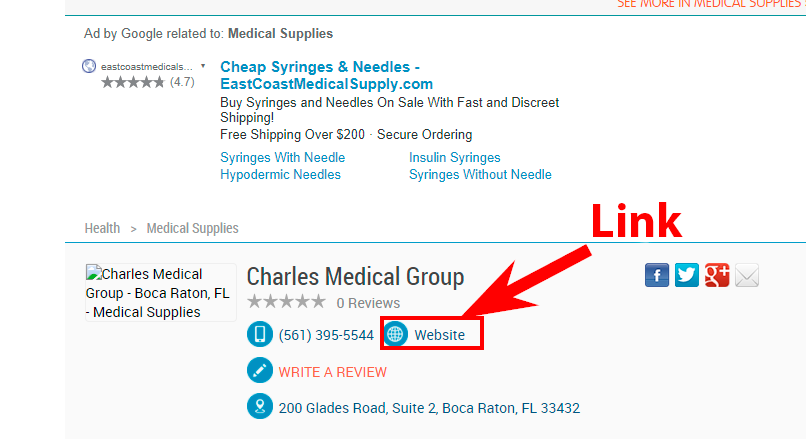 Links from local websites
The strategy implies that you need to get mentions and links on local blogs, newspaper sites, and other local companies. The links received from these resources become a signal for Google to raise a website in local search results.
Important! The links that refer to the website must be locally relevant. In other words, they must be placed on the sites of the same region or city.
An example of such placing: https://www.plastic-surgery-florida.com/blog/smartgraft-orlando.aspx
Forum links
There is another way of link acquisition performed by competitors. We mean the links from forums, where the target audience of a site may communicate.
While using these links it is important to help a person who asks a question at a forum, give him or her a professional answer and only then leave a link to your website. Otherwise, your link will be considered as spam and will bring no positive results.
An example of placing on a forum:
https://slo-tech.com/forum/t448744/49

Video hostings (Youtube, Vimeo)
Create channels for your organization on the most popular video hustings. By the means of video tell about your company, show your staff, office and territory. You can make educational videos, product reviews or film the results of works/services.
A link can be left not only in the channel's profile but under every video as well. It will be more useful if a video gains popularity. A video will be shared with a link to your website.
An example of such Youtube channel: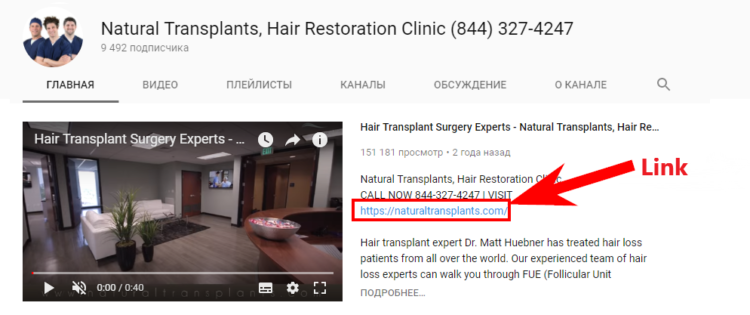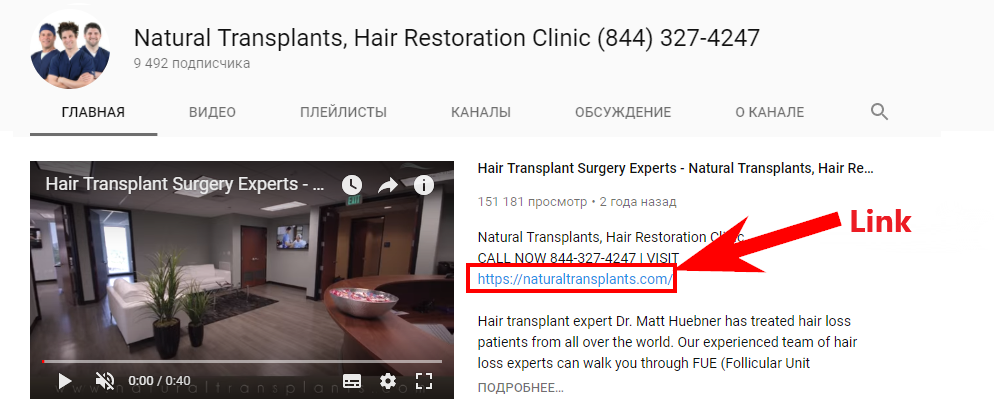 It is necessary to note that properly optimized videos can get high positions in Google's organic search results. It will affect site's traffic positively.
Guest blogging
Placing guest articles on other websites is a popular way of getting external links. There are some important circumstances: links must be allocated on trustworthy websites in order to play a positive role in the search rankings growth. Otherwise, you will get nothing in return.
An example of a guest post: https://staging.kinkycurlycoilyme.com/the-dos-and-donts-of-preventing-female-hair-loss/

Press-releases
Press-release is a small text that tells media about an event, Internet resource, etc. It is published on appropriate websites with a link(-s) to a full publication on the website or any other website's page, which is relevant to the text.
An example of such publication: http://www.prweb.com/releases/hair-clinic-maryland/hair-transplant-maryland/prweb14037125.htm


We found links of the same kind on competitors' sites after analysis. However, we do not recommend using this method for building a link profile.
Placing press-releases is justified if important newsworthy events take place and can be described there. The chances of the text being noticed by journalists are minimal.
For the local promotion of websites, you can use several options of backlink acquisition. It will be enough for creating a proper link strategy.
However
You always need to keep in mind the business niche and choose the methods which will be the most useful. For this, you need to know your competitors well enough.
How to Get Even More Leads to a Hair Restoration Business?
Website's blog development
As a result of competitors analysis, we found that some of the competitors intensively use blogs for informational articles for gaining traffic.
An example for miamihair.com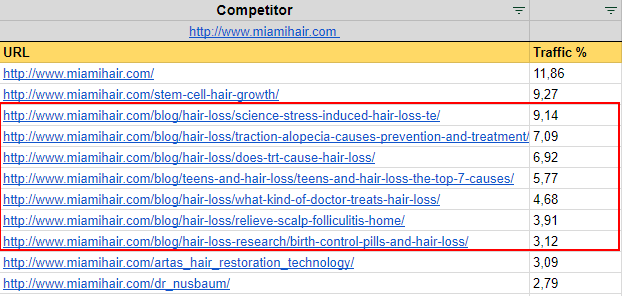 Blog content may become an additional and the main (at some future) source of traffic for a website.
Important! You need to understand that blog articles attract users to a website, but such users are rarely likely to become clients because they come by informational queries: what?, how?, etc.
Creating pages for new or similar services
Another way of getting additional traffic to a website is widening the service range.
According to the analysis of competitors, some of them have several service offers. Therefore, they cover a bigger audience of target users.
An example for baumanmedical.com


Widening of local results
Creating regional pages for other towns of the state a business could be a good idea.
You can enlarge the number of site's visitors by attracting them from the nearest counties.
A competitor's example naturaltransplants.com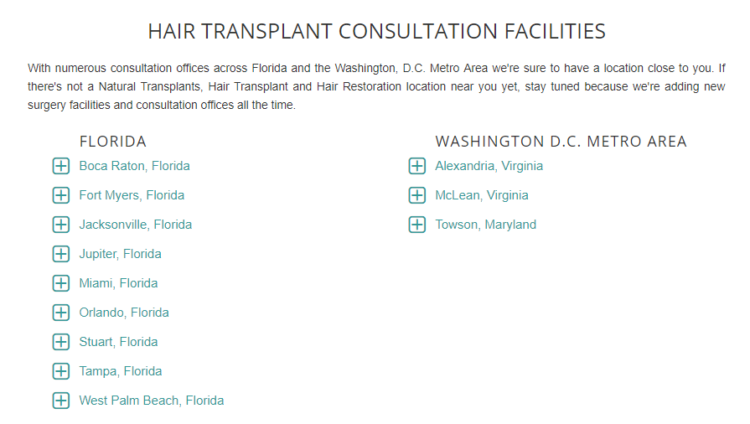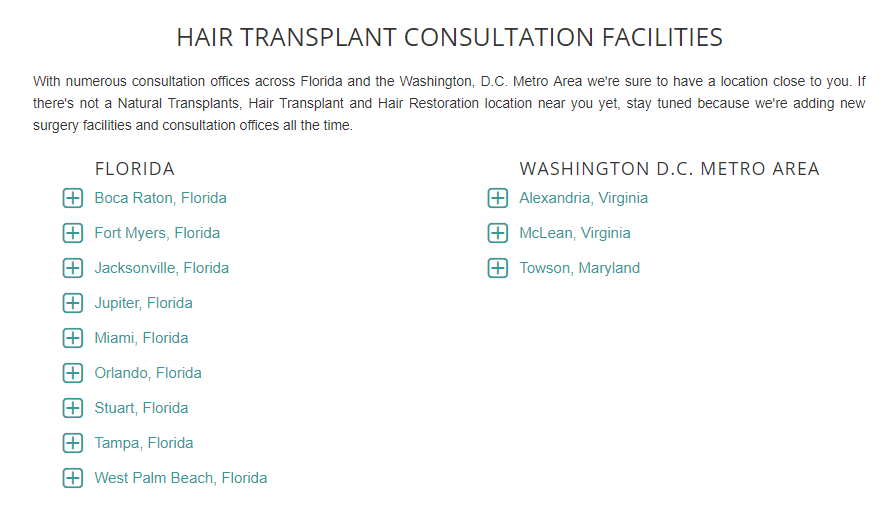 Block/Page with Frequently Asked Questions
With the help of a FAQ page, you can widen keyword coverage. Additionally, we give answers to users' basic questions. It enlarges the volume of useful content on the site and increases its quality on the whole.
A competitor's example www.artashairtransplant.org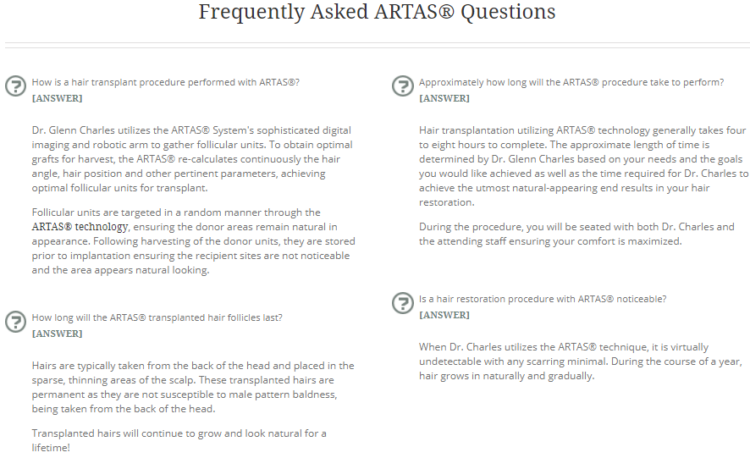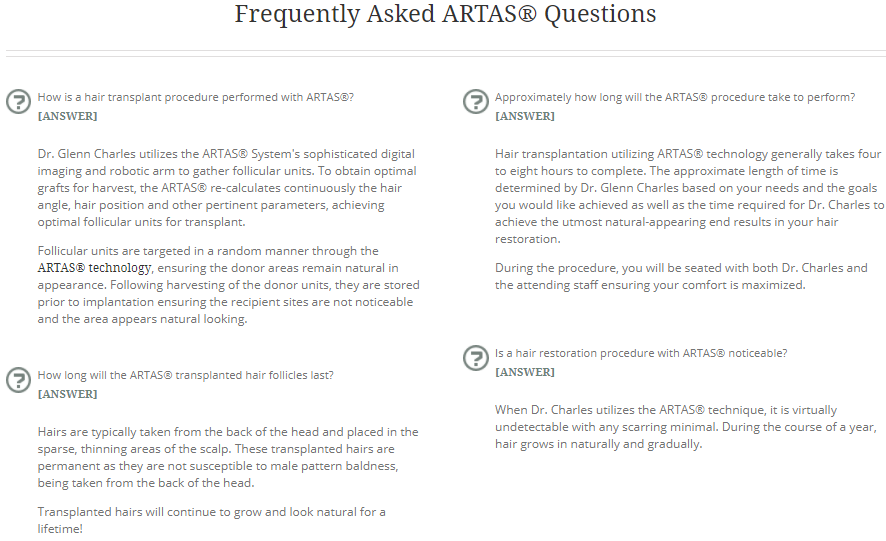 Continue Link-Building
Link Building is still important for local SEO in 2020.
However, link placing becomes more complicated, as Google equals link building to web-spam more frequently.
In order to avoid this situation, a competent strategy of getting high-quality links from authoritative sites is needed. That is the only way you can get higher positions in organic search results in Google.
Read also: Garage Door Repair PPC Management.
Conclusion
Promotion of any business (both local or worldwide orientated) must begin from understanding it and analysis of competitors' actions. Without it, it is impossible to create a SEO strategy that will deliver the expected results.
The next obligatory step is niche direct competitors' analysis. Knowing about those with whom you will compete for Google search result positions will make you understand how to outrun them.
Of course, there is no need to forget about the technical condition of a website. You need to watch if the site corresponds to search engine recommendations.
The link profile is another important factor of ranking that is important to consider while creating a local SEO strategy.
A competent competitors' analysis and proper SEO tips realization will help to provide a local business with top positions in Google search results.
Rankings of the site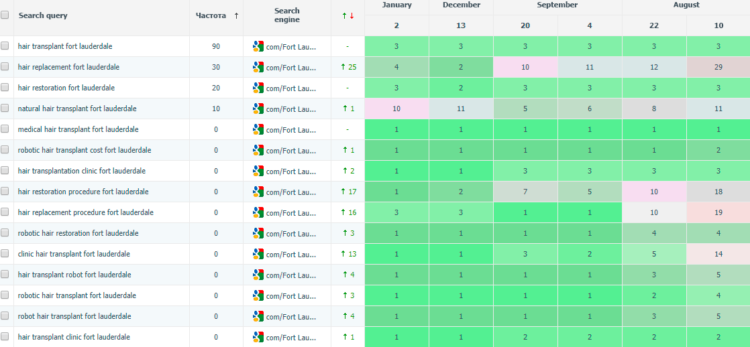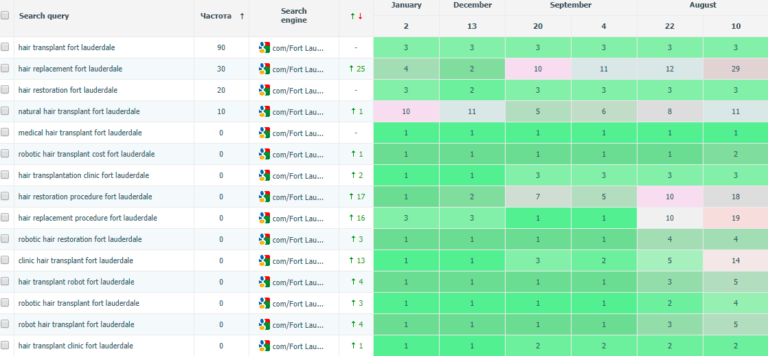 Have you got more questions concerning hair transplant surgeon lead generation case study?
Get in touch, and our team will answer all your itching questions and help to choose a successful SEO strategy for your local business.