The MGNY case study: PPC marketing for a real estate company in New York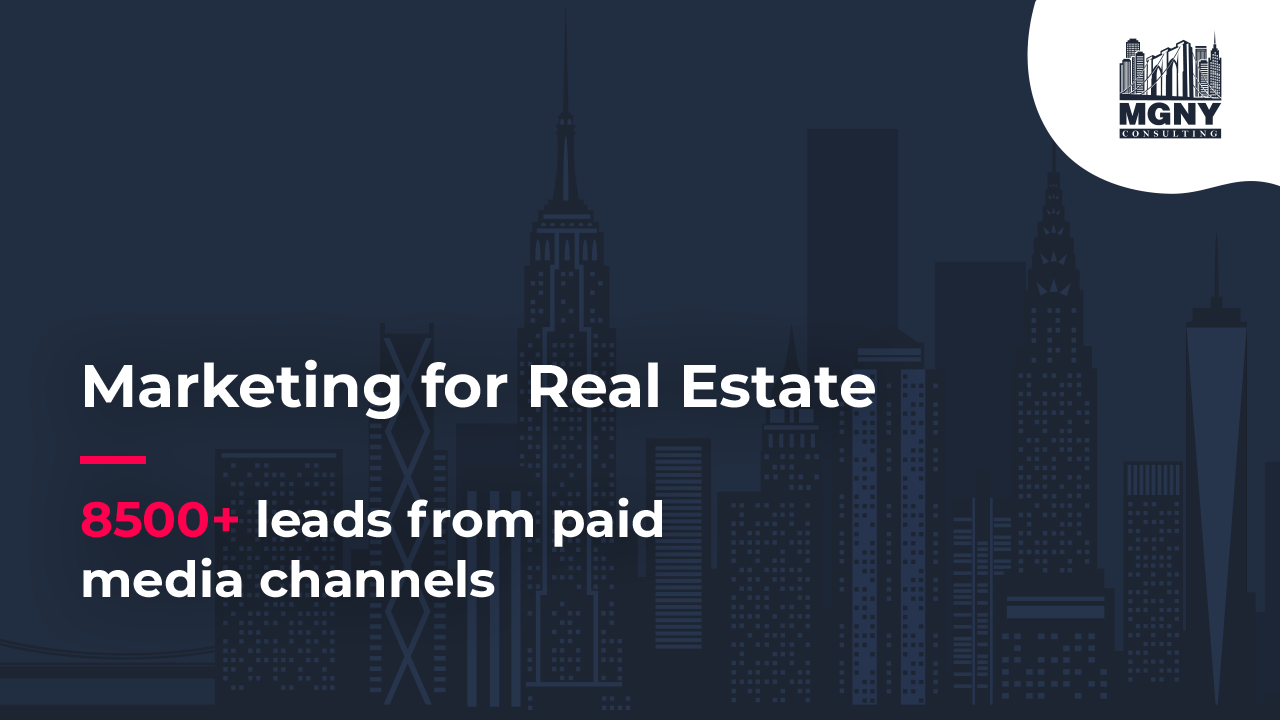 The Livepage team worked with MGNY Consulting — a full-service property tax management firm in New York City. We worked for five months to market the company in the real estate niche.
The main goal was to get leads — the New Yorkers who are looking for a rental concession. The challenge was that leads had to meet many criteria — for example, earn more than $70,000 per year.
What's a rent concession in the US?
Real estate developers in New York are subject to J-51 tax exemption and abatement. The program also requires a portion of a new development's units to be affordable for the developer to qualify for the tax exemption. Besides, developers have to reserve a part of the new residential units for low-income households.
Tenants also get their benefits — the rent is stabilized. Living in a rent-stabilized apartment means tenants won't face high rent increases each year, and they have the right to continue renewing their lease. Rent stabilization limits the frequency and magnitude of rent increases on apartments, restricting any rent increase to a certain percentage at specified intervals, usually once annually.
There are many people who qualify for the housing program, which is why the selection of allottees and allotments is made following a transparent procedure e.g. through draw of lottery.
What did we manage to achieve in 5 months?
During our work, we got 8,544 leads via PPC, 3,845 of the leads were qualified leads and took part in the lottery.


Business features
Our goal was not only to increase web traffic and get leads but also to get leads who qualify for the housing program.
Who are these people?
Households with low to moderate income are eligible to rent a stabilized apartment. In New York, potential tenants need to provide written evidence of their gross income. Household income needs to be in a specific range. Area Median Income (AMI) for New York starts at $70,000. The demand for such housing usually exceeds the supply, which is why there is an affordable housing lottery.
What makes the task even more complicated is that a lot of New Yorkers have never heard of low-income housing.
This meant that we had hard times dealing with constant demand. In our PPC strategy, we focused on:
Users who were searching for apartments for rent in New York
Users who were interested in affordable housing
While optimizing marketing campaign performance, we focused on the following key metrics for measuring the effectiveness of ad campaigns:
total number of leads
lead quality/proportion of qualified leads
We targeted households with low to moderate income who could qualify for affordable housing.
Go on reading to find out if we managed to achieve our goals.
PPC peculiarities
In the USA, you can target an audience by the level of their income. Looks like a remedy to our issue, huh?
However, Google introduced some restrictions on real estate-related ads at the end of 2020. Real estate-related ads are considered personalized ads, thus your ads can no longer be targeted to audiences based on gender, age, parental status, marital status, household income, or ZIP code.
Facebook's Special Ads Category also limits targeting options for real estate-related ads in the US
Thus, we were limited in the most obvious type of targeting.
PPC strategy to attract tenants in New York
We focused on promoting affordable housing on Google and Facebook. While launching the ad campaign, we kept in mind that we were advertising a special service category in the US.
In the CRM, the client added a special income-related tag to all the leads — under-70, 70-100, above-100.
The Livepage team added UTM tags to all campaigns — this allowed us to track the traffic source and add it to the CRM. We needed to understand which campaigns hit the target audience and which campaigns generated unqualified leads.
After that, we set up CRM data exporting to spreadsheet tables twice a week. We used the data to analyze ad campaigns and decide on the adjustments.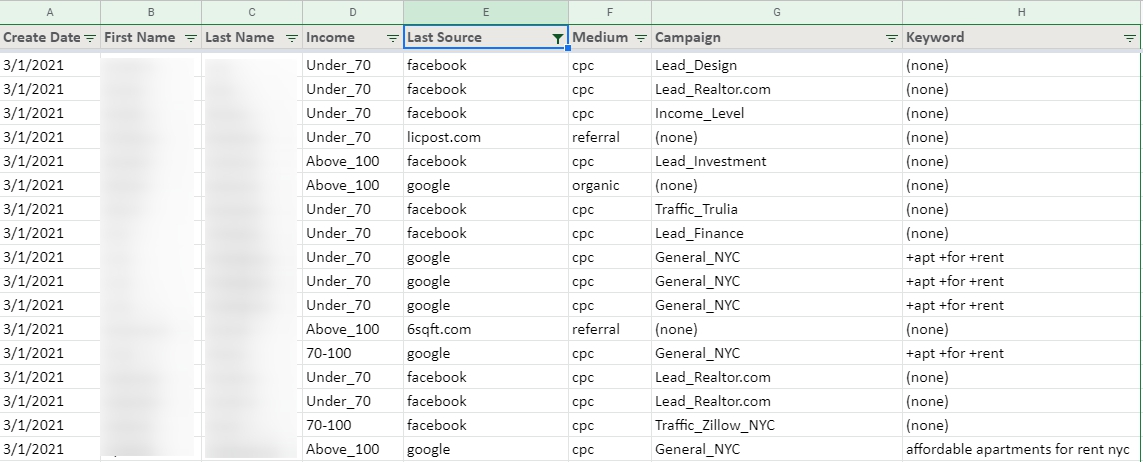 Real estate promotion in Google Ads
As we already mentioned, many New Yorkers aren't aware of housing programs, and therefore, don't search for such services. We decided to use search ads for general search queries about rentals and ads for the lottery search queries.
As we wanted to maximize reach and tell about a unique rental opportunity, we launched:
display campaigns aimed at the interested users
ads on specific websites
remarketing campaigns for website visitors
YouTube ads

The project had a tight deadline — 5 months till the lottery. We had to get as many leads as possible till then.
The marketing strategy and KPI were changing because of:
monthly marketing budget
the proportion of qualified leads
cost per lead
In the graph above, you can see that we reallocated the budget by traffic sources depending on the results.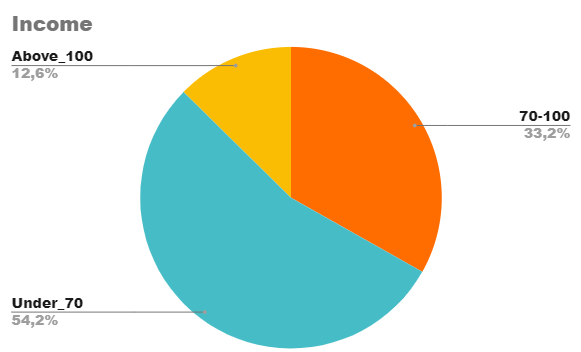 While assessing the campaign performance, we saw that we got traffic and qualified leads from Google, but the cost per lead was 2,5 times higher than from Facebook. Therefore, we decided to reallocate the budget on Facebook ads.
Facebook
Facebook greeted us with strict rules for real estate ads in the US. Out of all the possible options, we could target only by interests and opt for retargeting.
We tested a lot of target audiences with interests like:
competitors
houses, apartments, real estate
interests related to the highest-paying industries or businesses

Testing Traffic and Conversion objectives
We used the Conversion objective for our Facebook ads. The average result was 25% of qualified leads, while our goal was 45%. Even though we got more leads, our priority was their quality.
The Facebook results weren't surprising at all — the system showed ads to those users who were more likely to submit a request. The system didn't take the quality of leads into account.
Below you can see ad campaign results by lead quality and quantity. The green cells include campaigns with more than 35% of qualified leads. Ads with conversion objectives are highlighted in red.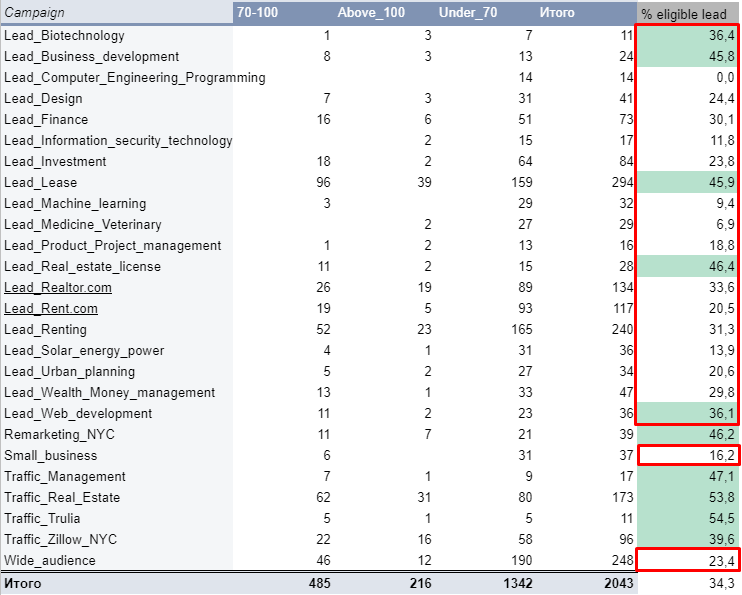 Besides, we launched several campaigns with Traffic objectives. The screenshot above shows that the proportion of qualified leads from these campaigns is significantly higher than from the Conversion objective campaigns. As a result, the reach got increased, leading to higher lead quality.
After we switched to the Traffic objective, there was an increase in the lead quality and the number of qualified leads, which amounted to 44%.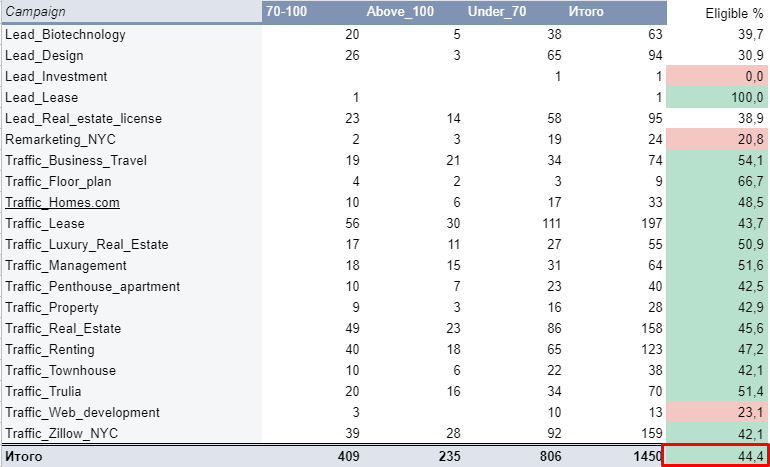 Testing video ad creativeThe closer to the deadline, the more we needed to boost reach without extra expenses.
We found a solution — video ad creative. One of our concerns was that video ads would get us low-quality leads. However, we shouldn't have! Over the last month, the Livepage team has increased the number of qualified leads to 48%.
Video ad creative helped us boost coverage and increase the number of leads. It turned out to be 1,5 times more effective than banner ads.

The bottom line
We had several challenges:
a niche with PPC restrictions
big time zone difference
English-speaking client and English-only communication
The Livepage and MGNY teams' efforts made it possible to achieve all the goals.
At the end of this project, we got 8,544 leads through PPC, 3,845 of them were considered qualified and took part in the lottery.

If you want to achieve the same results – leave a request on our website.