SEO Optimization Strategy for IT Outsourcing Company – Yalantis Case Study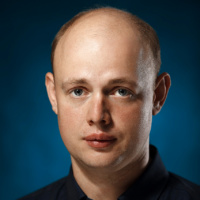 June 5, 2020 |
32 min. reading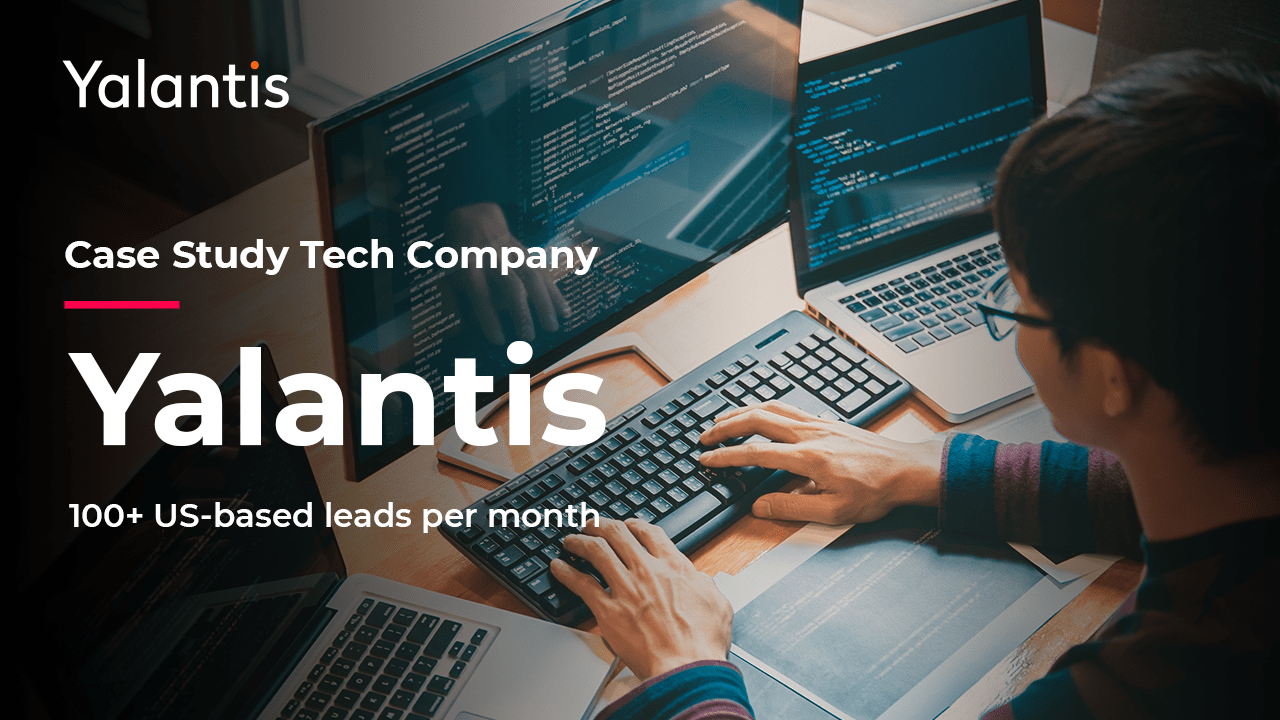 High competition and a huge cost of getting the lead are the fears preventing IT companies and software houses from using internet marketing, particularly content marketing, to grow their businesses.
Are they right?
The Yalantis case study will present the efficient growth strategies for IT software houses using content marketing and search engine optimization.
We have many case studies of SEO services for IT companies, and this one is based on 36 months of cooperation between SEO agency Livepage and Yalantis (Ukrainian Software house). 
As a result, search traffic became the main source of lead and customer generation for the client.
Results for February 2016


August 2017 [the case was updated 18 months after its publication]


Results for August 2017 prove the relevance of the chosen strategy, about which we will tell you below.
We will also show the reasons for the failure of other companies to repeat this success story and why search engine optimization for IT companies is so important.
The digital marketing solutions and strategy for Yalantis at work in 2020.

Start: Planning a Strategy for Implementing SEO Services
Traffic—5 daily visitors and 0 monthly leads.

No clear marketing strategy.

About 20 articles in the blog.
Important! The first step toward the result was to set a specific goal. The goal of the Yalantis marketing team was as follows:
«To get 50 leads monthly for mobile app development with the help of content marketing and SEO consulting».
Our first mistake
We didn't think through which articles have the highest conversion potential. The reason is a weak study of a potential customer portrait. As a result, we created the content like a comparison of Swift and Objective-C, which converted poorly.
Which strategy we offered
Important! Find the 20% of work that give the 80% of the result.
It is possible to get 50 monthly leads only through a lot of content solving the readers' problems.
We developed topics of interest to the target audience, for example, «The case of integrating Google Maps API into an iOS application.»
Key strategy:
Create the Ideal Customer Profile (ICP).

Improve the landing and case study pages.

Set up the marketing funnel from the awareness to the decision stage.
In other words, we decided:
To promote the content through low-requested and niche-specific business solutions in mobile app development targeted at C-level managers and entrepreneurs. This proved to be the winning SEO strategy for IT outsourcing companies.
Why have we chosen this strategy, and why do most companies fail to repeat our results? Find out below.
How We Managed to Grow Search Traffic for Tech Company
Creating the Ideal Customer Profile and content that provides a solution to the customer's pain points
The main step that many marketing managers and business owners miss is the research of the potential customer's pain points in the target market.
Before engaging in content marketing, put yourself in your customer's shoes, and create customer pathways. You must understand what content (a set of articles) will interest potential clients, why, and how they will make decisions.
If you do not prepare for systemic content marketing, you may not get leads and waste time and money.
Writing niche content
SEO for low volume search queries (specific scalable solutions for business) can be easily made with the help of useful niche content.
Content should:
prove the company's expertise;

solve customer problems;

attract leads for potential customers.
An example of the article created for Yalantis — How much does it cost to create an app. It covers all difficulties faced by a potential client and tells about all possible costs.
But the content itself is not enough.
Below you'll see additional methods that helped the website get higher search ranking for every piece of content.
Perfect research of every content requirements document
To write a high-quality task for a copywriter, you should research and:
draw up a list of all questions you need to answer in the article;

collect all keywords users use when searching for the problem solution;

make a short plan of the article.
Tools for competitor analysis and keyword research allow us to collect most of the required information to provide expert SEO services for IT outsourcing companies.
A step-by-step guide for developing a content requirements document:
1. Understanding the subject.
To understand the material:
look into the concepts;
search for information on the subject in Google;
communicate with an expert on the subject, for example a member of the company;
read 1–3 articles on the subject, understand what is lacking there; draw up a content plan.
2. Collecting keyword phrases.
Export of data from Semrush is the main phase of making the list of key phrases the users use.
For example — kitchen glass splashbacks for the UK region.
Choose the required region, example — UK:

Open the whole list of phrases:


Research all keywords choosing suitable ones: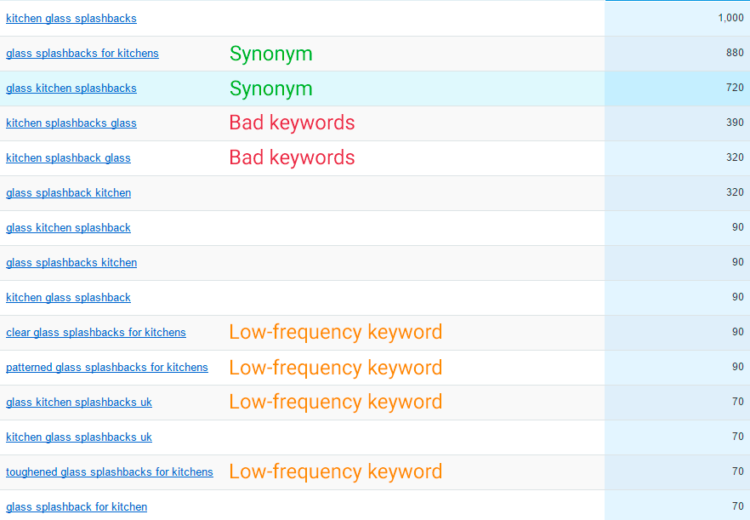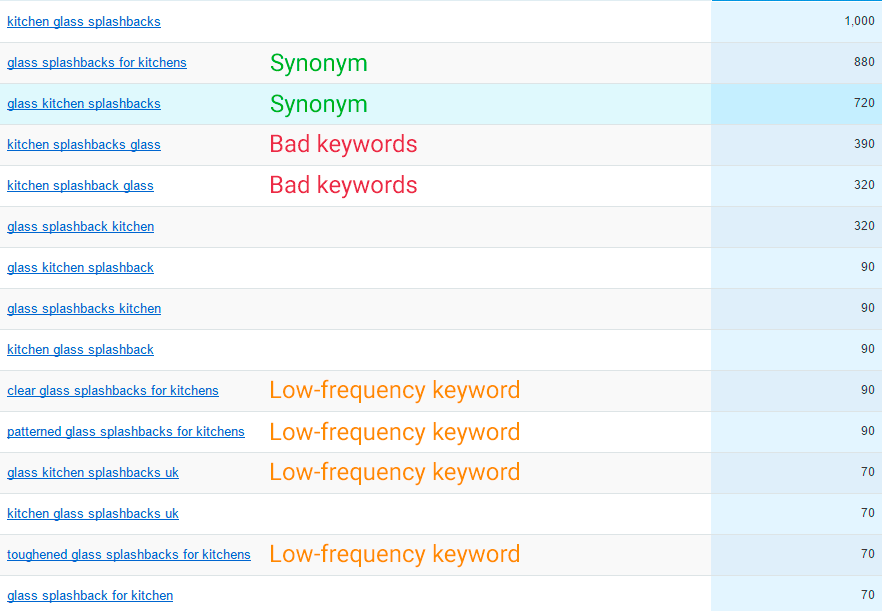 Analyze the whole list and write out all keywords with their volume.
3. Competitors research in Semrush and lookup for low-tail search queries.
Additional words are a very important factor for getting high-quality low-frequency traffic to the articles.
Improving existing content
Previously posted articles on the website are a real well of lost opportunities for growing search traffic and getting leads.
Content reoptimization.
According to Hubspot, updating blog posts gives 106% growth of search traffic on average.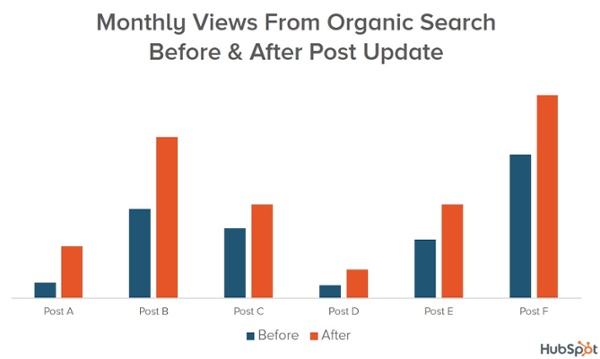 What articles to improve:
older than 6 months, bringing traffic but giving few conversions;

older than 6 months, ranking 7–15 in search results for the main keywords;

included in the top 30 pages by traffic on a particular website.
To update the articles, you need to:
use Semrush and Google Search Co0nsole to see for which queries the article appears;

find synonym queries close by meaning by looking into competitors' data and search results;

find 10–15 additional clarifying keywords (usually adjectives) which will add to the growth of low-tail search traffic;

properly write new keywords into the content;

update charts, out-of-date data;

think through the article logic, add additional information if necessary.
An example of traffic growth after enhancing the article for key queries on the Yalantis website:


2. Pushing lead generating articles to the top of search engine results.
The strategy is to get more traffic from high converting articles and thus get more leads.
You should analyze which pages have brought the majority of conversions for several months and push them to the top 1–3 positions in Google by the key search queries.
For this purpose, you may do as follows:
update the article structure—find poorly described or missing part of the subject;

improve keywords usage;

get inner links to this piece of content;

raise the number of links to a page through link-building.
It is worth using this strategy after 6–8 months from starting the content marketing strategy.
In addition, read the article of Neil Patel about how to make your content rank high in Google Search.
Website Technical Optimization to Improve Search Results
A technically optimized website will give you an advantage against young competitors or help you to quickly catch up with «elders» in the niche.
For technical optimization, you need to do as follows:
Check the website for content and page duplication.
Having no unique «borrowed» content is one of the reasons why your website search ranking is not growing.
Duplicated internal pages prevent search engines from correctly defining the relevant page, which also causes trouble with getting to the top of search results.
Check website speed.
It is very important that your website meets the requirements of Google PageSpeed Insights and GTmetrix. Using these tools you will be able to raise website load speed to the required level.
Check for 404 errors and 301, 302 URL redirects.

Check for server errors.
You can read how to do a more detailed technical test of all parameters in the Moz article.
SEO Competitor Analysis
To develop an efficient marketing concept and SEO strategy for an IT company, you need to research 5–10 competitors and make conclusions.
Criteria to assess your competitors
Potential traffic
Similarweb will be of help, it will show how the traffic is distributed between the channels and what is its absolute value.




The chart shows that about 61% of all website traffic is search traffic.
Important! The figures shown may differ from those in reality, but after checking 3–5 websites, you will understand a common pattern and traffic arrangement on competitor websites.
This information will allow predicting what amount of traffic you can get.
Search for pages bringing traffic
To show that content marketing is the main source of search traffic generation, and it makes sense to use the same strategy, it is necessary to check competitors through Semrush.
Export the list of top pages by search traffic: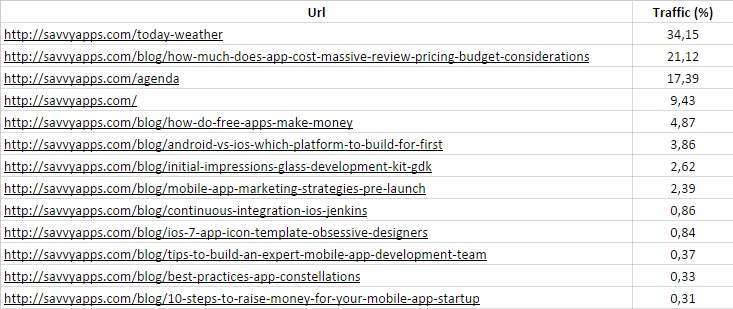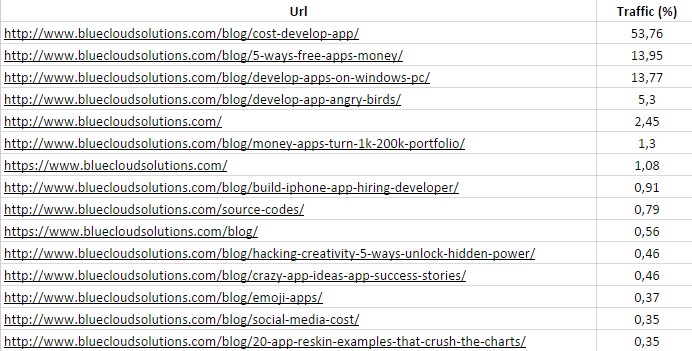 The examples show that about 40–80% of competitors' search traffic comes from blog articles. This means you should turn to content marketing.
Important! Do not write only traffic articles. This is a trap—read further in the section «General articles = low conversion.»
Link analysis
The analysis is necessary to understand what effort your competitors make for outbound marketing, determine which methods bring the best result, and try to make them the basis of your strategy.
With the help of Ahrefs.com you should deeply study:
the number of domains linking to your and your competitor's websites;

the types of links your competitors get;

average domain authority.
This information will help you choose the right digital marketing strategy for an IT company for getting links to outrun your competitors in terms of link quantity and quality.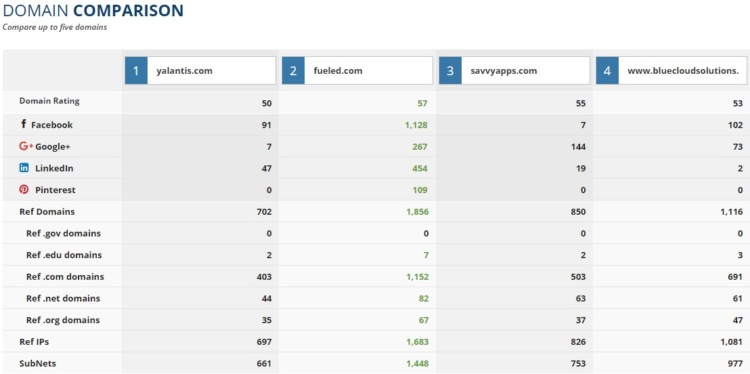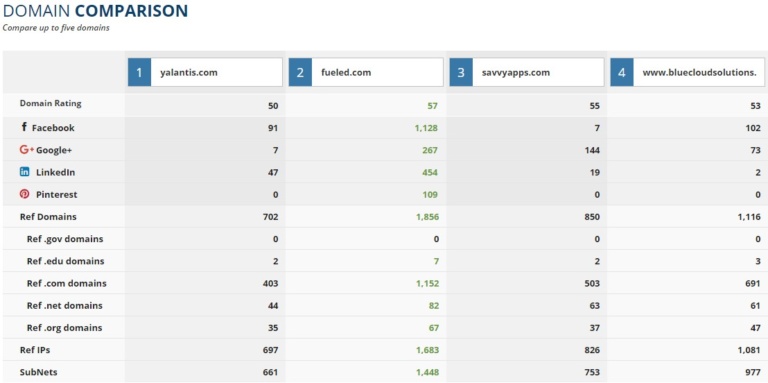 After analyzing the links of competitors, we have realized that it is worth chasing not after the quantity of links but after their quality, and enhance the work with related websites like Dribble and GitHub.
How to get high-quality links
Providing Guest Posting Strategy
Analysis of competitors' links has shown that the most useful links for traffic growth are guest articles on field-specific traffic websites.
Advice! If nobody wants your content, you should check how interesting are the topics you offer.
Imagine that a person with an article on how to display «Hello World» in C++ is applying for a guest post.
Examples of high-quality guest articles:
Apart from links, these articles will increase brand awareness, referral traffic and get leads.
By the example of Smashing Magazine over 2 years:


We published the articles that brought 350 visitors each over 2 years, and 30 visitors from each turned to Contacts—a very high conversion. And now, imagine you have at least 20 such articles.
Our recommendation: focus on creating 2–5 articles of such quality monthly.
Crowd marketing
The aim of crowd marketing is to get links from forums, Q/A websites and thematic communities.
A distinctive feature of this method is that first of all you should help in answer, and, as a second priority, add the link to the site where visitors can learn additional details.
The main websites for crowd marketing can be:
Quora

Stackoverflow

Reddit
Important! It is better to organize this process in cooperation with the client employees. Depending on the answer quality, it can be considered either link spam or useful material.
Social networks
To raise recognition and authority of the company, it is recommended to work with social networks:
GitHub

Stackoverflow

Behance

Dribbble
When creating an account in a social network, you should fill in the user profile in full (photo, profession, company website).
When you share the content owned by the company, always give the link to its website.
Important! It was difficult for us to work with topical social networks and websites, as to do that, you must be highly competent in the subject matter.
As a solution, we presented a guide for the Yalantis team explaining how to work on social networks.
Read also: Website content promotion case-study: How to get 3 million monthly visitors from search engines.
Result
Over 18 months (until February 2016), we achieved growth in search traffic from 0 to 15 000 monthly visitors.


The result was achieved owing to:
regular publications—5–7 articles monthly;

the right selection of potentially lead generating topics;

getting high-quality and relevant links.
The first traffic results were achieved owing to well-done internal optimization and regularly posted content.
Update: August 2017
Over the next 18 months of cooperation, traffic increased by 300%—to 45 000 monthly visitors from the search traffic channel.


The focus was made on:
raising conversion from already existing articles;

pushing 1–3 existing lead generating articles to the top;

writing business-specific articles;

increasing the number of publications on third-party sites.
This amount of search traffic allows Yalantis to get over 70 leads monthly.
So, this SEO case study for an IT services provider shows that SEO consultancy services and content marketing are the main channels of the company lead generation at the moment. Read also about search engine optimization for a SaaS product and find out our other success stories.
Key to success
A key to successful content marketing for a software house is the work of two teams together.
Without the Yalantis marketing manager and editors, we could not achieve such a result in content quality. Without our work, they could not choose the traffic subjects of the articles.
If you cannot invest in your team, do not expect great results.
When growing a business through content marketing, it is important to understand that content quality (expertise) is a critical parameter for getting to the top results of search engines.
It is not the best way to outsource content creation in the long term.
You will not manage to get the required volumes of high-quality content. You will see a clear example proving our conclusion in the «Weak content = weak conversion» section.
How to achieve more and improve your result
Additional traffic sources
The aim is to build many points for entering the website from all possible sources.
Examples of entry points:
articles in media;

participating in the community and sharing your experience;

interviews with bloggers;

creating websites related to the subject of your business;
Research of competitors or related business models may suggest ideas for creating microservices or satellite websites.
In mobile app development, you can start sending iOS and Android development news every week. After growing popular, this newsletter will become a source of visitors to the main business website.
Project examples:

An interesting example is Crew. Facing financial difficulties, they created a project not directly related to their business.
It's Unsplash — a stock of free photos that became popular and gave a boost to the team. Later, Crew was acquired by Dribble.
Remarketing
Remarketing allows getting back users who have already visited your website but haven't taken the actions you expected.
The aim of remarketing is to show an offer only to those users who are the most interested in services or additional content.
Before setting up remarketing, with the help of Google Analytics, it is necessary to:
determine the target audience;

understand how the users taking the target action behave;

learn what pages they mostly visit before conversion;

how much time they spend on the website;

from what devices and browsers they come.
Important! If goals are not set up in Google Analytics, it won't be possible to set up remarketing correctly.
Based on these data, we make up a profile of visitors that will most probably be converted. Then the code on the website collects lists of users fitting the chosen criteria.
A final step is to set up and show an advertisement message which may convert them into leads.
Email subscribers
The subscribers are the most tolerant audience. These people will spread your content to a wider audience. It is very important to start building the email list as early as possible.
Here are some methods for building the email list:
Create a white paper—deep niche research to download, which is emailed to a person.

Invite to participate in free webinars.

Offer to be the first to know about new publications.
Example: The ranking of the best cities to live in from the Economist. They provide 2016 data in exchange for email sign-up, while 2017 data are given on a paid basis.
Paid advertising for low-frequency queries and certain regions
In the section «Why others fail,» you will learn why PPC for broad search queries is usually expensive and not converting.
But you should not disregard this channel—paid ads by very narrow search query segments or audience types are very efficient.
Pay attention to detailed clustering of search queries.
Analyzing Android app development, you can find less competitive queries:
how much does it cost to develop an android app

android development company

android app development cost

need android app developer

android app development companies

professional android app development

companies that develop mobile apps
They clearly show the user requirement, but are not as general as android app development.
We are intentionally not chasing after expensive queries.
But we collect traffic from cheaper and more specific queries with fewer impressions and more clear needs.
Narrow geographic targeting also works well. For example, you understand specific aspects of working in Islamic countries and set up targeting only for one country, or even better for a number of cities.
Why others fail
High cost of attracting the lead and its quality is what scares away IT businesses from promoting themselves through Internet marketing. In other words, the quality of leads received does not allow signing a contract with most of them.
Why is it so?
1. Lack of analysis
Let's look at the example:
Query — Android App Development
This is exactly what you are doing, isn't it?
Logically, yes, it is.
However, search results by this query include four paid advertisements of developers, while the top 10 organic results consist of educational resources.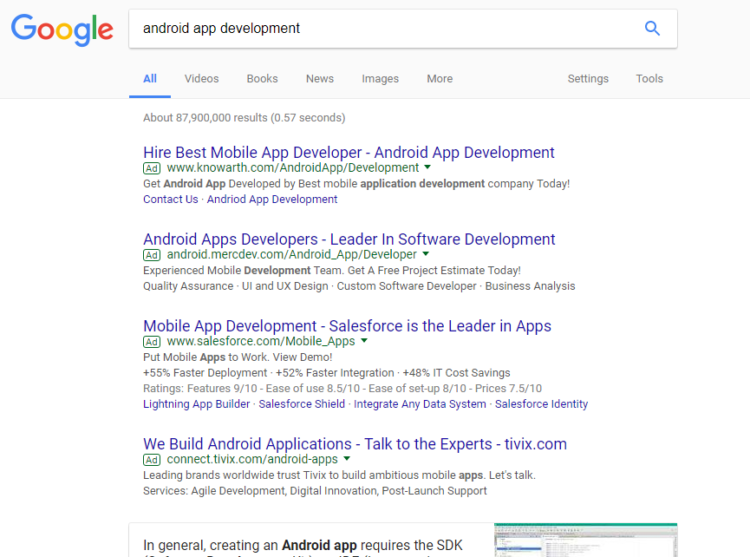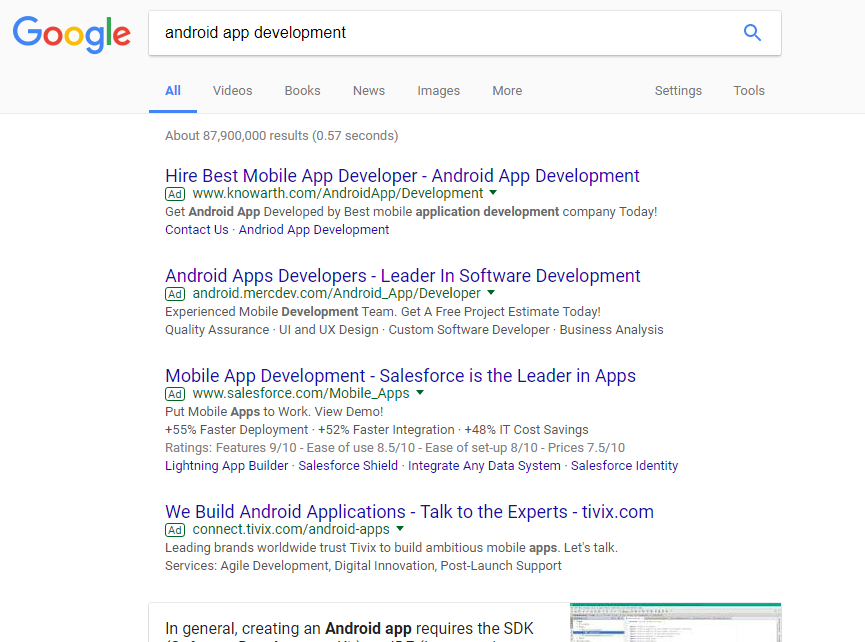 There are no agency websites among the results. This means promotion by such general queries is ineffective for all channels. Users are looking for tutorials, not for development services.
Conclusions:
PPC will be inefficient because of a different need of visitors.

You will not get to the top 10 in organic search as educational websites are dominating there.
2.

Lead cost too high
Let's check the cost of a click for «Android App Development» in the US region.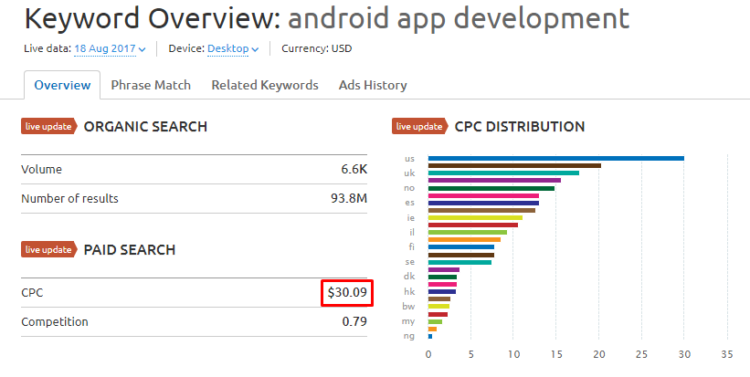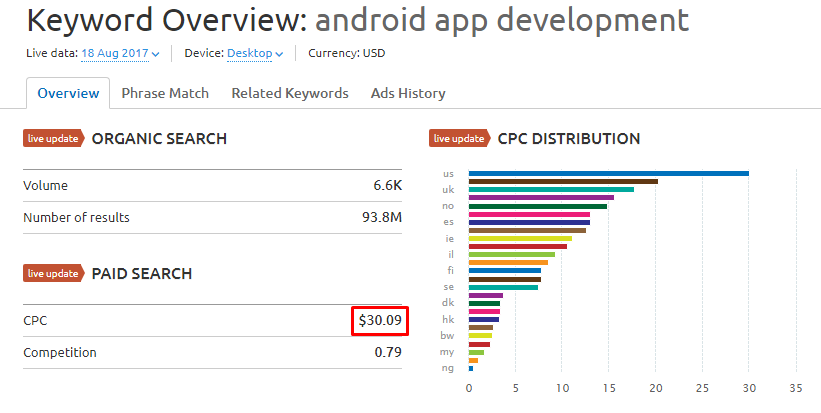 Using Semrush data, we see that every click will cost over $30. The broader a query, the higher is click cost, and the lower is conversion.
Are you ready to pay so much for a doubtful chance to get a lead? I think not.
Even if there are potential customers among those who want to learn how to develop apps on Android—the quality of such leads will most likely be low. Users asking general questions do not clearly understand what they want. Have you ever experienced it?
Conclusion:
Focus your efforts on marketing in those areas that are your team's strong points.
For example, Uber applications.
The cost of a click in a narrow area is far lower ($9 instead of $30).
The probability of converting leads into customers here is much higher, though the number of those interested is much lower. Why? Read on.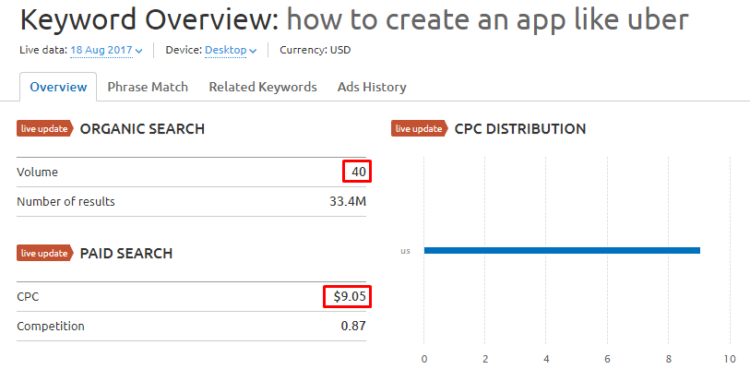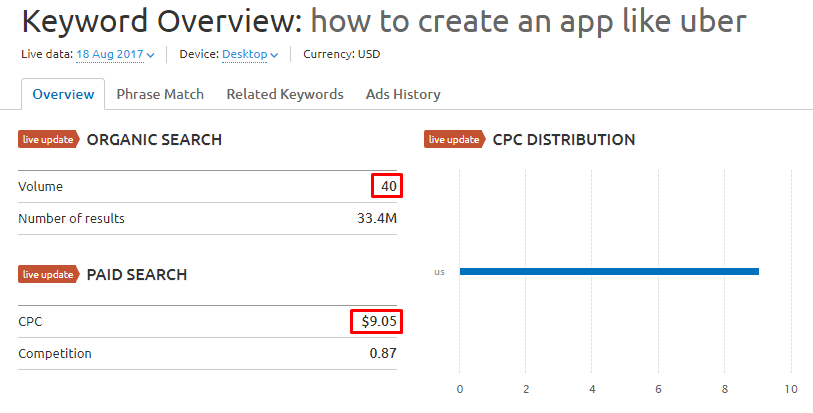 3. General topics = low conversion
Let's look at the analogy.
Which user is closer to a purchase? The one searching for «laptops» or «macbook 13 touch bar»? The answer is obvious.
Chasing after traffic, not after conversion, is a common mistake.
Example:


Two articles bring about the same amount of monthly traffic. But the number of transitions to Contact differs by 3 times.
The difference is that before writing the second article, we asked ourselves—«Will this topic motivate readers to apply for the services»?
Ask this question when choosing the topic and type of the content angle.
4. Weak content = low conversion
If you have time to read a few articles in search results for any keyword, tell us, please, to whom would you apply for consultation as a potential customer? Whose content better meets business requirements?
You may see an example of getting to the search engine top results with the content even without deep expertise.
However, it will have a lower conversion rate, and that website will rank lower in some time due to worse behavior factors.
Use this comparison in terms of your content, and you will understand whether it needs to be improved.
5. Features of strong content
You can skim good content, read it by first sentences or by titles and get the point.
Sense:
understanding what problem the content solves, what benefit a reader obtains;

clear introduction, main part, and conclusion;

practice and expertise (knowledge transmitted through the team);

understanding which actions deliver the result and which are work for the sake of work;

understanding for whom you write.
Design:
emphases, titles, subtitles, bulleted lists;

graphic elements (pictures, schemes, videos);

simple content presentation (simple language, no technical abbreviations, complicated terms, etc.);

paragraphs of 5–7 sentences;

layout (raising font and spacing gave 133% growth of conversion, source).

We recommend checking all the content through ContentYoda, a service from field experts.
The service checks a text by many parameters:
readability;

rhythm;

watery;

ease of understanding;

overspamming;

etc.
6. Lack of patience
Before promoting your business through Internet marketing channels, ask yourself:
«Am I ready to spend at least 6 months investing time and resources to check whether digital marketing for tech businesses works and only then make a conclusion?».
It doesn't mean that you will not get a single lead over these 6 months, but you should be ready for this risk. It is often a mistake to make an early conclusion about the work done.
In my experience—many give up earlier.
7. Not enough effort
You should clearly understand what your team's capability is.
We often see that a customer is unable to keep up the pace of publications in the blog. On top of that, it is necessary to write high-quality guest articles.
You need at least one person in your team who will be engaged in full-time content creation.
Instead of afterword
Developing expertise inside the team is a must for achieving results.

Choosing a niche is what will help your content reach excellent results.

The content quality must be high, otherwise, do not publish it.

Time and resources—from 6 months to check an Internet marketing hypothesis.
If you decide it's time to develop advanced SEO for an IT outsourcing company and generate high-quality leads for your outsourcing IT company, we can help you.