Apriorit Case Study: Website Promotion in a Complex IT Niche
It's odd to think you can easily get much target traffic in a very narrow and complex B2B niche.
It's really difficult, especially in the field of low-level programming which is hard to even understand.
Difficulties do not end here — you cannot show any case since everything is made under the strict NDA.
What to do in this case?
What search marketing strategy to choose in order to find potential customers through search engines?
We have no NDA, so in this article you will learn how to get organic target traffic for business in a complex niche by the example of Apriorit IT company.
Result
Case Update May 2020:
We got a 1444% website traffic growth in 4.5 years.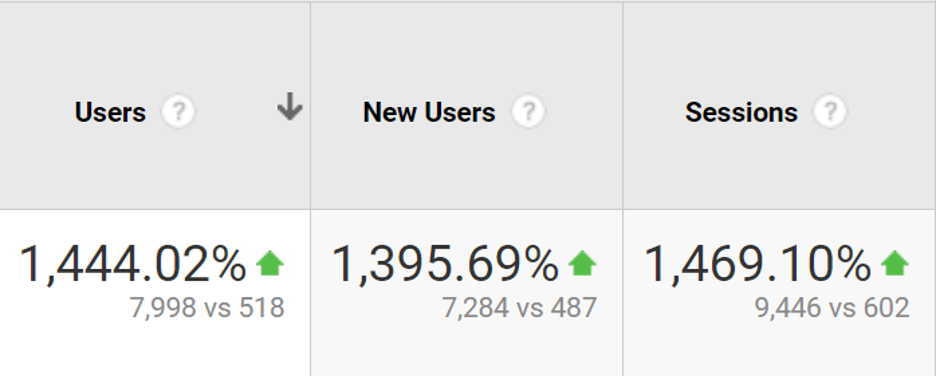 Case Update April 2018 (traffic growth +1094%):


Website ranks now for services like:
software reverse engineering
linux driver development
If Apriorit runs an Ad campaign, traffic would cost them more than 10k USD each month (according to Ahrefs). In practice, at least 2 times more.


What was the reason for traffic growth?
Read further in the article.
Customer
Apriorit.com is a large Ukrainian IT company with a team of 250+ professionals.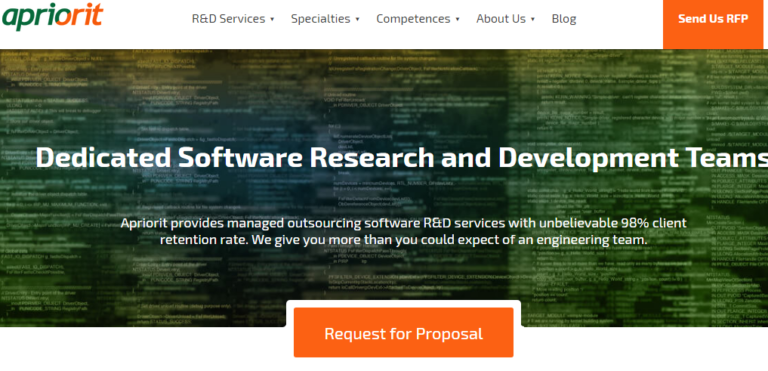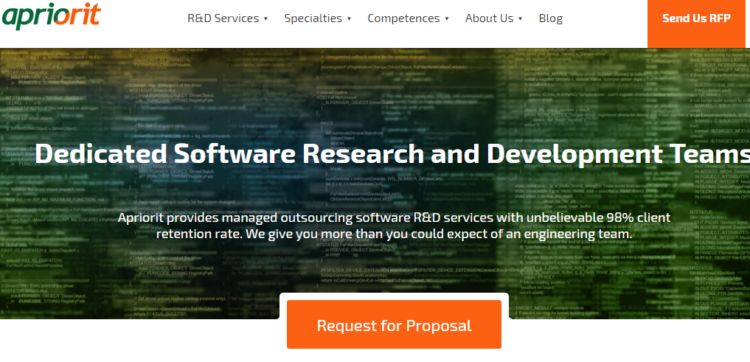 Working with Fortune 500 companies.
The work done before cooperation with Livepage:
Writing expert content in its field without investigating traffic potential and search query optimization.
Weak focus — they wrote 1–2 articles about their all services.
Niche and project details:
It is difficult to get a sense of the services offered.
Minimum demand, most of search queries with zero volume.
No direct competitors, so it is difficult to explore what is working for competitors.
Preparing to choose a strategy
First of all, I recommend reading a step-by-step guide of SEO for app development agency by the example of Yalantis.
Important! Every project is promoted using an individual strategy — copying the strategy without deep understanding will be a waste of time and money.
The same was with Apriorit. Previous contractors, with whom the company had been working until September 2015, offered simple technical content topics which had traffic but zero leads. The reason is that there was no:
understanding what exactly brings profit to Apriorit;
understanding of the target audience and the needs of those who ask such questions.
Bright example, topic: https://www.apriorit.com/dev-blog/227-handle-sms-on-android

A complex technological solution optimized in a wrong way brought much traffic but close to zero leads. Besides, most visitors came to the website from India.
Why am I telling this?
It is a dead-end job to write content just for traffic in a narrow and complex niche. Every topic should be deeply evaluated to see whether it fits business interests of the company.
Check yourself and the current contractor through sorting search traffic your website receives by pages where target actions are made.
It's sad if it turns out a topic of focus doesn't convert. And the team is producing and promoting «zero leads» topics.
SEO strategy
Like you, we heard about lots of «loud» strategies which can help promote a website in a complex niche. This is a theory. Moreover, we believe that 20% of action give 80% of the result.
That is why the work is based on content and external links. That's all.
Since the field of the services provided is so complicated and the number of people interested in these solutions is so small, the only right way is to focus on the content quality.
Our SEO strategy for a tech company is to regularly publish 2–3 articles monthly on field-specific topics from one larger subject to raise expertise and brand recognition. The work was done according to the project content promotion.
The goal is to show using the content how Apriorit team provides technical solutions, to demonstrate deep expertise in very narrow tech areas.
Important!
Doing technical optimization according to the checklist is as important for promotion as a strong foundation for any building. But there is no sense telling about it as it is common for any kind of projects.
Therefore the case will describe only additional value and experience — how to select the right content topics and work with them.
How to create high-quality content
Let me repeat — promotion was built on a regular publication of high-quality content. As an example of how to work with the project, I will show an article writing algorithm.
Here are 8 steps allowing to create high-quality content for a complicated business.
1. Discussing the company's range of services with a marketing manager
At this stage, we need to communicate with a client in any available format. The project team describes what they do, what is their focus, what lead type they want to attract and in what areas. We ask questions.
2. Identifying priority areas
After communication with Apriorit team, we have found out that the company priority is developing drivers and reverse engineering. This is over 60% of the company revenue, and they want to get more leads in this field.
These areas make up the scope of work for 2–4 months.
3. Breaking up services into solutions and their discussion
Deep dive into the above-mentioned business niches has shown that the team is interested in customers for developing Windows drivers while Linux is of lower importance.
As for Reverse Engineering, here are two traffic areas — Reverse Engineer iOS and Windows Software.
4. Turning solutions into search queries
From the information like «reverse engineering Windows» we have to understand the need of the target audience and transform it into search queries.
Here the analysis of such Q&A websites like Quora, StackOverflow or search results will be of help.
In case with «reverse engineering Windows» we understood that people most often look for the information like «How to Reverse Engineer Windows Software».
5. Discussing possible topics and deciding on their potential to attract leads
Using the above method, we make the list of 5–7 topics discussed with a marketing manager.
At the meeting, we think over again whether it is possible that Apriorit might cover the readers' need on this or that subject.
If the answer is positive, the topic is moved to the current content plan.
6. Analyzing search results and competitors, collecting the content plan and key phrases
After making up the content plan, we turn to professional tools like Semrush or Kparser.
The process starts from determining articles with the highest visibility on the topic.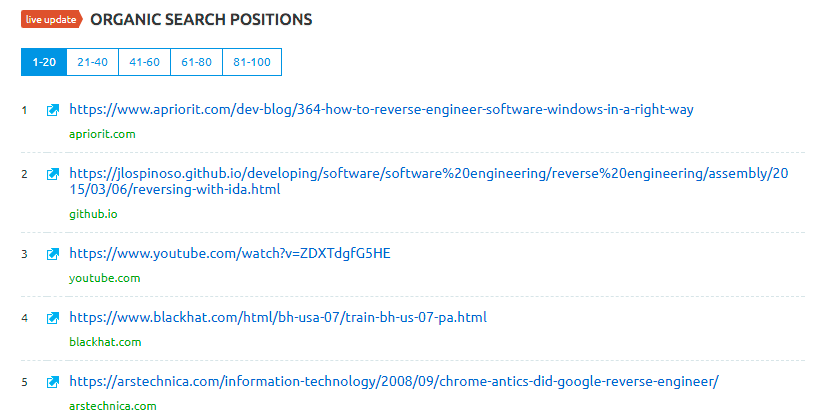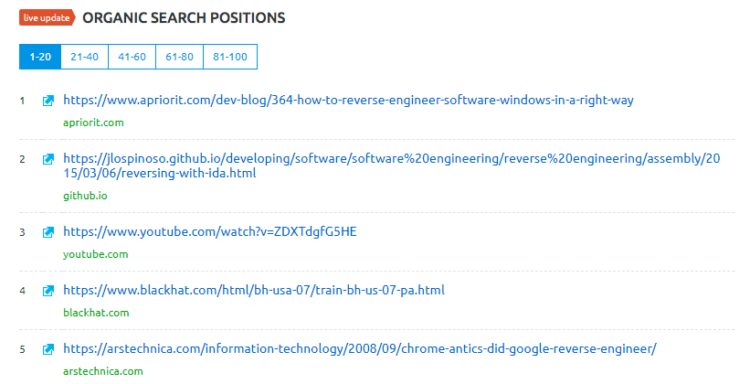 Then we proofread to determine whether the logic of competitors' articles corresponds to that covered in our topic.
The next step is to make up an article plan. This will ensure that a copywriter will write an article better than your competitors have, an article that best solves the users' problem.
The last step is to make a detailed list of search queries and tips relevant for every topic chosen.
7. Proofreading and analyzing the use of key phrases
Just to prepare a detailed requirements document and expect that the article will automatically get traffic would be naive.
Copywriters do not know the basics of text optimization, so we often face under-optimization or over-optimization of texts.
So it is important for a SEO specialist to check text over optimization, ease of perception (with the help of Hemingway app), watery and keyword stuffing (through ContentYoda) after writing every article.
This approach allows getting the result in terms of both ranking and traffic.
Thus, for the article How to Reverse Engineer Windows Software https://www.apriorit.com/dev-blog/364-how-to-reverse-engineer-software-windows-in-a-right-way we achieved the following result:
By rankings:
By traffic:


8. Getting links
Links to the content from high trust niche websites is a step which allowed the website to reach a totally new level in terms of traffic and brand recognition.
It is sad that many people still didn't get the idea: you can get links only for the high-quality content.
Nobody will refer to one more article «How to tie a tie». There is nothing new in it.
If you use guest blogging, forget about commonplace topics: large sites will not publish such content as these topics are of no interest to the target audience.
Instead of the trivial topic «How to tie a tie», suggest «5 situations when a tie saved a human life» or do research to learn which tie colors are popular in every country.
Which content will be cited on its own:
Professionally written.
Expert or unique experience.
Containing examples.
Such approach allowed to get links without our interference:
What content will be published by large sites for free:
Interesting uncommon topics.
Professionally written.
Expert or unique experience.
Containing examples.
Preparing such content, we got links from the following websites:
Are your writing skills not good enough yet?
Not a big deal. You can find editors on large websites and for $200+ they will write an article mentioning your business.
What didn't work
In my opinion, negative experience in case studies is more valued as it allows to learn from others' mistakes, to not make the same ones and move forward faster.
Take a comfortable sit — I will tell you about our mistakes.
Every business has the structure of services, the same was with Apriorit.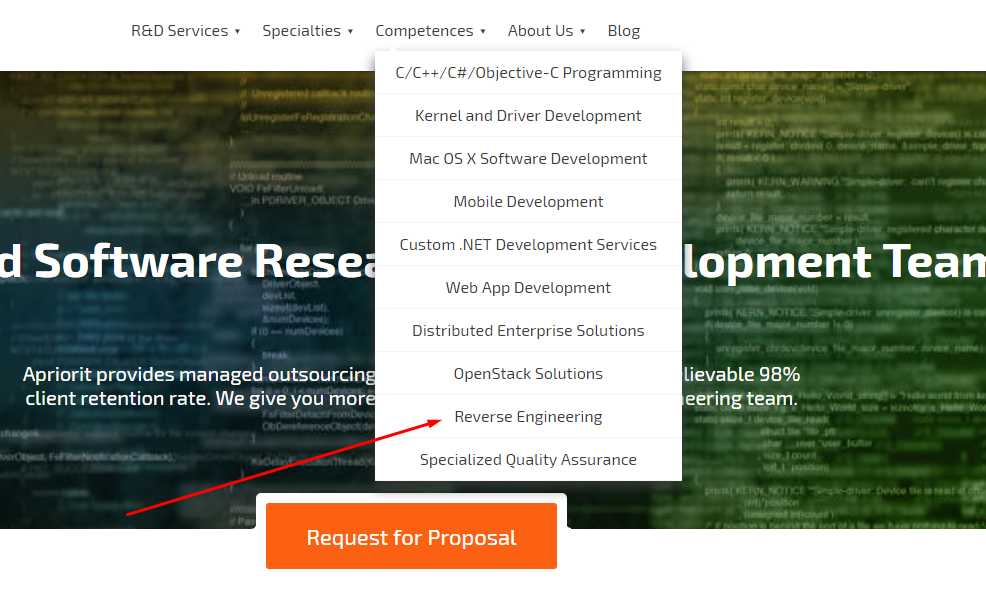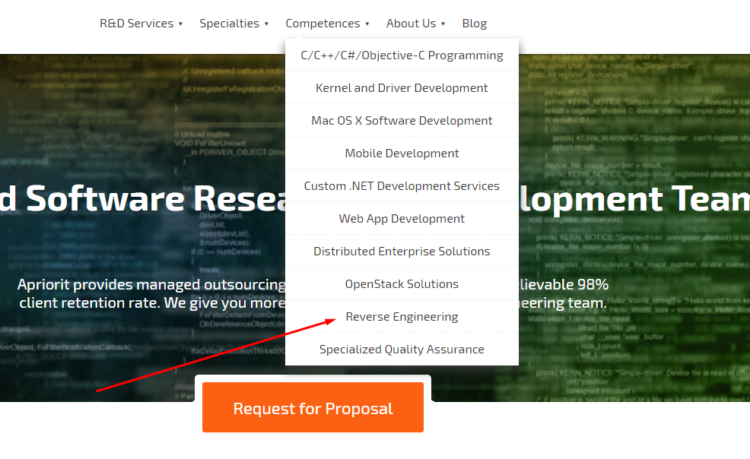 From the very beginning, we focused on getting search traffic to services landing pages.
We improved the existing structure, made a more detailed semantic core for the service pages, re-wrote and updated the content.
The entire work took about 6–8 months.
Important! We were doing this work along with writing blog content.
Two years later we see that pages bring almost no search traffic. It was a useful improvement for the users' behavior on landing pages but not for getting additional search traffic.
Why it happened
This is because, as I told before, the articles were written from services turned into solutions.
As an example, I showed that we created and optimized landing on Reverse Engineering. However, this page ranks the fourth.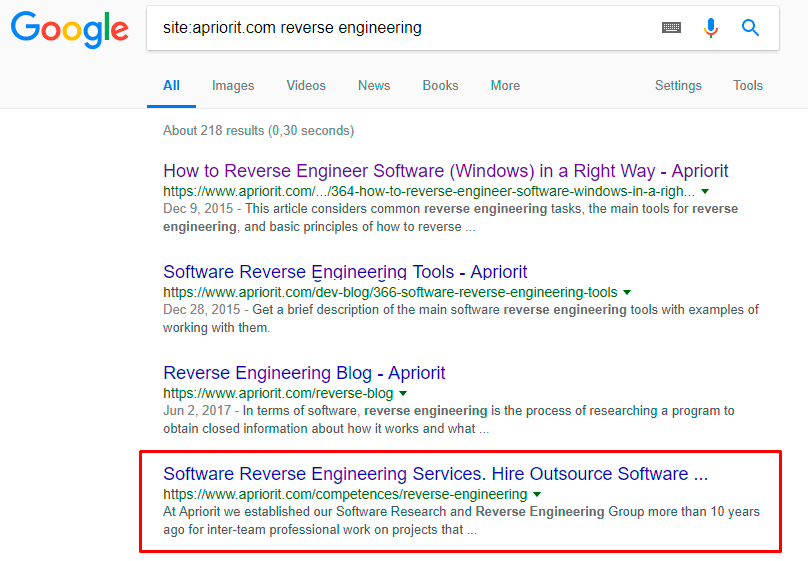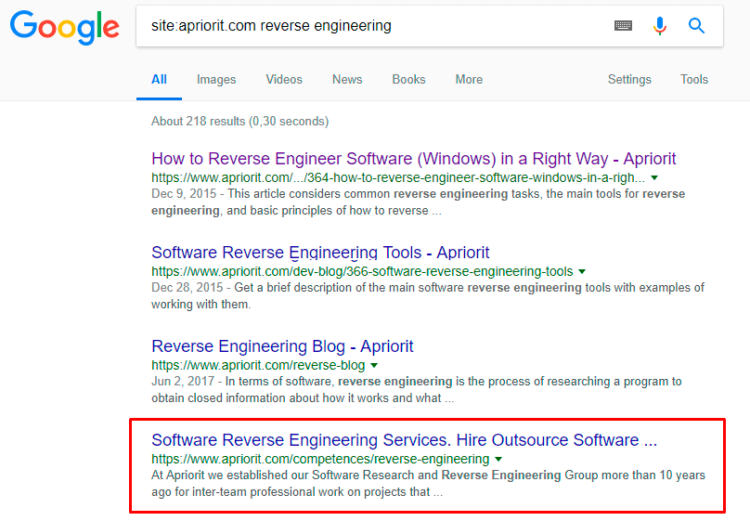 Pages with more content — 1000+ words rank higher. While the landing page has about 400.
Besides, as I told in Yalantis case, it is extremely expensive to get to Google top results by queries like «your provided service+services» (ex. web development services) and you will compete with lots of Indian companies using this strategy.
Furthermore, it is noticed that users converted into leads from more general queries are less likely to become customers.
What to do in your situation
Find competitors and learn with the help of services like Semrush.com whether the service landing pages get search traffic.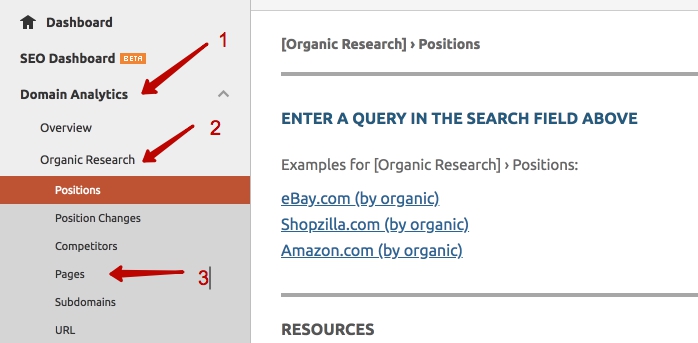 If not, leave this strategy for later.
Is it possible to grow more?
Yes, it is.
The website mostly ranks on 4-10 positions in Google. Our goal is to get to Top 1-3 positions for most of the promoted keywords.

Case Study Update April 2020 — Conversion-Oriented Content for Tech Company Apriorit
In 2019-2020, we switched our focus from traffic growth to increasing conversions and getting leads. The total traffic growth was only 3%, but the conversion rate increased by 25%.
Read more about how we achieved this.
We have been working with the company Apriorit for 5 years and it becomes more and more difficult to get significant traffic growth every next year.
Especially considering the fact that this is a very complex Tech B2B niche.
This is why constant communication and coordinated actions between the client and the Livepage team come to the fore. As well as the effective digital marketing strategy, which aims to generate leads, not traffic.

Why has traffic growth slowed down recently?
First of all, it is connected with the chosen digital marketing strategy.
We focused on improving existing articles as well as writing new, lead-generating ones.
We don't spend time on improving educational, non-conversion articles. We are 100% dedicated to content that increases readers' willingness to collaborate.
This strategy led to an increase in conversions by 25% and user engagement increased by more than 3 times!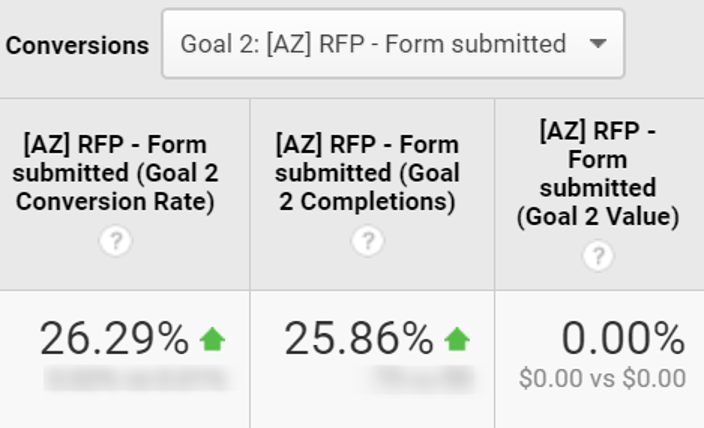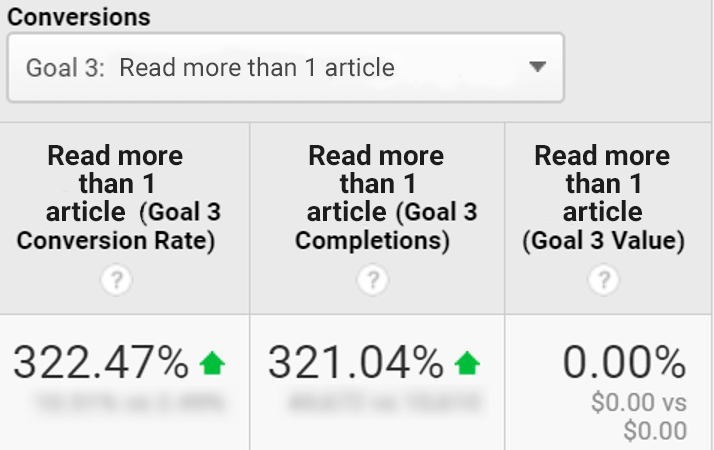 What made it possible to get such results:
Updating written articles that bring leads;
Writing new lead generating blog articles;
Increasing the number of quality backlinks from trusted, relevant websites.
Working on updating lead generating articles

Each published article is relevant for users for a limited time.
Especially, this applies to those topics that relate to dynamic niches with constantly changing trends.
Therefore, from time to time, it is important to return to each article, updating it with fresh data.
And also, as you know, Google likes freshly published content and ranks it higher.
What got updated
Information in articles (deleted out-of-date, added new data)
Keywords and metadata;
The appearance of articles (fonts, paragraphs, images and additional subheadings)
Dates of publication (set an actual date of articles updating)
The result of this work can be seen below, by the example of one of such articles.
Article – How to Reverse Engineer an iOS App and macOS Software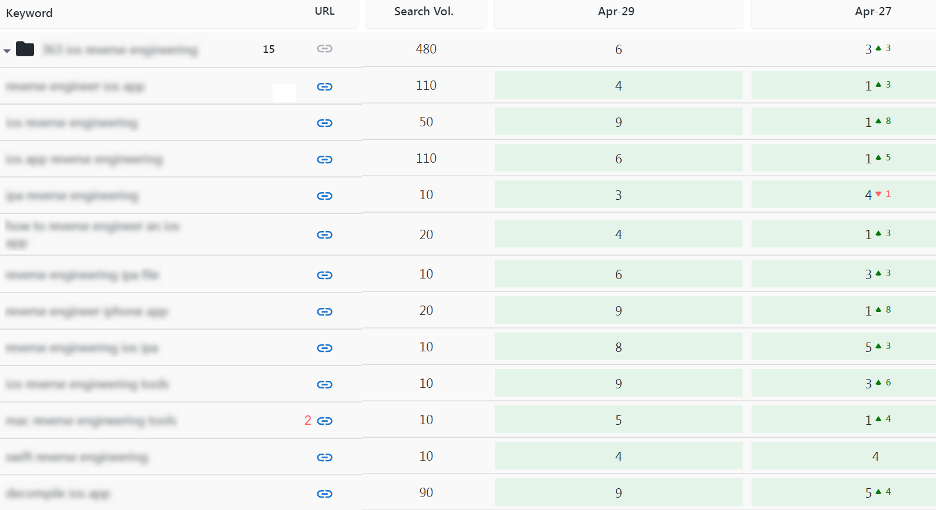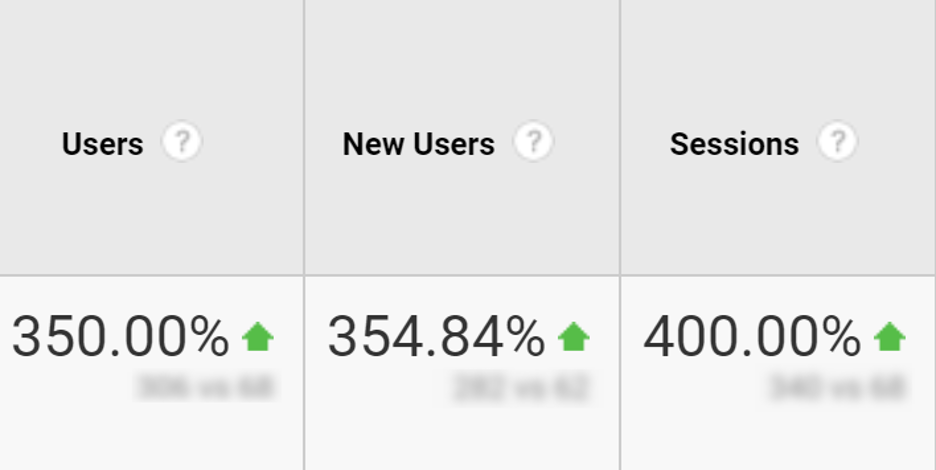 You can clearly see a tipping point in the traffic growth in the Google Search Console.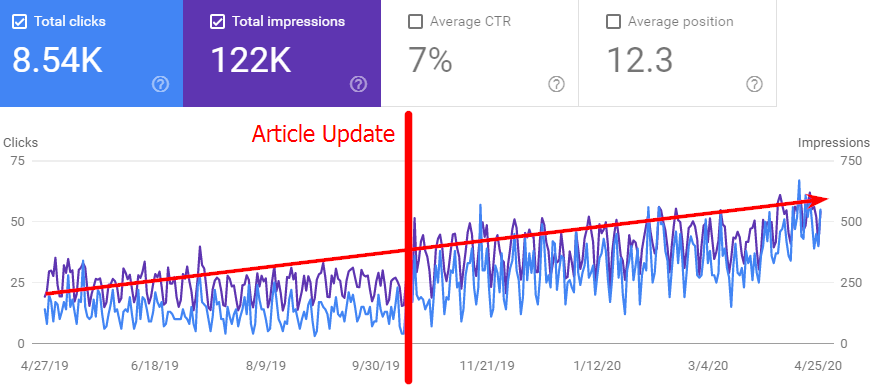 Creating new, high-quality content
In order to maintain the positive growth dynamics of the project, it is very important to regularly publish new content on the blog, following the 8 steps for creating high-quality content that is described above in the case study.
Here are these steps shortly described:
Discussing the company's range of services with a marketing manager
Identifying priority areas
Breaking up services into solutions and their discussion
Turning solutions into search queries
Discussing possible topics and deciding on their potential to attract leads
Analyzing search results and competitors, collecting the content plan and search queries
Proofreading and analyzing the use of keywords
Getting links
Why do I once again focus on this algorithm?
In a Tech B2B niche, this is the only way to get results from content marketing.
Without a deep understanding of the topic, competitors analysis, communication with the client, it is impossible to create content that brings leads.
Getting backlinks from the trusted, relevant sites
The complex technical niche does not mean that there is low competition.
Rather, it's the opposite.
Therefore, getting references to the site from high-quality, relevant sites helps to compete for the first positions in the search engine results.
The Livepage team selects the most relevant sites for the site topics, which helps to increase brand awareness among the community and improve the ranking of priority pages.
But this method of link building is not cheap, so you should not consider it as the main source of references.
Important! Create really high-quality content that will be referenced not for money, but for its expertise and uniqueness in this topic.
Thus, it was possible to get links from such resources:
And place our material with backlinks for free on such resources:
What shall we do next?
The update of the case study perfectly shows that by choosing an effective digital marketing strategy and following it you can get great results in the whole period of long-term cooperation.
Even if the work on the project has been going on for several years.
Now the plans are to continue the active growth of the project, both in terms of quality traffic through new articles, and of increasing the lead generation of existing material.
To achieve this goal, we plan to perform the following works:
Actively work on updating the articles that have lost their relevance over time;
Generate material to attract new, target audience for business;
To analyze the main competitors, as well as new, promising players in the niche for the presence of working strategies;
Continue to link building to keep up with competitors and increase brand awareness.
Do you have any other questions?
Leave a request and our team will answer your questions and help you develop an effective digital marketing strategy.