Email marketing campaigns are the most paying out and one of the most effective sales channels.
Just have a look at its place in e-commerce: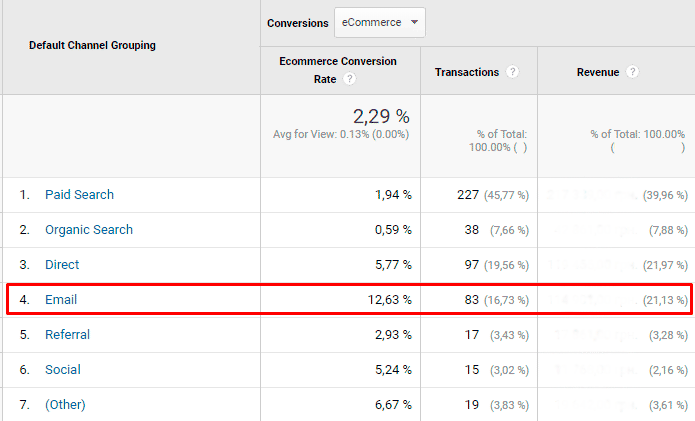 this is the third channel by sales volume;
with the highest conversion rate;
with one of the highest visit depth;
and one of the lowest bounce rates.
It has the highest ROI among paid channels — almost 4 000%.
But today email marketing is more than just marketing and more than just email.
Email marketing is not about sending emails to your contacts but it's marketing of retaining and returning customers, creating the brand reputation and loyalty. We build it into the sales process outline, create live communication with users, conduct researches.
Email campaign is the key but not the only tool for communicating with customers. Today it is accompanied by push, SMS, messengers notifications.
Email marketing does not exist on its own. But it works together with your business processes and other tools.
How do we use email marketing
Email marketing will help you build long-term relationships with customers.
Once the user gets to your website, we take every effort to get to know him and make friends for a very long time if not for life.
And it is really so!
Look at the conversion rate of an email we send to customers one year after the first purchase: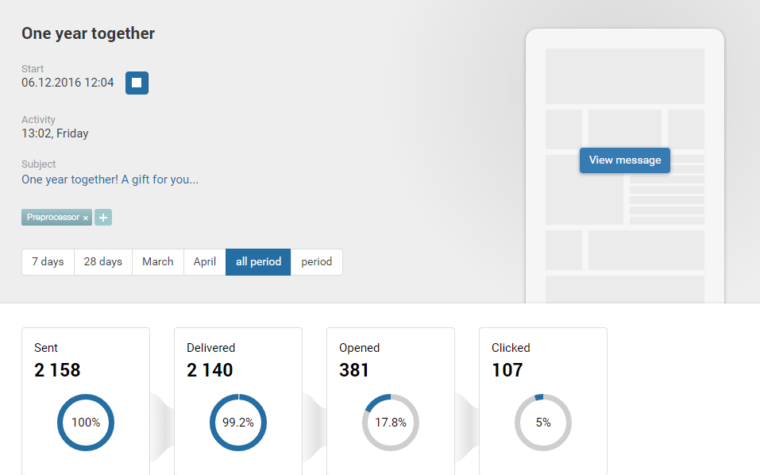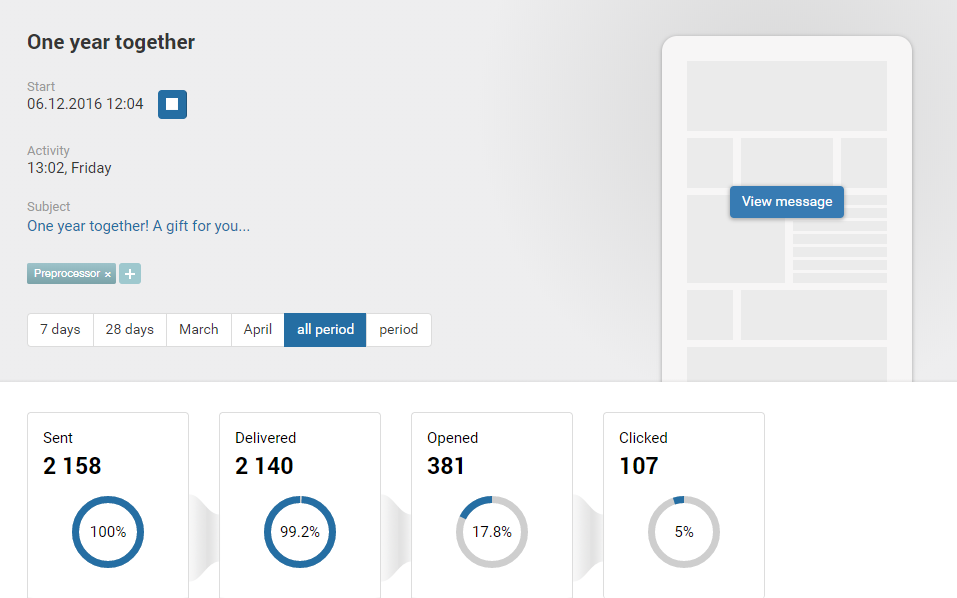 Conversion rate is 22.73%. CTR of a trigger email — 28%. Open rate — 22%. This is more than with promo emails to active users.
Email marketing can even return those customers who haven't bought anything for a long time.
Do you think if a customer hasn't bought from you for a year, you've lost him forever?
Let's check.
Look at the conversion of an email created for those who made the last purchase 12 months ago: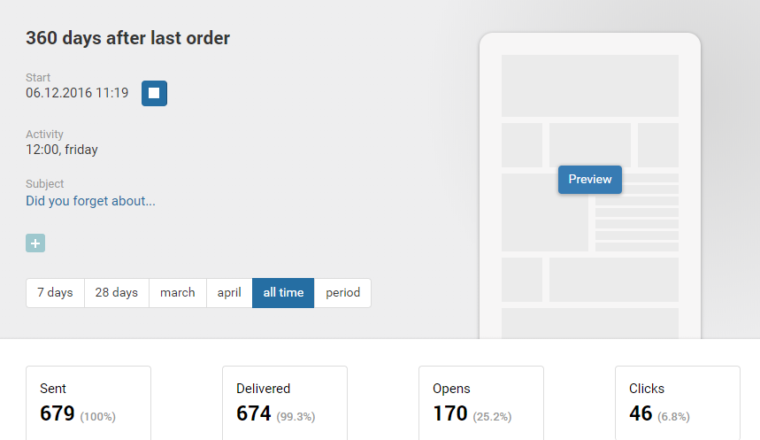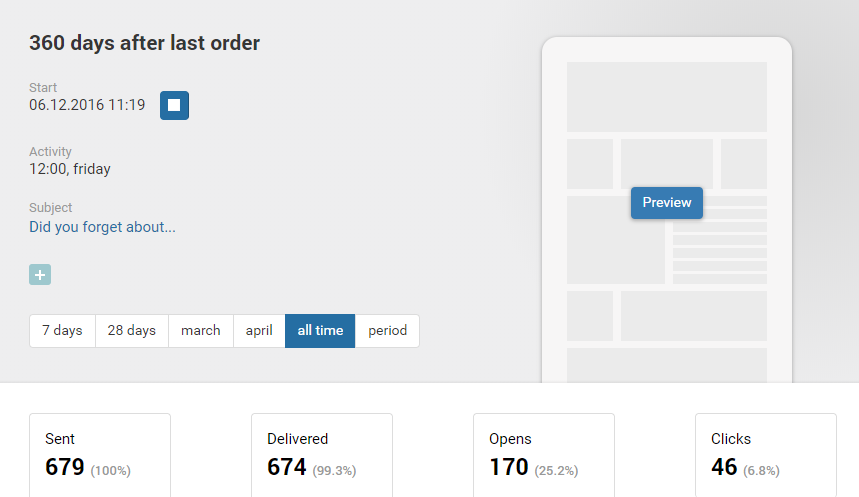 Conversion rate is 25.81%. Imagine how much your sales will increase if you work through all your customer segments in detail.
Email is not only a part of your marketing but also a «must» tool of sales and customer support.
With its help, you can teach, engage, tell about your product, dispel fears and build trust.
We successfully raise income of our customers in various niches:
E-commerce.
Insurance.
IT.
Educational projects.
Online services.
Content websites.
Effective email marketing is based on your business model
We always start by analyzing your business. The main aim of our company is:
«To increase your income using email tools»
To achieve it, we make a deep analysis of your business model:
What your income depends on, what impacts it?
What is your audience? What is important for it? What are its values?
What is your competitive advantage?
How to extend your relationships with customers?
How to arrange for people to know and love you and talk about your emails?
We do only those tasks that will have the effect on your income growth in the future.
We test every idea on your subscribers and customers fraction. Implementing only suitable solutions.
Three keys to efficient email marketing
1. Strong strategy
A customer gets to your website and what's then? He can leave, buy or sign up for email and never go back.
We analyze all possible customer behavior options.
As a result, we create a strategy in the form of single-page document easy to edit with much sense and little text. They will help understand the core of your business and target audience, as well as determine email marketing growth points.
No step-by-step plans for a year which you will never find time to fulfill.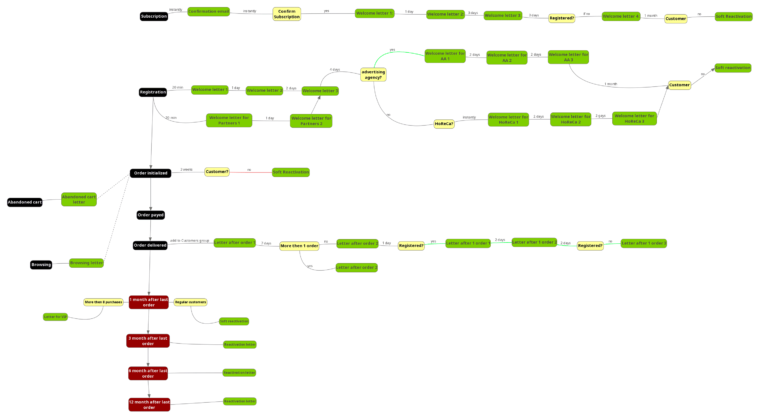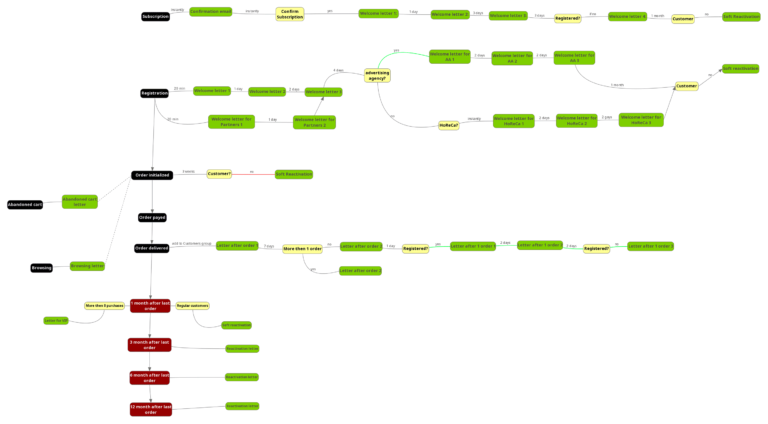 This is how our strategy looks — simple and clear.
2. Automation and testing
We use powerful automation and analysis tools, so there is hardly any task we cannot fulfill.
For e-commerce projects, we fully integrate with the order database and use RFM segmentation. We can send emails to groups based on:
the time of the last purchase;
the number of purchases;
average bill.
What else we do:
polish up series of welcome email sequences after subscription, after registration and after the first purchase;
remind of promo codes to expire soon;
learn about and remind of important dates;
wish a happy birthday;
notify if a customer abandoned the cart;
recommend similar products after a customer stopped viewing.
Every event in the email campaign or on the website we can process in any way using the script editor: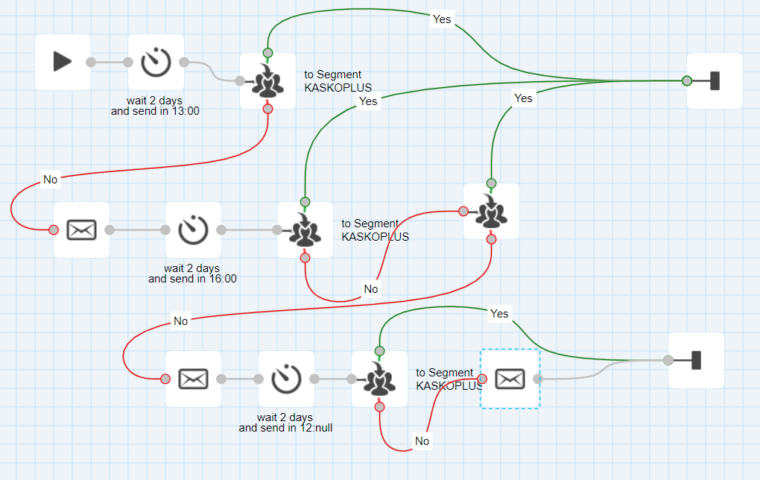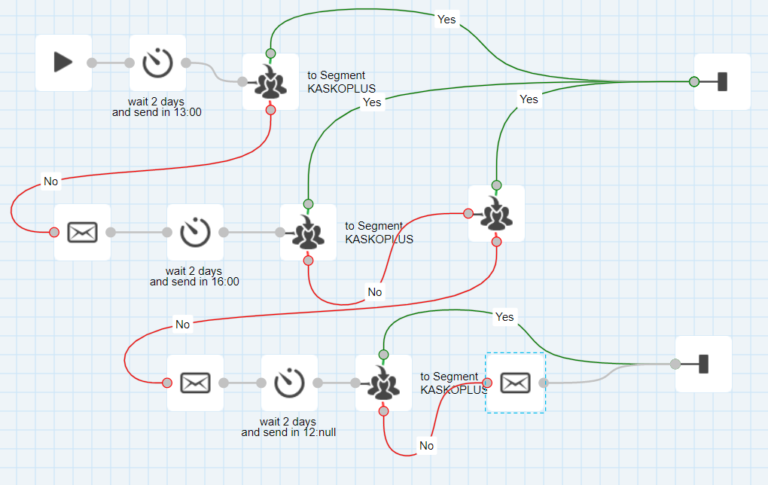 For B2B we deeply work through the sales funnel and integrate email marketing into all your business processes.
3. High-quality content and eye-catching design
We undertake the entire email development cycle — from creating design and texts to layout and testing. Your emails will spark interest and encourage sales, we will also adapt them for mobile devices.
Enough talk, see for yourself:
Our team will fully setup efficient email marketing — from email sign-up to analysis of the email sequence performance.

We are entrusted to do email marketing for the leading companies in different fields. We are working with online businesses in Ukraine, Canada, the United Kingdom, the EU, and the USA.
Not all customers can publicly show results of our cooperation. But some of them are ready to share our common success.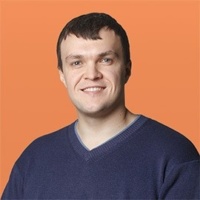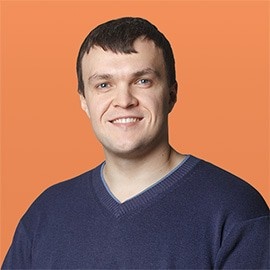 Alexander Kholodov
CEO of Yalantis
« We started with around 2,000 visitors per month. In 3 years, Livepage managed to increase the number of site visitors to 70,000 per month and leads to more than 100 per month.
Order email marketing for your business
1. Send
a request
2. Our manager
will contact you
3. Tell about
your business
4. We will suggest
an email marketing plan for you