SEO Case Study: Increase Organic Traffic to 3 000 000 Visitors for Content Niche Website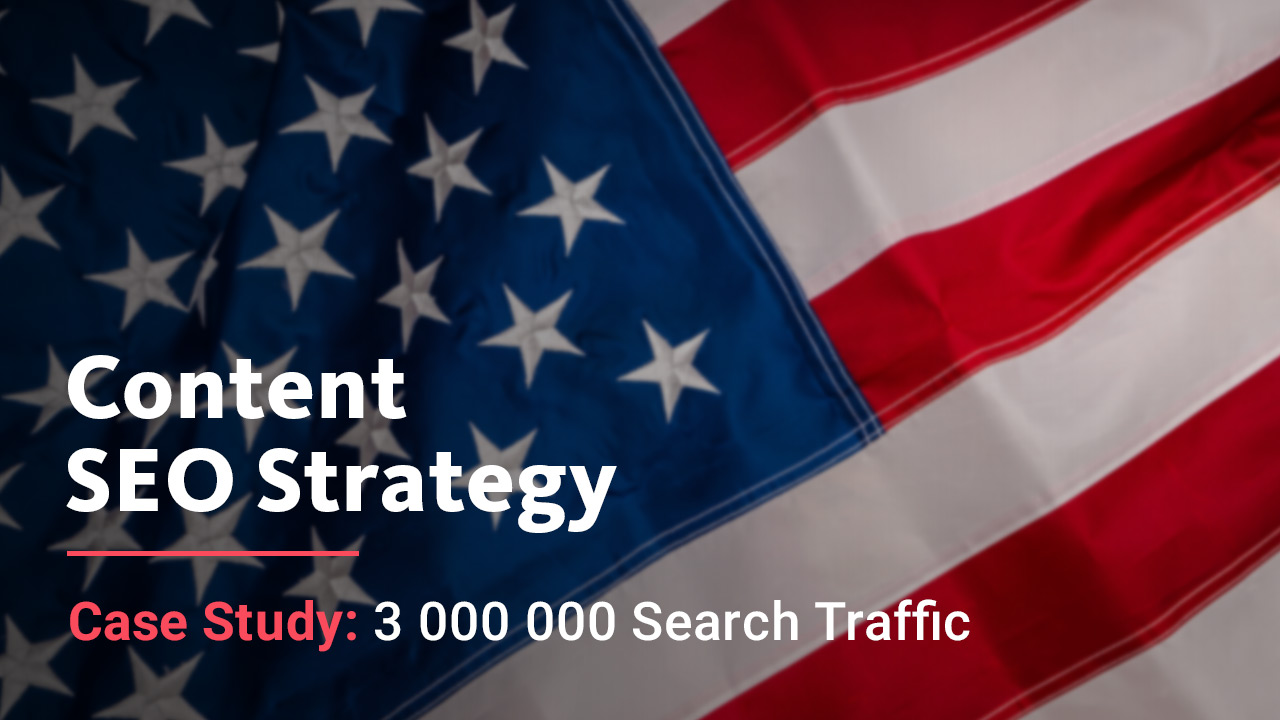 This article covers SEO strategies of getting search traffic which generates leads to your online business. Check out our SEO case study and find out in great detail on how to increase organic traffic on your website.


Important!
Content marketing is working — read the NY Times article. You will learn how Marcus Sheridan built a pool construction multimillion business with the help of content marketing.
Why content marketing works:
Vast variety of content topics with low competition.
Weak content research by competitors.
The result is set on three pillars:
competitor research;
content creation;
link building.
Let's look into the steps of content promotion on the examples.
Planning
Strategic planning and deep diving into the project concept will speed up the growth of search traffic on the website.
Do not ignore this step!
Ideally you should develop «a road map» for the agency and the client: with steps, to-do list and costs for the next 6 months.
And set up clear metrics in terms of the amount of work done.
Read below details of planning and working on website content promotion.
Competitor research
It is the most important step helping to find out how the niche leaders, with whom we will compete for organic traffic, were created, are developing and working.
You need to research 3–4 competitors and assess:
the amount of traffic and its sources;
traffic pages (search for growth points);
link strategies.
A detailed analysis will help you find weak points of competitors and build a proper SEO strategy for the blog for 4–8 months.
Estimated amount of search traffic
It is important to estimate the amount of competitors' search traffic — you can do it with the help of Similarweb.
A competitor website with the highest amount of traffic will become your first research subject for growth points.
An example for verywell.com


Estimate the total monthly traffic. In the example the website gets 11 million visits monthly from all channels on both desktop and mobile devices.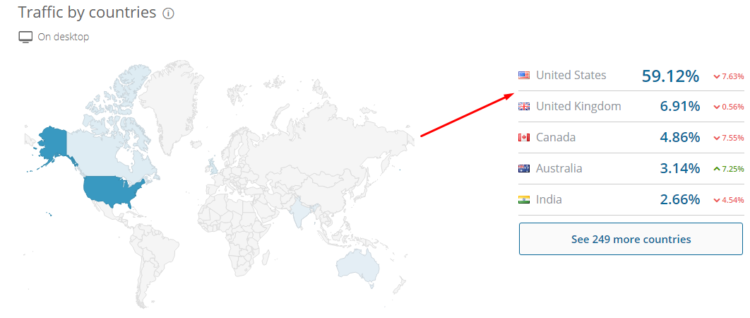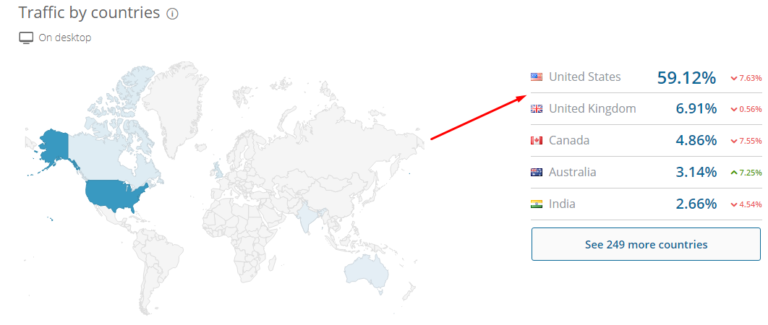 If you found a competitor but its main traffic comes from India, Pakistan, Indonesia, Nigeria, disregard that website.


Using a simple formula, we can calculate the maximum search traffic in the niche (in case of analyzing the leader).
Formula: total traffic * % of search traffic / 100%
For example: 11 470 000 * 68.36 / 100 = 7 840 892 monthly or over 260 000 daily
I suggest you create a table in Google Docs including:
vertically — competitor websites;
horizontally — amount of daily traffic from different channels.
Such a rough analysis will help you plan the project's growth for the next year with forecasts for every month.
Adding actual figures every month, you will see whether you meet the plan or need to catch up.
Looking for search traffic growth points
To quickly catch up with competitors in terms of content quality and quantity, you should determine their top traffic pages and work on these areas in the first place.
For analysis we recommend you to use data from SemRush.
The service allows to define pages with the highest search traffic, export them as tables and then use data when building a content plan.
Example for verywell.com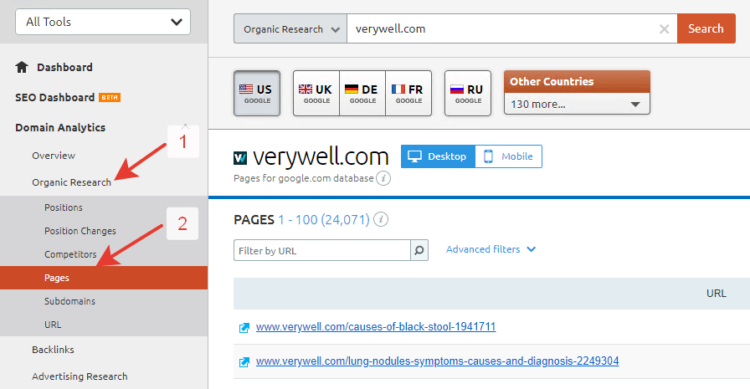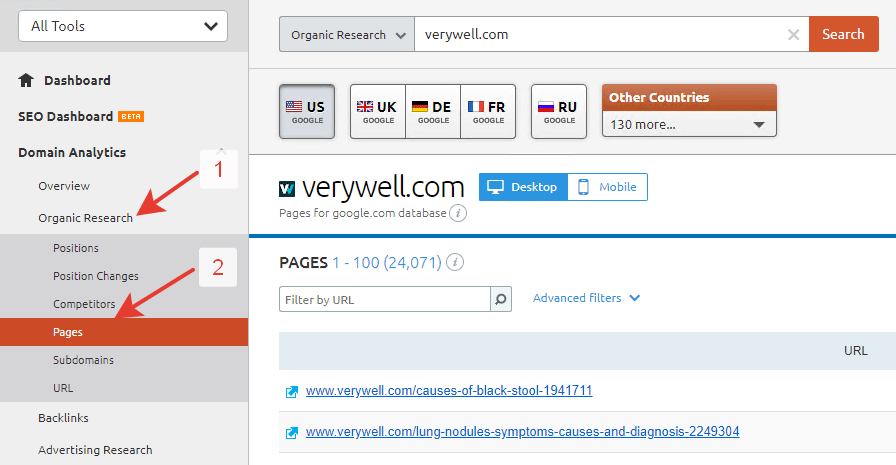 This way you can export the list of website pages getting most of search traffic.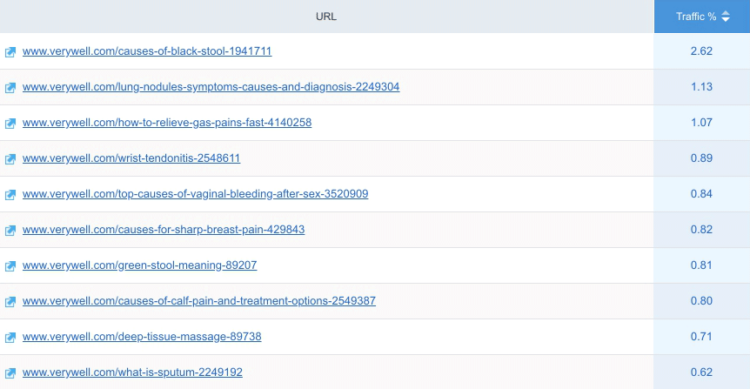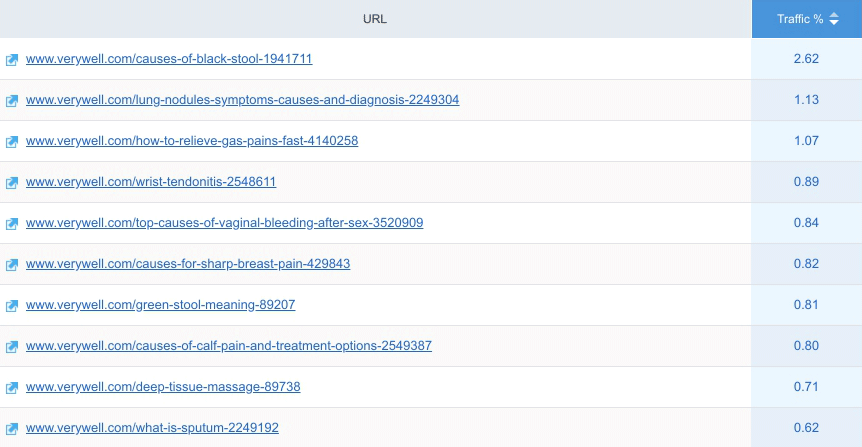 We recommend you to first work with higher traffic and less competitive topics, which will give a more rapid growth of traffic on the first stage.
Competitors' Link Strategies
Domain authority
Continue to fill in Google Docs table with competitors, adding DR (domain rating) parameter which you can get while analyzing websites in Ahrefs.com.

The number of referring domains

It is important to determine the unique number of domains referring to your competitors. Pay attention to «Live» data.
The number of referring subnets
Pay attention to «Referring IPs» and «Referring Subnets». The quality of your links and how natural they are depends on how close these parameters are.

Anchor list
Look through anchor lists of competitors and determine how natural they are:
quite natural — the rate of brand queries and anchors as bare URL reaches 20–40%;
not enough natural — the rate of brand queries is below 10%, many anchors as keyword phrases.
Distribution by pages
Determine what pages on competitor websites have the highest number of links and whether they are natural or not.
This way you will understand what areas to focus on in your website promotion.
Analyzing data received
After filling the table you should deeply analyze parameters of your competitors and compare with your result.
Understanding how much you are lagging behind the niche leaders will help you develop your own link strategy and shape a plan for 3–6 months.
It will be perfect to get 30–50% of the number of referring domains the niche leader has after a year of working.
Content
Next in our SEO case study comes a step-by-step guide for creating a successful content strategy and an example of a requirements document for the copywriter.
Content plan
Planning content publications is an important step in achieving your yearly traffic goals. I mentioned how to look for traffic pages above in «Competitor research».
You need to set dates and subjects, assign who will be responsible for this or that task as well as attach a requirements document for the article. Below I will tell in detail how to create content which will love visitors and search engines.
Important! Failure to meet deadlines in content writing is the main reason why people fail to achieve their traffic goals.
Therefore it's important to set achievable volumes of content generation with the planned traffic amount.
Writing a content requirements document
Our aim is to create the best article on the particular subject across the web.
The quality will allow the article to get to the top in search results and receive a lot of low frequency traffic.
So it takes from 1 to 2 hours to write requirements document for one piece of content.
Using competitor analysis and keyword search tools you can collect more related keywords and create a better text requirements document.
Step-by-step guide for writing a perfect text requirements document
Understanding the subject
A key to creating the best text requirements document is understanding the subject matter.
In order to understand the subject matter:
search in Google on the subject of the article;
read 1–3 top articles in search results;
look into the terms and concepts;
watch Youtube videos.
Technical requirements for the document
more than 700 words;
for this volume use 7–10 keywords, it's better if they are synonyms, not one the same phrase repeated 7–10 times;
the text should be divided into paragraphs 300 words each (5–7 sentences with 10–15 words). Mix long and short sentences, make more paragraphs;
add long tail keyword phrases, which should be used in the content;
make bullet/number lists;
use the key search phrase in the first 50 words;
keywords should be equally distributed in the text.
Content structure
You can use our pattern.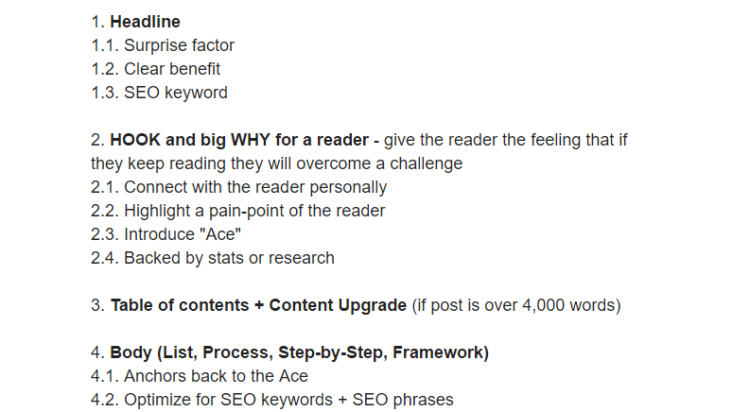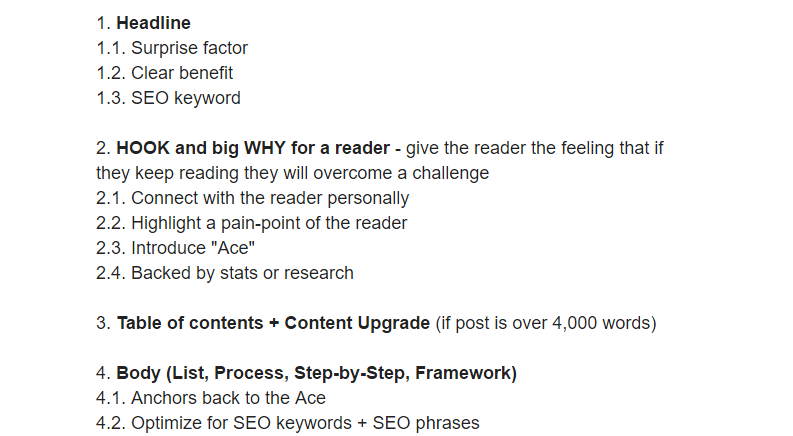 How to catch the user's attention
The aim of the article introduction is to convince a reader that you know what you are writing about, what is the problem solution and that your solution is easy to use.
The process of drawing attention is divided into 3 parts:
Agree (to describe an idea or a statement the readers will agree, show that the problem is clear and familiar to you). Example: I think you will agree that it is difficult for IT companies to get leads through internet marketing.
Promise (to explain that you also faced the readers' problem and know how to solve it, tell what to do and what is the solution). Example: Over 3 years of working with Yalantis we tried using many tactics for getting traffic with different efficiency. This allowed us to develop a clear SEO strategy you can use in your business.
Preview (to give a hint at what they can read in the article, it's important to show figures). Example: In this article we will describe in detail SEO strategies that allowed Yalantis to raise leads flow through the website by 1030% over the year with the help of content.
Based on the work of Backlinko.
Collecting key phrases
Done in Semrush.
Let's look at the example — «kitchen glass splashbacks» for the UK region.
Set the required region: UK in the example.
Research all keywords that fit the subject.


Important! The method in the example allows choosing keywords only from 30 variants. See the screenshot above.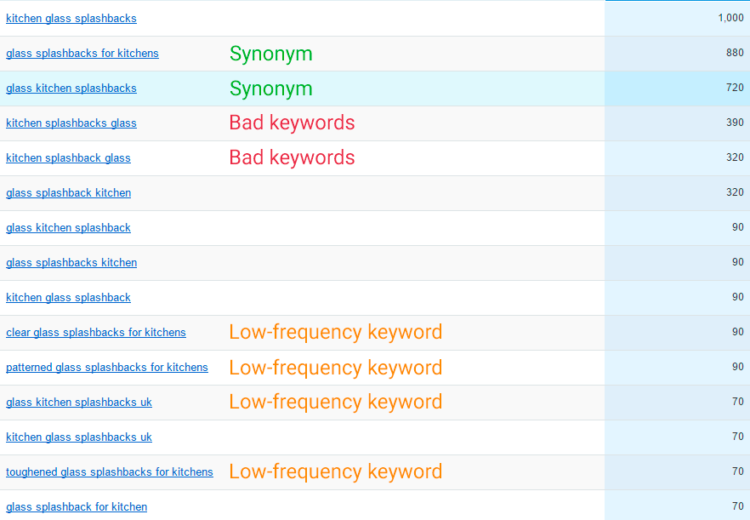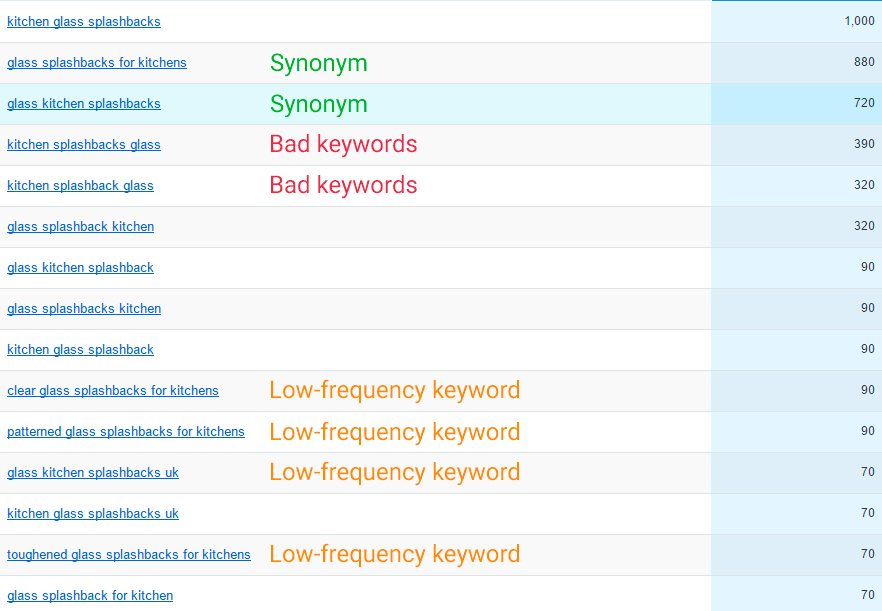 Analyze the whole list and write out suitable keywords.
Semantics of competitors and search for long tail queries
Additional long tail keywords (or LSI keywords) are an important factor for getting high-quality low-frequency traffic.
You can find them by analyzing for which keyword queries your competitors' articles on the required subject are ranked.
Let's look at the example — «kitchen glass splashbacks» for the UK region.
Set the required region: UK in the example.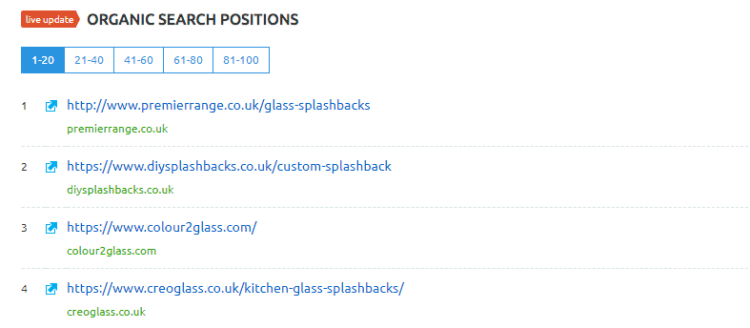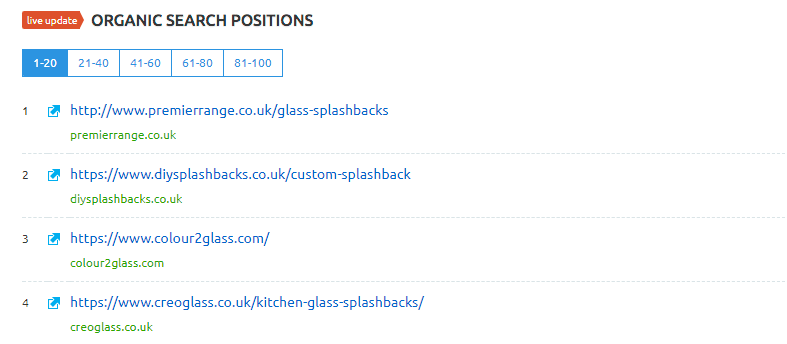 Then click on the first, second and third URL, study keyword phrases for which your competitors are ranking.


Important!
Analyzing the first competitor which is ranked for «kitchen glass splashbacks», you can get semantics from 289 keywords instead of 30 in the example above.
Additional sources of LSI keywords
A) Content on competitor websites.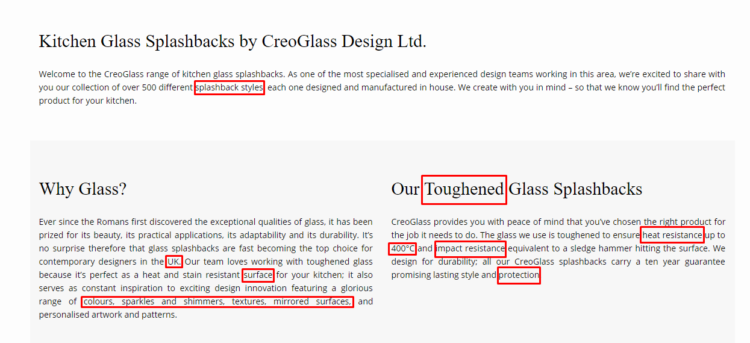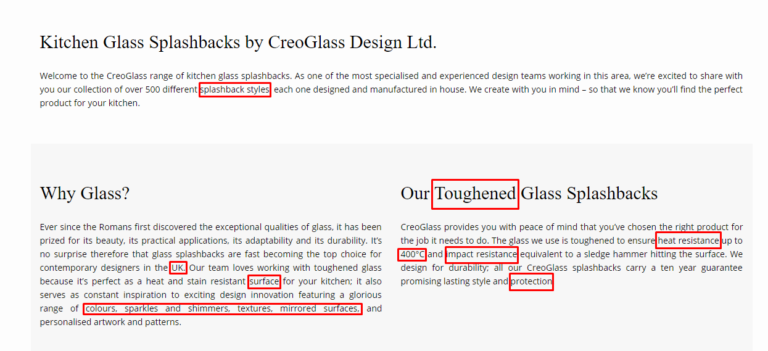 B) Search suggestions.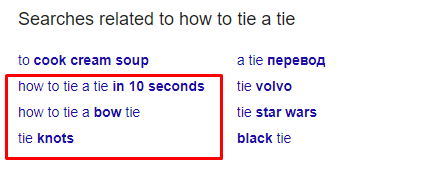 Search suggestions based on a query «how to tie a tie», Google.co.uk
What else should be given to copywriter
Apart from keyword phrases, search suggestions and content structure, we send a plan of the article with explanations what to write about and links to competitor articles which we liked.
This will minimize possible misunderstandings and save time to fulfill the task.
Example below: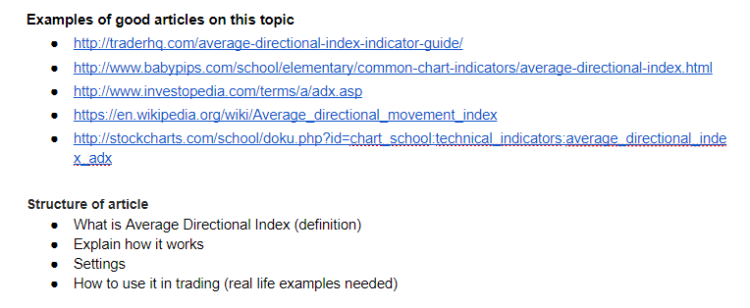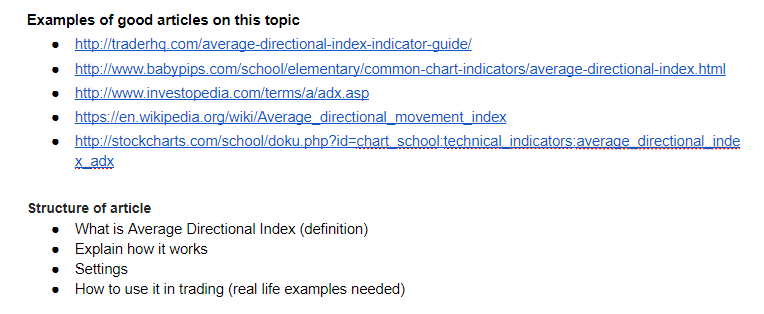 External links in content
We use from 3 to 20 external links in absolutely all articles. This does not prevent us from ranking at the top for key phrases with volume over 200 000 monthly visits. See the proof in the following case-study.
Conclusion
Continuous publication of 5–20 articles monthly following the above recommendations is a key to higher search traffic. If you do not follow the recommendations, you will be far away from your traffic targets and goals.
What if you don't have a team that could do content marketing in such volume?
Read Ratatype case-study of website promotion through link-building — from 0 to 250 000 monthly.
Link building
In our work we rely on search of bloggers' contacts, further communication, building relationships with them.
This way we get fewer links but they are of higher quality. And it is hard for competitors to repeat such a link profile.
The main parameters of a website we pay attention to:
traffic from the US;
largest part of website's traffic — search traffic;
search traffic is more than 10 000 monthly visits;
DA according to Moz is greater than 20 (exceptions can be made for high-quality young websites);
the website sticks to the subject in the content published.
Evergreen guest posts
Evergreen guest posts are a mix of evergreen content and guest posts.
This is a dominating link building strategy our company executes.
The strategy is aimed at getting regular clickthroughs from websites to the promoted website.
Clickable links received in a natural way are working better than links from other sources.
To arrange for a flow of clickthroughs, you should:
choose a subject which will remain interesting in time and will have a potential of getting search traffic;
put a link to the promoted website as close to the text beginning as possible;
optimize the guest article for search queries;
advise the webmaster to set several internal links using the method described below;
repeat the process 10–20 times with different blogs.
The result can be as follows:



Over 2300 referral visits over the year with 9% conversion rate. Not bad, isn't it?
Scale up the process and get less dependent on Google.
Evergreen guest post is the best method of diversifying traffic for the niche website.
Take it seriously as a possibility to get off «Google traffic addiction».
Answers on forums
This strategy was described in the case-study of mobile app development company promotion, so I will not repeat it here.
If you need additional ideas for building the link strategy, I recommend you to look into this article http://backlinko.com/seo-strategy.
Creating and distributing infographics
Links from images provide more value than regular links, according to experiment.
Creating and distributing infographics is the easiest method for getting image links.
infographics is more easily accepted as a guest article;
it is easier to add infographics with image link to the forums and get links;
people will be copying infographics to their websites referring to you;
infographics can be used in blogs even in other languages.
Here are several tips for creating infographics and some more tips — all from Neil Patel.
Edu links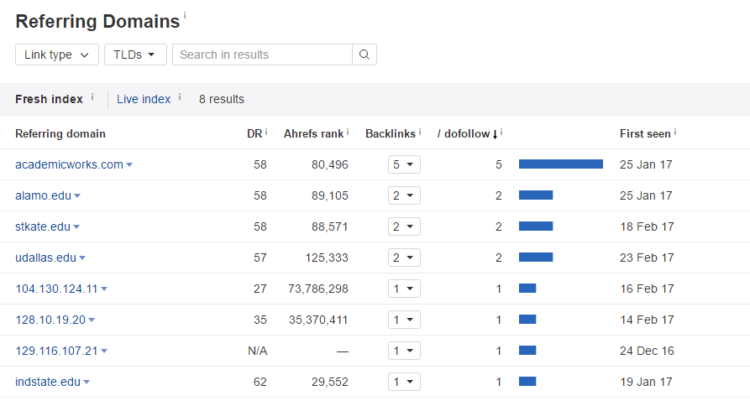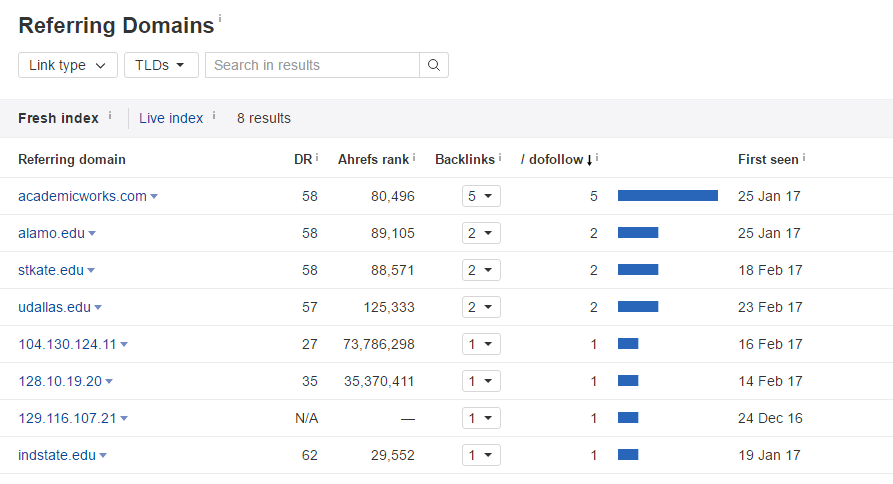 It is possible to get dozens of links from US edu domains in any niche. Such links have more effect than other types of links. Moreover, they are nominally free.
Additional strategies of getting traffic
1. Audit of published content
Is there already published content on the website? It's time to optimize blog content.
This is the easiest strategy for a fast search traffic growth on the existing project.
After analyzing data from Google Analytics, you will see the list of articles which have already got search traffic.
Updating them with missing content or just adding keywords, you can achieve higher traffic in a very short time with minimum costs.

Moreover, according to Hubspot, over 45% of leads come from top 30 blog posts.
Content update and new ways to raise conversion of top articles will give more results than you expect.
If you want to read a detailed post about content audit and do it by yourself, I recommend the article on Moz.
Important! Set up goals in Google Analytics in order to constantly enhance the content which is best converting into leads.
Step-by-step guide for optimizing published content
What you need.
Below is the list of services used (you may use one or several):
Google Analytics
Google Search Console
Semrush
Serpstat.com, kwfinder.com, soovle.com, ubersuggest.org
These services help:
receive data about keywords used on a certain page;
show long tail queries, for which an article is visible but those phrases are not included into text;
point to areas which should be rewritten or updated.
A) Choosing a page for optimization
Those pages which are already at the top of search results or close to it have the highest growth potential for long tail keywords.
To find such pages, you need to:
go to Google Analytics;
choose traffic sources — Channels — Organic Search;
choose grouping by pages.
B) Defining the main keywords
Choose an article you want to update. Open it and read, preferably in full to make a full sense of it.
Then determine the main keyword phrase for which the article is ranked (by sense or according to GWT or Semrush).
C) Using GWT
GWT (Google Webmaster Tools aka Search Console) will show for what queries users have already seen the article in search results.
For this, you should go to project's GWT and navigate to the required report (Search Analytics).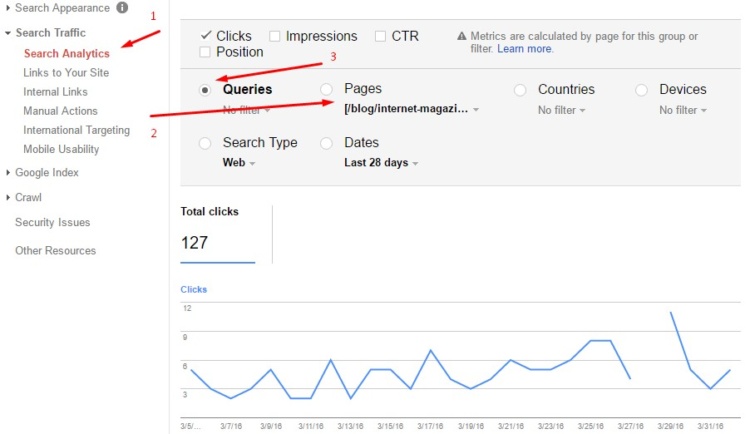 D) Getting useful keywords
Here comes the logic task. Choose words and phrases which are close synonyms to the main phrase or complement it without changing the main sense.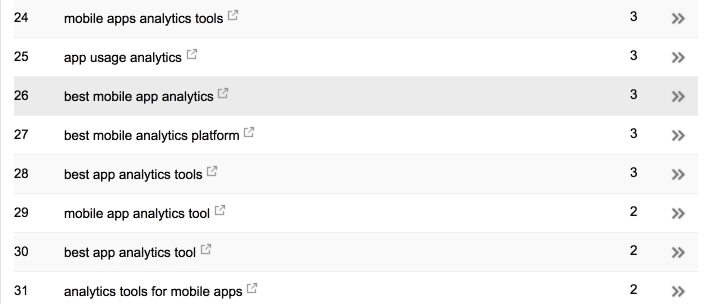 Find phrases you haven't used in your content and try to insert them into the already published material.
E) Long tail keywords
Important!
Look through the search analytics report in GSC up to the end to find long tail phrases which can expand semantics of the article.
This especially concerns broad niches and high traffic articles.
To look for additional low-frequency words, I recommend using Serpstat.
An example for «Website Optimization».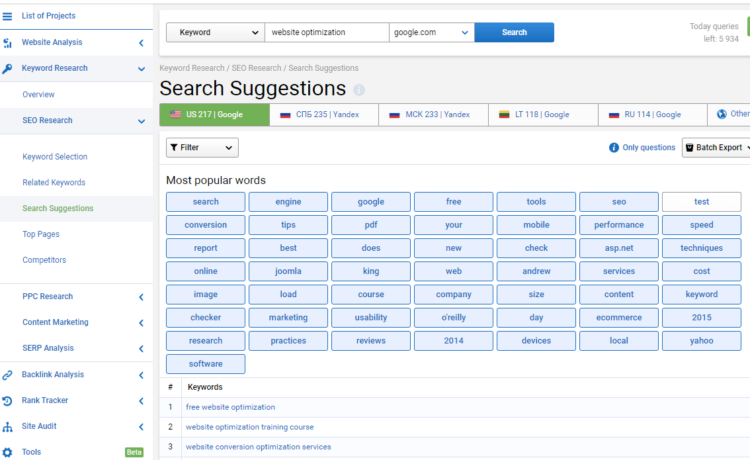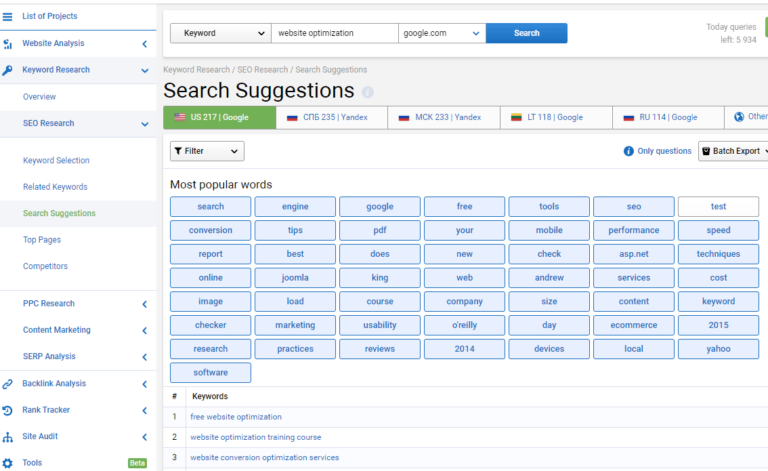 We use this strategy for all the websites, not only for content ones.
This way we are working with Yalantis.com getting 70 monthly leads for mobile app development from its blog. More details you will find in the case about optimization and promotion of IT projects.


2. Missed semantics
The project team may face a question of what else to write about.
If you are short of imagination, you can compare domain semantics. In other words — for what search queries your competitor is ranking while your website is not included in top 100 search results.
Semrush and Serpstat have such tools.
Example:
Let's say you are promoting aworkoutroutine.com
And your big competitor is nerdfitness.com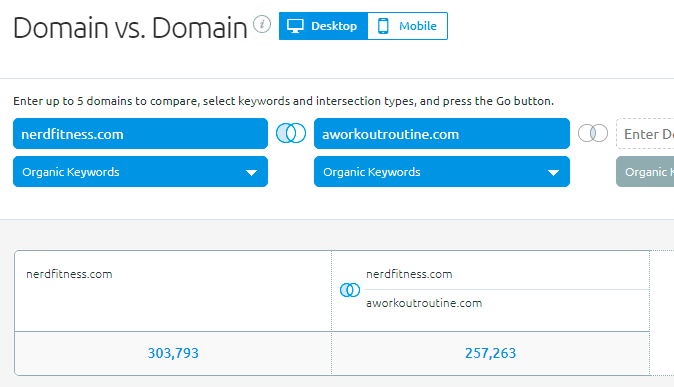 Here are the results:
Example of keywords for which your competitor is ranking and your website is not, according to Semrush: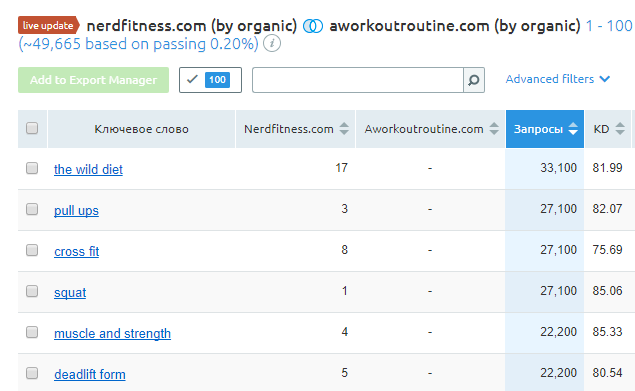 You can write articles for the missing key phrases on your project and start getting search traffic.
Then you can do the same with another competitor or website of a similar subject.
3. Interlinking
It is an important step to promote medium and low-frequency queries without getting external links.
We used quite standard methods in the case of promoting the information project through articles.
Interlinking plan by the example of one article:
1. Choose an article for interlinking.
2. Take the existing semantics and scan rankings as for now. This step is necessary to understand for what queries the article is close to TOP 10 search results.
3. Go to Google with a query like site:yoursite.com the main key phrase for an article to which we will link.
The first will be the most relevant article, that is 99% likely the article which you are going to promote through interlinking.
In the following results the search engine will highlight keywords and phrases, from which we should refer to the main promoted article.
Example
We want to promote livepage.ua/ru for SEO and make the following query in Google.
site:ratatype.com learn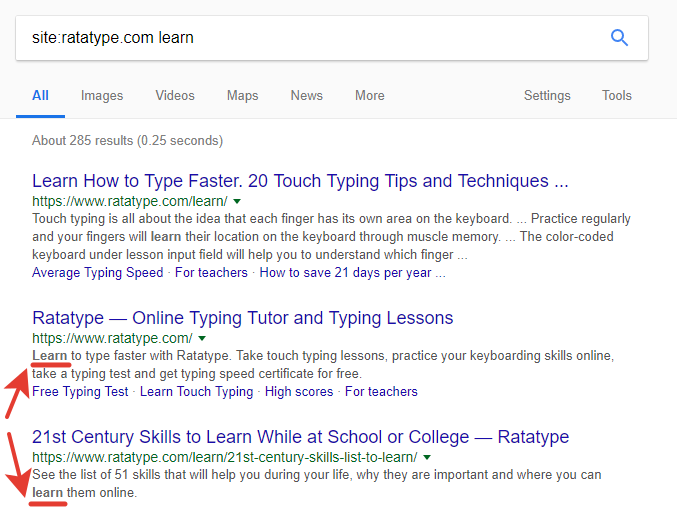 4. Interlink from the articles found using anchor texts containing keywords for which the article is close to TOP 10. I recommend to use as many various anchors as possible. Remember the rule «1 link from 1 page»: Google will not count 2 links for one page (proven in the experiment).
5. If the search engine did not highlight or find a query phrase in relevant articles, you need to write 1–2 sentences and add the link.
4. Analysis of trends and events
Do you want to reach sharp traffic peaks as well as natural links for the project?
Draw up a plan of important events in the niche of your website, create content for these events beforehand and publish it when it's high time.
For example:
If you have a food project, get ready for the Easter. Pick up the content 2 months before the event and put in on the main page 1–2 weeks before the holiday.
If you have a fashion blog, be the first to review dresses of the Oscars, MTV, etc.
Example: an article about celebrities' dresses on the Oscars red carpet.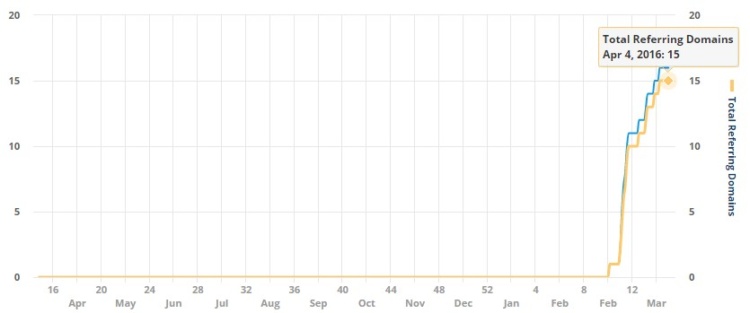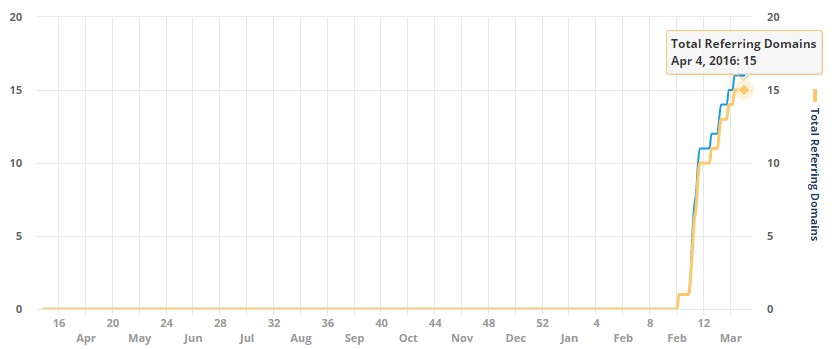 Read more about event traffic in «Updated articles» below.
5. Updated articles
Example: http://www.instyle.com/awards-events/red-carpet/oscars
The strategy is working when the content is updated at certain intervals associated with a certain event. For the above example we created a page with dresses from the Oscars which is updated yearly, not created separately every year.
This strategy helps get event traffic and a regular flow of natural links. We do not create a new article about the Oscars next year but update the current one, so it is easier for the website to be ranked thanks to relevant links.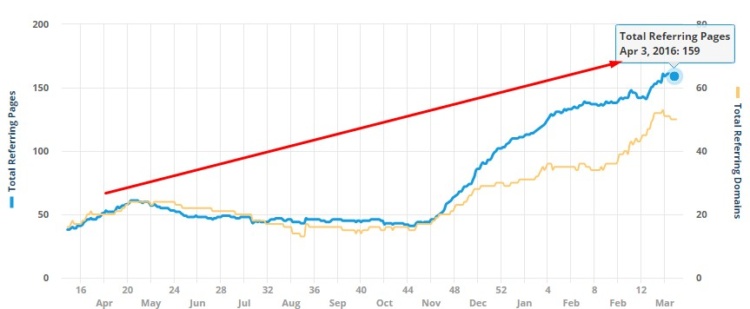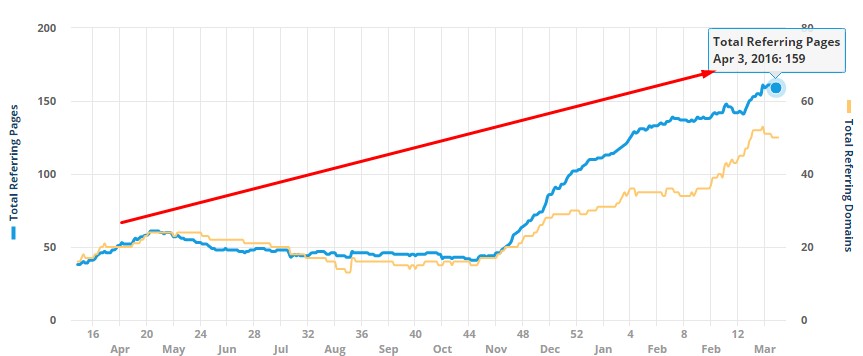 Now data for July 2017:

Case Studies
Important! The given cases are fully based on the above strategy of a website promotion through content marketing. Therefore we will look only at the results.
1st Case: 3 000 000 monthly search traffic through content marketing
What we got initially
The content project was promoted by an author for 12 months and got about 15 000 daily visitors from search.
Our target was to increase organic traffic from search engines by 50 000 daily visitors within the next 12 months of cooperation.
Result
Over 17 months we managed to raise traffic more than 7 times and reach over 107 000 daily visitors. That means we increased traffic by 88 000 daily. We published about 250 articles.


Links:
Working with customer
I would like to stress that the client did a large amount of work to prepare high-quality content and analyze trends. It would be impossible to achieve these results without his deep understanding of each article.
As of July 2017, we have been working with this project for 30+ months.
2nd Case: 70 monthly leads each worth over $25 000 USD
What we got initially
The work was started in 2014 when the website had no search traffic. We developed the strategy from scratch and with the help of Yalantis team found the highest conversion topics for the blog.
Result


Working with customer
I would like to stress that the marketing team of Yalantis did a large amount of work to prepare high-quality content and analyze trends. It would be impossible to achieve these results without their deep understanding of each article.
Want to know the case details? Read about IT company promotion.
As of July 2017, we have been working with this project for 36+ months.
Bonus tips: how to strengthen your niche leadership
1. Collect emails, develop social media communities — diversify traffic sources
This is my main message for the owners of content projects. As the saying goes, do not put all your eggs in one basket of Google.
Although this case shows what a huge amount of traffic website may get from search engines, it's very scary to be 90% dependent on Alphabet inc.
You should secure your business against the influence of the first traffic source — Google.
After a year of focusing efforts on content promotion, I highly recommend you to start developing other sources and invest in them.
Important! Start collecting emails — it is the most converting channel and the most loyal audience, which will follow you everywhere. You can even start a new business in the related field and get an initial growth owing to a loyal subscriber base.
2. Write a lot
To achieve excellent results, publish a lot of articles. There is no magic in promoting niche websites, except for regularly posting relevant and high-quality content.
3. Provide service
The service is exactly what will help you stand out from other projects. Help your visitors solve their problems and you will get a loyal audience and a source of natural links.
Any questions left about website content promotion? Contact us.