The POS system marketing — How to become a leader in a niche
In January 2016, we received a request for a technical SEO audit from Poster. We provided the client with recommendations for the technical and content optimization of the website. It took some time to implement the changes that's why our cooperation was put on hold. We continued working in January 2017 and finished at the end of 2019. We helped increase the traffic to the website, and as a result, the business got more customers.
Before we met, Poster had already successfully worked with restaurants and cafes. When we started to cooperate, the site already had 12,000 users a month and more than 1,000 clients.
Over three years of close cooperation, search traffic on the site has grown to 135,800 sessions (89,000 users) per month.
By 2021, more than 16,000 clients are working with Poster. It is one of the most prominent POS-systems providers in the CIS market and the leader in Ukraine.

There were three main markets for the website localization :
the CIS in Russian;
the US in English;
Poland in Polish.
Read further down for more details on this.
Website marketing in Russian for the CIS countries
At the start, we focused only on the Russian-language version of the website and its marketing in Russia and Ukraine.
Our priority tasks included content marketing and link building. Besides, we experimented a lot and applied successful cases to the entire site.
As a result, there were 166,000 sessions on the Russian version of the site.
Traffic on Russian-language website pages
Competitor analysis as a solution to strategic tasks and marketing issues
When you start a business, the first thing to do is to perform the competitor analysis. It can provide you with insights of workable business strategies and current customer demand. Such analysis helps not only in marketing but also in strategic matters of business areas.
Here is an example of an analysis on a specific strategic issue: Should the business scale to the new Thai market?
During our work with Poster, we have conducted more than 30 in-depth analyzes: from a table of competitors for different regions to SERP analyzes of a specific page, enquiry, or even specific sites.
Example: a table of competitor analysis for one of the priority regions.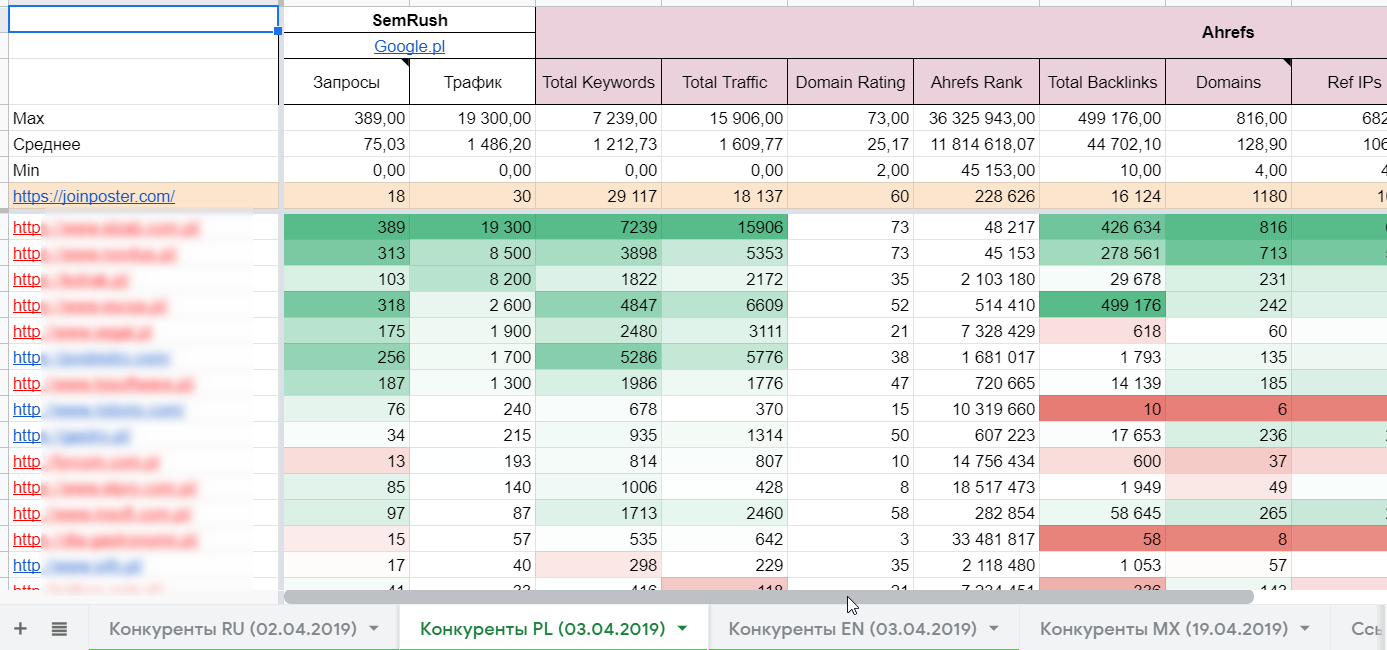 How to use case study pages for regional marketing?
The Poster team started making case studies. We offered to transform these pages into city pages, thus increasing conversion, developing content for marketing, and collecting inbound traffic from search engines.
Consequently, one of the priority tasks was to create a series of case study pages for different cities and business areas.
Example https://joinposter.com/case-study/ozzy
We set two goals:
Show real customers and their success, encouraging prospects to convert.
Collect low-frequency queries for the "POS System + type of business + city" queries.
As a result, we got steady traffic and a moderate but stable number of registrations.

The flaw of this strategy is that the preparation stage takes much time. To create a case study, the team needs to travel to the client, interview the CEO, take photos of the business premises, develop a copy, etc. What is more, not all CEOs are ready to share their insights with competitors.
The advantage of the strategy is that such pages are great news opportunities for a business. The news can be distributed on social networks and used for PR campaigns. It is easy to take such pages to the top of Google search in terms of search traffic.
Case study pages showcase the customers' success, which adds to brand awareness among restaurateurs. This strategy is still working.
How solution pages for different ICPs boost conversions
The solution page strategy is ideal for any service business, as it can be scaled infinitely, creating landing pages for the commercial and informational intent.
Solutions pages are pages describing the benefits of software and tailored to the needs of a particular business. We have developed a series of such landing pages and took them to the top by commercial intent.
Such pages convert more effectively since they are tailored to the needs of a particular business. For example, a large restaurant owner has their own software expectations, while a food truck owner or a small coffee shop owner will need software for completely different purposes.
An example of such a landing page https://joinposter.com/business/restaurant
We did solution page marketing from the lowest priority and least competitive to the highest priority and high-frequency keywords.
For example, it was not difficult to take Joinposter to the top of "POS systems for a pizzeria" queries thanks to text and website factor optimization.
Top positions of Poster for the "Pizzeria POS System" query
However, some niches are very competitive. The search results for such queries change from informational to commercial intent within six months.
Therefore, we had to repeatedly improve the content, analyze the search results and competitors, completely redo the page layout and do our best to get queries to the top.
The advantages of the strategy, coupled with our efforts, resulted in an excellent conversion rate of the pages.
You can find the results on the screenshot below — more than 2,000 sessions and 100+ conversions per month.

When you have an ICP (Ideal Customer Profile), you can create a personalized commercial offer for a specific client, making the conversion more likely.
If you want to get leads from a specific type of business, create a page that tells how you can solve the problems of that business. Based on a particular solution to a business, you can draw up a detailed content plan to encourage informational search queries.
How to find great content marketing ideas?
We divided the content marketing according to the areas of interest of our ICP. We wrote topics that were divided into three areas:
For novice entrepreneurs who are going to start a business: how to start, how to choose premises and equipment, how to hire staff, etc.
For experienced restaurateurs and those working for a long time and without our solutions: accounting and legal issues, inventory count, average check, marketing, work with staff and clients.
PR articles for restaurateurs aimed to raise brand awareness: top books for restaurateurs, world restaurant awards, etc.
We focused on the prospects who are just about to start a business — i.e., startups planning to implement a record-keeping system. To drive more registration leads, we've created a series of articles on How to Start a [Business Type].
An example of such an article https://joinposter.com/post/13-tips-to-open-cafe

The idea of ​​creating such content takes its roots from the solution pages.
At the moment, these are one of the most converting pages. These pages and the main page are the sources of new registrations, as they are aimed at the people who are about to start a business.

We also spent a lot of time on search engine optimization of the priority articles. One of the tasks is to get to the zero search results page and Rich-Snippets. Many articles achieved excellent results: articles got to the top of search results and are still there.
Another area of content marketing for Poster is based on product features.
For example, Poster has a warehouse inventory accounting feature. At any time, a business owner can see how many products they have in stock. This is when we see prospect's pain points: inventory, warehouse inventory accounting, employee theft. Poster solves all these problems. Using the right content, we can deliver solutions to these pain points via blog posts. For example, take a look at an article on inventory.
How to use YouTube and e-Learning to attract customers?
We wanted to create more discovery points for Poster and created free educational video courses for novice restaurateurs.
We have already tested this strategy on our own site — we created a free Google Ads training course.

There is very little high-quality expert content on narrow specific topics in the public domain. Content like this is expensive, and very often, it's written by info businessmen rather than industry experts.
The course of Poster's restaurant business school includes real-life examples from a coffee shop manager. The training is short and to the point. The course contains answers to the most popular questions about opening a restaurant: from concept election to analyzing the first month of work.
Expert content is free for aspiring restaurateurs. Its goal is to provide newbies with knowledge on how to start a business and introduce Poster, which will facilitate the work in the future.
How to find an idea and start a course?
Conduct a demand analysis and form a curriculum.
Shoot high-quality and helpful content that will be most interesting to your audience.
Optimize your YouTube channel and videos for search queries.
Create a course page and optimize it for queries.
Make the launch your next news opportunity for the existing audience.
Thus, we get several  points of convergence with our audience:
The YouTube channel
Search results
Social networks where you can distribute content
Email newsletter
PR placement with backlinks to the site
And many more.
The course has been attracting clients for three years and brings from 5 to 15 leads per month.

Poster entering the Polish market
In mid-2018, our team decided to help market Poster on the Polish market. Before this, Poster had already worked with one of the Polish marketing agencies, but the results weren't satisfying.
After the GDPR law came into power, the data from Google Analytics became incorrect — a lot of user information was lost because they did not accept cookies.

Therefore, we began to analyze clicks on the Polish version of the website using Google Search Console because this tool works differently.
As a result, we got a click increase of 570%.
1st month of work (July 2018) — 1508 clicks vs. last month of work (December 2019) — 8690 clicks.
Competitor analysis showed that they also create Solution pages and get good traffic from them. At the same time, few of the competitors were publishing blog posts. First of all, we translated and added solution pages for popular types of businesses.
While creating the pages, we saw that popular types of business in the CIS aren't as popular in Poland. For example, we didn't create a page for hookah bars since this type of business is not reputable in Poland, and it could negatively affect the Poster's reputation.
Landing pages by business type and their content optimization resulted in an immediate boost of positions and traffic.
Example of positions for Poster commercial queries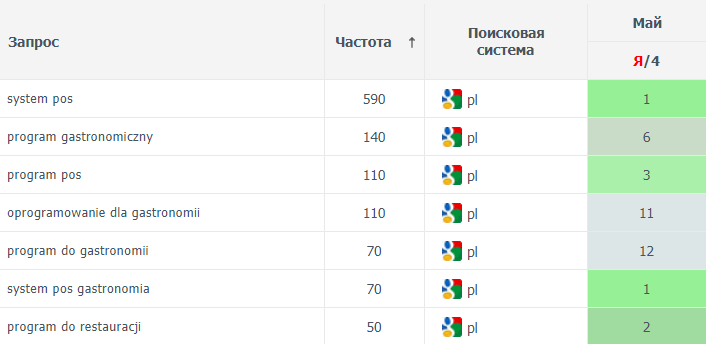 How to translate a website when entering a new market?
When a business enters a new market, it makes a common mistake — it tries to translate all their website without considering the specifics of competitors and the language.
While analyzing competitors, we got an insight — it is not enough to translate the text (for example, from Russian to English.) It's always necessary to perform a detailed semantic analysis of the keywords for your keyword strategy because the terminology is very different.
For example, the main query in Russian "Автоматизация ресторана" was first translated as "Restaurant automation system" into English and "Automatyzacja restauracji" in Polish. However, the competitor analysis showed us that the correct translations are "Restaurant POS System" and "Program do restauracji". The demand for such queries can differ by tens of thousands of users. Therefore, the analysis of search results and competitors is mandatory for multilingual sites.
Development of multilingual content marketing
Our content strategy was divided into three areas:
SEO re-optimization of existing articles.
Publishing new articles that have similar topics to competitors.
Publishing SEO translations from other language versions.
We chose high-traffic and converting blog posts for translation.
While creating a new language version, it is not necessary to translate 100% of the content. Sometimes it is enough to translate only 20% of the pages that bring 80% of traffic and conversions.
Regular research generates new ideas for content marketing development. For example, if we find a good idea from an English-speaking competitor, we can apply it to other language versions.
For example, while analyzing American competitors, we found the article "Christmas marketing ideas for restaurants". We understood that restaurateurs have a lot of questions about seasonal menus and holidays. Thus, we have articles on holidays in restaurants: New Year, March 8, Halloween, St. Patrick's Day, Valentine's Day, etc.
An example of a pivot table of content for three languages: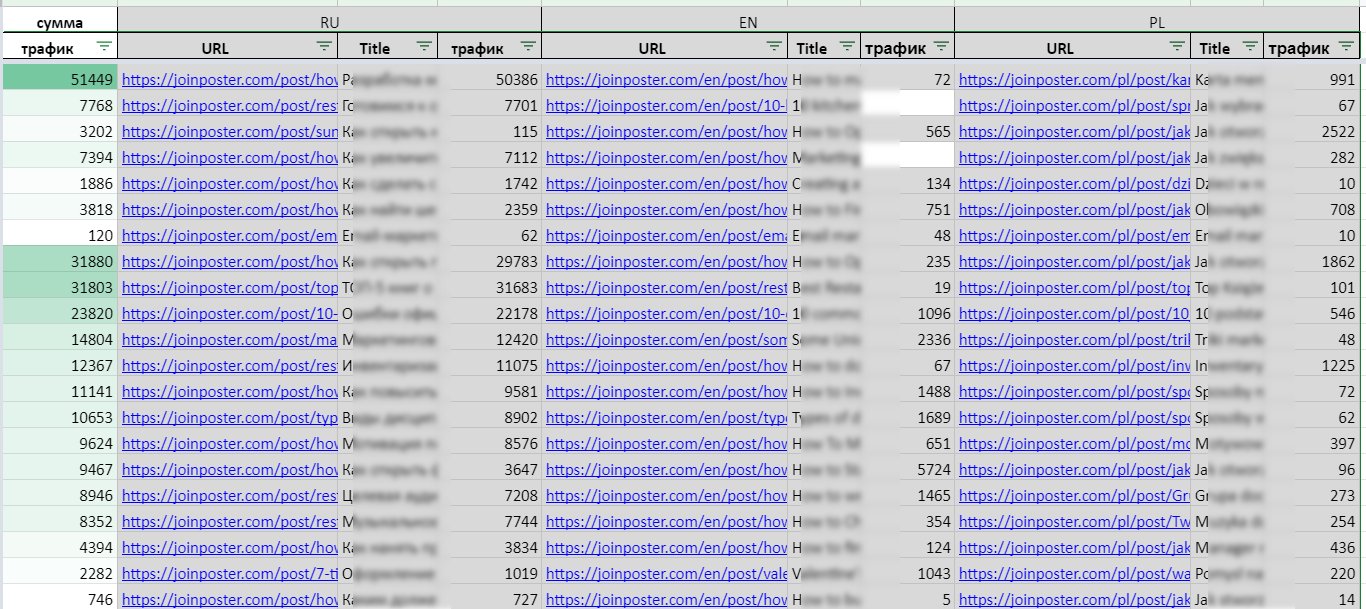 When we entered new markets, the existing articles served as a content plan for developing other language versions.
Article "How to write a menu"
For example, an article about menu engineering (menu development) in Russian served as the basis for the articles How to make a restaurant menu and Karta menu restauracji.
Writing content on legal and accounting topics was difficult since it needed a consultation of a lawyer or accountant. What is more, the legislation is different in each country. For example, in Russia, cash register equipment must comply with the requirements of Federal Law of the Russian Federation of May 22, 2003 No. 54-FZ, in Ukraine — the law on cash registers for FOP (sole proprietorship). You should mention all these nuances in the expert content.
Link building for all directions
Competitor analysis also helped us develop our link-building strategy.
Since the basis of any site is good content, we paid less attention to creating incoming links than to high-quality content. It's easier to distribute high-quality content; thus, we managed to get a link to one of Poster's articles from Wikipedia.

We searched for link-building ideas and sources of links from our competitors. We tried to select the highest quality links and get backlinks only from a trusted, high-quality donor.
Over three years, we have tried many techniques, from link brokers to targeted high-quality outreach and catalog selection.
You can see the result of our work in the graph from Ahrefs.
Graph of incoming domains to joinposter.com
Marketing in the USA
When Poster decided to enter the US market, we were happy to help with the English version of the site.
We have adapted the content from the Russian website version for English-speaking queries.
Traffic to the EN-version of the site
As in previous cases (with language versions), we easily got to the top by low competition keywords. However, there were not many such pages.
Candy Store page reached the top due to good SEO copywriting

The competition in the US market is 1,000 times higher than in the CIS since the competitors are older and more experienced. Business development in the US requires significant marketing investments, and over time, Poster decided not to invest in this direction.

However, the English-language direction discovered a new market for Poster — Mexico.

Poster brand development in Mexico

Today, Mexico is one of the important destinations for Poster. To develop this business model, the company had to change many business processes.

Unfortunately, Livepage does not work with the Spanish language so we couldn't help Poster with that. However, we are sincerely happy about their success.

The marketing strategy is the same: one part of the content is new, the other part is blog post translations.

So, for example, one of the high-traffic articles in the Mexican market is "How to open a bar".

Summing up
When developing your search engine marketing strategy, select your target audience and develop interesting content. When you manage your project internationally, always analyze your competitors, do better than them, find the most interesting ideas, and apply them to the entire site. This will allow you to always find new ideas for growth and development.
JoinPoster.com traffic and conversions while working with Livepage (2017-2019)
Create new products and develop the current ones. The Livepage team is always ready to help you with digital marketing. The Joinposter case study perfectly demonstrates our shared commitment to joint victories.