SEO for SaaS Companies: How to Grow from 0 to 1000+ Monthly Demo Requests
The number of companies that are creating new digital products, especially SaaS, is growing rapidly.
As a rule, they have great technical expertise. However, when it comes to marketing strategy and generating organic traffic, those companies are likely to face a lot of challenges.
In this case study, you'll learn how to get inbound leads for SaaS projects using SaaS-focused SEO optimization, content marketing, and SEM for SaaS companies. Plus, you'll get a clear picture of how to implement an SEO strategy for SaaS companies.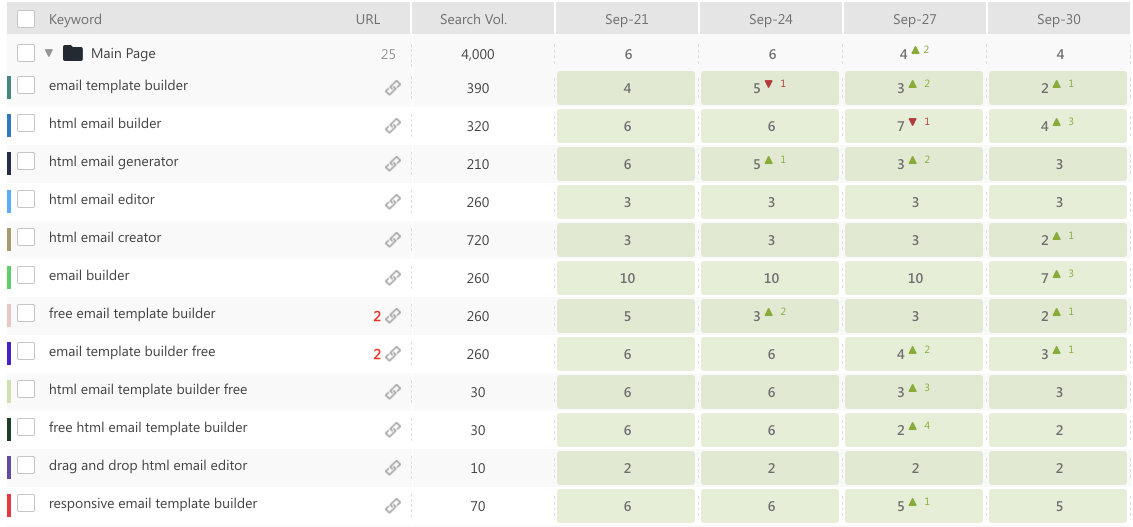 During our cooperation, we managed to increase the number of registrations on the site from 0 to 1000+ per week using SEO services for SaaS companies.

The Ultimate Guide to SaaS SEO + Case Study
Below there is a list of tips and recommendations that you can implement in your SaaS project to get leads from Google organic traffic, optimizing a SaaS website to increase conversion. The results that we've achieved with the client will serve as proof
Client
Stripo.email — an email builder and online service that provides email templates.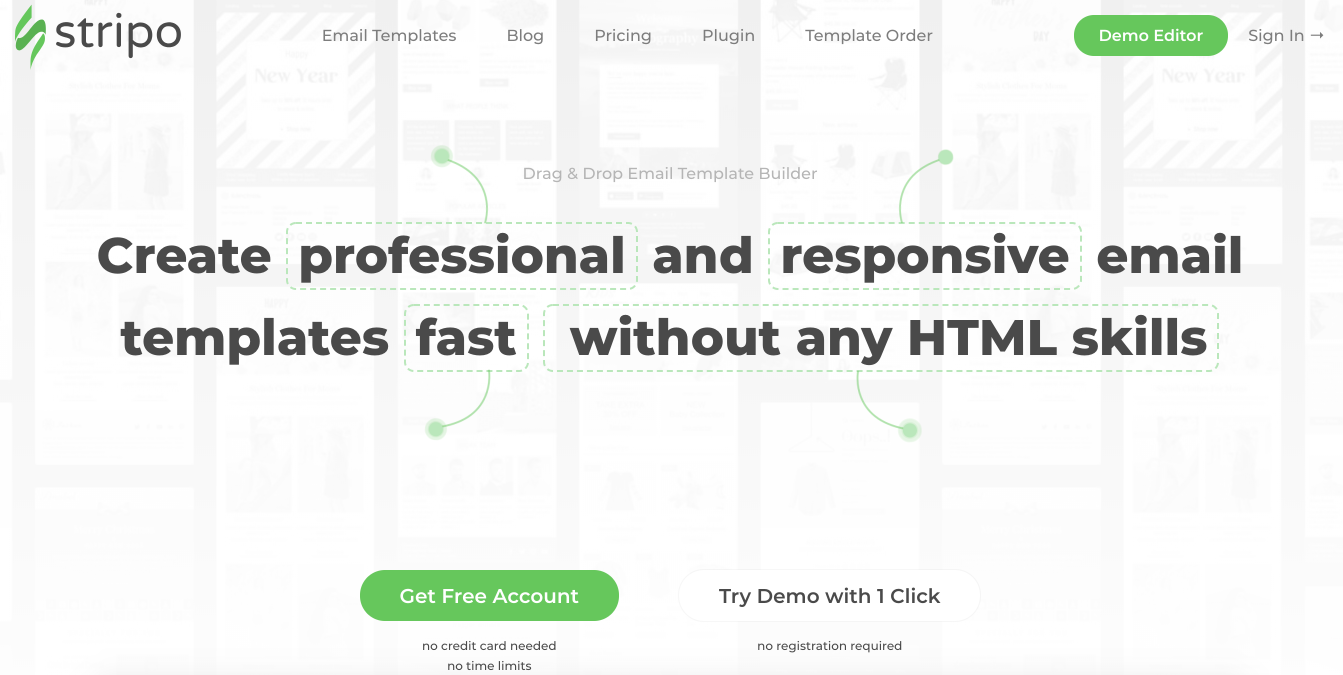 We started to work on the project in May 2017. Case study was released after 16 months.
Initial traffic:

Client objectives:

Generate sign-ups and requests for the product demo.

To grow a paying customer base.

Increase brand awareness through inbound marketing.
About business:
New business.

The site and domain didn't have the authority and trust from visitors and search engines.

Paid ads are not the best option due to high bids and low product prices. In SaaS terminology, CAC from paid ads > LTV.
Strategy:
Niche and competitors analysis.

Identifying the factors that allow competitors to get top rankings.

Content marketing.

Link building.

Additional traffic solutions
Pro tip
Getting a lot of traffic is not the right goal for a business. The right goal is to increase the number of conversions.
For SaaS solutions, it's vital to set up goals in Google Analytics and evaluate a marketing strategy considering how these goals are achieved. For instance, measure results by looking at the number of demo requests or sign-ups.
Real Example
For Stripo we chose the first goal — getting sign-ups. That was the key metric we paid attention to.
Getting new traffic with no sign-ups would be a total waste of money within the investment in SEO.

SaaS SEO Strategy
Analysis
During the first three months, conducting an in-depth competitor analysis should be the highest priority. It allows you to come up with the right plan and scalable and solid SEO strategy for a SaaS product. In its turn, it leads to achieving KPIs faster.
How to Search for SaaS Competitors
Easy guide
Define a keyword phrase that can describe the service (for example, email template builder)

Google it in the needed region, not in the one you are located

Pick the sites that have TOP rankings. Skip Google Ads

Congratulations, you have found your competitors!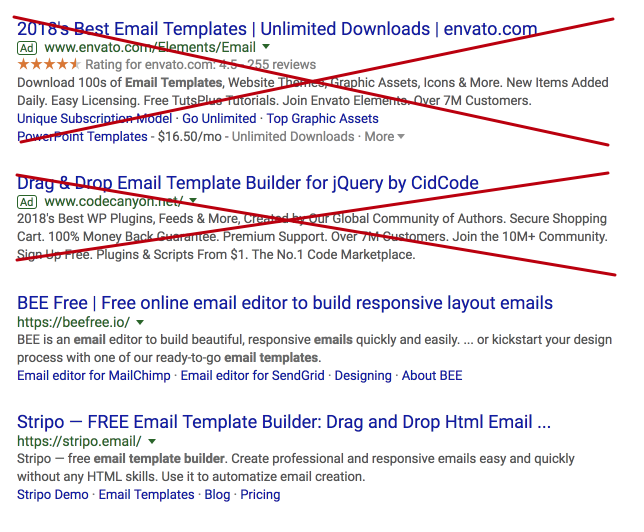 This method is suitable for determining SaaS competitors, as online services often have only 1–2 pages that generate up to 80% of all search traffic.
For other types of sites, the method may not reflect a real state of things due to the fact that sites may have a lot of page clusters that generate traffic. So, a competitor can have top rankings for 1 cluster, but don't rank well for the dozens of others.
The right way
Discovering competitors with the help of Ahrefs may be a great solution.
The advantage of this method is that you can find more potential competitors. And then, one by one, you can check the amount of traffic they get.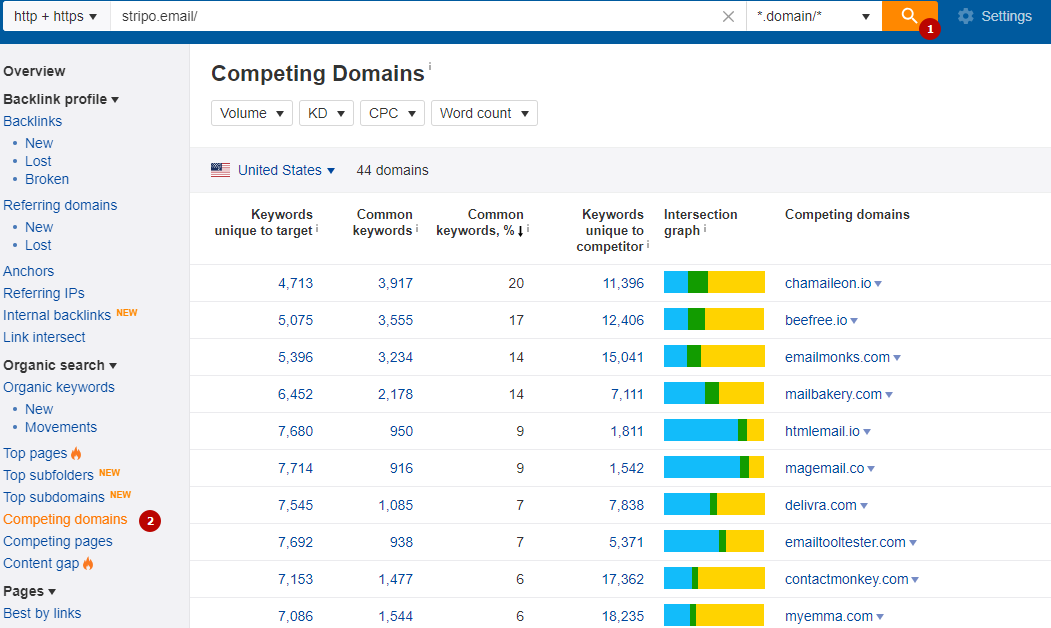 Indicate What Competitors Pages Get the Greatest Amount of Traffic
Pro tip
Pay attention only to those pages that can potentially generate leads for your SaaS.
To focus on the pages with the highest conversion rates, you need to find the pages that generate traffic and conversions for competitors.
You can do this easily using Ahrefs.
For this: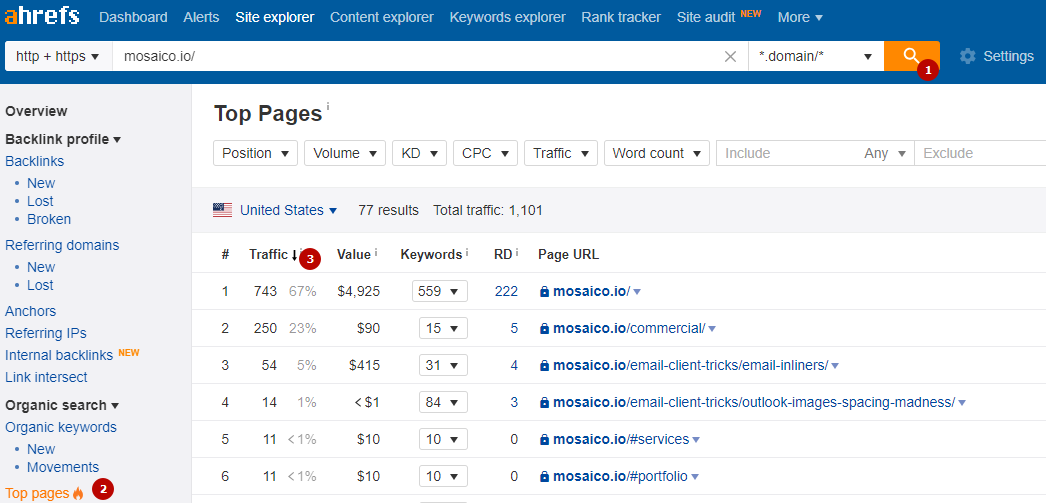 Enter the domain name

Select the Top Pages report

Filter by traffic
So, for Stripo we analyzed the following competitors:
Beefree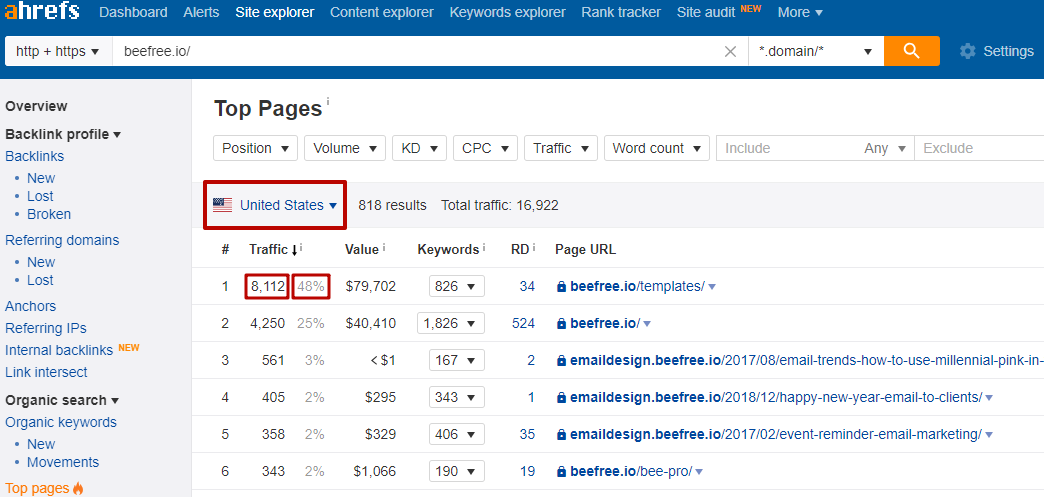 Beefree gets more than 8,112 visitors to the most popular page of the site and this is 48% of the search traffic of the entire site. The next most popular page generates only 25% of traffic.
Mosaico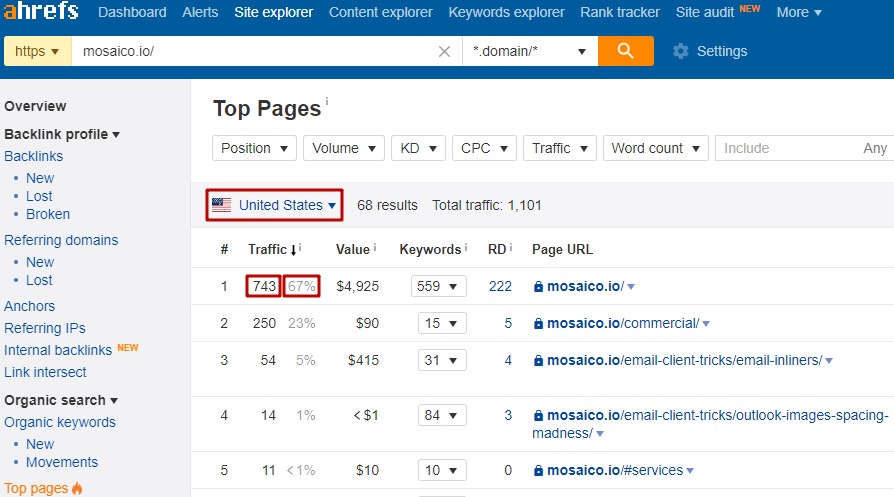 Mosaico gets about 743 visitors to the most popular page of the site, and this is 67% of the search traffic of the entire site. The next most popular page generates just 23% of the traffic.
Topol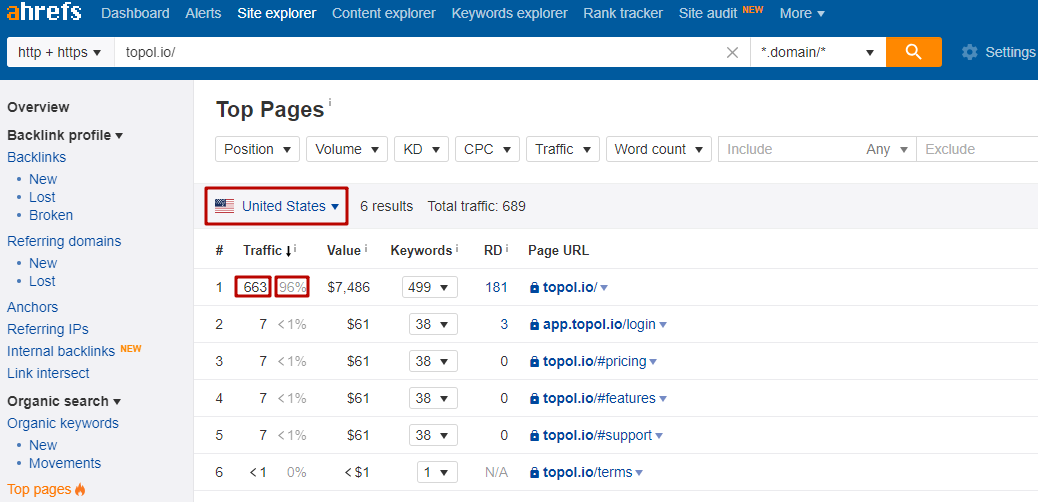 Topol.io gets about 663 visitors to the most popular page of the site and this is 96% of the search traffic of the entire site. The results show that the competitor has only 1 landing page. This is the home page.
What conclusion can be made?
In the analyzed niche, competitors get the greatest part of traffic to home pages. The rest of the pages generate less than 25% of traffic.
It means it's necessary to focus on the optimization of the home page (meaning on-page SEO for SaaS) as fast as possible.
Backlink profile analysis
Having identified competitors and their traffic pages, it is necessary to understand how many links help these sites rank and what efforts will be needed to catch up with them.
Pro tip
Don't rely only on quantitative metrics when analyzing backlink profiles. Every website that ranks in Google has several other metrics that affect the results. Getting the same number of links as your competitors does not guarantee you high rankings. Here is an example with the «email template builder» query.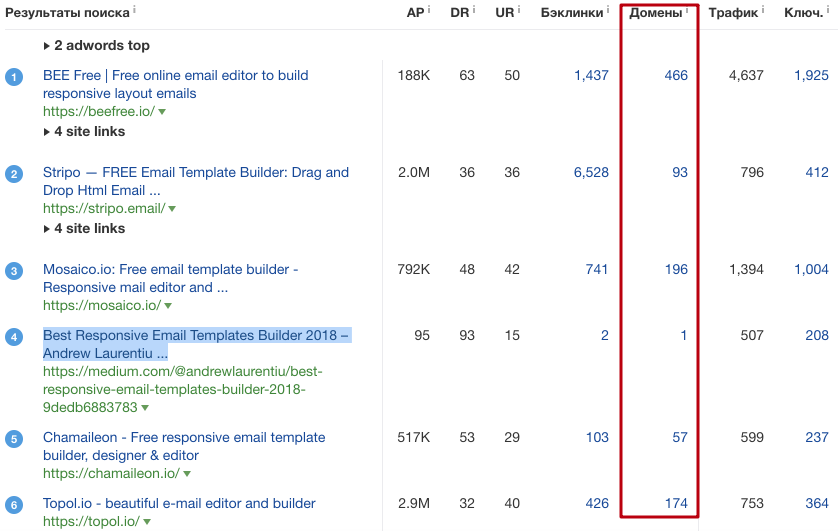 Stripo ranks higher than the next competitor, having 2.5 times fewer links. The goal of backlink profile analysis is to understand the relative level of competition. This analysis shows that it's possible to catch up with a competition in 9–12 months of quality link-building.
I recommend analyzing:
Backlinks for queries that have the highest conversion rates

Overall backlink profile analysis
Anyway, it's impossible to do it without software like Ahrefs.
Queries that has the highest conversion rates
We found out that home pages of the competitors convert a way better than other pages.
Now you need to understand which keyword has the highest volume and how many links main page gets. This analysis will show you approximately how many links your website need to rank in Google for the keyword.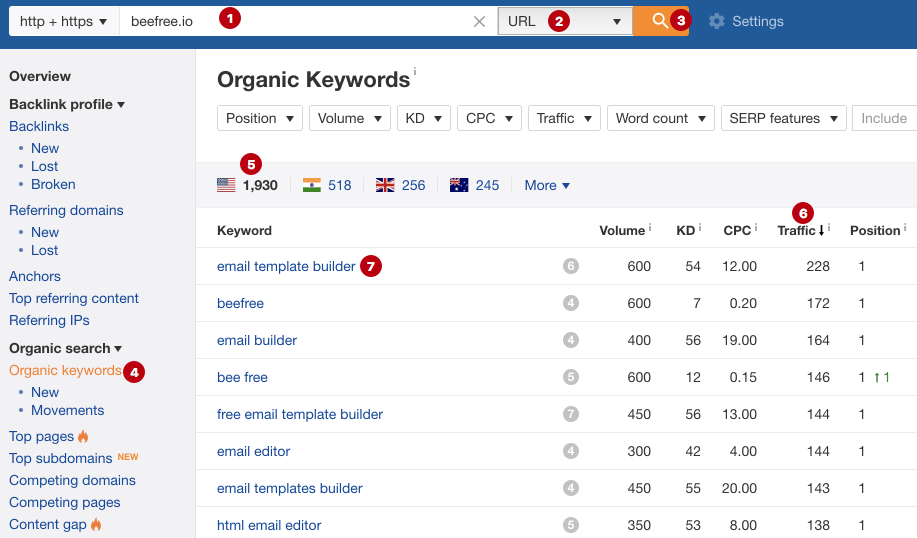 Process:
Analyze the main page in Ahrefs

Go to the Organic Keywords report

Filter by region and traffic

Determine the most important key

Click on the selected key

Thus, the Ahrefs service assumes that you'll need backlinks from more than 100 websites to rank in the top 10 results for this keyword.
Pro tip
The method that is explained above works well for SaaS websites because usually, they have only 1–2 landing pages.
For other website types, it is possible to analyze only a local competition for a single group of pages.
Overall backlink profile analysis
If there are many pages that generate traffic for your SaaS, then you need to analyze the backlink profile of the whole site.
Beefree example

More than 1.16K domains refer to the site.
Next, you need to understand on which pages these links are distributed.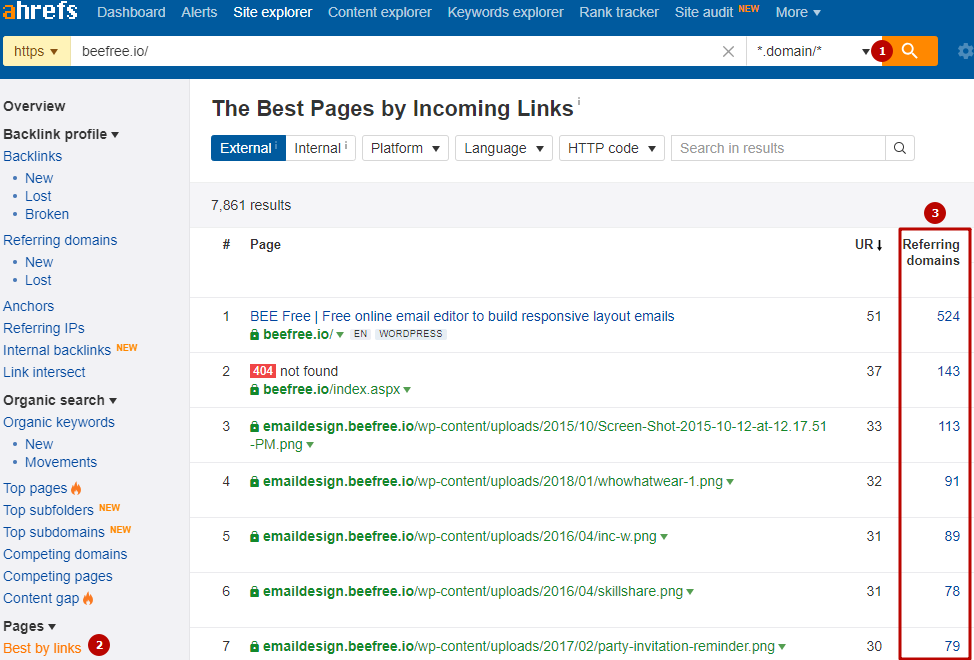 Once you analyze all your competitors using this method, you will understand what pages you should build links to.
Learn more about what conclusions we made about the link building for SaaS projects in the Link Building section.
Internal optimization
Main page optimization
I'd like to remind you.
After analyzing the competitors, we clearly understood that the main page will get the most of leads.
The home page of all competitors had the biggest amount of traffic and met the needs of visitors in the best way.
Therefore, the main page should be SEO optimized first during SEO for a software product. 
Important! In 90% of cases, this approach can work well for SaaS brands in any niche.
Checklist:
Analyze 2–3 competitor sites and find keywords that they rank for, for example, in Ahrefs, and export the data




The process of determining keywords that a competitor ranks for, data from Ahrefs

Select all unique phrases from organic keywords from 2–3 competitors and save them as a list.

Add search suggestions, for example, using Ubersuggest (as a result, you will get more relevant keywords than any other competitor).

Optimize metadata and text for collected keywords.

Give more answers to visitors' questions than competitors did.

Track the result and make changes.
Pro tip
If it's a new website without history, it takes 3–4 months to start generating traffic. Thus, we recommend you optimize the most effective pages (in terms of conversions) as soon as possible.
Example
On Stripo.email website, we implemented changes to the main page in June-July 2017. We started to see the first visible traffic growth since September 2017. We achieved significant results in 9 months of work.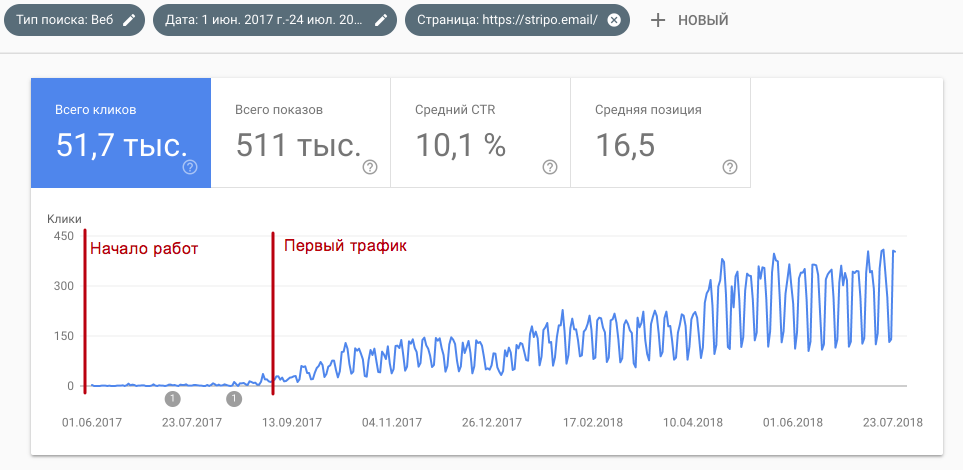 Technical optimization
All the sites should do it. It's a very important part.
Technical errors can lead to a general decrease in website quality. Consequently, it may result in lower rankings and traffic of the whole site.
The lack of attention to «minor details» resulted in challenges for us in a year after we started the promotion. Keep reading to learn more about this mistake and how we fixed it.
Pro tip
Below there is a basic checklist for technical SEO for SaaS companies. It will work for most new SaaS projects.
If you have a complex site structure, we recommend you turn to experts.
Your own analysis will lead to missing technical details that may be insignificant in your opinion. However, they have a great impact on the overall quality of the site and its rankings.
What should all SaaS do?
Analyze the site using a free Xenu or trial version of Screaming Frog. After watching the video on Youtube on how to use these tools, everyone will be able to conduct a basic technical audit.
What do you need to look for?
Duplicate pages or page elements

404 errors and internal redirects

Poor-quality pages (read about this below in the Problems section)
It's important to pay attention to
Pro tip
If your SaaS website is simple enough and has up to 10–20 pages, then you can do technical SEO for SaaS business at a later stage. Focus on more important money-making activities instead.
On the other hand, if your website has over 100 pages, or is multilingual, technical optimization must be conducted as soon as possible. Chances are there a lot of errors that should be fixed.
If you have a bad-looking or not a mobile responsive website, it won't bring you clients. In such case, you need to make a new website design.
Feel free to learn more about internal optimization from our case study of a local business in the US.
Content marketing for SaaS
Content marketing for SaaS is a strategy that allows you to attract a new audience that is interested in your business.
Getting organic traffic is the main problem for a new online business. And for SaaS, the challenge is even tougher:
No one knows the new brand; thus the conversion rate is even lower for those who visited the site;

Few landing pages that could generate organic search traffic;

Paid traffic is expensive and does a business to spend its limited resources.
Here are the content marketing benefits for SaaS:
Spreading the word about the product on reputable websites increases trust and credibility of the product;

Increasing brand awareness in the market;

Getting a virtually endless source of new traffic.
Do other SaaS services use content marketing?
Yes, and they've been doing it for a long time. Among them there
Zapier

Hubspot

Intercom

SumoMe

and hundreds of others
How to start content marketing?
Start with creating a content strategy and analyzing the needs of your target audience.
Pro tip
Before writing any article, ask yourself, «Will this article be interesting for the target audience?»
Otherwise, you'll get search traffic with a little interest in your SaaS product.
Example
If we take Livepage, we need to create articles that will be interesting for business owners. For instance, how to promote a blog in English and generate 3 000 000 visitors. And a less interesting article for potential clients — SaaS technical SEO tools that SEO specialists need. Use the same approach when choosing topics for your online service.
What is the most important thing in content marketing?
You need to give the most comprehensive answer to the user's query. You should bring tons of value.
How to do it?
Analyze the top 10 articles on this topic in Google;

Identify the strong and weak points of existing content;

Make your article better.
Traffic generating ideas
Using traffic ideas from other types of business is something that you most likely will not find in any of your direct competitors.
This is exactly what can make a breakthrough in your business development.
We've already done it for our customers. For example, we took ideas from Shopify. Read more about how we increased organic traffic for Getsocio, an online builder for e-commerce shops.
Now, let me explain how it works using examples.
First of all, identify a business with a similar business model but in a different niche.
So, for Stipo which sells access to templates and its email editor, you can draw an analogy with the Themeforest business (it sells themes for WordPress).
Secondly, analyze traffic pages just like you did when analyzing direct competitors.
For example, data on the top pages for the themeforest.net is used.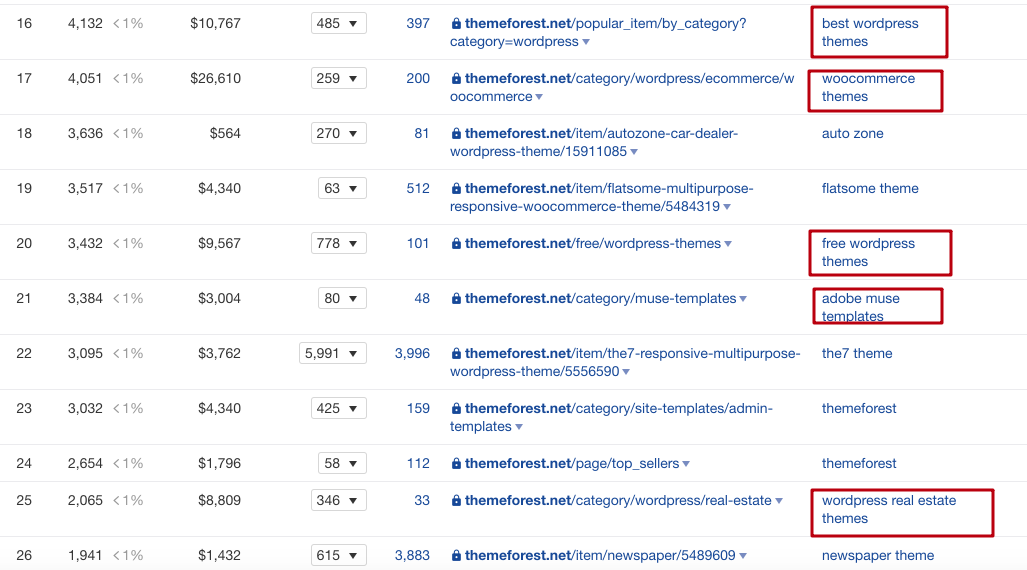 After examining the data, we realized that for themeforest.net, traffic is generated by the specific categories of themes for WordPress.
Thirdly, adapt solutions for your business.
Thus, for Stripo, we implemented it for email templates for different occasions. We created categories by business industries.
For example, email templates for Black Friday, etc.
In this way, we generated traffic for queries that were not obvious. In addition, these pages have traffic and a high conversion rate.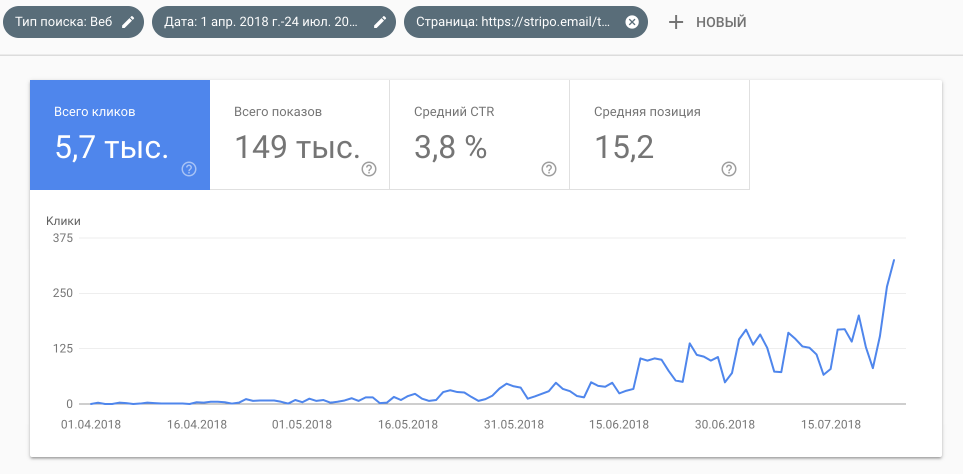 Thus, it proves the benefits of analyzing the businesses of indirect competitors that have a similar business model.
Link building
Getting links is an important part of the SaaS marketing strategy.
If the SaaS service is mediocre, it won't be possible to outrank the competitors by building links on the scale.
On the other hand, link building is the way to increase credibility and brand awareness.
Below I will briefly describe the methods of obtaining links that not only positively affect search engine optimization for SaaS but also help to grow brand awareness.
Adding info about your SaaS in list posts
In most cases, people start their search for a tool with queries like Best… tools.
In the case of Stripo, it's the «best email template builders» query.
Articles that are ranked for this query should be on your link-building list.
Our goal was to get featured in the existing ones or create our own articles that would rank high for the queries.
It's a very profitable strategy for obtaining referral traffic and increasing the brand awareness for SaaS in any niche
Examples
Guest articles
Examples
More details on link building in the US you can find in the following case studies: Ratatype case study, Bringbackhair case study, Yalantis case study, Apriorit case study as well as in the media project case study.
Pro tip
Come up with one important topic in your niche and highlight it better than others. This is guaranteed to generate organic references.
Example
In the Ratatype case study, I described this link magnet strategy. A special typing speed analysis page was created which analyzed the average typing speed. In 4 years of its existence, it has collected over 300 links from 145 domains.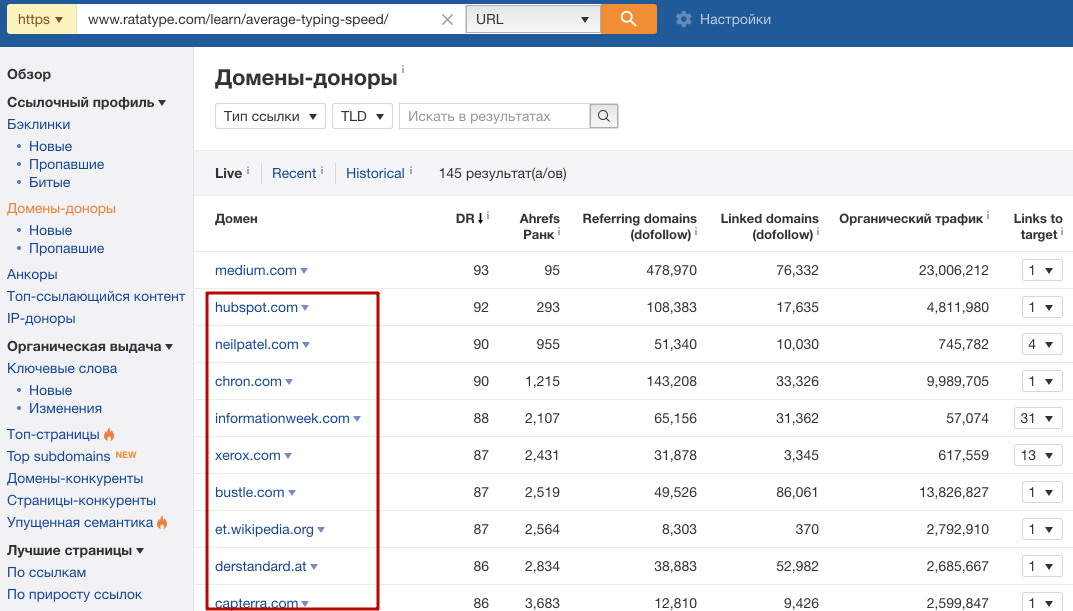 Insights
The active growth of traffic due to internal optimization and the creation of landing pages starts to decrease in 4–5 months, and stagnation begins. To overcome it or to minimize its effect, it's necessary to start getting links as soon as possible.

Stagnation is normal. Every project has months with almost no growth. You should not make fast conclusions and change the strategy. After stagnation, you will get months of success, like the 11th month (in Stripo's case) when the rankings improved drastically.




The growth of search traffic after stagnation

Link building is not only about getting links. It should improve the brand awareness of the SaaS product as well. It leads to an increase in brand traffic. The growth of brand traffic is one of the key metrics of the website authority growth. The growth of the site authority leads to an increase in traffic across all pages of the site.




The growth of brand traffic for Stripo quiry, Google Search Console data

Quality of the product is the cornerstone of business growth. Promoting a low-quality product is much more difficult than useful one. Thus, traffic growth depends not only on the marketing but also on the improvement of the product.

SaaS-focused SEO optimization

is teamwork. You cannot just take and outsource the entire marketing of the product. Constant participation of your team is required. Without the efforts of the Stripo marketing team, it would be much harder to achieve these results.

Create a quality product and save money on marketing. The product will advertise itself, as

Ratatype does. Links from high-quality sites will appear without spending time on link building. You can do the same if you create a really useful service.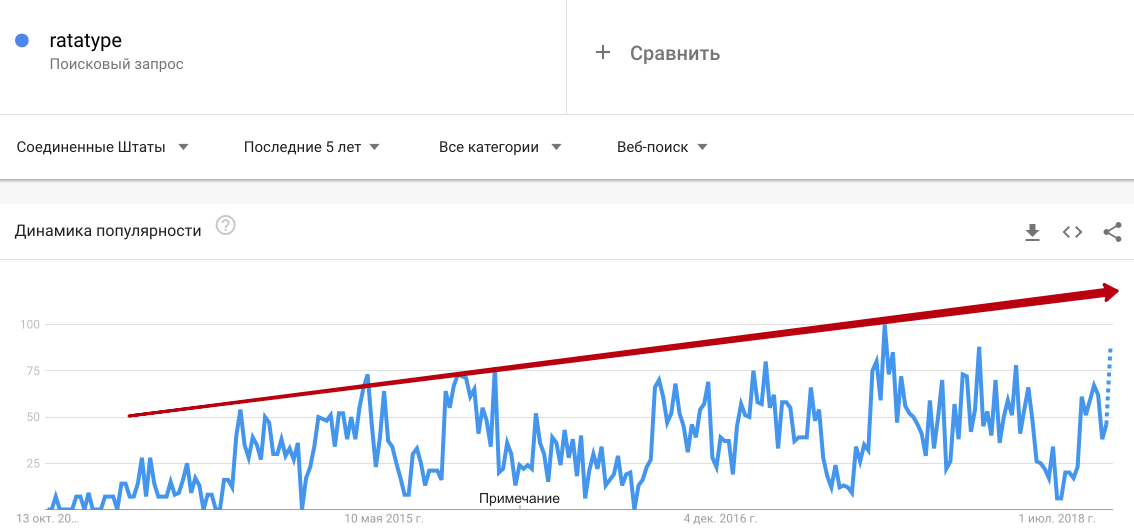 Case Study Results
Traffic

Search traffic increased from 10 to 2000 per day.
Conversion

The number of demos increased from 0 to 470+ per week, with a conversion of ~ 3%.
Problems

In August 2018, Google updated its core algorithm, which affected the traffic of the project — it collapsed by 30%.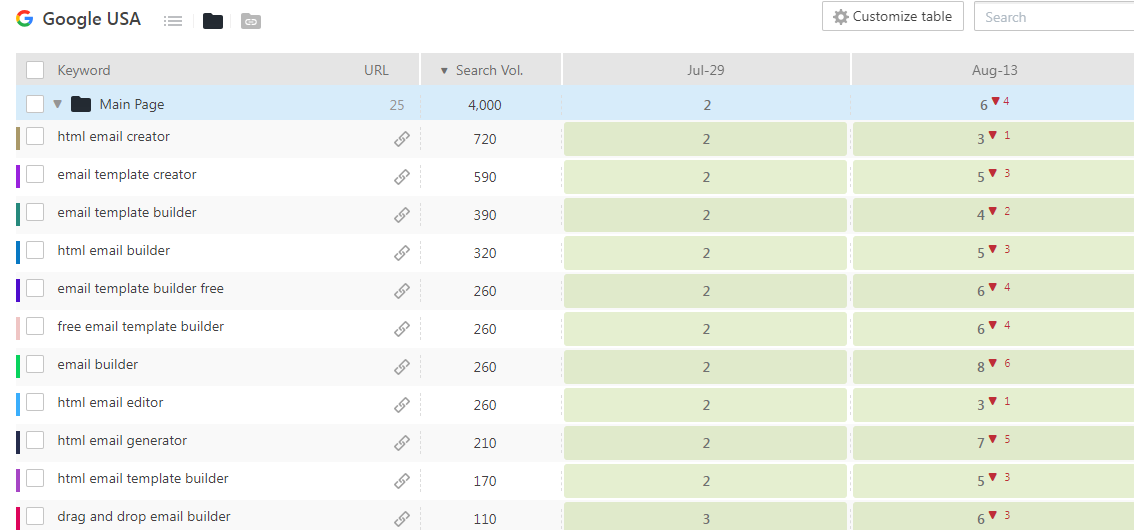 After analyzing the data and reports from other webmasters, and specialized publications, the reason was clearly understood.
Google has tightened the quality requirements for the site in general.
Thus, if SaaS has an SEO-optimized main page, which brings 95% of traffic and there are a dozen pages non-optimized pages of average quality, then the website can be viewed as an average quality website in general. It will affect the amount of traffic that an optimized page receives.
Example
On the Stripo's website, there were up to 30 landing pages, which were optimized for generating organic search traffic. However, there were more than 200 pages of email templates.
For example, https://stripo.email/templates/promo-email-template-appreciate-moment-tourism-industry/
There was no useful information on such pages. Just examples of patterns in pictures. Previously, their presence in the search results did not affect the promotion. We treated this kind of pages as a minor ranking issue that can be neglected to save the budget.
Until August 2018.

What We Fixed
1. We removed low-quality pages from the index
Example
https://stripo.email/templates/promo-email-template-appreciate-moment-tourism-industry/
Since the templates of this type did not bring any traffic at all, we decided to remove the pages from the index.
The blog was also translated into 4 languages. However, there was an error that put English content on ru., ua., de. versions of the site resulting in page duplication.
2. Title, H1
An unlikely reason for the drop in traffic, but the problem was fixed.

3. Hreflang tag repetition and errors
Since the site is localized in 4 languages, errors in its execution led to incorrect display of content in different language versions.
Pro tip
When a website is struggling from algorithmic changes, don't expect instant traffic recovery after removing the potential issues.
The traffic may recover only after another big update of the search algorithm. Such updates occur once every 6–9 months.
What happened after the next Google update?
Rankings and traffic increased.

After the update, traffic returned to its previous level and even exceeded it.
Case Study Update November 2019
We want to remind you that the website had lost traffic after the Google algorithm update in August 2018. We managed to solve the problem as soon as possible and the amount of traffic began to grow again and continues to grow now.
Google updates in March, June, and September 2019 did not stop the growth of organic traffic on the Stripo website.


The total traffic growth is 186% compared to the previous period, and the number of registrations increased by 210%.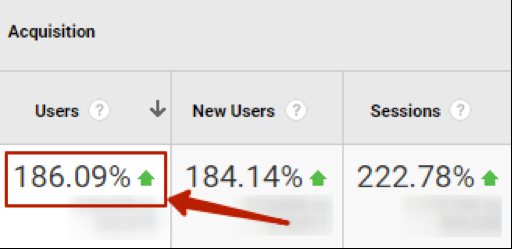 What exactly helped the business grow?
Our team optimized Stripo integration pages with other services (MailChimp, Sendgrid, etc.).


A page with AMP email templates has been created.


Case Study Update February 2020
The case study was updated two months after its previous update.
Google announced the roll-out of its 2020 broad core algorithm update on the 13th of January 2020. This update has brought positive results for Stripo.email.
Core algorithm updates are designed to ensure that Google is providing the best content for its users.
Thanks to high-quality content marketing and SEO strategy for SaaS, the update led to improving website ranking. Actions that led to success:
landing page optimization;

constantly adding relevant and informative content;

improving internal linking on the website;

getting high-quality backlinks.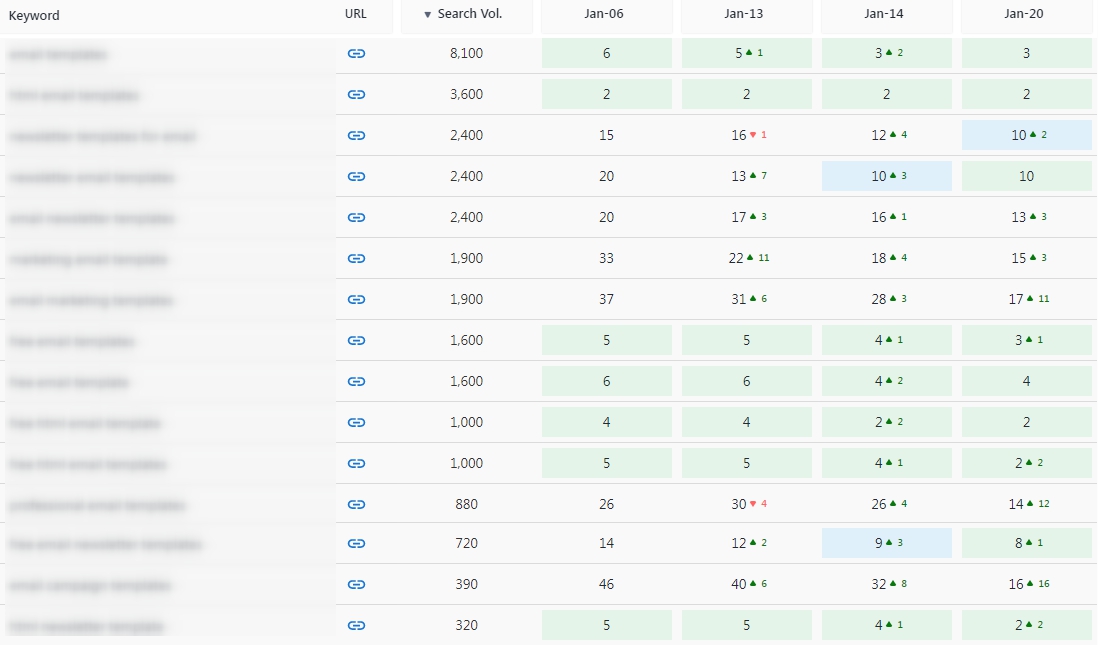 Total traffic growth was 86% compared to the same period last year, and the number of registrations increased by 106%.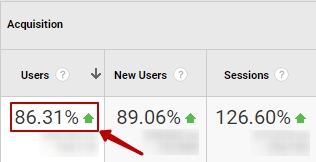 What will we do next?
We plan to continue to increase Stripo brand awareness not only in the United States but also in other countries through content marketing and link building. In addition, we plan to analyze the main competitors and other types of businesses in order to adapt their solutions to the Stripo business.
Want to effectively grow your own online business? The Livepage team can help with SEM services for SaaS companies and digital marketing for SaaS companies by applying the successful experience of this and other cases.