Paid Search for B2B: How to Make It Work for Your Marketing Strategy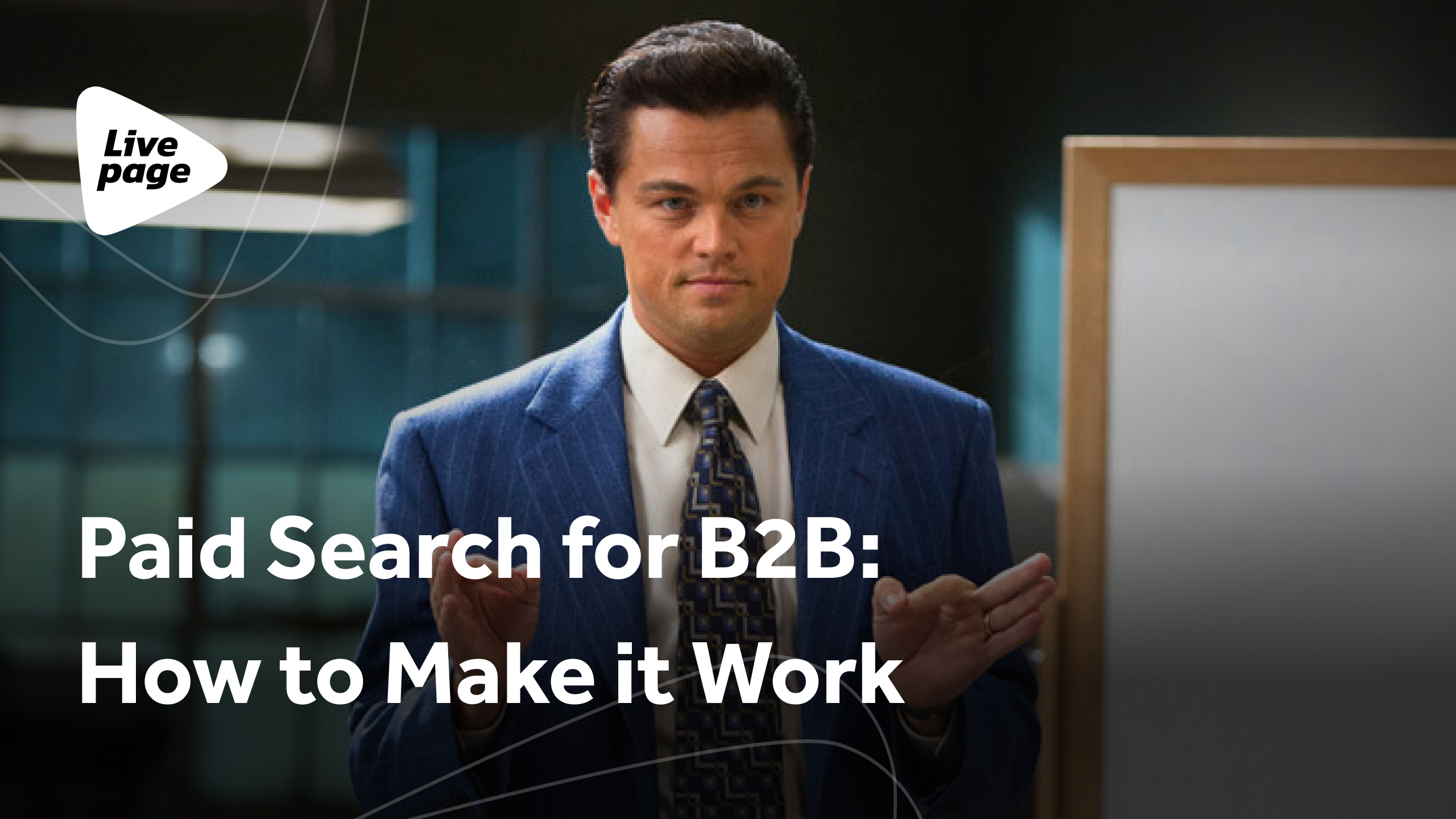 Most purchases start with a search online. People will look up a product, research a couple of providers and then make a decision. The same applies to B2B sales. So for anyone trying to get more customers, an online presence is of utmost importance. While Google is a great way for customers to find a business, sometimes, it doesn't yield the desired results. In most cases, only 10% of people who find you via Google search may end up purchasing a product. It is even less for B2B businesses as there is a smaller group of customers.
Paid ads occupy the top spots on search engine results. But how can you make paid search work in your favor? Here are some tips to help you make the most of paid search to increase sales for your B2B business.
Contents:
Consider Appropriate Keywords
It is common practice for B2B marketers to use technical keywords. These keywords are usually related to the product that a company offers. The major disadvantage is that the people who need the product may not even know that it exists.
This limits the number of searches that will be linked to a product. Most people do not search for products directly, they search how to solve problems. So they look for the answers to their main pain points, for example, "How to make filing more efficient?" For a user searching for software that makes filing more efficient, your product will be the right fit.
A key to using the right keywords is understanding the customer's problem. Once you tackle the problem, introduce your product as a way to solve the problem. This is a more effective way of making paid search work for your business. For example, tools like Google keyword planner can help you identify the questions most frequently asked online. Then you can use those in your ads to target specific customers who may profit from your services.
Our case
A not-at-all-obvious case occurred with a project of an outsourcing company providing IoT services. For this B2B company, leads were found using keywords that did not fit the usual combination of <name of service, product> services.
Example: iot <name of service, product><action> services = iot development services.

Keywords that worked and brought conversions were all related to technologies and micro-components used in IoT products.
Find User Intent
While it is important to pay attention to keywords, it doesn't end there. Keywords are useful, but sometimes they will not show the user intent. Companies that are looking for IT customers may want to target big organizations.
This may require using a keyword like "enterprise". However, not every search query is going to include that word. So it limits the results. Most of the time, businesses use broader terms to attract a broader group of customers. With broader terms, more people will click on an ad.
A way to enhance your paid search is possible by:
adding particular content for target audience that your services or product cater to;
including extensions for companies and users that have more needs.
You can attract more customers to your website by avoiding price tags in your advertisements. Sometimes, adding costs of a product or service can prevent people from clicking on ads as they are not ready to spend the mentioned amount. However, if you want to attract certain leads who are ready to spend the indicated price, adding the price tags can be a great strategy. The rate of conversion will be higher as you attract qualified interested customers, although the rate of users who just visited the site could be less.
Therefore, ads with price could also be a good idea, depending on your business needs. For example, some companies offer lower prices, discounts, or sales in the ads, which helps attract attention and eventually bring in loyal leads. You can also set up the prices in the ads by using the Google Ads Price extensions. You can continue tracking your search results to identify which keywords are more effective for such a target audience.
It is also important to consider different types of keywords, e.g. "informational" – when users can search for "how to boost my marketplace" or "how to boost my Magento store". By promoting content, we can reach more warm users at a lower cost per click, as there is less competition with these queries.
Group Potential Customers into Segments
Creating intent around keywords may be a little challenging. But something that can help is layering your audience to reach the right people. When you are considering audiences, include the ones from your data and third-party audience lists as well.
Prospects from your data include those that the marketing team gathers through sign-ups. You can prompt users to sign up by offering newsletters or free whitepapers. Collecting user information will help you to build a relationship with them, which will eventually lead to conversion.
You can also use contact form data to target people with similar characters. That way:
you will be able to create a marketing campaign to target more people;
aside from people who you know about through sign-ups, you can use your website to attract a bigger audience (even those who visit without performing any action should be layered);
you will get the chance to observe other people and possibly find ways to convert more leads.
Additionally, you can apply the bidding strategy with the first- and third-party data. Sure, understanding how to layer targeting and bidding strategies to find, reach and convert an audience isn't an easy mode task. However, you can create a list of potential leads who showed an initial interest in your product and, based on their characteristics, make another list of target audience with similar parameters and also layer them onto the campaign. You can apply automated bidding (function-based) and manual bidding (human-based) here.
By using the auto-bid strategy, you can layer potential leads with Google help. Google will identify the intent of each user whenever they are making searches, showing that these users are crucial to reach for bidding signals. With manual bidding, you can set bids manually on the individuals who have already shown an interest in your product to be more competitive in the search queries.
You can also get users from third-party companies, which will provide only users looking for B2B products or services. Third parties will provide more accurate leads. Industry targeting is the best way to get the people who are more likely to purchase a product.
Make Use of Landing Pages
Regardless of the niche, landing pages are crucial for converting users into customers. This is more so for the B2B Industry. Remember that when creating ads, you have to be specific so that only the right people click. The same applies when you create landing pages.
Each copy you put out there should give users an idea of who you are targeting. Make sure to include such information as:
the size of the potential client's company
type of business
job titles
budget that your customers should have
Forms are an essential part of a landing page, especially if your goal is to get users' contact information and convert them into customers. It helps you to capture the contact information of people who are most likely to make a purchase. With this setup, you will get information from everyone, even those who may not be interested.
When creating forms:
add just enough fields so that people do not shy away from giving their information;
the fields should help you get a general idea of the company without asking too many questions;
make sure to include CTAs on landing pages (these, when used appropriately, will boost your conversion rates).
Moreover, conversions should be directed towards more qualified leads. For instance, offer downloadable content for highly qualified leads. This prompts them to drop their information in exchange for something free. For lower leads, offer something like a free demo or trial. This should encourage them to want extra information on your product.
You can also experiment with different pages creating a remarketing funnel. Developing a PPC Strategy for bvblogic, we tested two ad groups with different pages Article + Offer Page (thematic article + service offer page) or Case Study + Offer Page. We received good results within a week.
Final Thoughts
Paid search can work well if done correctly. It is a better way of gaining customers as compared to simply relying on landing pages. This way you eliminate unqualified leads. You can get more reliable leads that will end up purchasing your products with paid search. You can also use the right keywords to target users who are more interested in purchasing a product.
An understanding of what problems companies are facing will help you come up with better keywords for a paid search. Additionally, using questions is a better option as these are what most people use when searching for a product. Layering your audience also helps you create more specific ads. Try to make use of third parties to gather users who are more specific to your niche.