17 Best Tips to Make Your HVAC Website Design Successful and Converting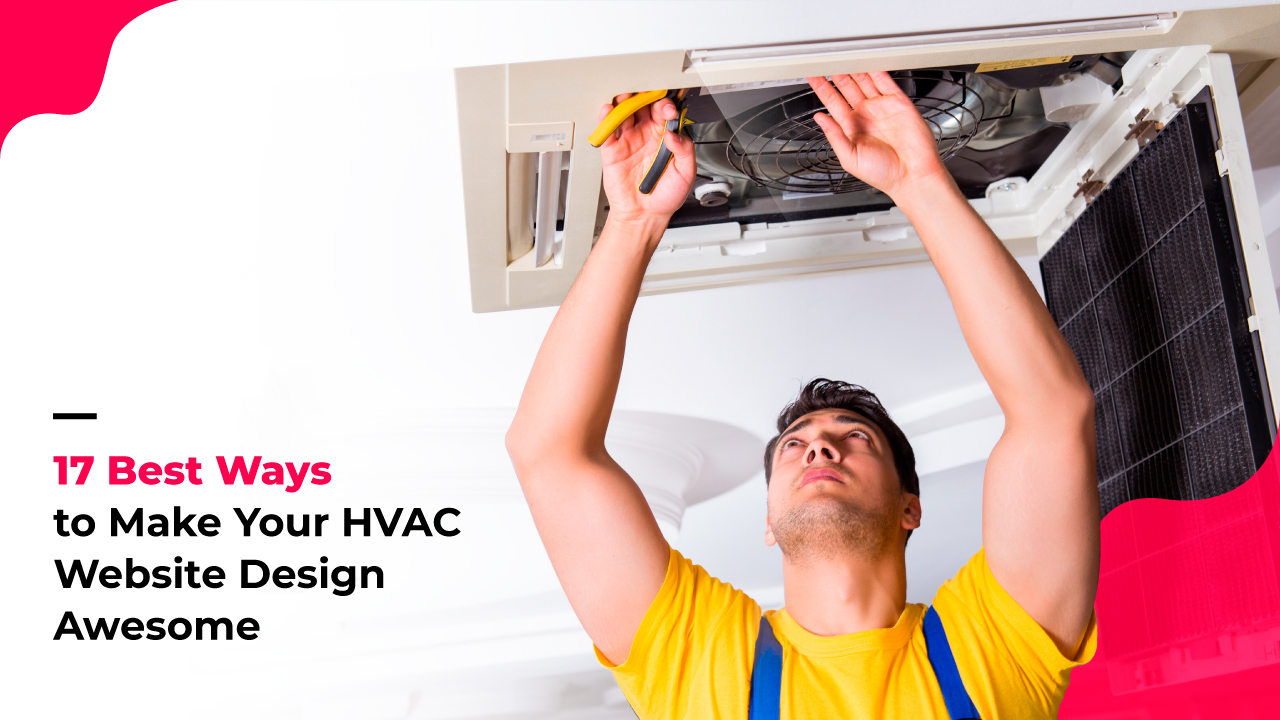 If you own an HVAC business, your top priority should be implementing it online. Although creating an awesome web design for an HVAC business may mean additional costs, it will definitely increase the number of leads.
For your website to effectively convert customers, it has to be up-to-date. You do not want your potential clients to cringe whenever they search through a severely outdated website. It must be adaptive, responsive, and uncluttered to bring value to your clients.
For people, who cannot wait with broken HVACs, it's vital to make an order as quickly as possible. Imagine how frustrated they feel, when smoke is coming out of their air conditioner, the heating system has broken down, or another emergency breakdown occurs. In such situations, all you want is to take your phone and order an HVAC repair service in a few clicks. Improve the users' mobile experience with a custom HVAC website design, and your customers will be able to order the service conveniently and quickly.
Therefore, investing in strategies that improve the customer experience on your website is crucial. Let's check some tips on making a good website design for an HVAC company that corresponds to the time and requirements of 2022 for the success of your business.
Which Color Should You Use?
Color is the most immediate way to create a good first impression. There are no rules to which color you should use on your website, but we have a few pieces of advice on how to make it more attractive.
There are various color schemes to choose from.

Combining complementary colors will create a website that is pleasing to the eye. But remember—don't use more than 3-4 colors on your website.

Try to stay clear of black or dark colors and those which might be too toxic, such as neon green. Colors should be combined in a way that makes the website look amazing, while not making it difficult for a customer to read the text.

Use bright colors only for

elements

that you want to draw attention to. E.g., Request services, Contact forms, etc.
If you are unsure what color to use, consult professionals who can offer the right pallet and help you create an awesome web design for HVAC services online.
Easy-to-follow Navigation
Do you have a lot of information to share or provide a wide range of services? Make sure you don't place all the components on one page as it can look messy. Create a natural visual hierarchy that guides customers. So, how to build a website design for HVAC? Each web design for HVAC companies must contain the following pages:
Homepage — an HVAC website homepage should include your logo, straightforward navigation, a headline, text content, call-to-action, contact details, and a footer.
Services — when a client visits your website, you want them to easily understand the services you provide such as heating/AC Installation, repair, or maintenance.
Service Areas — you can list suburbs if you work in one city, or list cities where you provide HVAC services. This way, you can provide specific contact details according to a suburb or city.
About Us — tell customers a little bit about your business, including when it was founded. Adding your values helps you build an emotional relationship with customers.
Contacts — making it easy for people to contact you is the main goal of a good HVAC website. Your phone number has to be prominent. You can place it at the top right corner of your website. Placing contact forms and CTAs across your website will prove effective.
Reviews — place positive reviews on your website to showcase the work you have done. Reviews show that you are a trusted HVAC contractor.
Blog — a blog is a useful way of engaging customers. It allows you to provide additional information about heating and cooling devices.
Other pages are optional — additional pages that you might add include cases or customer support.
It is very important to make the top menu simple and provide smooth navigation from one page to another. Streamline the most important pages into subcategories to avoid overcrowding.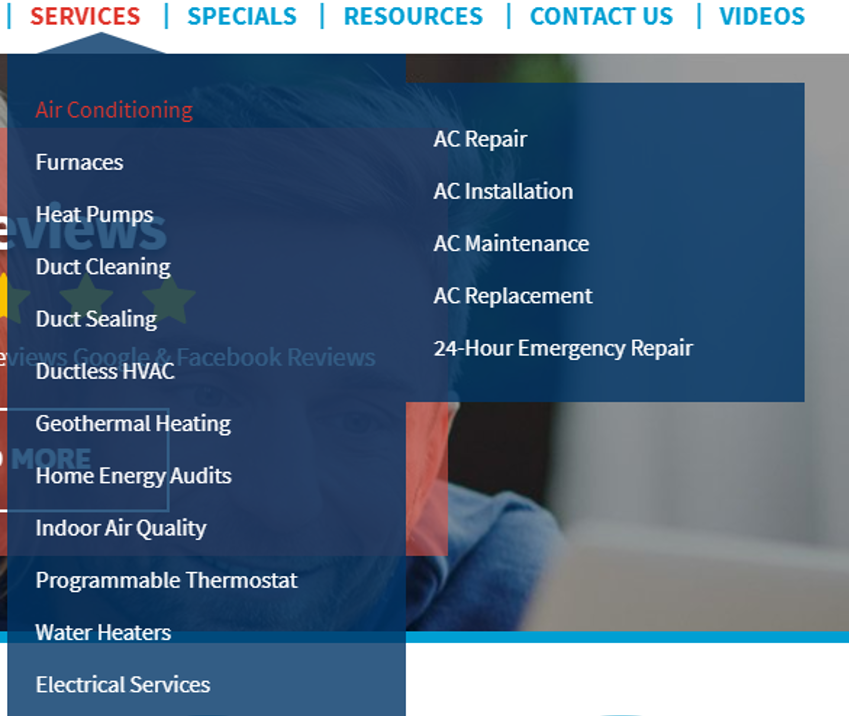 Make a Clear First Screen
The first screen visitors see should be simple, clear, and catchy. There is a five-second rule in marketing: a user should understand which page to go to and what services the site offers within 5 seconds. That is why you should place the main message on the first screen. In most cases, it is the name of the service in capital letters (with an H1 header).
The phone number should be large to stand out on different kinds of electronic devices. The phone number on mobile devices should be clickable so that customers can simply click on it and make a call.
It's advisable, but not necessary, to add an icon from Yelp, HomeAdvisor, or another review site to the first screen. This will immediately increase user confidence in your site, especially if you have a lot of positive reviews. If this is a new business, for now, it's better not to add these links.
There should also be a noticeable button to order services. Below, we will analyze how it should work and what it should be titled.
Here is how an ideal first screen looks like: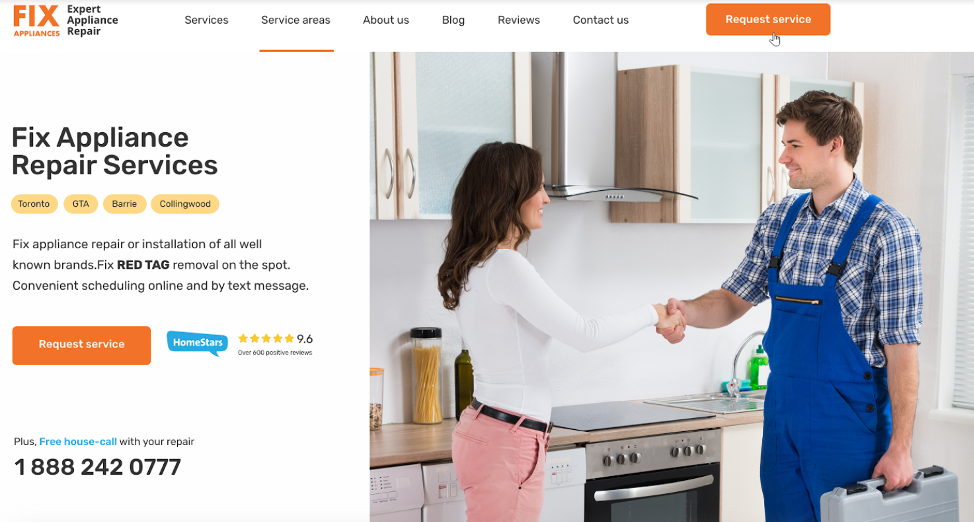 Touch Customers' Emotions
Your website design has to capture the emotions of customers. This is not an easy task as it requires a deep knowledge of what matters most for your target audience when they visit your website.
E.g., while visiting your website, consumers with a broken air conditioner are not only looking for the air conditioner to be fixed. They also want to be assured that repairing an AC will help them feel more relaxed and comfortable.
Here is an excellent example of such a message:

Your Services Block
It is great to make a page that describes all the services you advertise and offer. They should be placed on the main page and other locations where consumers look for more information. Make sure you list all the services that you provide on the main page.
It is a great idea to create a page for each service so that a customer can easily click on the service and land on the page with the necessary information. This creates more value for customers so that they can easily reach out to you.
Here is an example of a great Services block: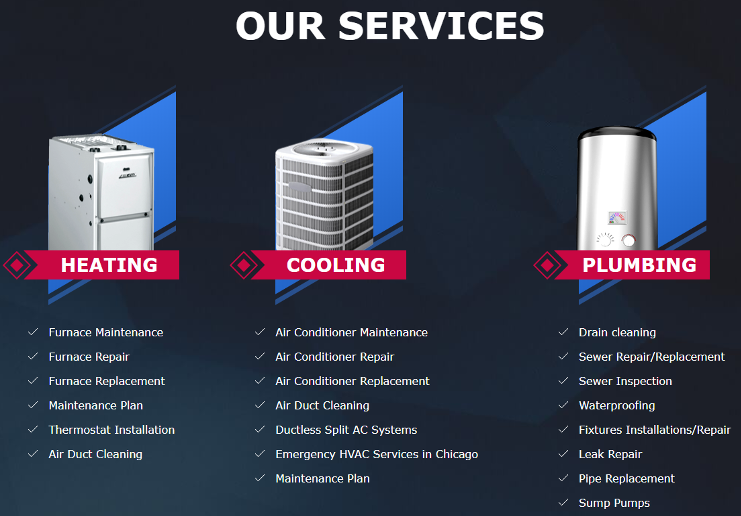 Show What You Do Better Than Others
It is always useful to provide a block that highlights what you do better than other companies. This not only makes you stand out but establishes your company as a force to be reckoned with.
While this may be difficult, it helps to remember that you are doing something right, which makes you unique.
For instance, you may have more experience with repairing commercial heating and cooling devices or have more experience in the HVAC business. Take advantage of this and add it to your website.
Don't Forget About Mobile Design
The best web design ideas for HVAC websites are ones that include a responsive website design, as 52% of searches are made from mobile devices. Some blocks may differ on the mobile and desktop versions of your website, just so that it can have high usability and be comfortable for all users.
Here are some pieces of advice.
Simple Navigation
Navigation on mobile phones should be clear and convenient for users. The text should be large enough so that users can read it without zooming. A poorly navigation can make a bad impression on your visitors and turn away potential customers.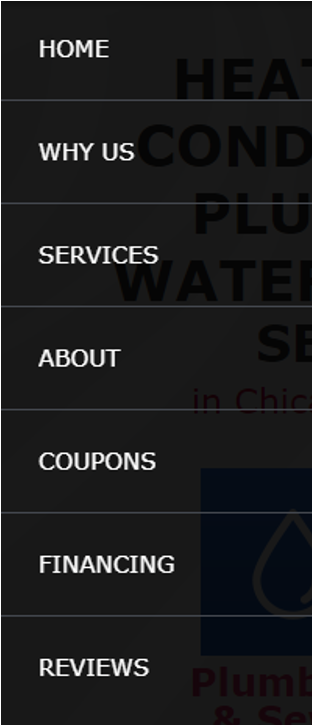 DO: Show just 1 level menus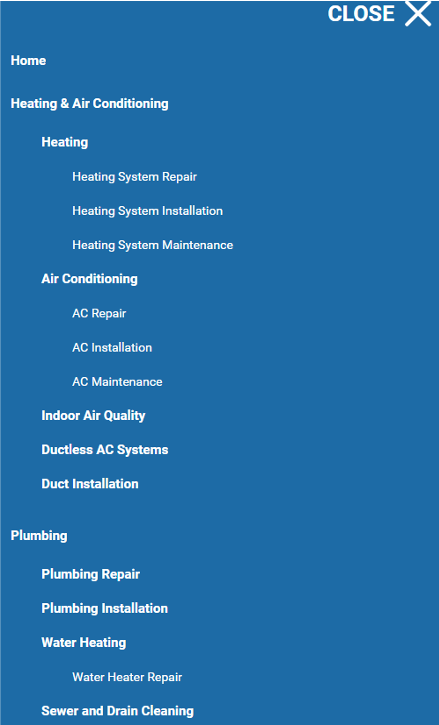 DON'T: Show ALL menus that user should scroll through a long list of options to find what they want
Reduce the Amount of Content
All mobile phones have different screen sizes. Due to the smaller screen sizes of mobile devices, what looked appropriate on computers can turn into endlessly scrolling through pieces of text on smartphones. If possible, reduce the number of texts displayed on smartphones.
Here is the example of the block with headlines and text on the desktop: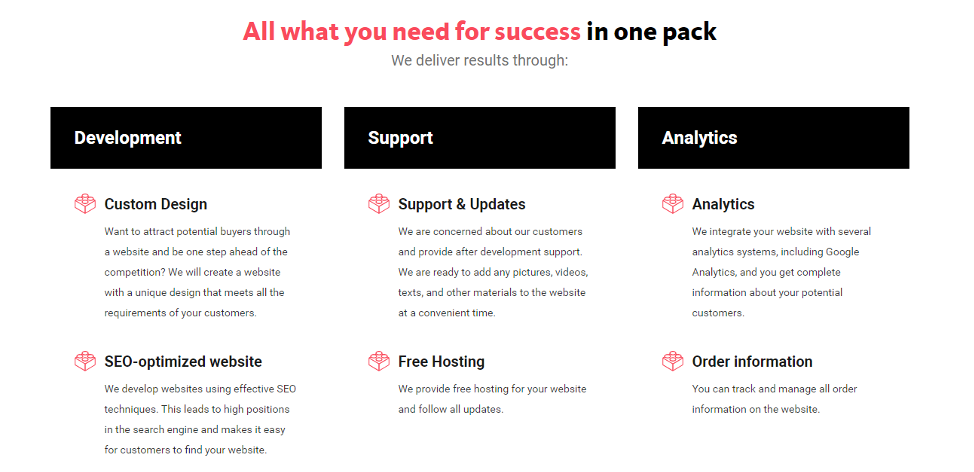 But from the phones, we left just headlines without text to facilitate reading for customers: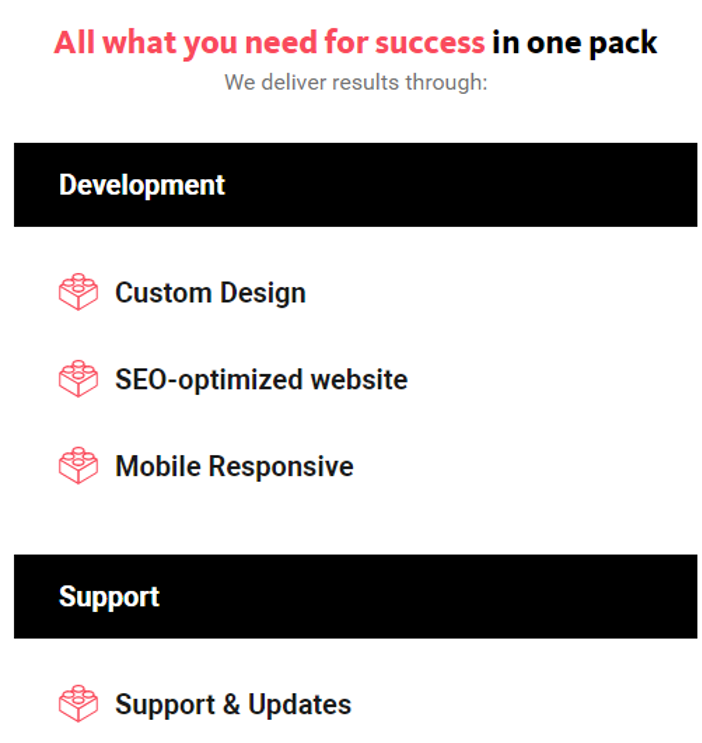 Get Rid of Pop-Ups on the Phones
Almost еverybody hates pop-ups. Especially on the phones. Our advice – don't use pop-ups on the phones.
But if you still want to create a pop-up (e.g., with a coupon), here are some recommendations:
Don't cover all page content with a pop-up;

Don't show a pop-up for visitors in the first 30 seconds;

A pop-up should be easy enough to close;

Exclude return visitors. Don't show a pop-up for your permanent clients.
Here is a good example of a pop-up: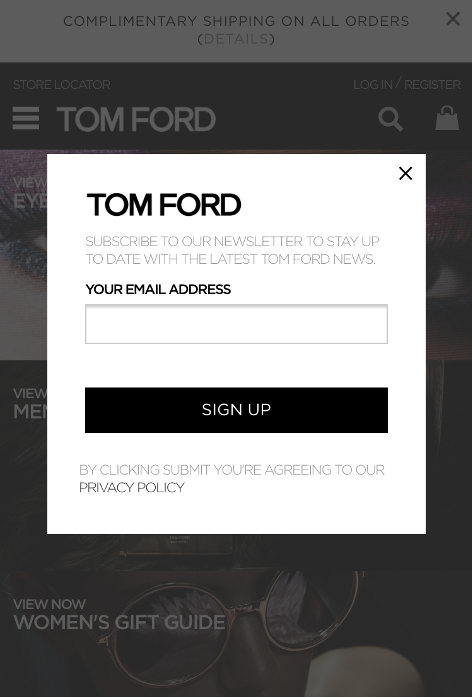 Reduce the Inputs Required from Users
It is extremely inconvenient to type a lot of text on smartphones, so minimize the amount of information that should be entered.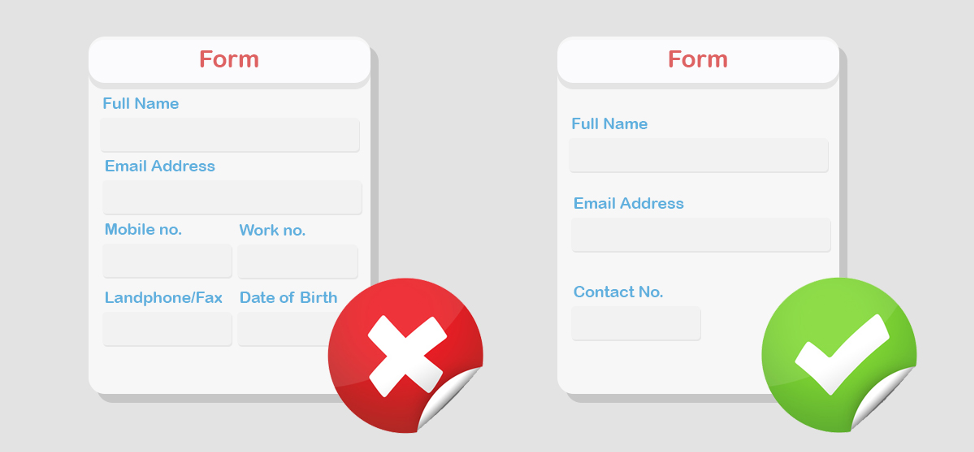 Usually, there are three fields for input on HVAC websites – phone, name, and email. It's enough to contact a client and find out his needs by phone.
Important! When a customer fills out the information in one field and presses enter (or OK) they should be automatically transferred to the next field.
Keep Your User In a Single Browser Window
Be sure that links on your website open in the same window where a customer is located.
There are two arguments against opening links in new windows:
opening a link in a new window can disorient a potential customer;

users can find new tabs or windows inconvenient.
Use Mobile Device-Specific Functionality
The difference between the main sites and mobile sites adds opportunities. For example, you can make all of your phone numbers click-to-call and turn your address into a link for navigation.
Create Service Area Pages
HVAC service website location pages make it easy for customers to find you. That's why you should always have a service area page. Even if you only work in one city, it is always advisable to include other surrounding areas.
Let's take a look at the example of Miami. If you work only in this city, then the pages of locations will be Miami areas (counties) — e.g., Coral Gables, Miami Gardens, North Miami, etc. If you serve the surrounding cities (areas), then create city pages: Aventura, Dania Beach, Fort Lauderdale, etc.
Examples of such pages: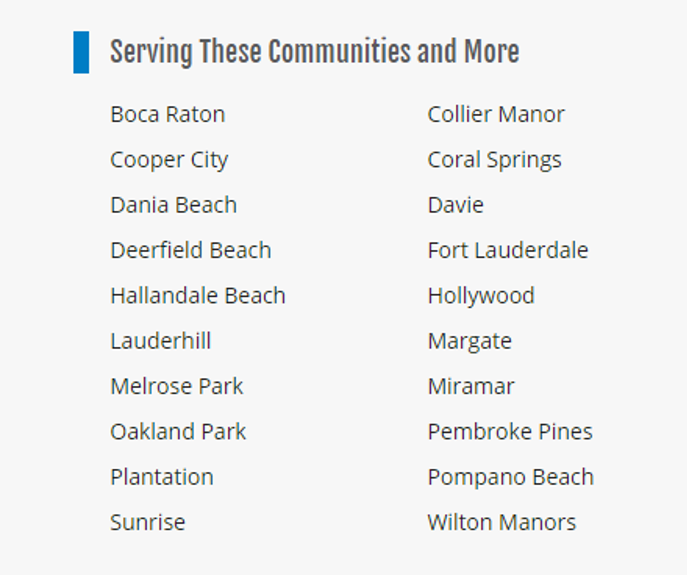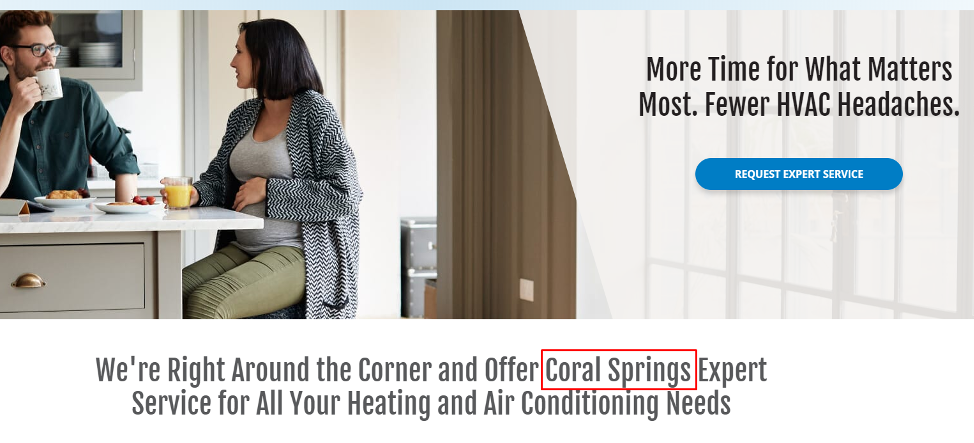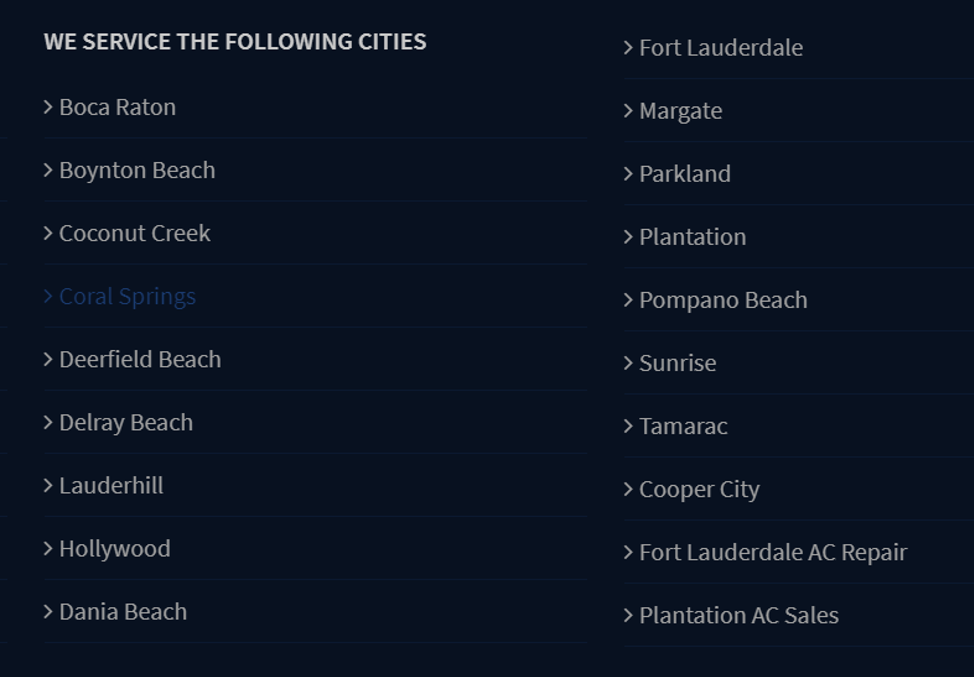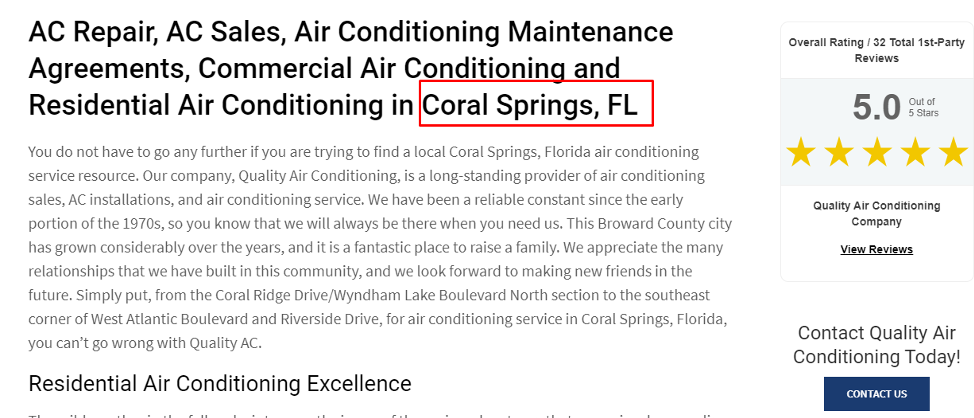 Prove Your Expertise With Reviews
For many customers, reviews are an important part when making decisions. Testimonials show that you are trusted by customers.
The reviews on your website should be taken from many reliable sources and social media such as Facebook, Google, Yelp, and HomeAdvisor.
Make sure you never use fake reviews! Doing so can lead to punishments from search engines that use artificial intelligence to rank your site.
With Livepage Software your reviews can be added to the website automatically with different sources. E.g.,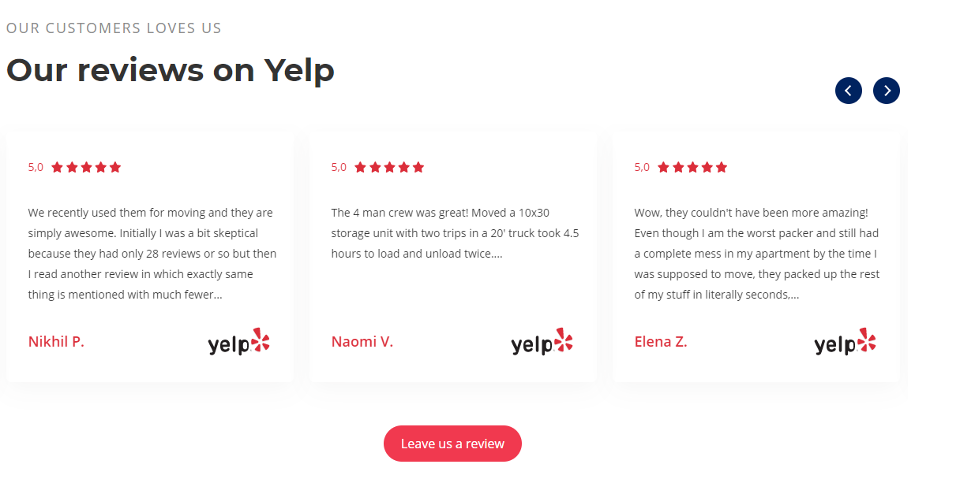 ZIP Code Search
If you work in the USA, then you should implement a ZIP code search. When users enter their ZIP codes, they should automatically get an application form if you serve this city.

ZIP code can also lead to a service page of the city. This all depends on how you build your marketing funnel.
If you do not serve a city, then a message should appear stating that the requested location cannot be processed.
Benefits Block
Making your company stand out from the competition is important. One way of doing this is by showcasing the benefits that customers can get by working with you.
Benefits can attract more customers and increase your leads significantly. Dedicating a separate page for benefits allows you to add all the perks of hiring your services. Always keep it short and simple.
Such a block can be implemented in different ways. Here are some examples: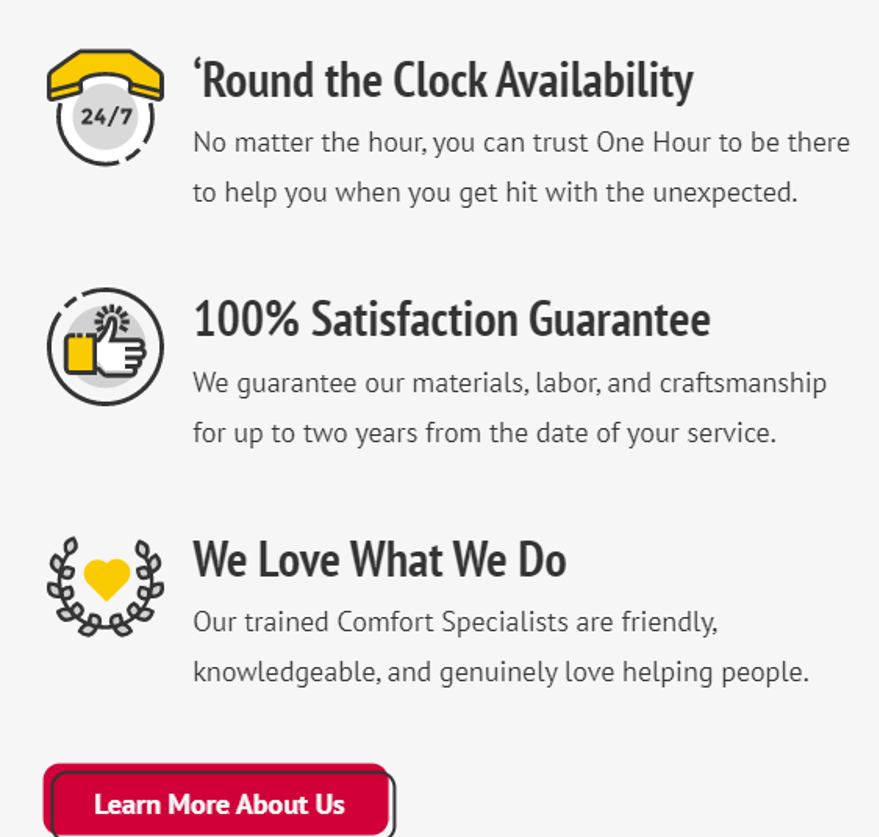 Add Awards
If you have any sort of awards, medals, or certificates, don't be shy to show them. Awards show that your HVAC company is qualified and trustworthy. Customers will take you seriously when they see your awards.
Awards also increase awareness and third-party validation, and they show that you are a leading authority in the heating and cooling business. By putting awards, you add credibility to your website and services.

Make Call to Action Buttons
All buttons on your website should lead to action. Examples of such buttons include:
Get a free consultation;

Book a service now;

Start a free trial today.
The whole point of creating a CTA banner is to capture the attention of customers. So make sure it stands out against the background of other design elements on your website. Use a big font size and good quality contrast.
Here are some good examples:



If you want to learn more about creating a great CTA block you should read this article.
Schedule an HVAC Service Form
Forms should be easy to fill in with minimum required fields. For the mobile version of your website, it is best to have a maximum of three fields:
Adding too many fields will make you lose prospective clients because not many people are willing to fill so many fields when they are boiling without air conditioner: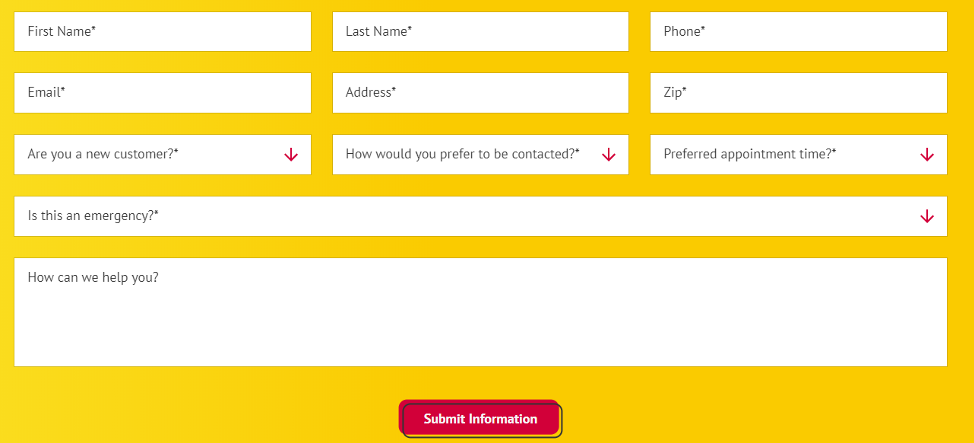 Pay special attention to mobile devices. It's hard to fill in many fields from them. A good solution will be to make different forms for smartphones and computers.
For example, here is a contact form on the desktop version of the Livepage's website. It has five fields: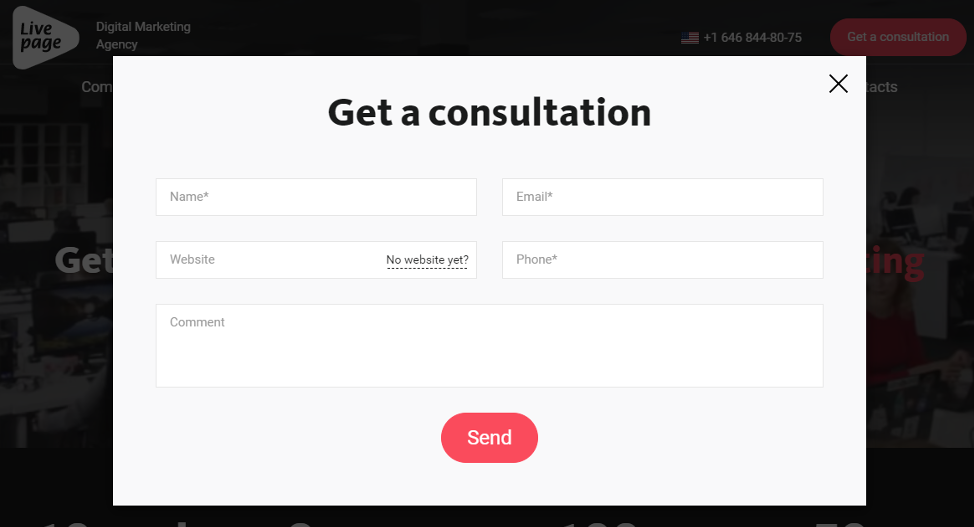 But on smartphones it changes to the three the most necessary fields: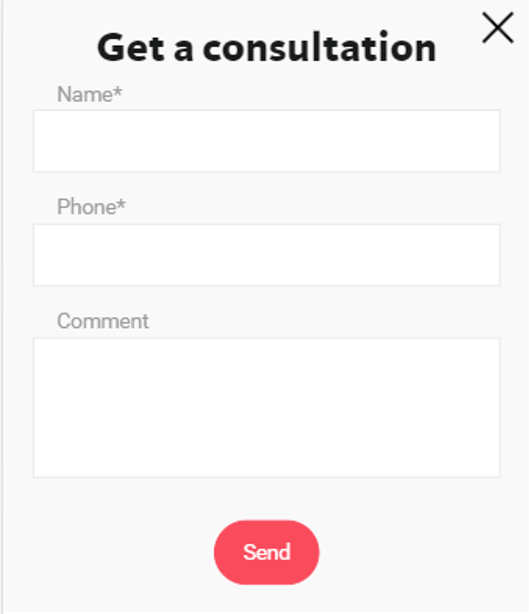 Forms can be placed on your homepage and other subpages. Put forms next to the content that visitors will be reading, as this will attract their attention.
Use Your Own Photos
While it might be tempting to use stock photos, it is best to stay clear. Use your photos as they are more likely to create an emotional reaction from potential clients. If you are a new business and decide to use stock photos, ask a designer to customize them.
Most people can easily spot a stock-generated photo. This will do more harm than good because it reduces your credibility.
Additionally, some users prefer visual content and videos over text. Adding a video to your website can also increase customer value.
Vendor and Brand Logos
Add logos of popular brands that you repair. Doing this will also increase the credibility of your site. It shows that you are experienced in repairing different kinds of HVAC brands. When a person sees the brand of their HVAC equipment, it will help them quickly recognize a product and contact your services.

Analyze Competitors for Additional Ideas
It is useful to check out the niche competitors among the top HVAC SEO, HVAC marketing, and HVAC website designs on the first page of Google search results. You can find additional features such as calculators, questionnaires, and other solutions or extras that may be useful for your business.
Also, make sure you analyze your competitors' backlinks and metadata for additional ideas for new keywords to get more traffic. Combining these HVAC web design ideas can guide you to creating an amazing site.
Examples of Awesome HVAC Website Designs
What are the cases of the website design services for small businesses, as well as companies of other scales? Here are three examples of best-practice HVAC web design ideas. While they might not be completely perfect, each website has amazing features.
One Hour Heating & Air Conditioning
One Hour Heating & Air Conditioning is easy to use and mobile-friendly. It has simple text and a blog for customers to read. The site uses a simple combination of three colors: red, white, and yellow. CTA buttons are red and placed on a white background, making it almost impossible for visitors to ignore.

GrandComfort
GrandComfort combines smooth navigation, color contrast that is easy on the eye, and mobile-friendly and visually-pleasing web design to make a great website. Customers see all services provided, areas served, and benefits. GrandComfort shows a perfect example of what a contact form should be like — short and precise.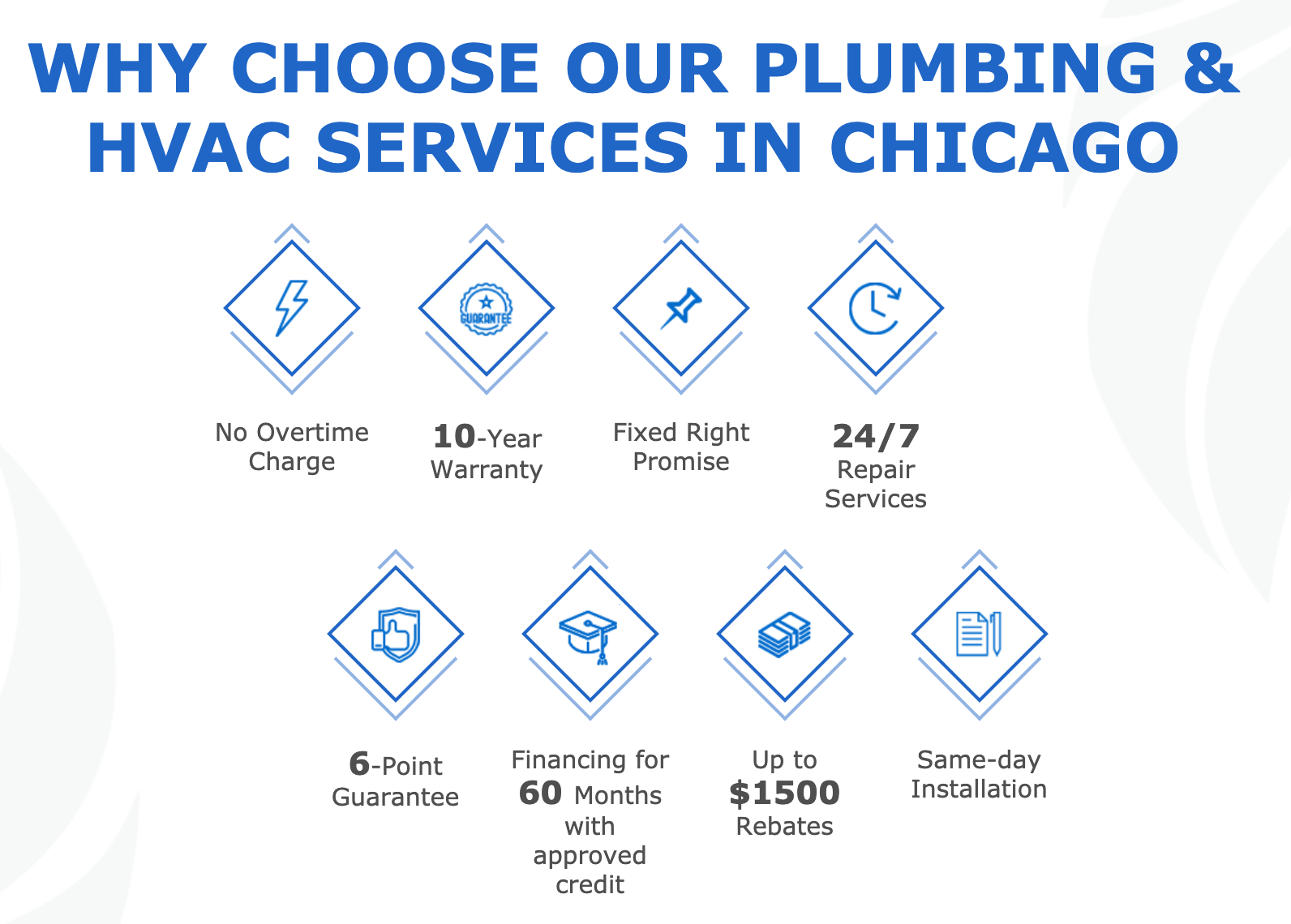 Enercare
Enercare showcases great navigation and uses simple colors for the background and text. Visitors know where to look for services, can easily find their service area, and have access to blogs. Enercare makes it easy for customers to leave reviews.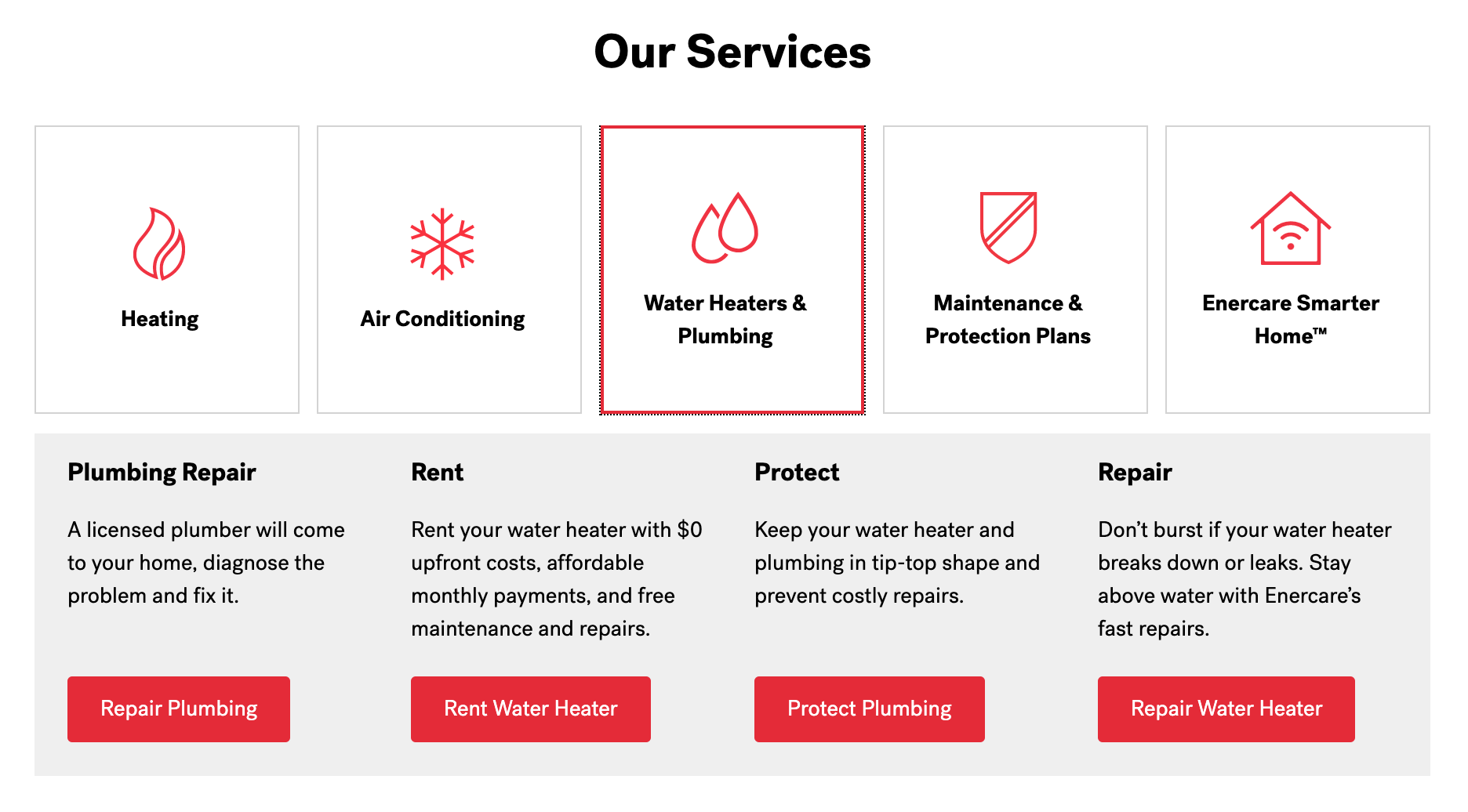 Final Thoughts
A website design for an HVAC company is an integral part of the marketing strategy for local appliance repair businesses or any other local business. Make sure it is in line with the latest HVAC web design trends. It should be easy to use, mobile-friendly, and unique. Add service pages, areas you serve, and logos of the brands you repair. Do not forget to include reviews and awards when creating design to increase credibility. With amazing CTA buttons and easy contact forms, you will definitely convert visitors to long-term customers.
Do you want to optimize your website in order to attract more clients? Contact us as we can help you with web design services for an HVAC company and all kinds of digital marketing activities!