10 Steps to Grow a Small Local Business Into a Large Business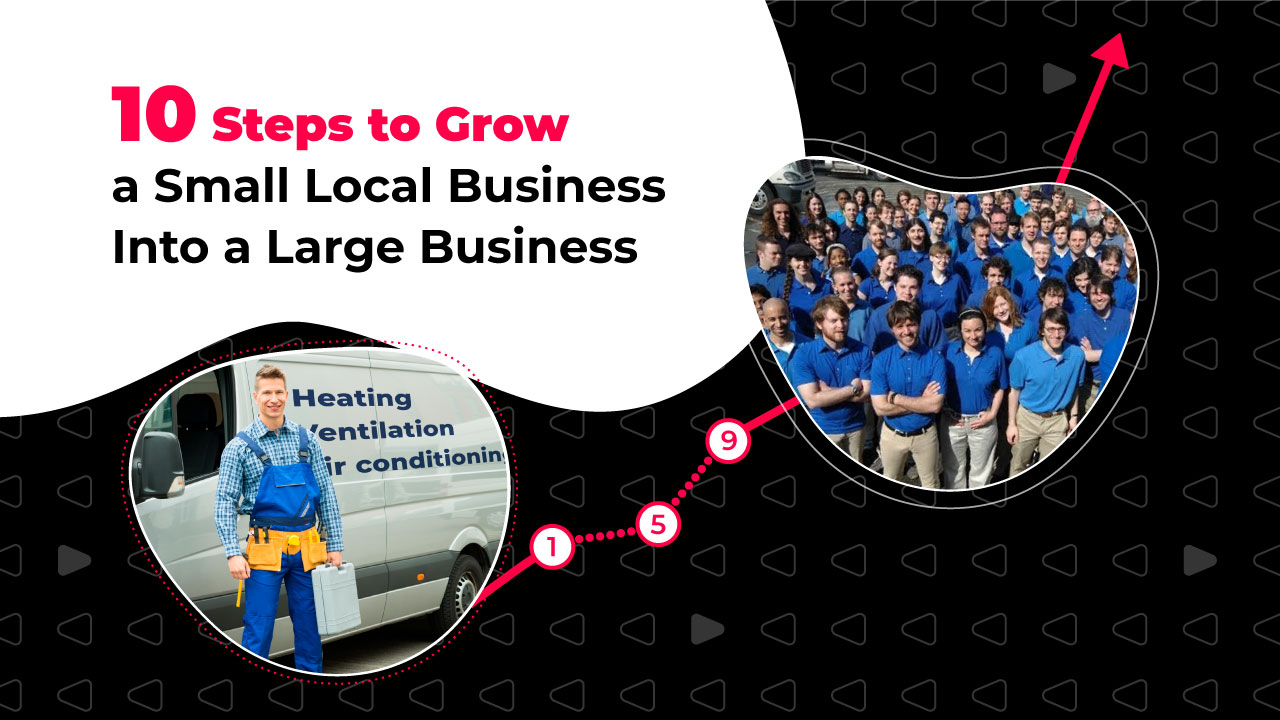 Finding ways to grow a small local business is the only way to survive in a highly competitive market and make more profits. However, it is a huge challenge. You need to assess your budget, marketing strategy, and staff.
There are 30.7 million small businesses in the USA. Setting one up means you have to face a lot of competition. So how do you get from your current level to a large powerhouse you have always dreamed of?
Business growth does not happen at once. It takes hard work, determination and a whole lot of patience. These tips are proven by our experience and will definitely help you grow a local service business into a large one.
Figure out a long-term strategy
Successful business growth always starts with determining the right strategy. You have to prepare some general plans in place for taking on more employees and investing in equipment.
Moreover, you must understand how you will attract new customers and what tools to use for this. Read on to find out how to make your local service business visible to potential customers.

Increase Online Business Presence
Business growth depends on the number of people who know about you. So, you should be continuously looking for ways to make your business visible. So how do you do that?
Invest in Building a Professional Looking Website
The website is the main face of your business that is open 24/7. If you aren't online, then you are missing out on opportunities in the market.
If you plan to develop a website read the article in our blog "How to Make Your HVAC Website Design Awesome".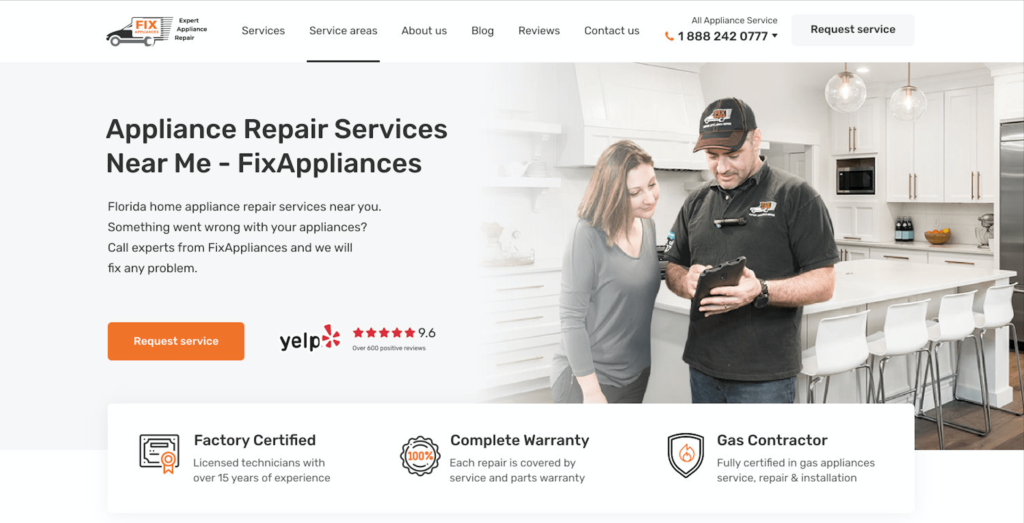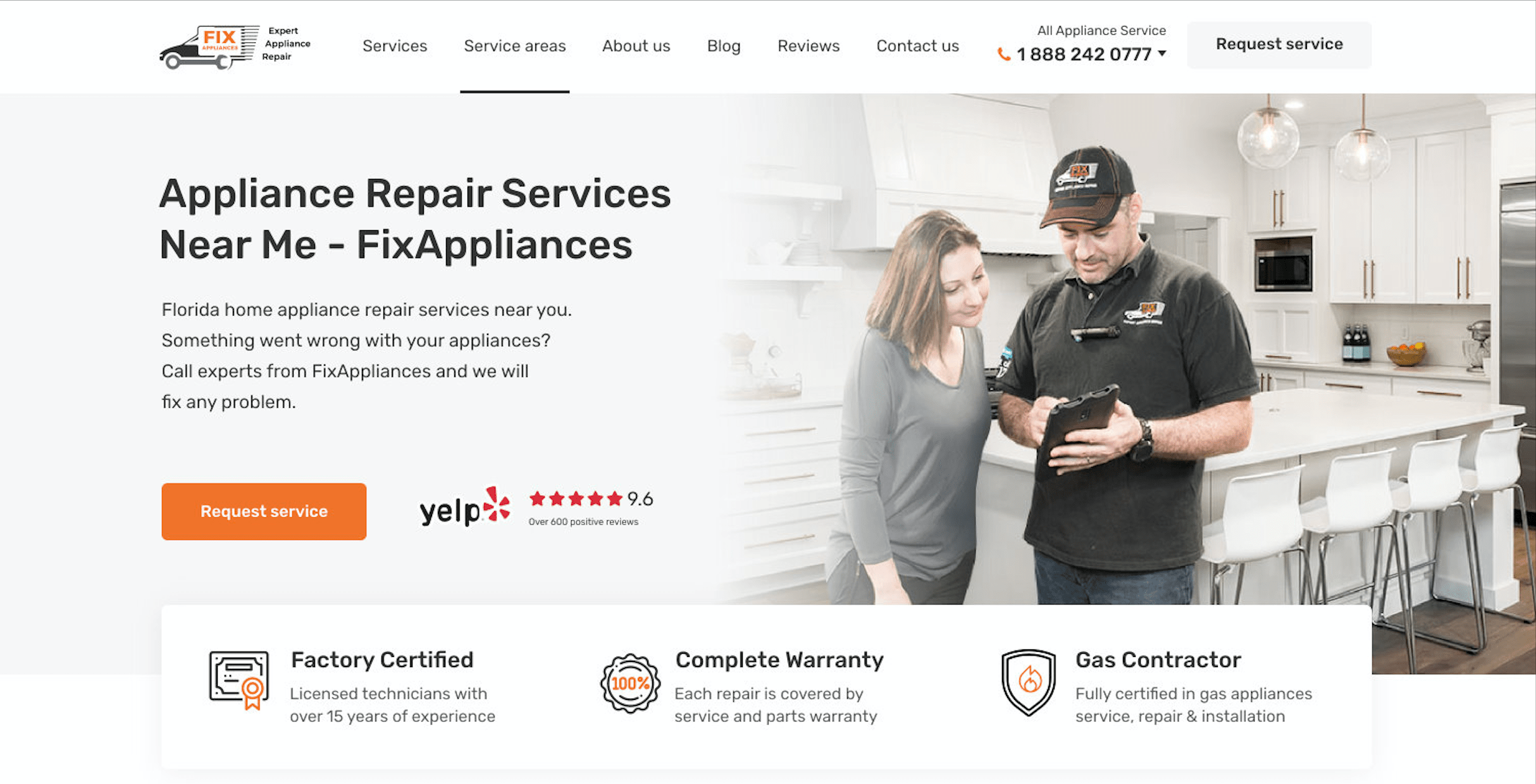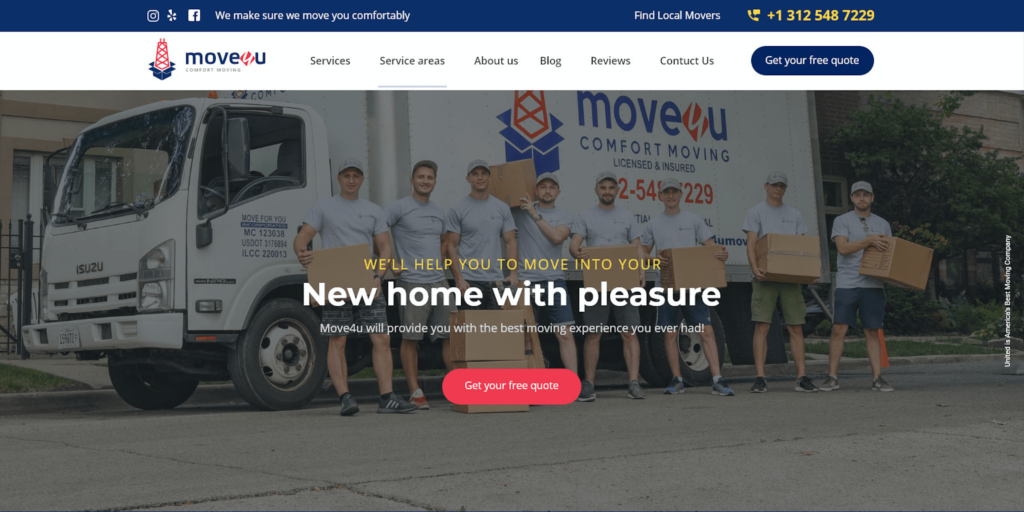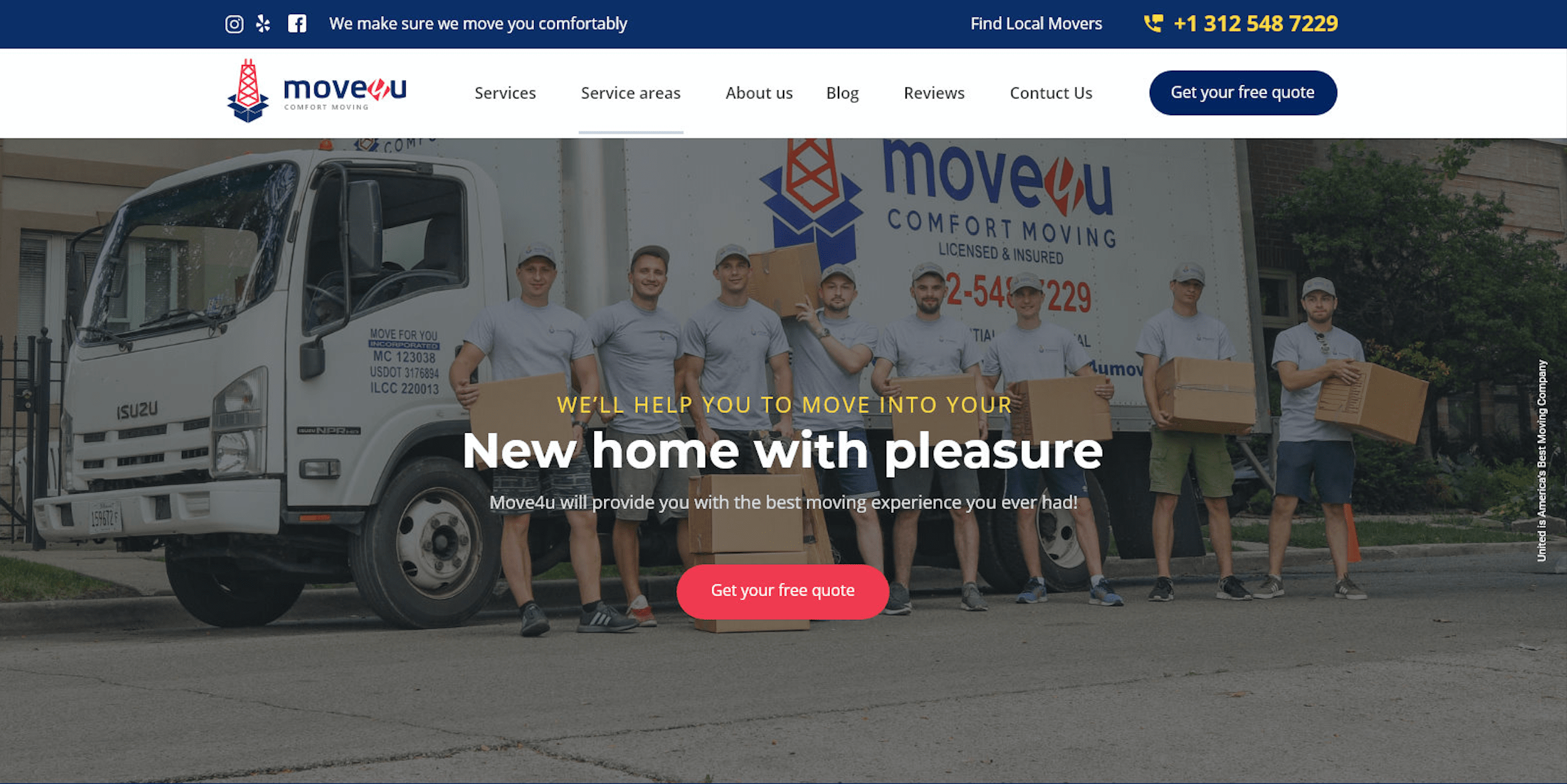 Promote Your Website in Google Search
You may offer the best products or services in your niche but it won't bring you many customers if nobody visits your website. Promoting it in search engines through SEO content will definitely give better results.
More than 90% of users who look for goods and services on the Internet look through only the first two search results pages.
Use the special tools such as Ubersuggest, Ahrefs, or Semrush for collecting keywords to write content that would be at the top in search engine results. SEO content will generate more traffic to your website, which means it will help you grow your small business online. Even though it might require you to put in more time and money, your efforts will pay off in the future.
Appliance Repair Business Growths: SEO Case Study
Some US and Canadian businesses doubt the effectiveness of purchases made online, supposing that their services can be sold only through newspaper and billboards ads. But the growth of the appliance repair business from Canada proves the opposite.
Within a 2,5 years of cooperation with the Livepage team, the number of leads for appliance repair business has increased more than by 10 times and the company has grown 5 times in staff power. Moreover, the number of website visitors has grown from 7,880 to 108,900 year on year.
Read the case study to find out all the details.

Run Paid Ads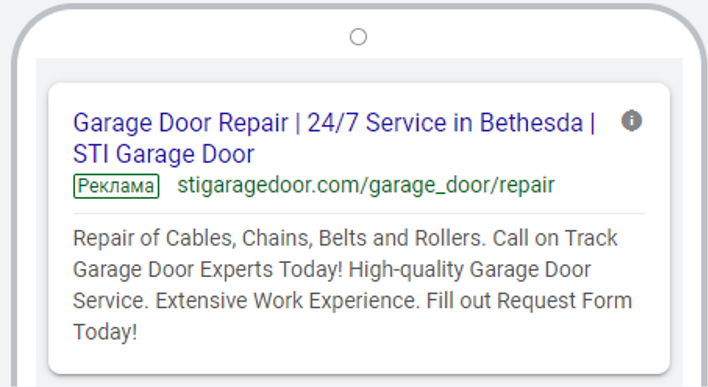 Paid ads on Facebook, Instagram, Twitter, and Google can bring much-needed traffic to your business website. While running paid ads on social media platforms can mean additional costs, it is a great way to profitably get more customers.
To get the best results from your paid ads you should not only know your target audience really well but understand how to set up relevant campaigns according to your business needs. And that is not an easy task, especially when it comes to audience segmentation, budget planning, and working on catchy and appealing creatives. Doing it by yourself when you've never done it before may lead to financial losses and disappointment in marketing tools and strategies.
If you are not an expert in running paid ads, then hiring a professional would be the only smart decision. There are some important questions you should ask before starting working with a marketing agency:
What kind of reporting you will be able to access;
What communication process the agency uses;
How long it would take to see results.
Paid ads are only effective if you can track and assess numbers, which may include the number of visitors and their actions taken on your website in a given time frame.
US Garage Door Repair Local Business Case Study
Livepage team set up the PPC channel for the US garage door installation and repair business which resulted in more than 60% of all conversions after 6 months.


Register on Famous Business Directories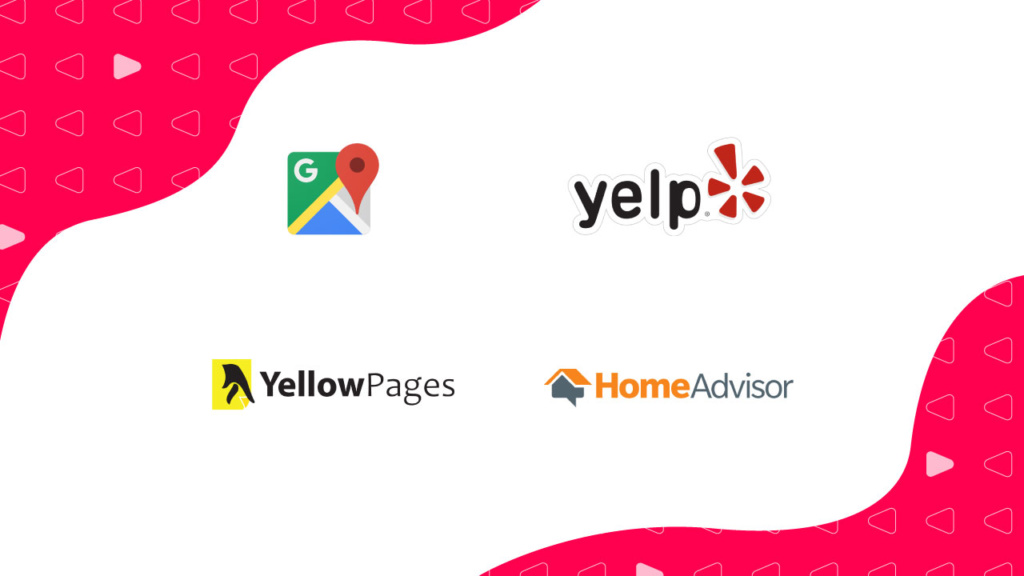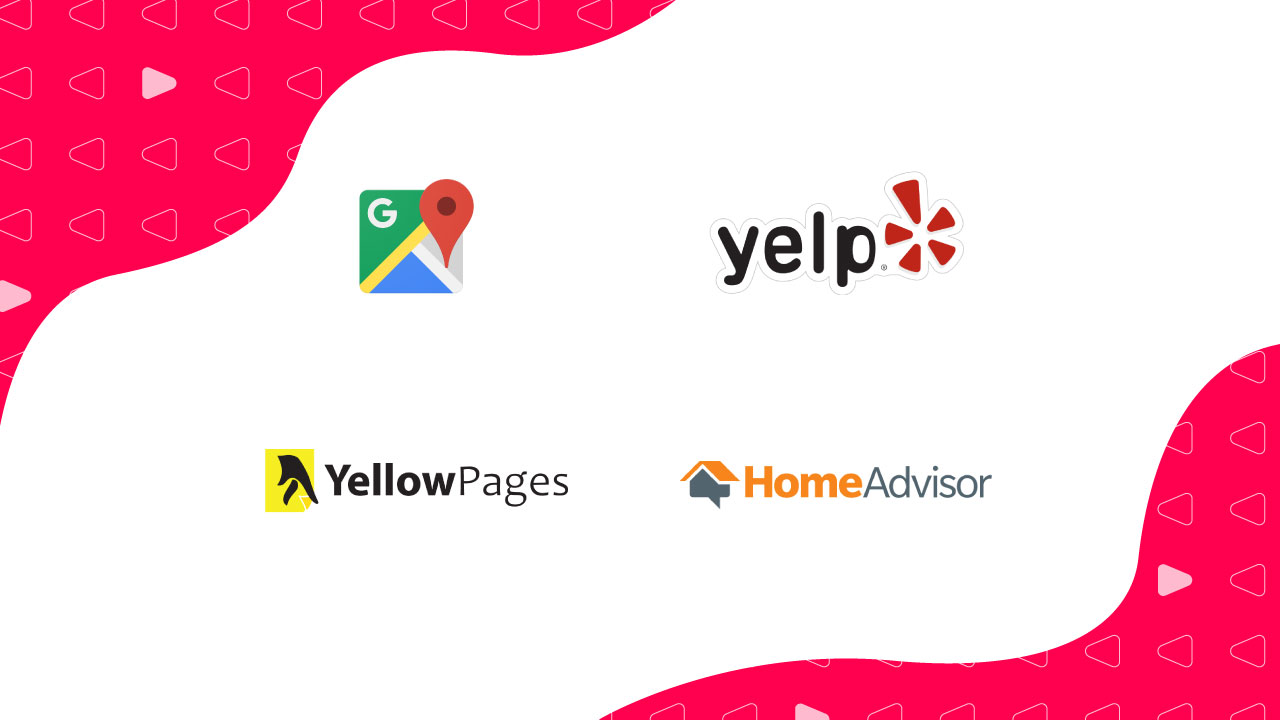 Some customers use platforms with reviews and local business directories to research a company and its products with the intent to make a purchase in the future. That is why you should definitely register on famous business directories. Examples of good ones include Yelp, Yellowpages, and HomeAdvisor. Try to get on as many directories and review platforms as possible. After registration, ask your existing customers to leave a review of your company on a business directory, so your profile doesn't look 'empty'.
While this process may take some time, it will give you more customers without spending huge budgets.
Google's Local Pack
In order to make your business more visible for potential customers, register your company at https://www.google.ca/business/.
The following recommendations will help you achieve better results:
Optimize listing for the main keyword.
Choose the right business category.
Make sure to fill all the necessary fields (telephone number, working hours, etc.).
Ask your customers to leave feedback (they are really important!).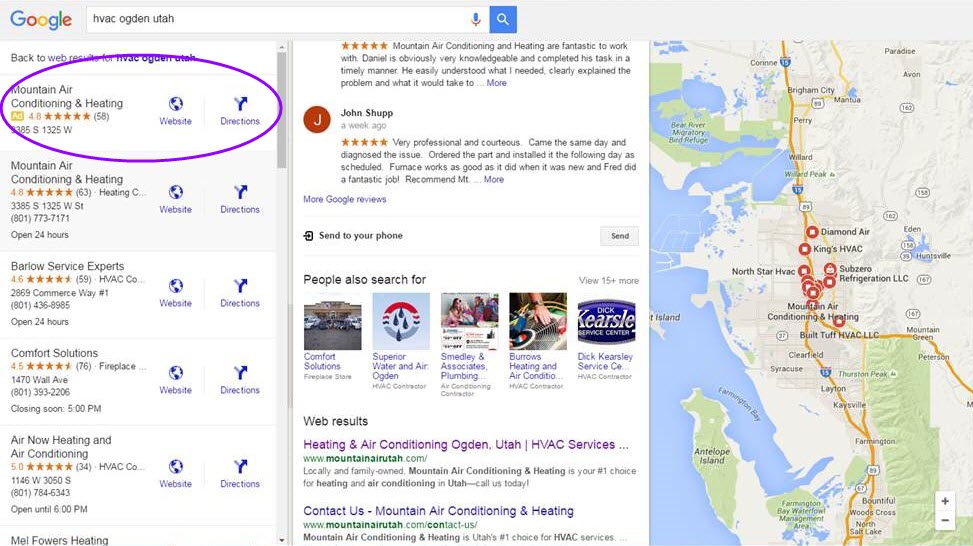 Don't Ignore Email Marketing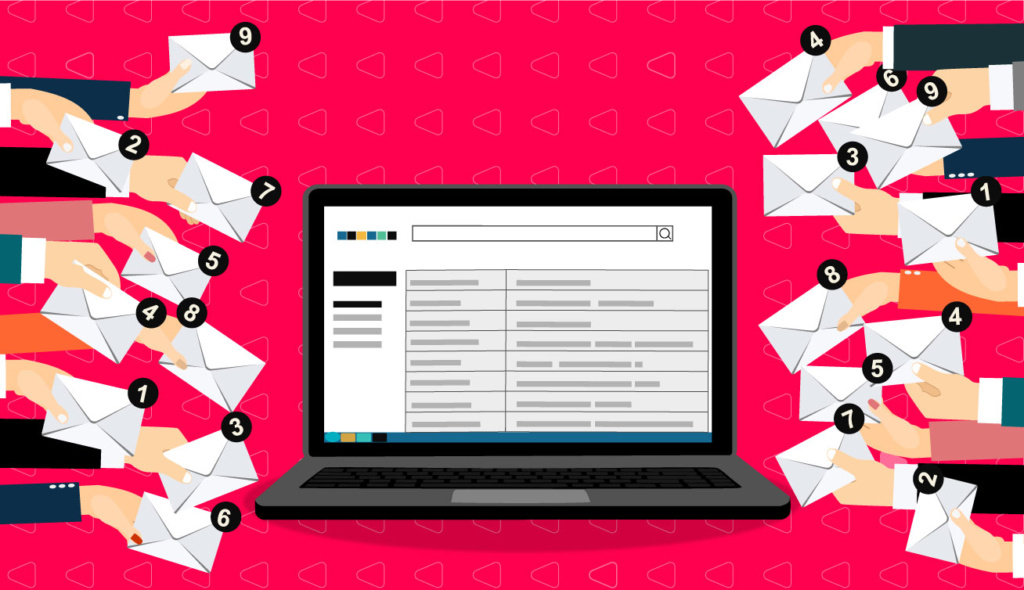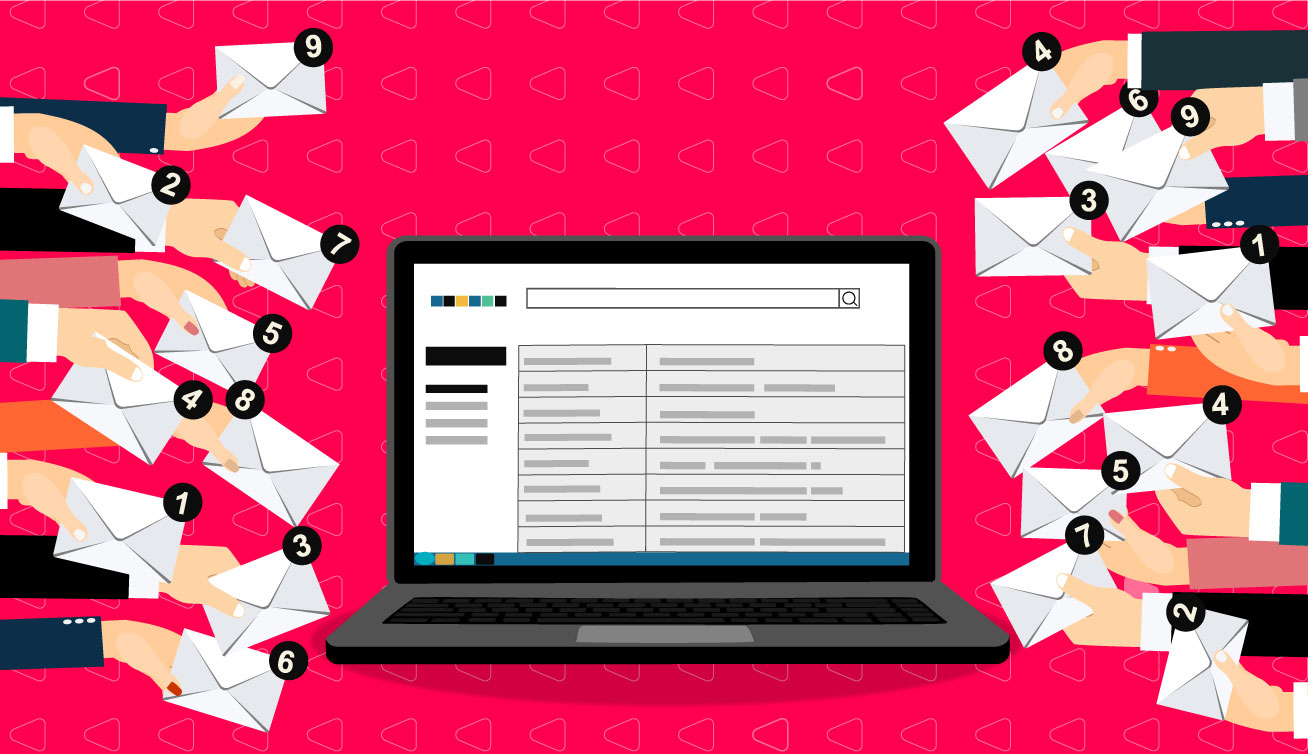 Email marketing is another great way to contact customers even if you are in the local service business. Sometimes old clients may need your services but cannot reach you for various reasons. This could be either that they lost your contact details or forgot your brand name.
There are 3.9 billion active email users in the world. By adding email marketing into your repertoire, you will increase your visibility and in the process improve customer engagement.
Another advantage of email marketing is that it allows you to design personalized messages according to customer action. It is a cost-effective way of getting customers to notice your business. While you're at it, remember that it is recommended to send regular emails at least once every 1-2 months.
US Grocery Ecommerce Case Study
Email marketing is the most suitable tool for Grocery Ecommerce.
Our team has determined the best frequency of Emails for RussianFoodUSA company to keep the audience active and increase sales. The time of sending emails is synchronized with all the company's special offers.
As a result, the share of Email marketing channel in terms of sales increased from 9% to 19% of all sales. It is now the third most profitable sales channel.
Find out all the details in the case study.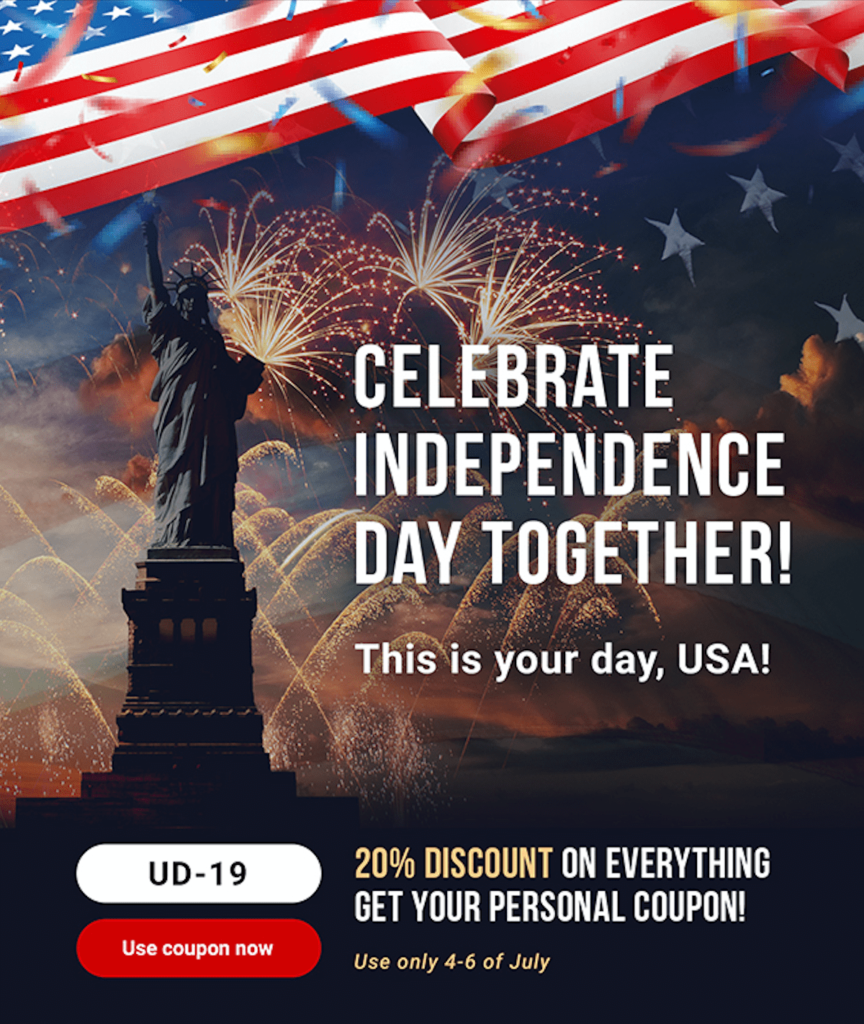 Build a Business Network
The main goal of building a business network is to learn from others and attract new customers. Business networking also keeps you up-to-date with market trends. Great places to build business networks include:
Local business associations
Local business associations allow members to meet on a regular basis. E.g., the U.S. Chamber of Commerce advocates for fair public policies. Members have access to discounts and workshops.
Specialized conferences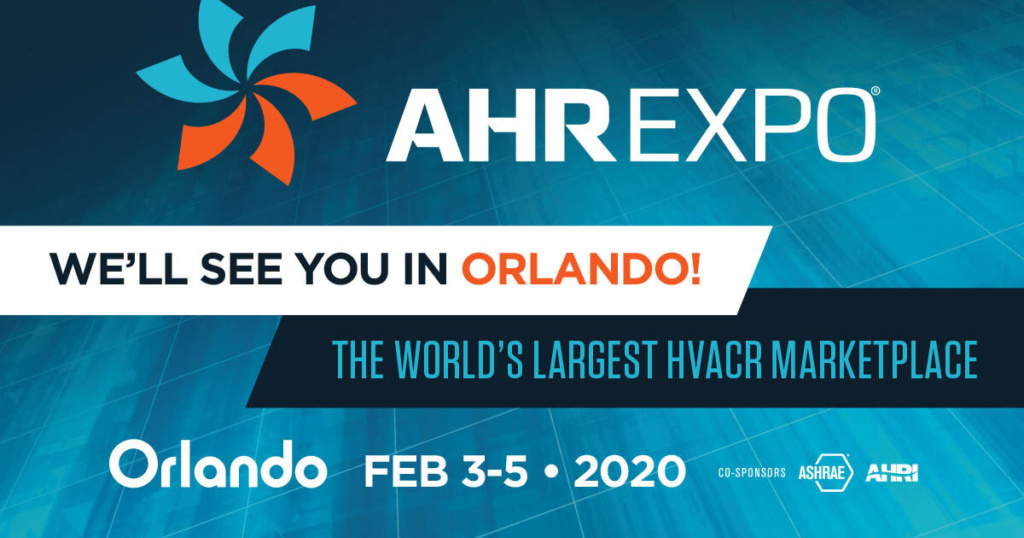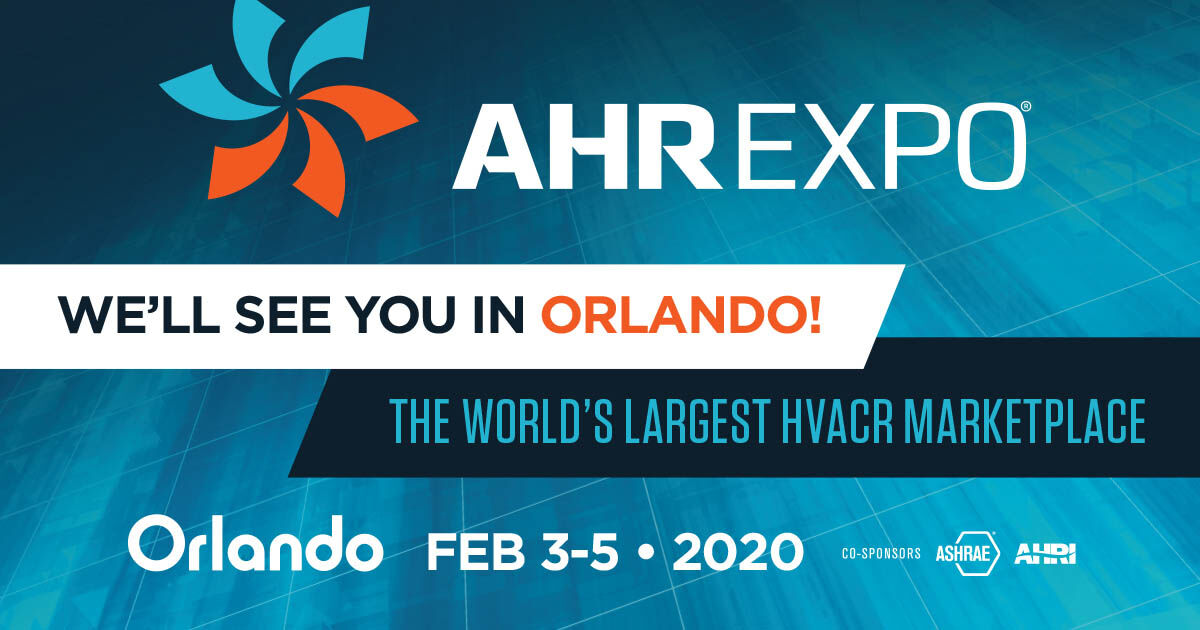 Each industry has specific needs. So you can attend specialized conferences where other entrepreneurs discuss the same challenges that you face. Also, here you will meet other business owners like you who are trying to grow. Attending such conferences can boost your confidence and open so many opportunities.
Marketing and business conferences
There are marketing and business conferences throughout the year that are dedicated to helping small local services businesses grow. There you can learn the best marketing advice that will help you grow.
Groups in social networks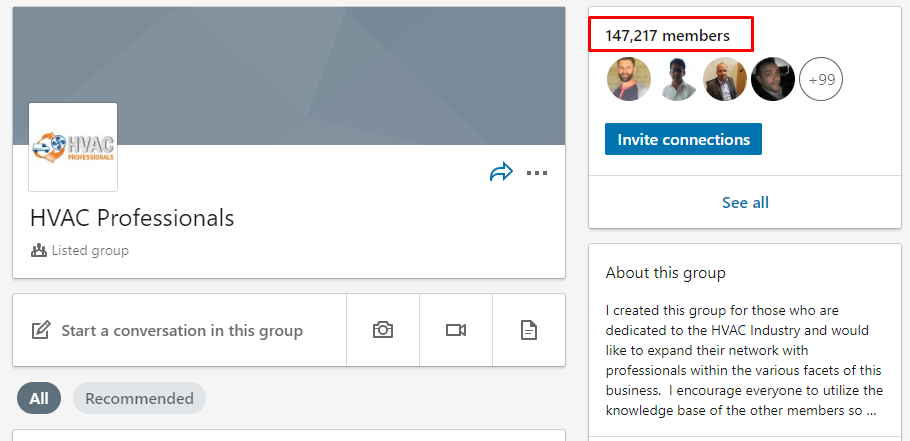 There are so many opportunities on social media platforms. LinkedIn is a great place for business professionals. You can check out other popular networking sites, including MeetUp and Facebook.
Ask for Referrals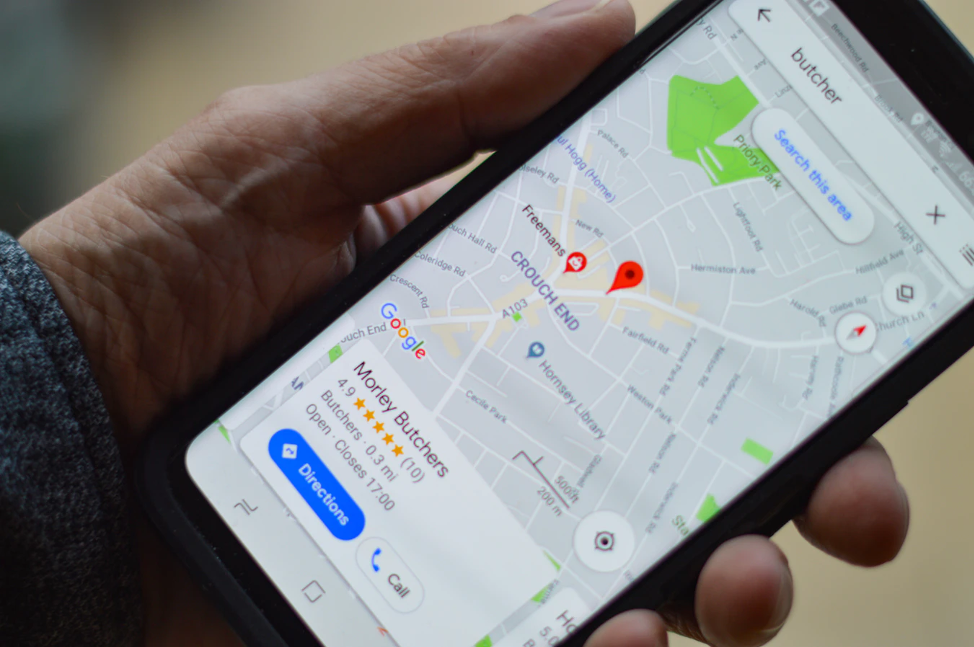 Word of mouth is an effective way to convince people that you provide what they need. Do not assume that customers will tell their friends about your company — always encourage them to do this.
This approach reminds customers to share the message with others. There is no room for feeling embarrassed, asking for referrals is the right way to grow your small local service business. Customers can also leave reviews online.
Measure and Track Everything
Measuring and tracking success is important. This does not only mean measuring your incomes and expenses. Other things every small business should be doing to grow include tracking the cost of attracting customers, time spent on each process, and the number of visitors on your website. Tracking important business processes allows you to see what you are doing well and what has to be improved.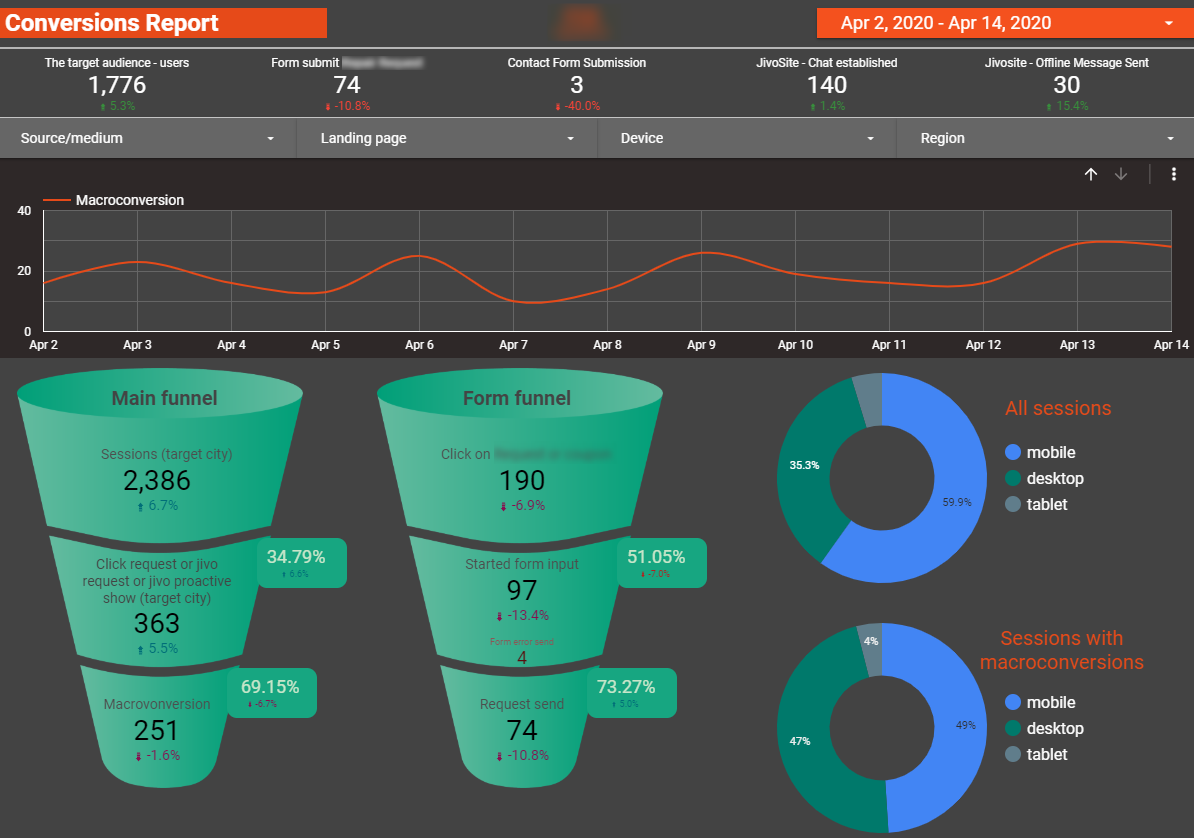 Let's say, your website has a low traffic rate. This obviously means you need to work on your content to make it more engaging for visitors. Another point you want to look at is customer satisfaction. Checking reviews or asking customers directly what they think about your products or services will give you some ideas on how to make your product better.
Do Market Research
Doing market research before you start a business is always good but there are lots of more important things to do at the beginning like improving service quality and attracting first customers. That's why we didn't place this tip as the first one on our list.
Good research allows you to see market trends, understand what customers need, giving you a better chance of providing services with that matter as well as of recognizing risks. Both fieldwork and desk research can give a deeper insight into the possible dangers that you may encounter when making an investment. It also shows you the strengths and weaknesses of your competitors. So you can capitalize on their weaknesses and stay ahead. Hiring marketing research agencies is a good option as they provide unbiased reports.
You can do market research by:
Searching for market trends on Google;
Asking customers to fill surveys;
Hiring a professional agency.
Hire Slow, Fire Fast
The success of a business also relies on the employees you hire. So don't rush when hiring. Take out some time to analyze what qualifications you want an employee to have. For example, if you have an HVAC business, only hire someone who is competent and has the skills to repair heating and cooling devices. The reputation of your business relies on the work of each employee.
Also, the team is very important. If one member leaves, it could have a disastrous effect on the entire team, which could mean more losses. Try to motivate employees as it helps them to work to the best of their abilities. You can provide small rewards so that they feel motivated. Good employees will help you build a culture of hiring only the best talent. Hire Slow, Fire Quickly gives a guide on the good approach to use.
Increase Profitability
Your goal is to increase profits without spending a lot of money, so try to avoid anything that has not brought any positive results. This way you can grow your small business with marketing strategies. For example, there are some clients who seem to be a decent part of the income, but in reality, your company earns with them just a little side money. Thus, you should not be afraid to stop working with such clients and cancel projects which won't bring you much profit.
You can also bring your employees and experts together to figure out solutions that will help to generate value for your company and boost profitability. Some organizations believe the only way to increase profit is to get rid of clients that take up lots of your time with no real contribution towards your company gaining a profit.
Expand Geography
Another way of helping small local service businesses grow is by providing services in another location. Your business can start working with other areas and cities until you expand to serve many states in a country. But expansion is not only about having a physical presence in other areas. An online store is particularly useful when expanding because you will have fewer costs of renting a building and hiring additional staff.
Always plan out your strategy before embarking on geographical expansion. Sometimes moving a company to another city that has more potential customers will be beneficial. This way you will spend less on advertising because of a large customer base willing to purchase your products or services. But if the cost of attracting customers in one particular city exceeds the income, then it's better to start a business in another city than trying to optimize marketing costs.
Final Words: How to Grow a Small Business into a Large Business
Every small business should be trying to grow. Business growth not only brings in more profits but also keeps you ahead of the competition. Before you get started, ask yourself why. Staying motivated will help you persevere even when things become difficult. Make yourself visible, attend conferences to meet other business owners, ask for referrals from customers, and use business directories. All these strategies will set you on a path that leads to more profits and constant business growth.
If you want to get more ideas on an ideal way of transforming your startup to a large business, contact our team of experts. Livepage will advise you on how to make your small business a big player!