How Livepage met the news about the war and how it affected the operational activities of the team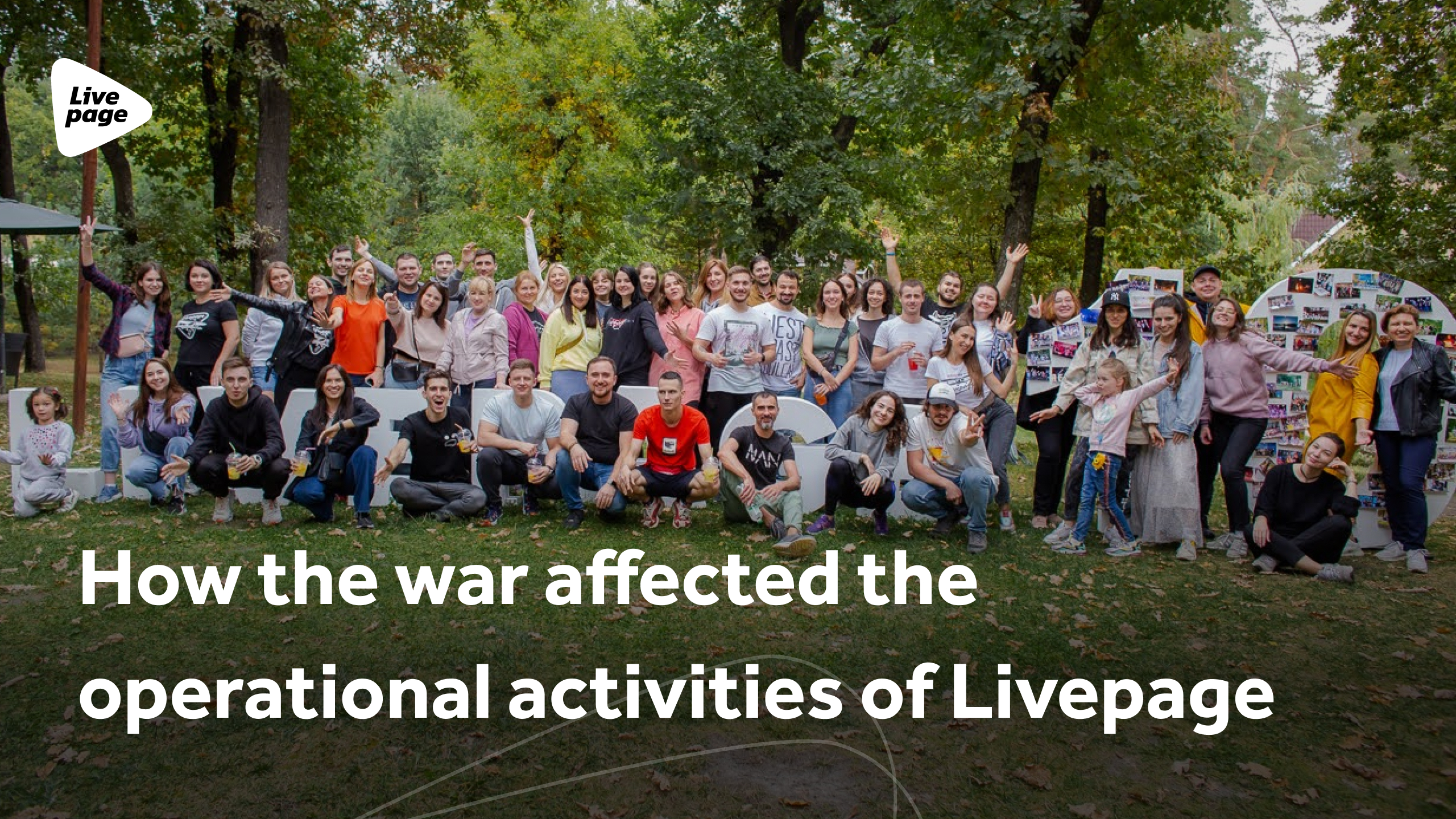 Livepage marketing agency turns 11 years old this year. Our team includes more than 60 specialists, including SEO, link building, PPC, email specialists, marketers, designers, analysts, editors, and project managers. Livepage is one of the largest marketing agencies in Dnipro and is among the TOP 5 in Ukraine.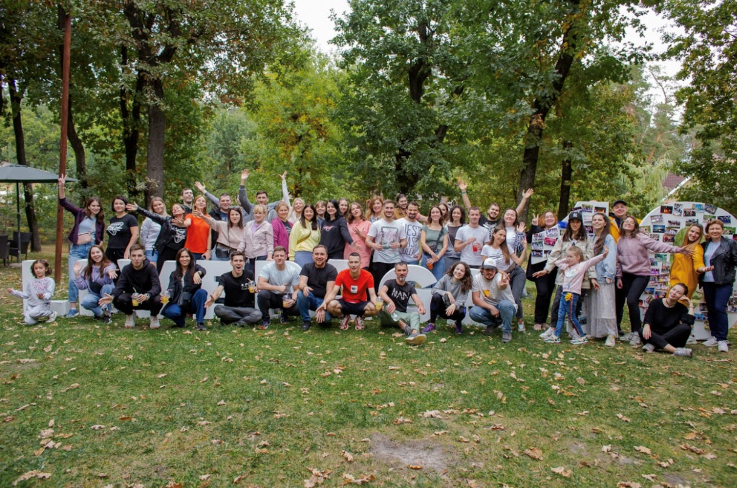 This article will tell you how we met the news about the war, how the war affected the company's operational activities, what the team members are doing now, and what is happening in the marketing market in Ukraine in general.
About the agency's organizational structure and model
Livepage is one of the few agencies in Ukraine that has been fully focused on working with IT outsourcing companies, SaaS projects, and startups, as well as local businesses from the USA and Canada for the past few years. Before the war, our portfolio was about 70% English-language projects. But we also have a history of working with companies like Work.ua, eSports organization Natus Vincere (NAVI), and other local players.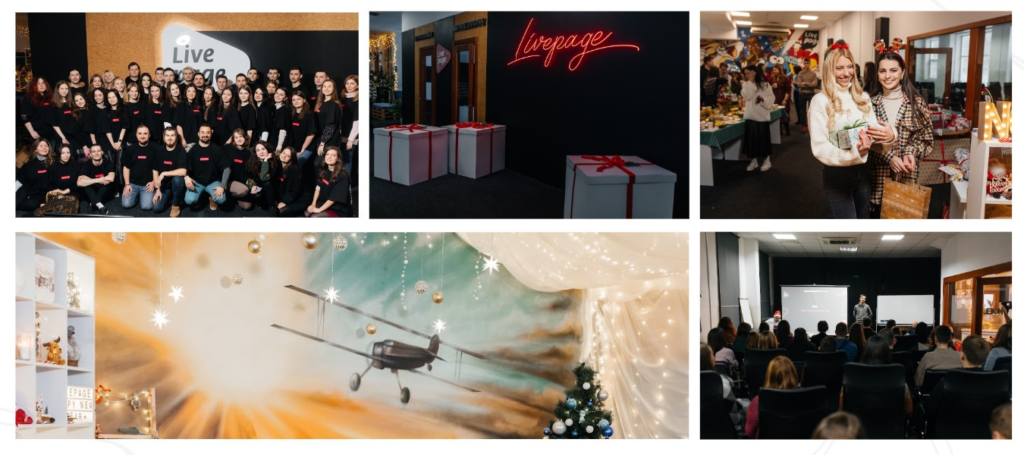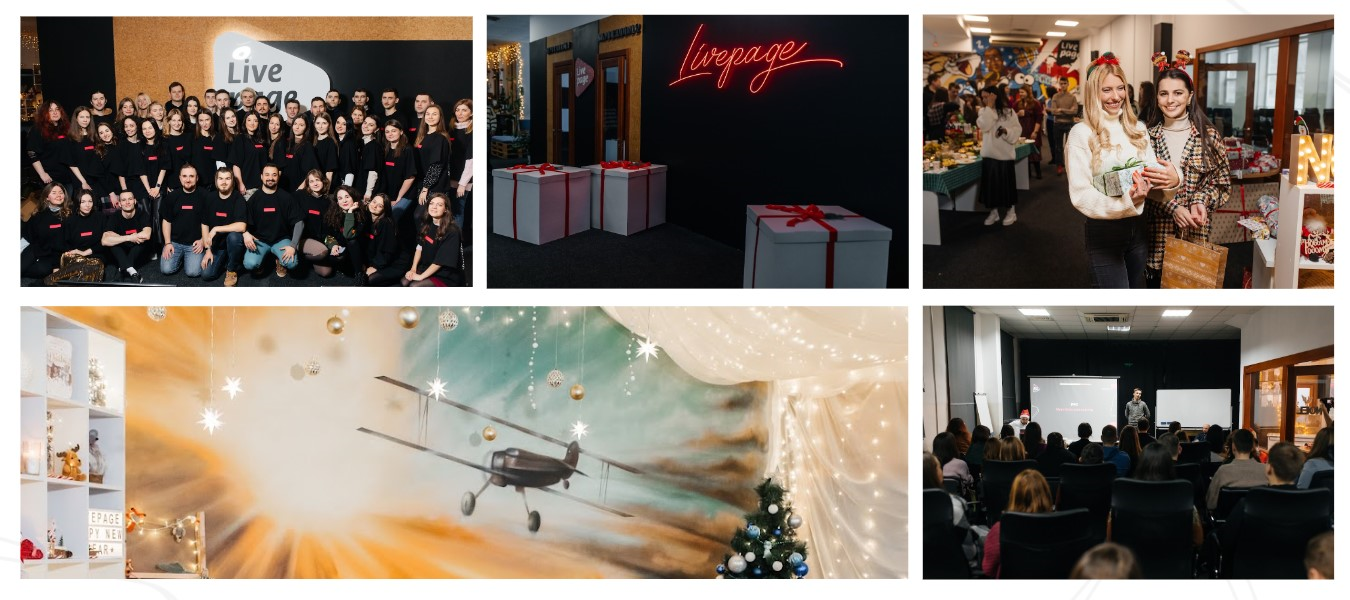 Most clients apply to us for SEO services: we have a lot of experience and are happy to share it in our cases. We also have unique experience in translating the Work.ua website and changing the main version of the website from Russian to Ukrainian without losing traffic. Our team participated in creating and verifying the TOR for Work.ua and monitored the changes on the website. By the way, we now give out free advice for Ukrainian businesses on the transition of websites to Ukrainian. We also work on a large and unique set of instructions on transitioning for various companies with minimal loss of search traffic.
Meanwhile, our service structure remains the same as before the war, and it had a different impact on each department.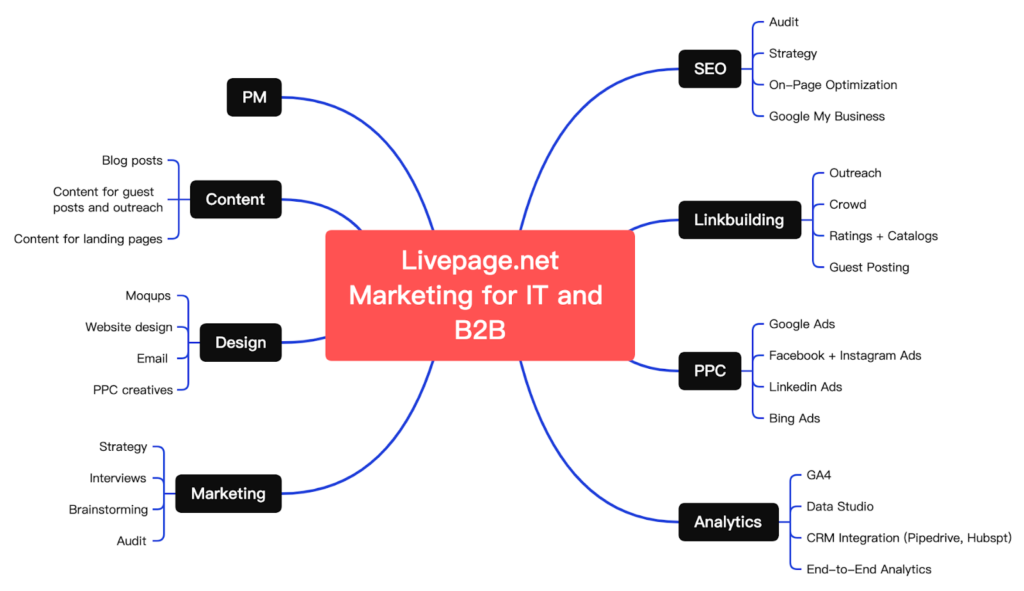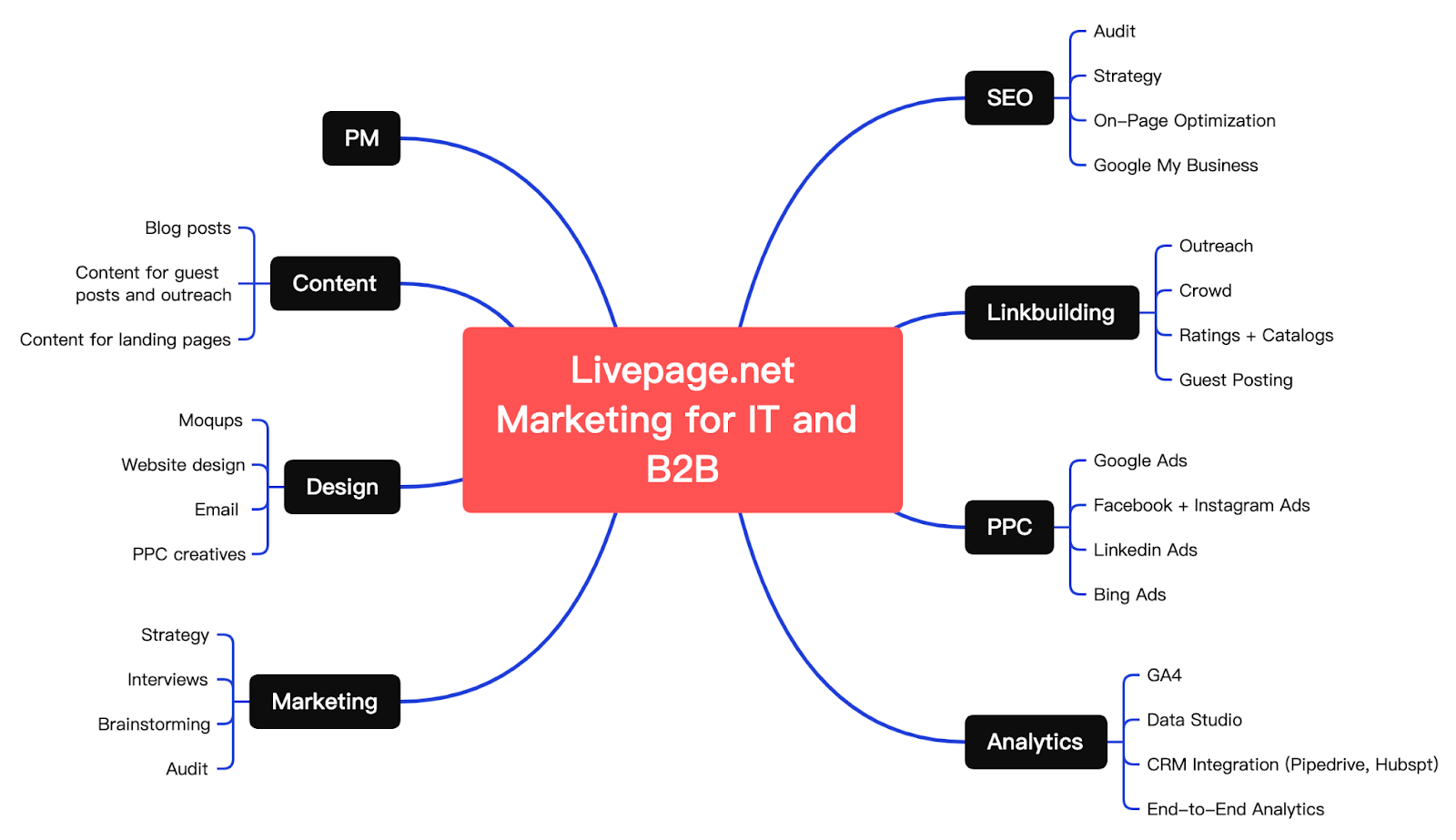 How the war affected profits and which departments lost the most results
March 2022 was a tough month for Livepage: we lost half of our revenue. In April, we abandoned the office, cut other expenses, and increased income by 15%. Then we stated 10–15% growth in May compared to April, and a gradual recovery in the following months.
In terms of percentage, the most affected were:
Email marketing and automation department.
Department of PPC and paid advertising.
Ukrainian- and Russian-speaking SEO departments.
First, e-commerce projects and Ukrainian businesses were affected. Also, budgets for PPC and Email were cut very quickly. Many colleagues said they had lent money to their clients and did not receive payment of their debts or received it partially. We did not have this problem, and I believe it helped us not go into the red.
While we lost about half of our income, many of my colleagues stated that they had no more than 15% of their revenues in March compared to February. So our situation among medium and large agencies was still considered quite good.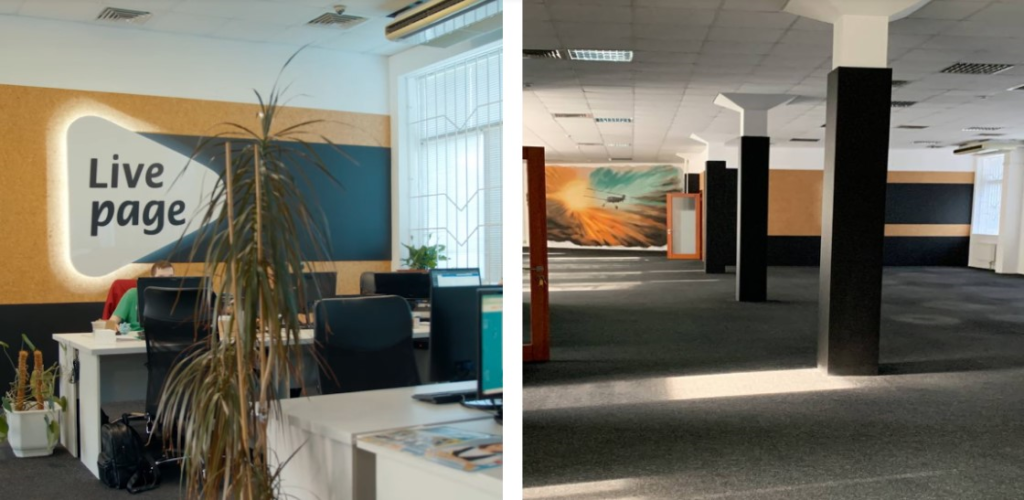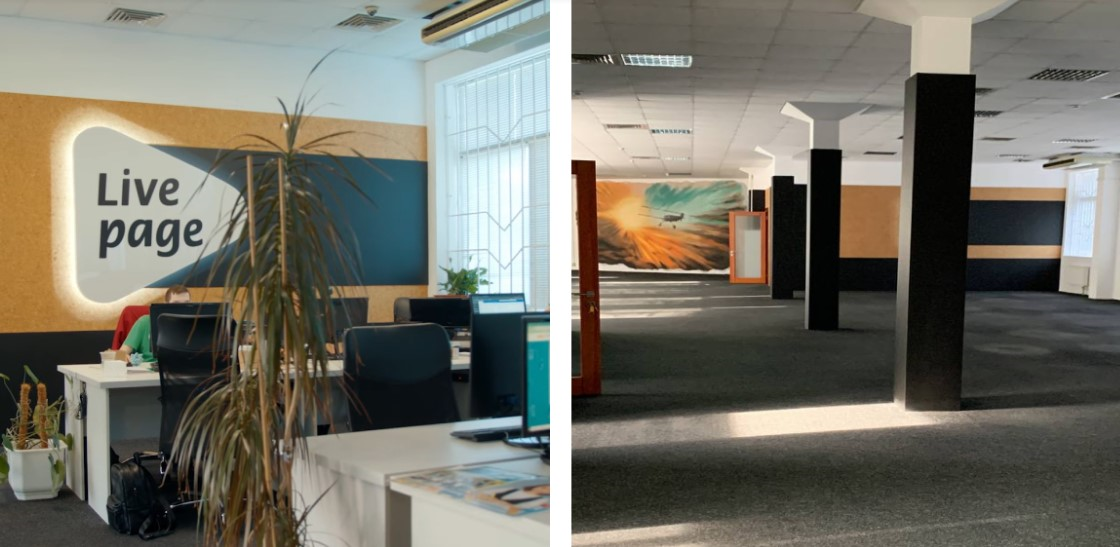 Thanks to the expenses cut for the office (which we completely abandoned in April) and the discounts given to us by the services we use at work, we managed not to go into the red. In April, as far as I know, Ukrainian companies started to return to SEO, but we help many for free or with a big discount. Our current portfolio of English-speaking clients is increasing, and we focus only on attracting profile ICPs.
Has anyone been laid off from the team? And what happened to salaries?
No one from the team was laid off (except for those who did not complete the internship). Wages were cut on average by only 10% for most of the team and up to 20% for managers.
The salary situation is also not so bad compared to the Ukrainian marketing agencies I communicated with. This is mostly because we work with the English-speaking market. But, frankly speaking, there is no certainty in the future. Most outsourcing clients foresee a difficult situation in the international market and significant risks due to war, global crisis, and inflation. But the market is quite large, and it seems to me that our team succeeds and will succeed in finding the necessary number of customers. Currently, it is much more difficult for companies with a team of 200-300 employees to do this. But I am sure that all the big companies will stay afloat. I know all the managers personally and we keep in touch. I am sure everything will be fine for them because they have experience and good teams. I sincerely wish them a fast recovery.
Did any of the team leave during the war?
If we do not consider those who joined the Armed Forces, unfortunately, some people left the company. We have three categories of such people:
Those who started volunteering and stopped contacting each other or said they were unable to work from the very beginning of the war.
Those who moved abroad and began to look for a more profitable job due to a sharp increase in regular expenses or to find something local, learn the language faster, and get a full social package in the country they are in.
Those who decided to change jobs for personal reasons. Those who have been thinking about some other activity for a long time, doubted whether they liked what they were doing, disagreed with something, or decided to try something else. All of them, in one way or another, intended to leave the company even before the war.
I cannot say that there were too many such people. But each case, considering that the team is quite small, was received by the team rather painfully, though with understanding. We are currently making some changes to our processes and organizational structure, and we are confident that all changes will be for the better. From the point of view of the impact on the processes, almost everyone handed over their responsibilities well and gave the team ample time to adapt, helping us do everything so that the clients did not feel an increase in the load on individual departments. I am grateful to each and every one for this.
How do you manage to work remotely? How is communication built?
"Thanks" to COVID-19, most companies were ready to switch to remote work mode, so we didn't have any problems either. We're probably the only company I know of that uses Discord in their day-to-day communications.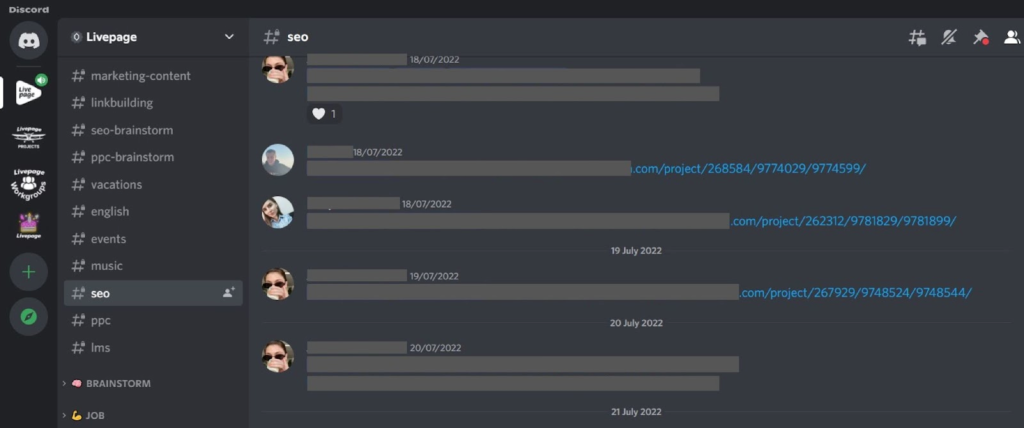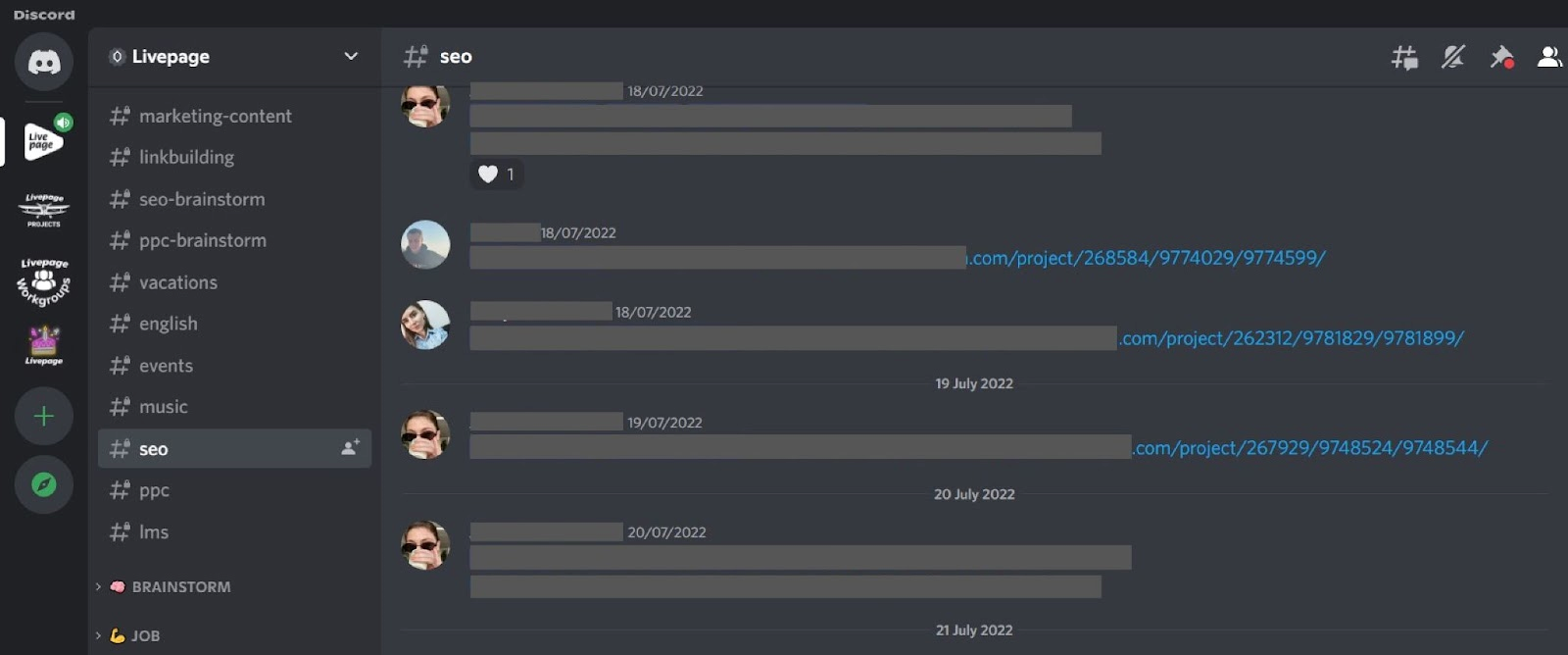 Our actions immediately after the start of the war
First, we formed the following principles:
We refused to work with partners from the russian federation and belarusians—there were less than 10% of them even before the war.
We fully transitioned to using the Ukrainian language in marketing and all external communication. We support only the Ukrainian and English versions of the website, the Russian version is currently being prepared for transfer to the livepage.ua/ru folder.
Employee support is the first priority. We care about the safety of our team members and their loved ones. We save salaries as much as we can and avoid layoffs.
Volunteer work is more important than company activity. Currently, we pay salaries to everyone: including those who serve in the Armed Forces.
If there is an opportunity to work, we work because it greatly contributes to working together and helping other team members. It also supports the country's economy.
The transition to Ukrainian was not so smooth. We had one unpleasant incident with our recruiter, but we managed to deal with the situation and discuss everything very specifically with the team. It is necessary to understand that Dnipro is a russian-speaking region, so the transition to the Ukrainian language is not easy for everyone, and we do not mind the language in which a person communicates in their everyday life. Not all the documents and our TORs can be quickly translated into Ukrainian. But in principle, we have two main working languages ​​left for us—Ukrainian and English. And this trend will never change.
Volunteer activity
Help due to our field
Since the beginning of the war, I have joined some projects as an SEO specialist again. To a greater extent, these are volunteer projects. One of them is uawar.net (shown in the screenshot), the statistics of Russian losses during the war. We developed the resource independently and have collected more than 250 donations, most of which are from the USA.


The model is simple: we added a donation button leading to the National Bank of Ukraine website and have already received more than 400 clicks to the donation page.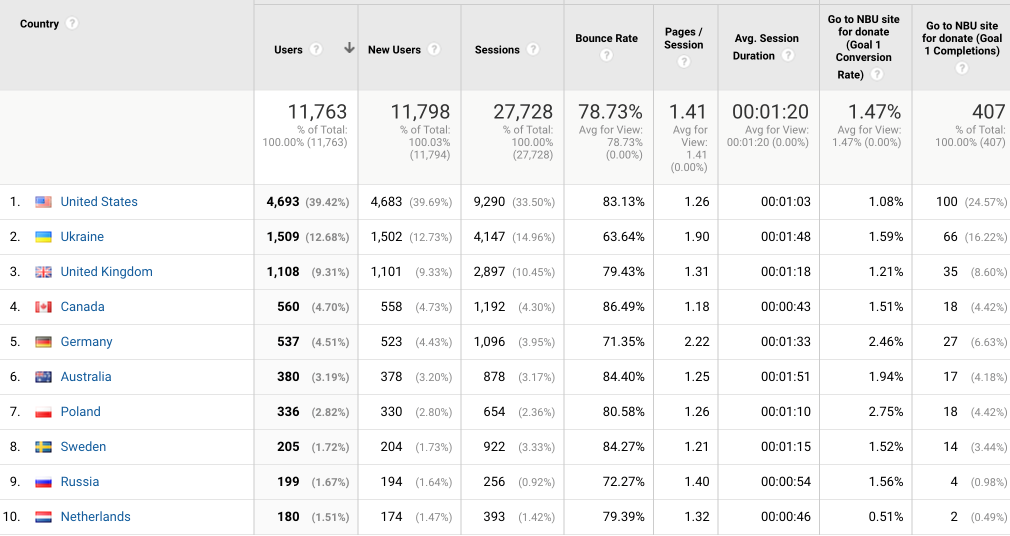 Also, thanks to Artur Mikhno, we joined the project of Lyuba Kolosovska, the founder of the famous Batareiky Zdavaytes (Give Up, Batteries) movement, who began to help the Surrender Resistance Movement during the war to enter the international arena, raise funds for the Armed Forces of Ukraine, and cover news from Ukraine in English. We helped them create the concept and design of the website https://www.freeukraine.tv (the website is still at the stage of content filling), involved programmer friends, and will currently help with promotion to the international market.
Help that has to be mastered
Despite the difficult situation, we donated about UAH 200,000 to the "Come Back Alive" fund in April, and in May, we allocated UAH 250,000 to help the Armed Forces. Perhaps it is not as much as we would like, but it is still very important. We notice how our help raises the morale of those for whom we do it directly.
On my birthday, we collected about UAH 70,000 to support a family from Mariupol. I also helped equip those I know with everything they need.
Since our company is from Dnipro, we began receiving more requests from specific acquaintances from the front line. Therefore, we decided to organize assistance and distribute funds as follows.
Priorities:
✔ The military needs of those on or near the frontline;
✔ Assistance filling the needs of the battalion or company;
✔ Purchase of large units of equipment or equipment in bulk (drones, thermal imagers, vests);
✔ Buying items we can deliver quickly (no more than 2-3 weeks).
Principles:
✔ Work with verified acquaintances and centers;
✔ Quick response and answers regarding the possibility to help;
✔ Provision of reports, checks, official requests from battalions, and photos upon delivering the aid.
We have created our request board. Our senior PM Valeriia Vishnevska is responsible; her husband is currently at war. For example, self-inflating vests for sailors were bought and sent: it was organized by Pavlo Khazov (our former employee).

Our partner of the Direct Advertising Exchange, Collaborator.pro, donated UAH 400,000 to our fund to cover the needs of defenders from whom we receive requests.
What does the team do during the war?
Volunteering and service in the Armed Forces of Ukraine
Most of the team remained in Dnipro. Everyone does a lot of useful things now, for example:
Donates blood;
Helps displaced people;
Raises funds and helps local foundations and friends;
Collects clothes, medicine, and food for volunteer posts;
Participates in various volunteer online projects;
Makes donations to official funds and transfers funds to volunteers and small organizations.
Some have gone to war. Our colleague Bohdan Bykov works at Livepage as a PPC specialist and is currently serving in the Armed Forces. Bohdan told us how he decided to join the Armed Forces of Ukraine:
?"At the beginning of the invasion, I wanted to go to the military registration and enlistment office, but my parents were strongly against it. So I was helping the territorial defense unit and welding spikes for the checkpoints. At that time, my parents volunteered to join the Armed Forces of Ukraine. So after that, without telling anyone (but Vova, my team lead), I went to the military registration and enlistment office, passed the commission, and mobilized. My relatives found out about it on the second day of my service in the Armed Forces."
I managed to get permission from Bohdan to publish the photo.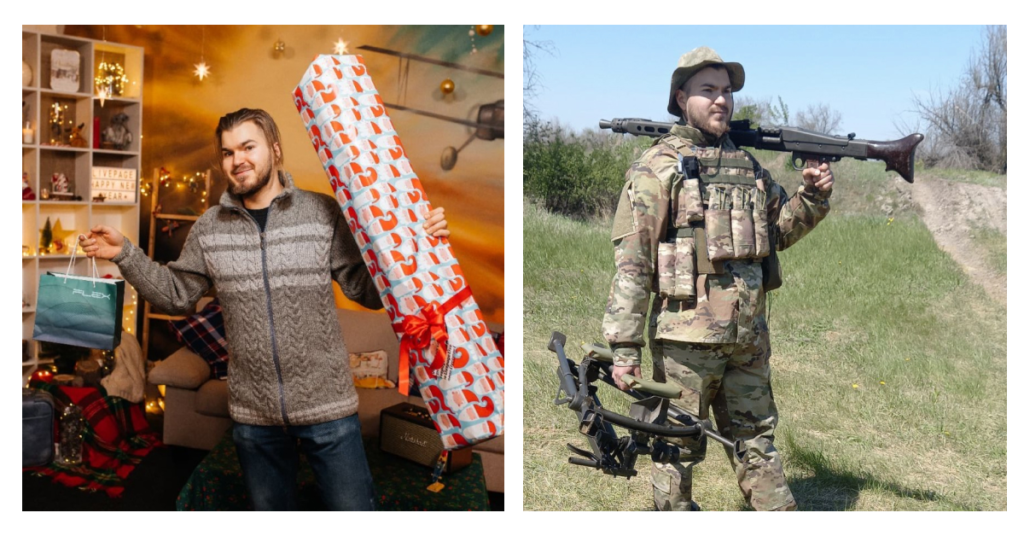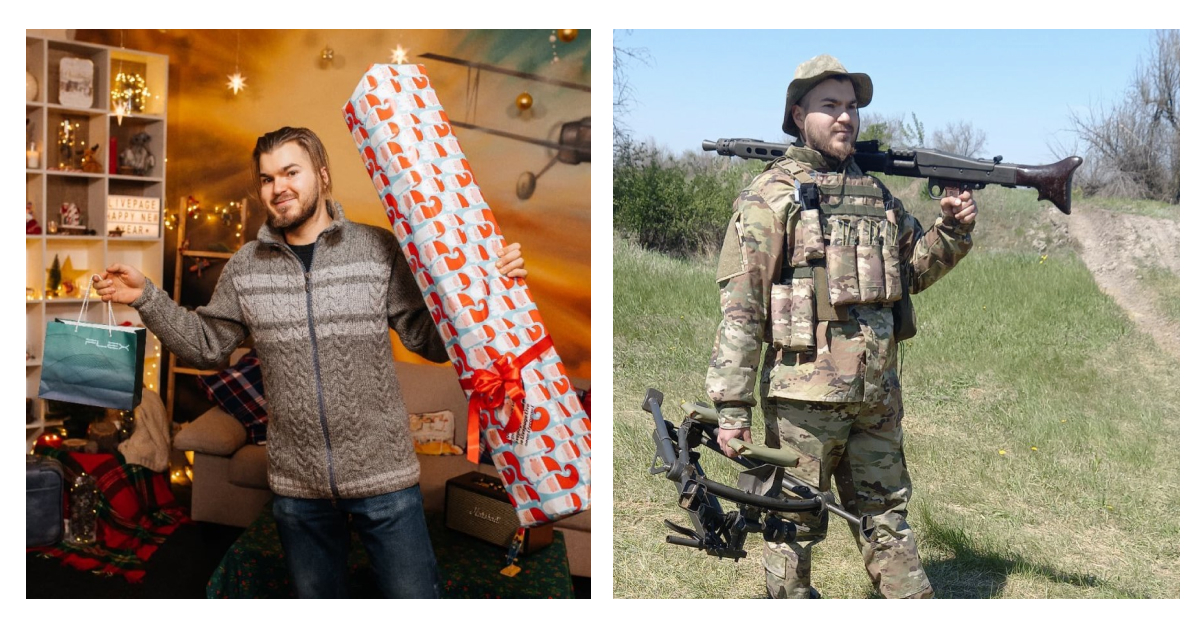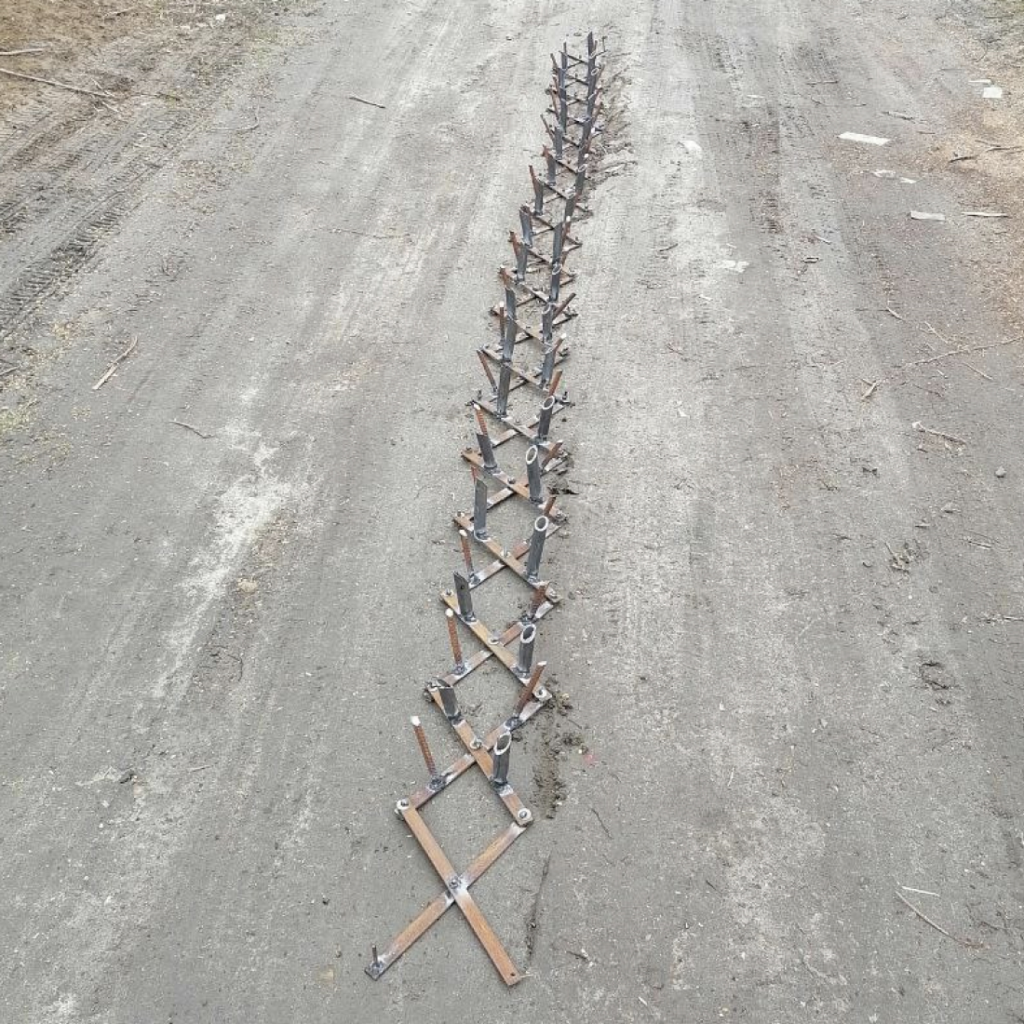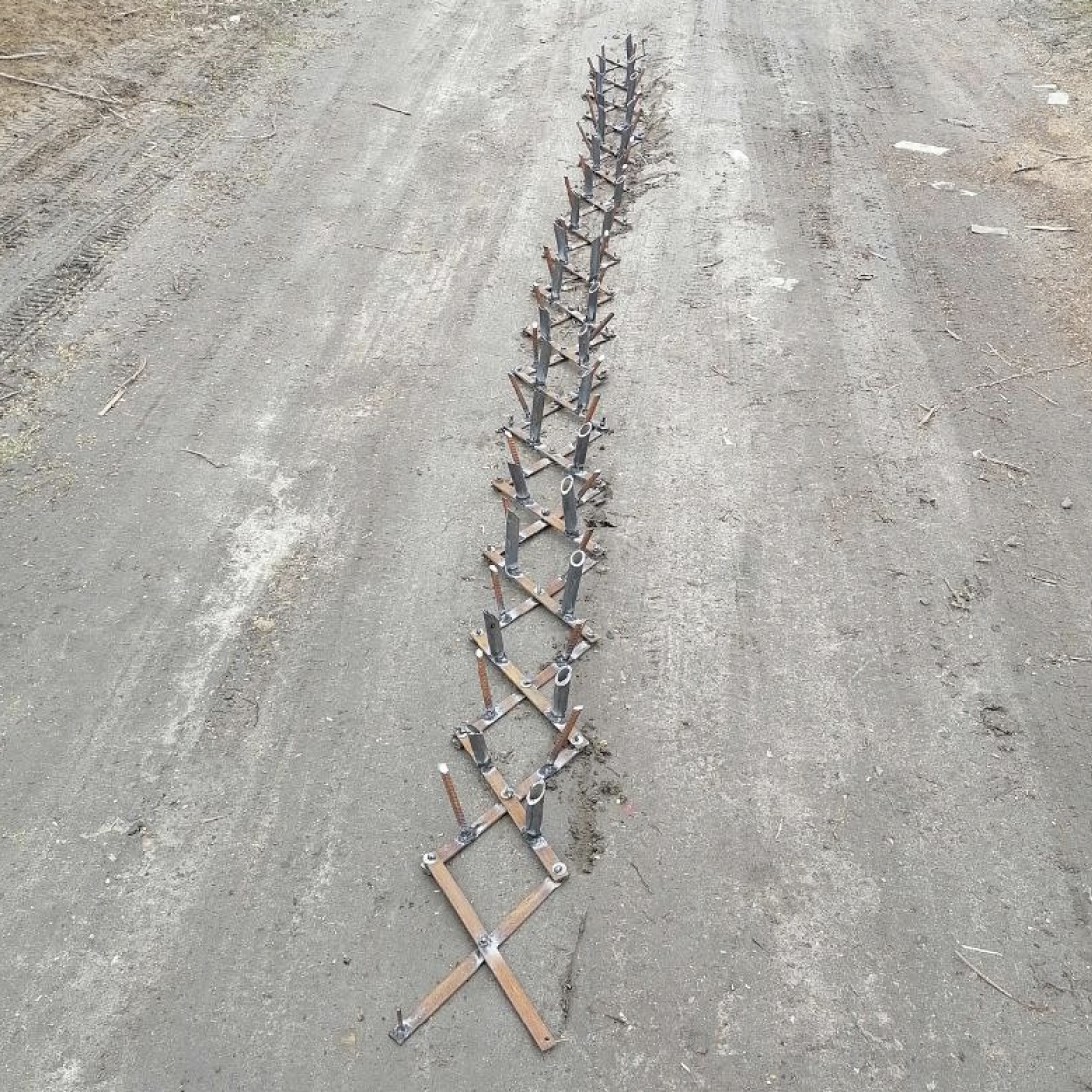 When possible, Bohdan sends us his photos and tells some impressive stories. Here's one of them:
?"We were putting a repeater to amplify the radio signal. Someone had to climb with an antenna to a height of 30 meters. Before the war, I thought I was afraid of heights, but there was no time to be afraid at that moment. So with the antenna behind my back and homemade climbing gear, I climbed and installed the antenna. Thereby, I became a regular climber of the unit. Everyone was afraid. But it had to be installed. That day I had to climb up 4 times."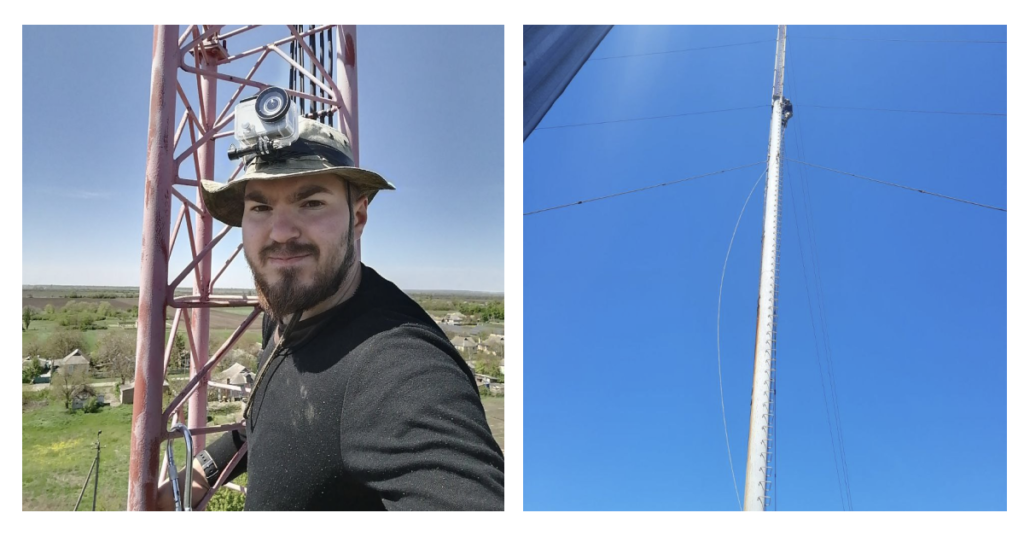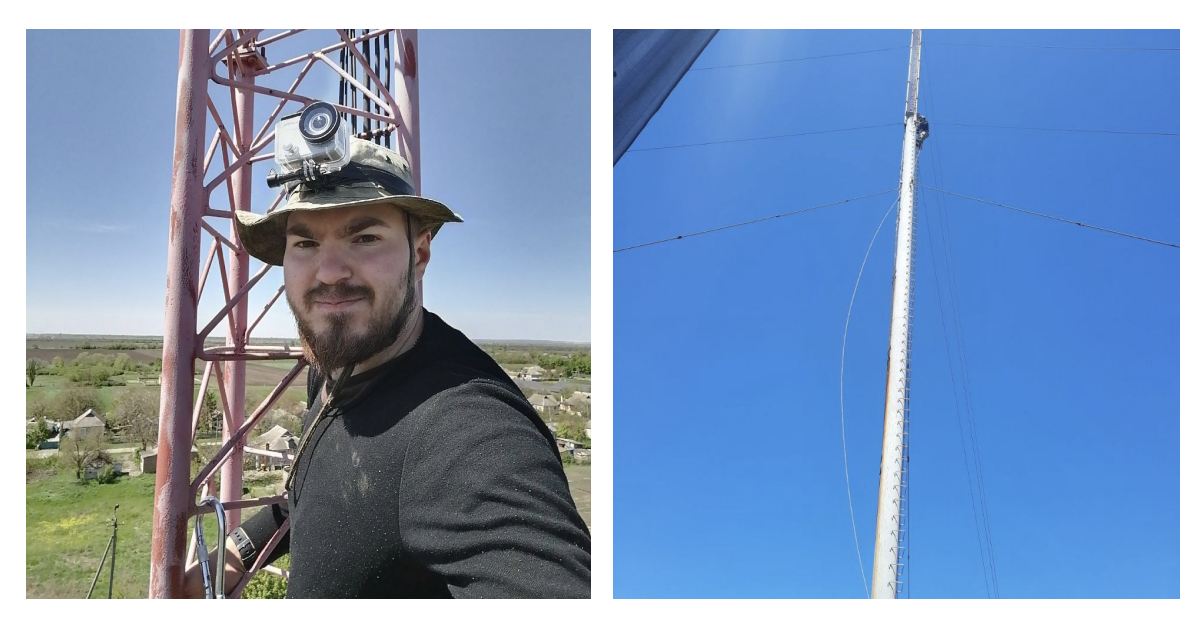 Stories of our Livepage colleagues about volunteering activity
A separate article can be written about the volunteer activities of the Livepage team. There are many stories. I will leave a few stories in the format shared by my colleagues.
1. Valery Vyshnevska, PM Team Lead at Livepage:
?"Before the war and a couple of times during it, I helped Starenki. I packed food packages, and then they were delivered to the older people. How it is organized: you contact the curator from Starenki, and your contacts are transferred to the social service. Then they contact you and direct you to the social center, where they pack the grocery sets in packages (15 items in each set). You load your car with social workers and drive with them to the addresses of older adults. There is a very cool collaboration between Starenki and social workers: Starenki collects money and buys products, and the social service organizes logistics and communications with the elderly.
I was surprised by the perfectly organized logistics on the side of social workers.
The route was built so that we could stop along the planned way, and not move chaotically and waste time—because people valued the volunteers' time and had a strong desire to deliver products as soon as possible. By the way, the groceries were quite decent.
Such volunteering makes you feel good, knowing that there are people who care, and that you can be involved. However, on the other hand, it is very sad, because you are met by grandparents who have no one, and live alone, in poor conditions. But the worst thing is that they are alone, and social workers come to them only once a month to bring groceries and help around the house. After that, you appreciate your loved ones even more and want to spend time with them."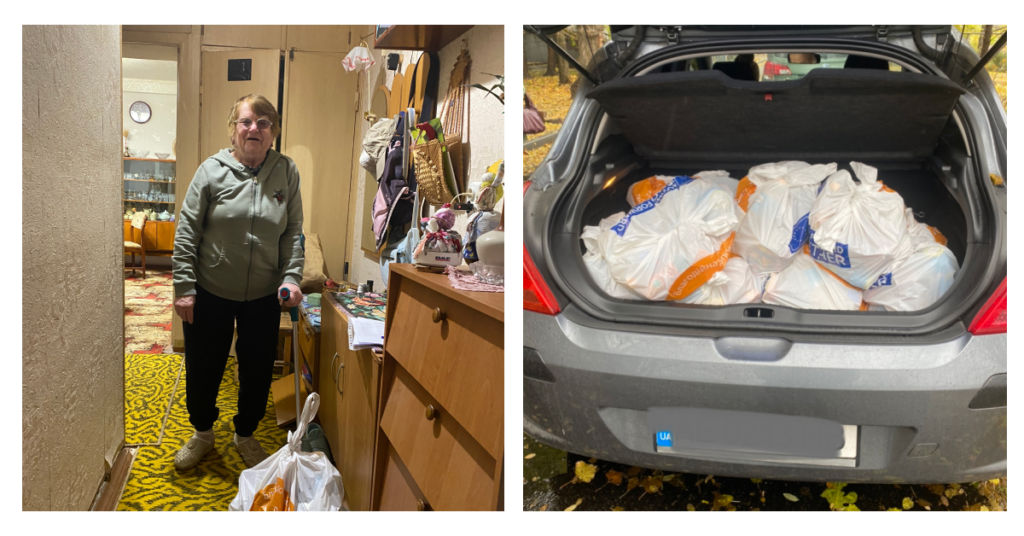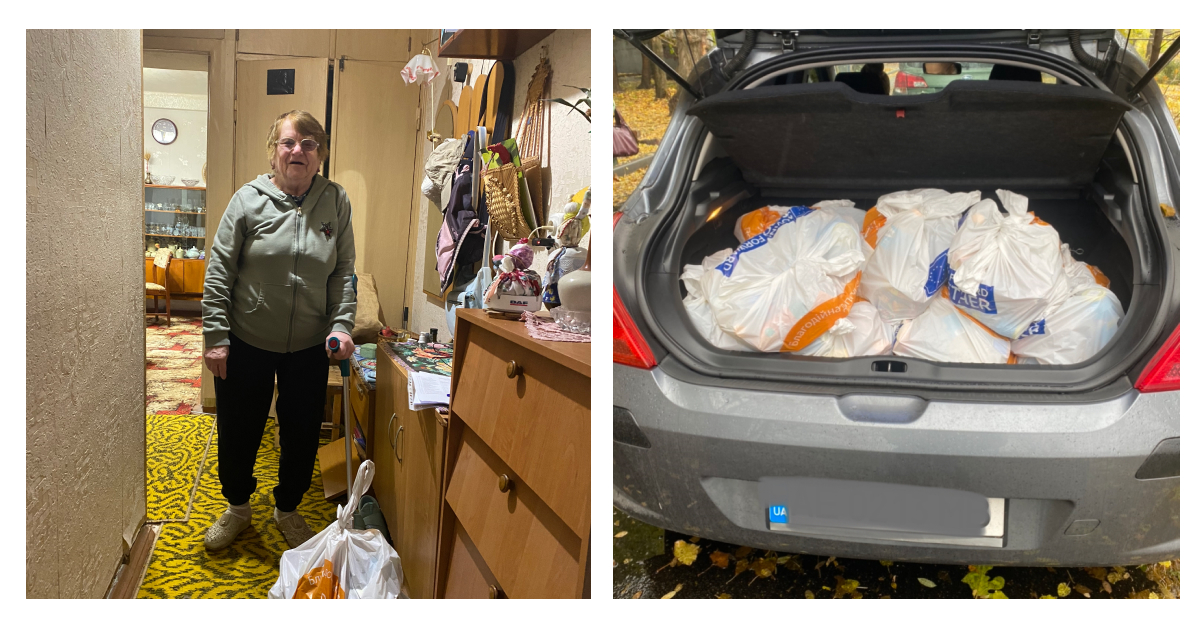 2. Kateryna Volovich, Project Manager at Livepage
?"My family and I have been helping the military since 2014. Therefore, on February 24, when a full-scale war began, we did not even have a question about what to do. We immediately started accepting applications from military acquaintances for everything they needed and, at the same time, started collecting funds among friends, acquaintances, and partners around the world. During this time, we have covered many needs for ammunition, equipment, medicine, food, etc. We have arranged the supply of individual first-aid kits (IFAK) from Poland, and we are already restocking them with everything necessary per the pre-medical care protocol in Dnipro. We have already received many favorable reviews from fighters and medics, who already have something to compare with. We are currently collecting funds to order the third batch of first-aid kits. After all, the war continues, and many people still require medicine, and the state, unfortunately, is not yet in a position to provide all soldiers with high-quality first-aid kits. So we still have a lot of work to do, but the thought that we are helping our defenders return home alive is empowering. Therefore, we continue to work for our victory!"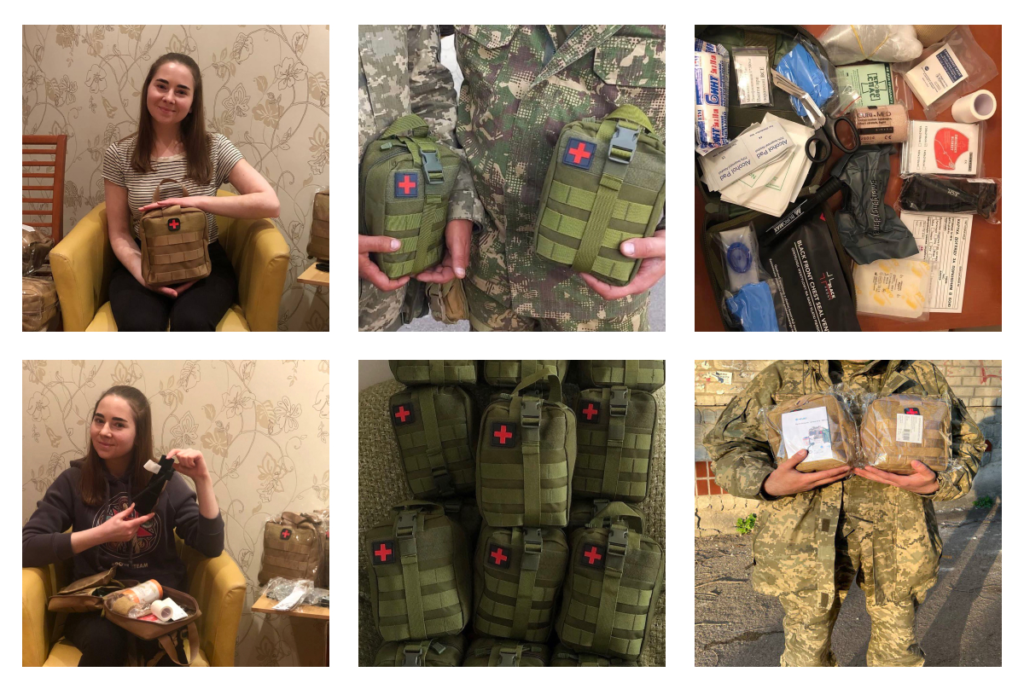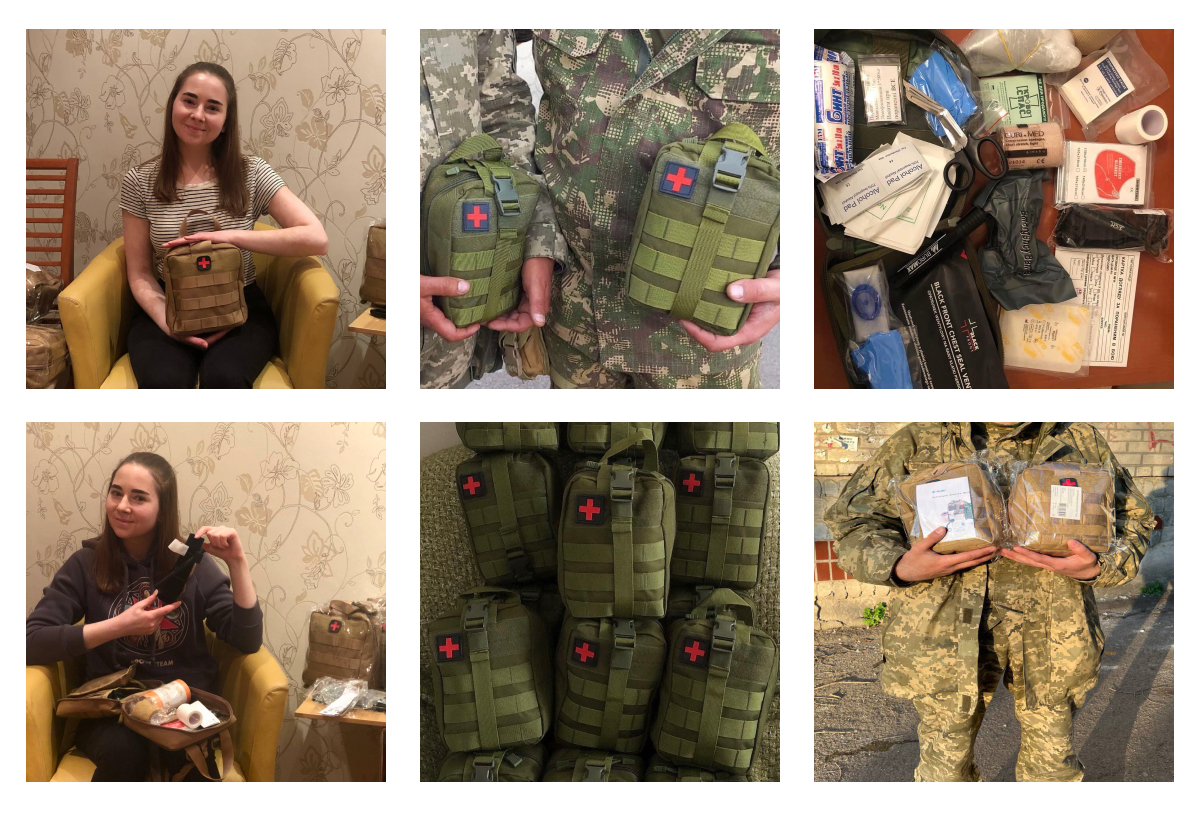 3. Iryna Lemeshko, Accountant at Livepage
? "I am a volunteer of the coordination headquarters of Dnipro volunteers. Our headquarters has a lot of directions, such as displaced people, medical assistance to the wounded, animal assistance, evacuation, assistance to our defenders, shelters, and many other things… Right now, I am the coordinator of the ammunition department. I am currently engaged in dressing all our defenders to the extent of our capabilities. Now I understand all types of military uniforms And I can tell the size and height of anyone by appearance)
Is it easy to be a volunteer? No, it is probably not easy. Sometimes it was difficult, both physically and mentally. But there is no other way… When you look at our boys, who have been sleeping in the trenches for three months in a row, and shower with wet napkins… who are fleeing from "Mechka" [Mechnikov Dnipropetrovsk Regional Clinical Hospital] to return to the front lines… who live under constant shelling… When you see them, you understand that it is easy, easy to be a volunteer. It's much more difficult for them, but they don't whine or tell how tired they are of the war, they just do everything that depends on them… That's why we should do everything we can. Weave a net, come and just help with your hands, buy necessary things and bring them to volunteer centers or hospitals… transfer money… Do at least something to help them… Because if today we do not support our defenders, then tomorrow there will be no one to protect us… "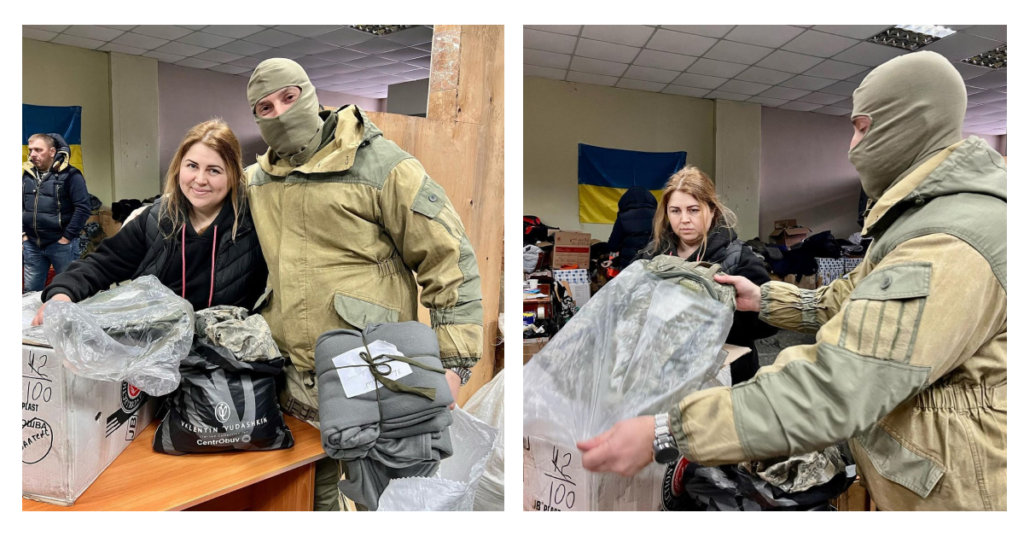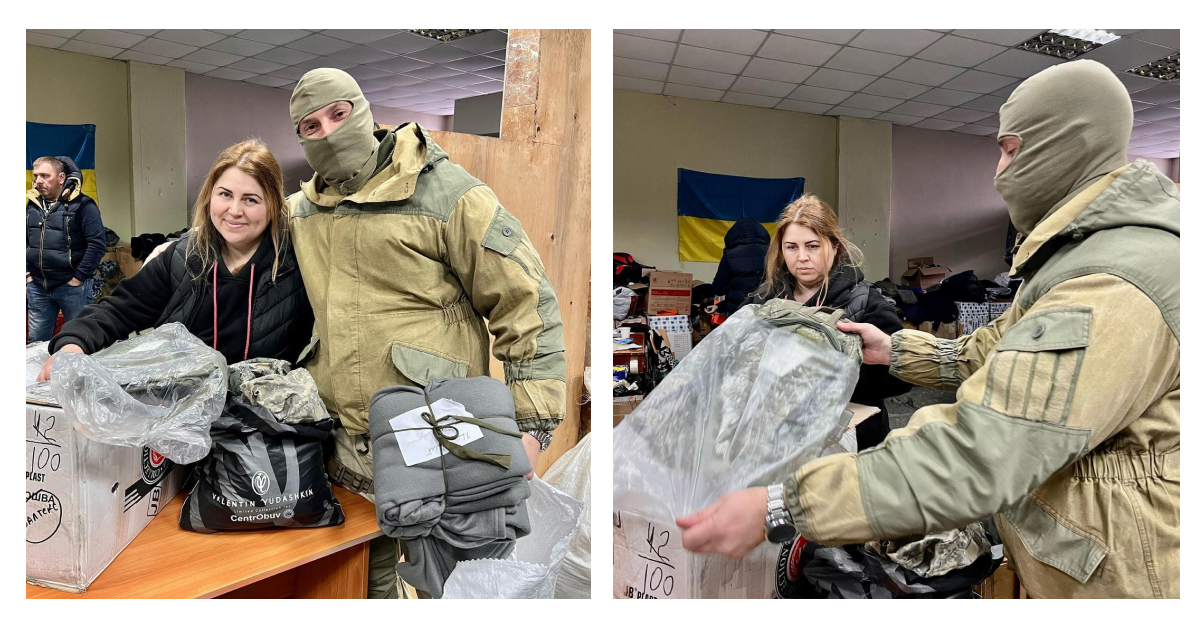 4. Rudenko Darina, HR at Livepage
? "From the first days of the war, the Livepage team and I, in addition to the huge help from the company, independently collected UAH 31,544 per week with colleagues and friends. They went to donate blood, collected warm things for refugees, and looked for the necessary but limited medicines in the city. They bought food, medicines, and everything necessary for volunteer points "Volunteerdnipro," for orphanages and displaced people. They also regularly made money transfers to the Armed Forces. We bought vacuum flasks to keep the defenders warm at the checkpoints, especially outside the city, as it was freezing. Together with my friends, we helped two families with children who arrived from hot spots move into apartments—free of charge. In addition, we try to help by spreading information and helping with our own hands. And we continue to help every day as much as we can! ? Together we are strong! Every minimal help, support, and example is already a big step towards victory!"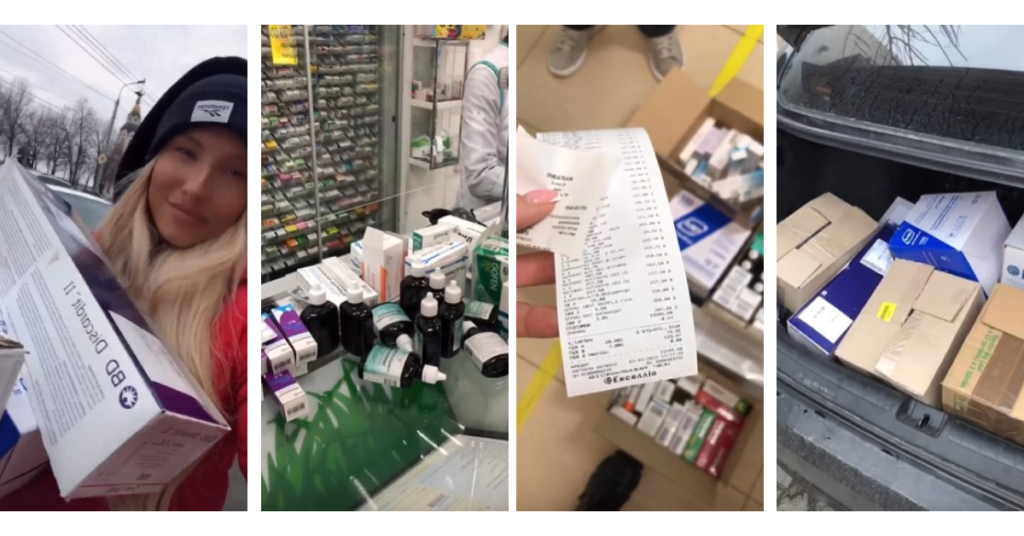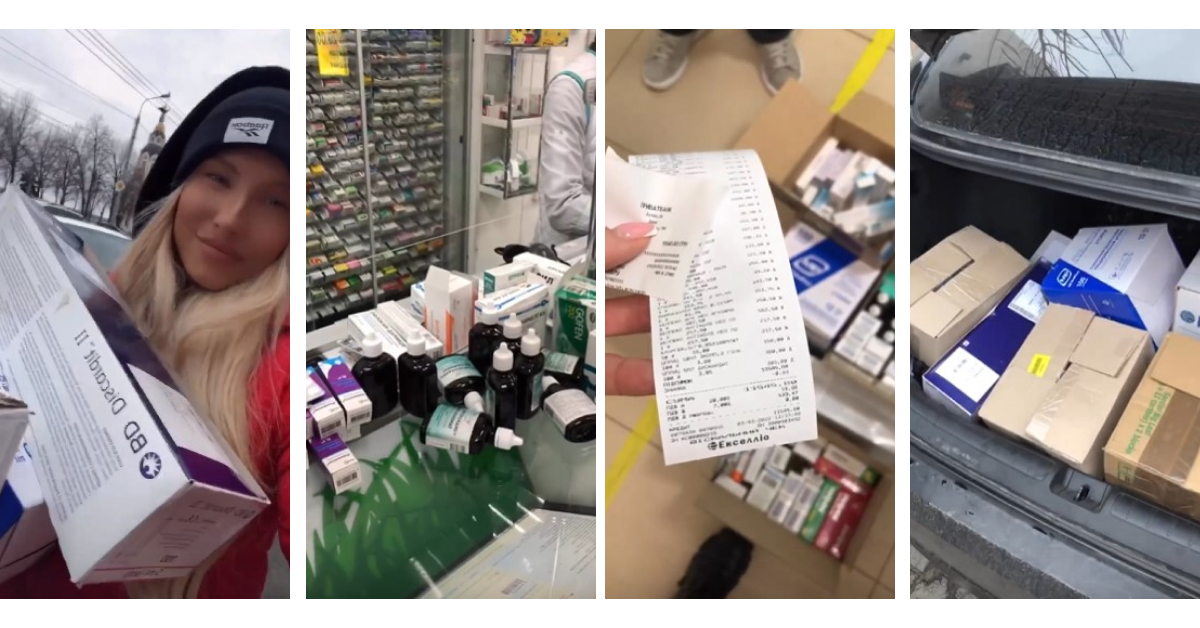 5. Radchenko Pavlo, ex-Editor at Livepage
? "Together with a partner from Germany, I am engaged in creating a small YouTube channel "Voices for Ukraine." I found the owner of the channel completely by accident, I just surfed Reddit, added the translation of a random Ukrainian video into the comments, and then somehow it happened by itself. My function is translating into English and consulting on the Ukrainian language and culture. Together, we managed to promote the channel to almost 100,000 subscribers.
We post short videos with motivational or funny moments of this tragic war—trying to find the positive in the negative. Unfortunately, the channel got a strike for daring to call a spade a spade: calling russia an aggressor country and moscow pigs—pigs. A significant number of views (up to 55% on some videos) come from the aggressor country, so we have a win-win situation: we get monetization that can be redirected to the right cause, and we have at least some small chance of reaching the zombified invaders.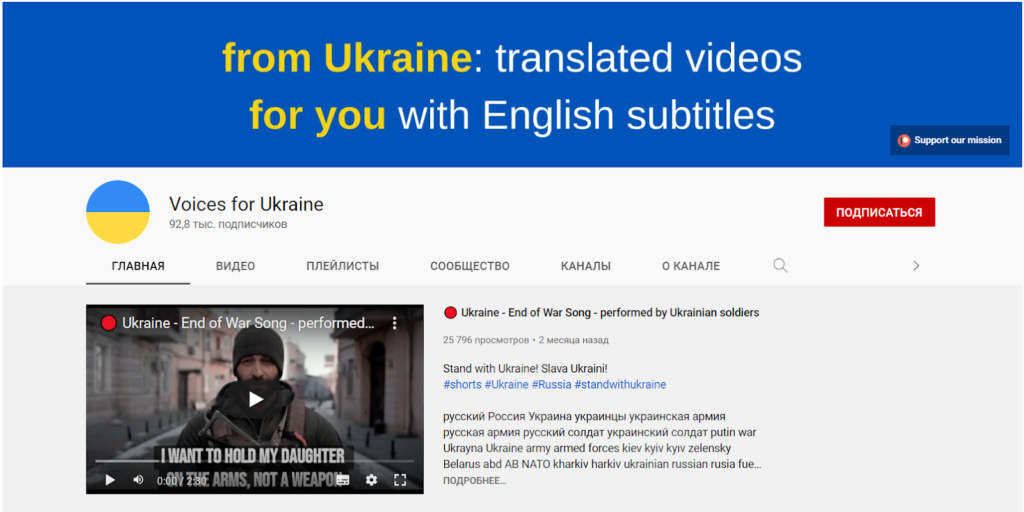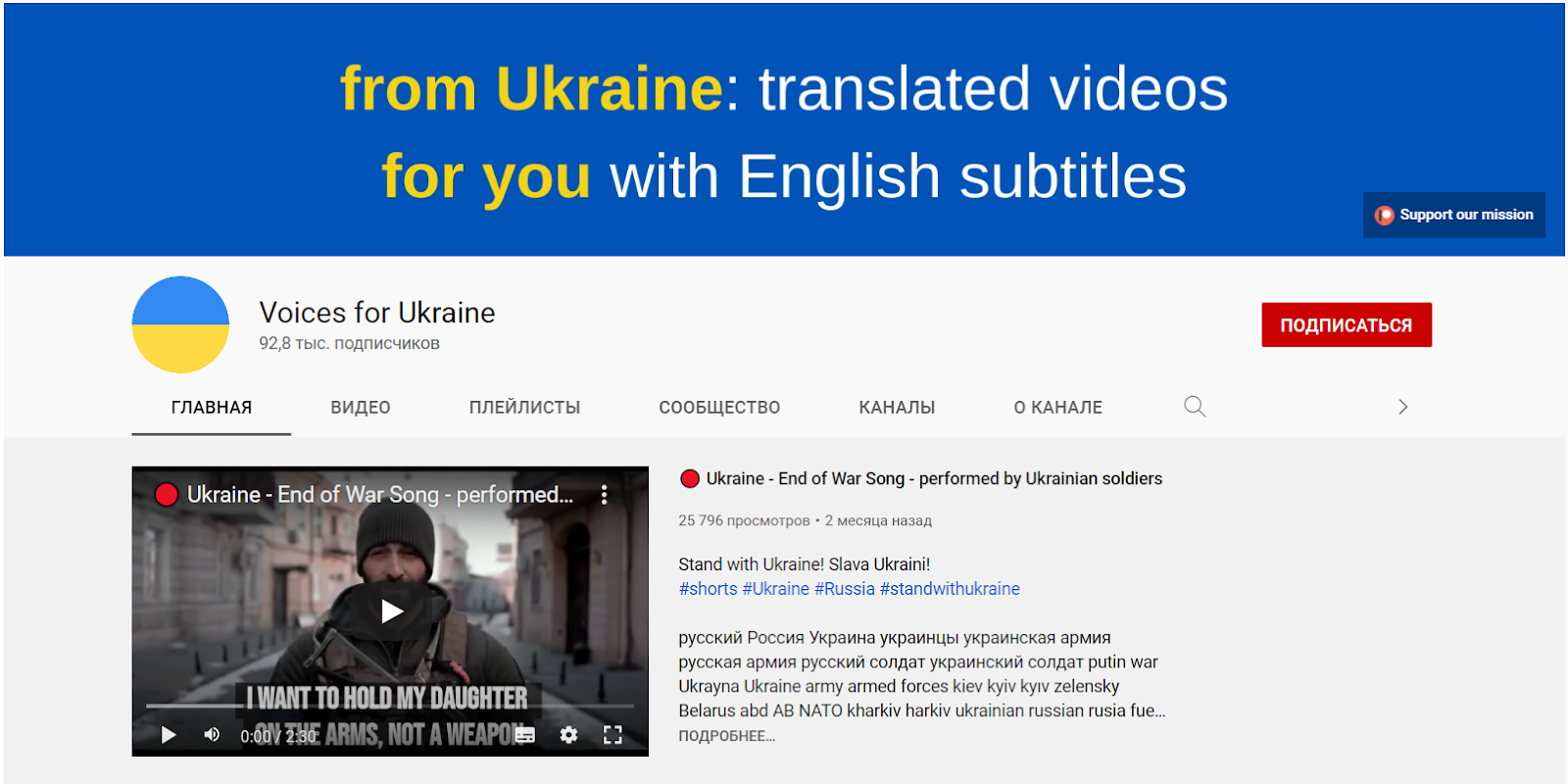 During the short time of the channel's existence, we managed to transfer ~500 euros for humanitarian needs to the Kyiv School of Economics' KSE Foundation and attract viewers to donate directly for the needs of the Armed Forces of Ukraine through the NBU website and United24. A little less than we would like, but we are not upset and look positively to the future: we would like to create a positive image of Ukraine as a European country, invite as many foreign volunteers as possible to rebuild the country after the war, and attract the attention of as many tourists as possible."
Conclusions I have made since the beginning of the war
First of all, I am grateful to the team. These are incredible people with whom it is an honor to work together.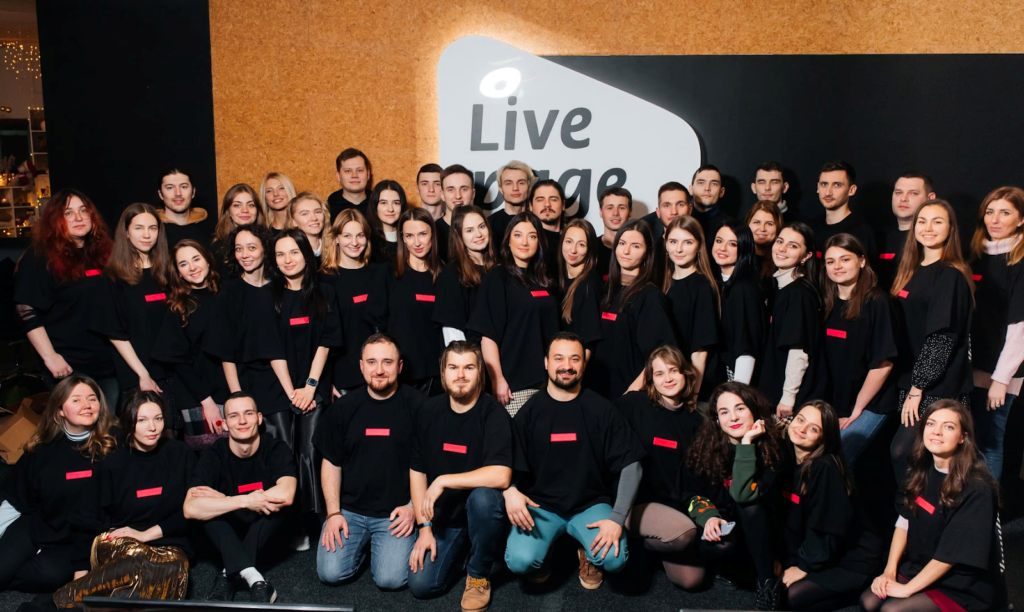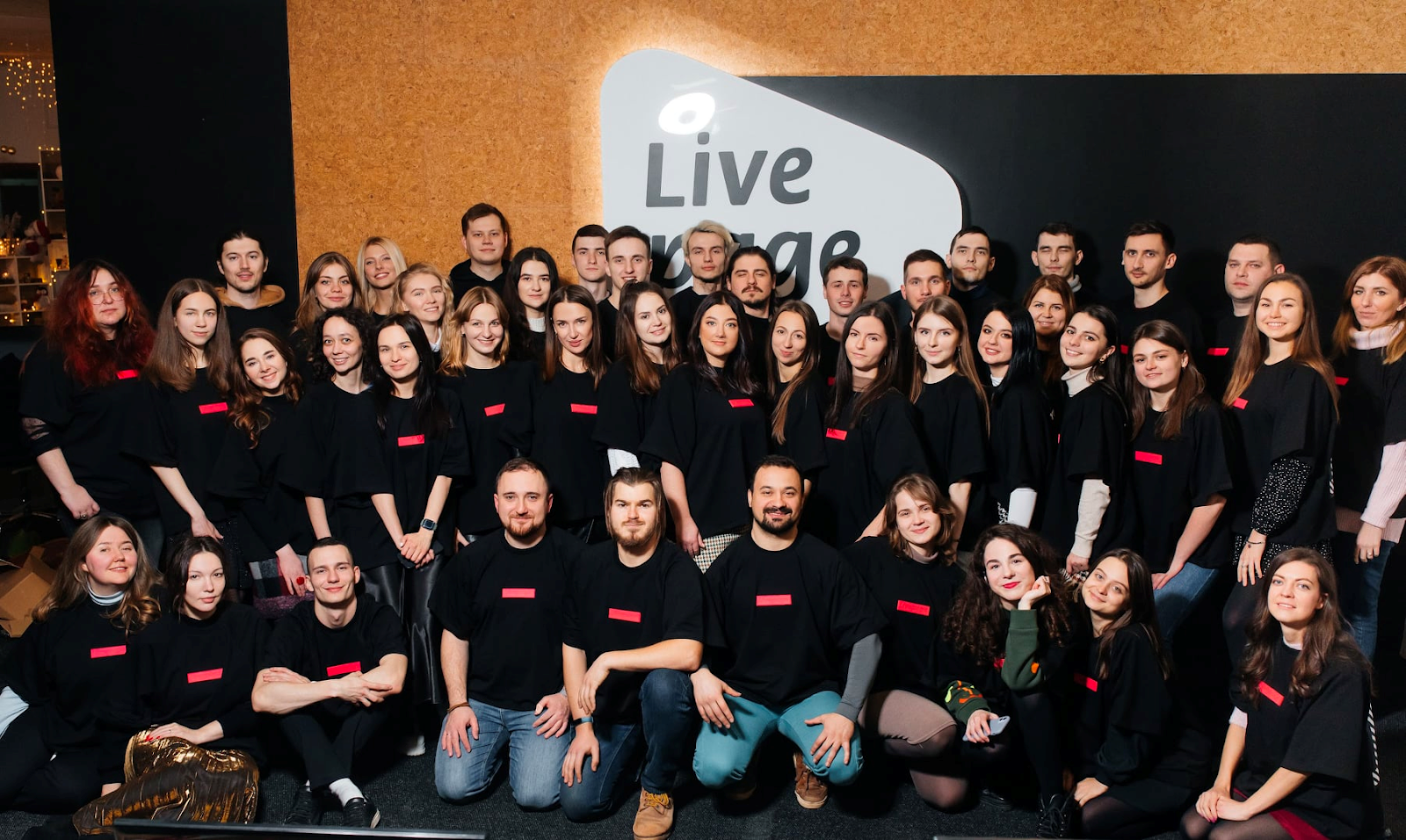 Livepage before the war and now are two different companies. Everything has changed, but the trend of working in our industry has only intensified;
We understand that our activities are possible only thanks to the military. Therefore, we will do everything to provide all the necessities for the fighters from the first line of defense, and then the attack;
Language is a weapon;
People express themselves in different ways. But I'm glad that all my loved ones and those with whom I've been together for many years have remained reliable partners and friends;
I am proud of all Ukrainians. It pains me deeply to think of all those who died in the war.
This war will definitely end with our victory!