Ratatype Case Study: SEO & Link Building Strategies for Edu Startup Promotion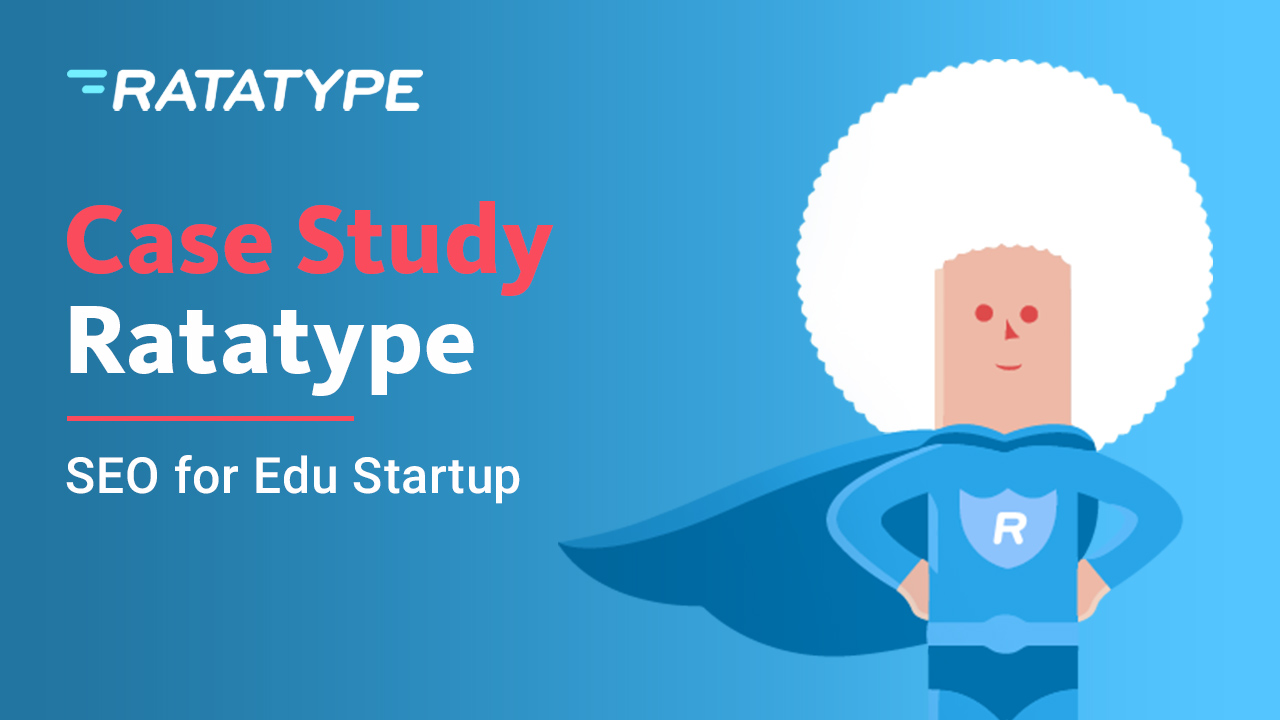 Ratatype is an educational startup for people who want to learn touch typing. For over 40 months we were helping Ratatype increase search, referral traffic as well as brand awareness.
In this case you will learn about «white hat» SEO strategies for startup.
What we got initially
An absolutely new website, domain without history. Initial traffic — up to 50 daily from search engines.
Challenges the team faced
Over 40 months of working, only 4 additional landing pages were created, and there were only 8 traffic landing pages in general.
The niche is congested with competitors launched in early 2000's.
The budget for links was $0.
Results
Using our SEO strategies, we managed to grow search traffic from 0 to 7000 daily excluding brand search traffic.


The number of the brand mentions in search engines increased from 0 to 850 monthly.
Total traffic reaches 11 000 visitors daily and more than 250 000 monthly.
Developing SEO strategy for startup website
Our main principle here was the slogan of Work.ua team «Do it well or do not do it at all." That's why we were using only those strategies which could give positive results even after 3 years of work. We succeeded.
Disclaimer: all the strategies described below will work if your product or service is valuable for the target audience. It is still possible to promote a poorly developed product using these strategies but it will take much more efforts.
Collecting semantics
In 2013 all keywords were collected with the use of Google Keyword Planner, now I recommend using Semrush.
The strategy of gathering keywords for the website:
Define 3–4 main competitors.
Analyze all of them in Semrush.
Export all keyword phrases for which the competitor is visible in Excel.
Combine all exported documents into one.
Delete duplicates.
Filter the list to leave only those phrases for which competitors were in top 20.
Filter by the query volume.
With the help of such strategy we determine both the main keywords and additional ones (so called «long tail»).
«Long tails» are very important for expanding semantics of a phrase and getting better results than those of competitors, especially at the initial stage. This is because it is much easier to get into the top 10 for long tail keywords. For this purpose they often should be used in the page content.
By doing competitor search analysis, we gathered keywords with the highest visibility in the USA.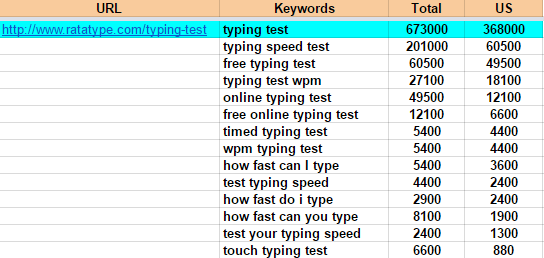 Recommended: Case of promoting IT company.
Page optimization
In this case landing page optimization is a challenge for SEO specialist due to strict criteria:
layout restrictions making choose words by their length;
need to make very short but meaningful texts.
Having a big list of search phrases, including synonyms of the main phrase, we have managed to use them neither in text nor in titles.

As a result, we had to rank such keywords only through external factors, using required link anchors.
Therefore even after 3 years of working there are keywords having a high potential to grow.

Competitor analysis
This is the most important step to look into how the niche leaders were created and developed.
Here you should study 3–4 competitors and analyze their:
traffic sources and search engines visibility;
link strategies;
traffic growth points.
I described this in SEO case-study for content website (3 million search traffic monthly).
Analyzing competitor link profile
When we just started, it was clear that «links» is a point where we'll have to compete with competitors.
The unique thing about this niche is that there are websites of early 2000's with awful interface and weak content but huge amount of organic links they received during this time.
For example, competitors had 40–90.edu linking domains alone.
The total number of referring domains was 2000–3500.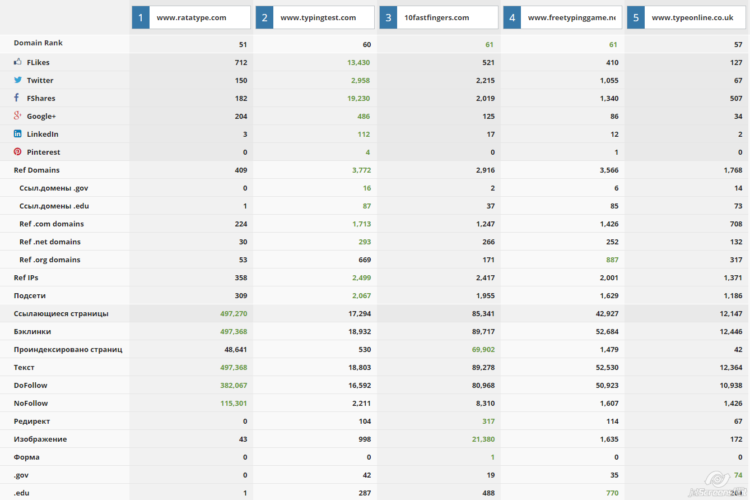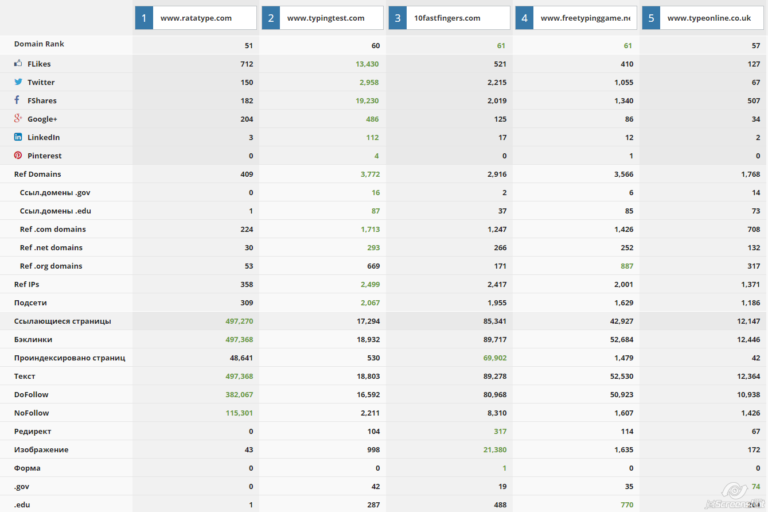 Conclusions for early 2015:
Ratatype is lagging behind its closest competitor at least 4 times (409 Ratatype, 1768 — typingonline.co.uk) by the number of unique referring domains. The gap is so wide because all the websites are much older than Ratatype.com and have been offering their services for a long time already.
Ratatype.com has no links from.gov websites. It is very difficult to get these links as the service must be perfectly suitable for the target audience of the.gov websites. Competitors have from 2 to 16 of such referring domains.
Ratatype.com has 1 link from.edu websites. Competitors have 37–87 links.
Ratatype.com has 43 image links, others have 172 — 21 380.
Links of competitors are natural and trustworthy.
What we decided to do:
To focus on searching schools, universities for getting links from.k12, .edu and.gov domains;
To make research and determine the average typing speed. Then to make infographics with these data and use it for attracting natural links from school and university websites.
So we decided to focus on the quality of links, not their quantity. And this strategy brought results. At the moment, having over 750 referring domains, we are still lagging behind our competitors but have almost caught up with them by search traffic.
The main search keyword with 1 000 000 traffic (according to Ahrefs) in the world ranks 5–6.
Going further you will learn about the strategies and SEO tips for startups, what we used to get links.
Strategies to get natural links
Guest blogging
There are many articles about guest blogging and I will not describe it in details. I'll tell only about some of our working principles:
write on the subjects that may drive traffic;
place a link as close to the beginning of content as possible;
add links to authoritative resources;
use graphics.
As a result, you get not only links but also referral traffic.
Thematic websites
Tactic is very similar to guest blogging, the distinction is that you should collect a list of sites where you will land your own column 1–2 articles monthly.
With high-quality sites in your portfolio, you will be able to get not only links and ranking but also referral traffic.


Useful resources
As I wrote above, we are targeting at school websites, universities and other educational institutions to get links.
For the most efficient search for such sites, we built a complex search query.
An example: typing +inurl:useful-links | resources.k12.AL.us -ratatype
This query shows that we are looking for pages containing the word «typing», while domains are websites of schools in Alaska. Also there are no mentions of Ratatype on these pages to exclude the websites we are already working with.
After collecting the list of websites automatically and finding contact data, we turn to communication with teachers.
As the contact base received is highly relevant, the email open rate is over 40%, and the response rate — 4–6%.
I would like to note that the title and text have a strong effect on the email open and response rates. The topic is so broad that it should be described in a separate article.
As a result we got links, for example this one http://itcnealy.weebly.com/
Just over a day we had more than 170 visits.

Infographics
Do you know that according to the experiment, image links have highest impact on rankings?
Infographics is a great strategy to automatically attract links. The aim is to create such content and graphics that would be naturally cited.
Example of the created infographics — http://www.ratatype.com/learn/average-typing-speed/
Why infographics brought result?
The right subject with a high search traffic growth potential was chosen.

The content was created with regard to keywords. High quality content allowed to fully answer users' questions.
An option to share the content or add it to website was added.

All these efforts allowed to get links from 100 domains:


Crowd marketing
Crowd marketing is an excellent strategy to raise the brand awareness in a new market. Such links are a great source of referral traffic.
We divided crowd marketing activities into:
forums, Q&A websites;
comments in the existing articles.
Forums
The aim is to find all threads where competitors were discussed and offer an alternative.
To find the threads on forums, we used complex search queries. It is important to find only latest topics — 3–6 months.
Example of a query: "typing.com" + inurl:forum|viewtopic.php
This query is searching for mentions of a competitor website URL on pages whose URL contains «forum» or «viewtopic.php».
Then we sign up and try to show an alternative benefit of the product.
Comments
Comments are not much dependent on how old is the article. Here it's much more important that the commented article has the highest visibility in search engines. Otherwise, nobody will click through to your website by links in comments.
Example of a query: "typing test" + intext:1 comment|comments
The query is looking for articles telling about typing speed test and having at least 1 comment (or containing a comment form).
Like in the case with forums, this is only one of possible strategies: choose an appropriate one for your project and turn it into a search query.
Social networks
You can get good referral traffic and visibility from social networks like Reddit, Quora, StackOverflow, Dzone.
Here is a screenshot of traffic from Reddit which we got for Ratatype.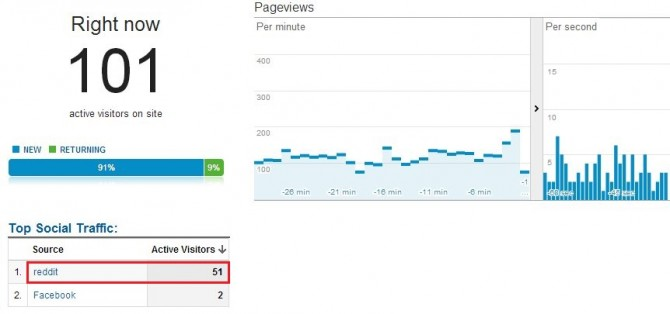 Results
One of the main factors of successful SEO for startups is consistency in work and getting links every month.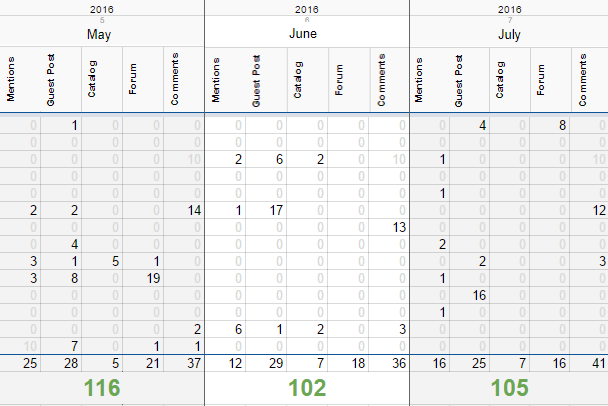 The pace of work was so that every month we would get enough links of various types. This is what allowed the project to grow organically without any quality complaints from search engines.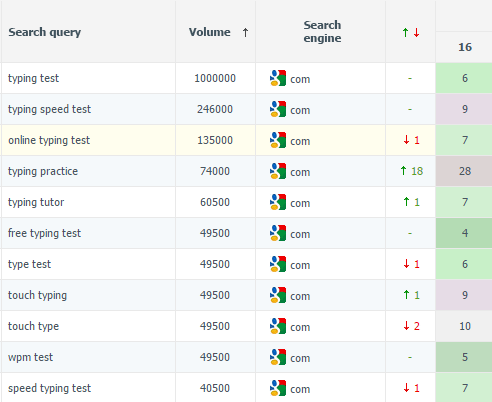 We can continue to work for a number of queries and get more search traffic. One of the main problems is that it's impossible to insert some keywords into the text because of strict standards of the landing page layout.
Search traffic results


All traffic


On a monthly basis it is more than 250 000 visitors.
Further plans
Trigger emails
This step is aimed at getting back visitors that started to learn and gave it up at some point.
Furthermore, those users who have completed learning more often share links to their results in social networks and on forums. And this is a positive signal for search engines and the brand recognition.
Creating content attracting links
For the website which doesn't add pages, every new page should be superior quality. This will raise the chances of getting editorial links to the project.
For more detail read the case of Backlinko here.
Website localization
For the project to grow further, you should create the website versions in other popular languages, such as Portuguese, Spanish, German, French.
Since queries are not location-based, creating separate domains in domain areas of certain countries will not give a desired effect.
In this case it is reasonable to create language versions in subfolders like /pt/, /es/ etc. An advantage of this strategy is that domain ranking factors of the already «established» English website will have a positive influence on new language versions.

Conclusions:
Detailed competitor analysis allows to fully assume what should be done in order to surpass them.
It is very important to optimize every website page.
Links to the service are deleted more often as they are considered to be promotional.
It is important to plan publications of valuable content which will strongly involve into the problem and then offer a solution.
Sometimes a comparison overview should be done to understand what else the website is lacking to grow.
Links should be divided by types. It is better to use at least 3–4 different link types.
1–2 months after researching the market and the niche you can develop a clear linking strategy worth to stick to.
Systematic work on the link profile gives a stable growth in the long run.
Any questions left about SEO, Link Building, or Content Promotion? Contact us.