Shopify SEO for Retail Ecommerce: Global Seafoods Case Study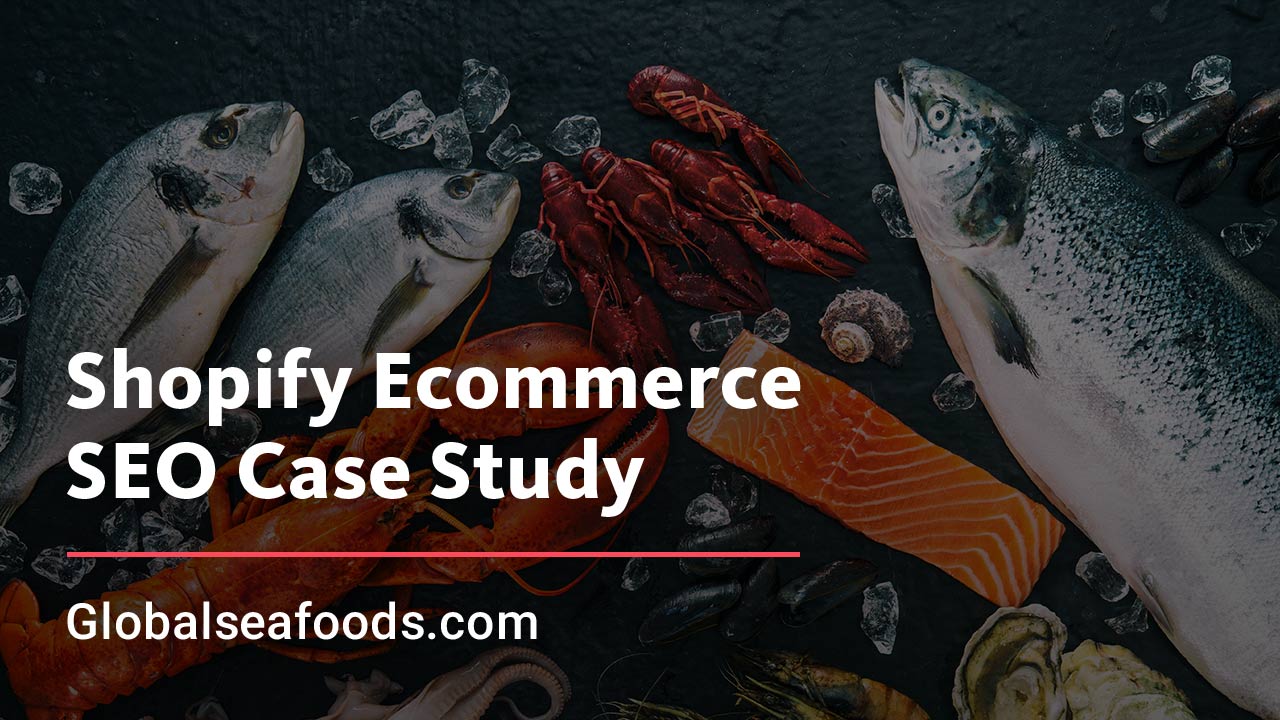 The e-commerce market in the US is overcrowded. It's super tough to beat the competition. Amazon gets more than 50% of sales of the whole market.
What should you do?
Is there still a chance to build a successful food delivery e-commerce website on Shopify and grow it on the US market?
Yes.

You should use the ultimate digital-marketing strategy for retail business. You need to attract new customers through SEO, PPC, and Email marketing.
In this article, you will learn about digital-marketing strategies and SEO tips for Shopify gourmet store.
Moreover, you'll find a case study of how we promoted ecommerce business Globalseafoods.
I've already mentioned that there are 3 main traffic channels. You need to use them in a smart way:
PPC is good for testing the growth power of the business quickly, returning users who have already visited the site, getting first sales.
SEO is a strategy for getting cheap leads in the long run.
Email marketing is effective if you have 9 months of time. It allows you to interact effectively with your current customer base. It's great for making cross- and up-sales.
It's important to come up with your own combination of traffic channels depending on how long you've already been running the business and your budget.
Read a case study about Email-marketing for gourmet eCommerce.
Make SEO a priority as it's the most cost-effective traffic channel.
And does it work?
Organic traffic increased 12 times in 2 years.
The growth of search traffic on the site from 550 to 7400 visitors per week in 2 years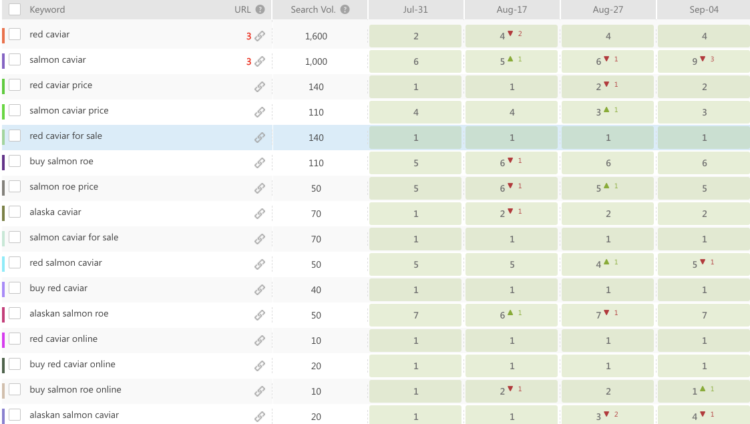 SEO for Shopify E-commerce Guide+Case Study
Client
Globalseafoods.com is the online store of seafood delicacies in the US market built on Shopify.

The project was launched in September 2016
Client's objectives:
Rank in Google for the main search queries
Collect an email base for repeat sales
Niche and project features:
Narrow Niche
Moderate competition
Seasonal business
Strategy:
Niche and competitor analysis
Identifying factors that allow competitors to get top rankings
Creating user-oriented content
Content marketing
Link building
Pro tip
We recommend you set up PPC campaigns before the SEO channel starts generating sales (approximately 4–8 months since the start of the project). This will allow you to get cash flow since the first days of running business.
The most important thing is to set up e-commerce analytics correctly so that advertising campaigns run profitably.
Example: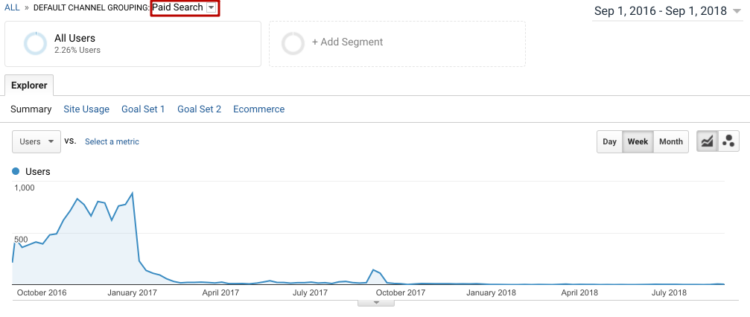 SEO Strategy for Shopify Store
High season
The client turned to us just before the start of a high business season. We needed to take some out-of-the-box steps to get the maximum profit from the SEO channel during the holiday season.
We had only 2 months to prepare. It's a very tight deadline for the full technical and internal optimization of the site.
What did we decide to do in this situation?
Focus on micro results
The client specified the categories of the highest priority and specific goods that he'd like to sell during the high season.
We chose 3–5 category and products pages for SEO based on:
current page optimization
rankings
the quality of the competitors' pages
We started working on:
Homepage
The red caviar category page
Alaskan King crab claws product page
Salmon caviar product page
Pro tip
Sometimes you should not choose a standard strategy, for example, you can optimize 2–4 pages in the first months in order to get really huge profits in a high season or just start getting sales.
Example
Imagine you're running a Casio watch store and Christmas season is approaching. If you start promoting queries like «Casio watches», «Casio men's watches», etc., then due to the high competition in the niche, it will not be possible to receive the desired amount of search traffic in just several months.
It's better to come up with a reasonable hypothesis. For example, watches may be given to teenagers as gifts for the holidays. Identify 2–3 most popular watches for teenagers and focus all efforts on optimizing pages for these queries.
It's very likely that competitors did not paid close attention to such pages.
This will allow you not to scatter all the budget over promoting of various pages. So, you won't have to wait for sales from the SEO channel for 6–9 months.
The list of steps that we made for optimizing priority pages during the first 2 months:
internal linking of the blog and the site
page optimization
rethinking keywords and adding LSI keywords
The pages with low competition started to rank, but due to the presence of technical errors on the site the results weren't so great as we wanted them to be.
However, it still allowed to generate sales during high season.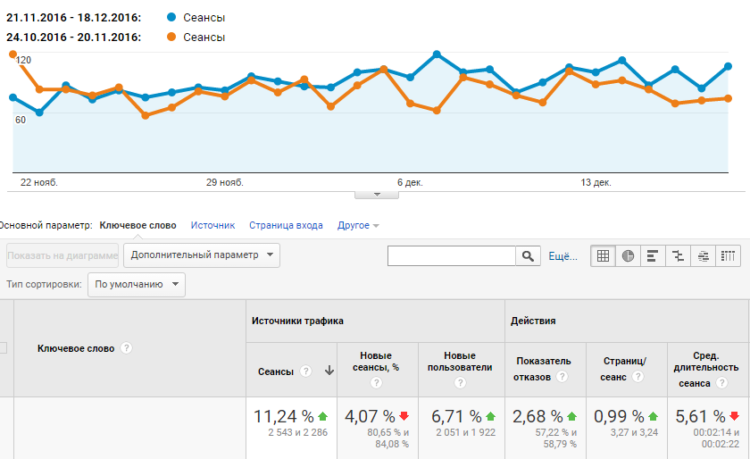 Low season
After the holiday season, we shifted the priorities to the standard SEO steps. We focused on technical and internal optimization.
Technical optimization
In most cases, it's better to start promotion of existing ecommerce stores with ultimate technical optimization.
This is due to the fact that the site has great internal potential for growth.
The bottlenecks of growth can lie in the presence of such errors as:
duplicate pages (the same product in different categories);
pages with a low value (combinations of filters in the index of such types as «yellow dress» and «dress yellow»);
pagination errors.
There are many more minor technical improvements, but they can be made later.
Pro tip
Implement only 20% of technical tasks that bring 80% of the results.
This kind of mindset will not only speed up the implementation but also free up a significant amount of budget, which at the initial stages of promotion will bring a bigger ROI.
The remaining 80% of smaller and non-critical technical edits should be made in 1–2 months after the first iteration.
The elimination of all errors according to our checklist at the beginning of January, 2017 led to a significant increase in site rankings after indexation by the end of February.


Competitor Analysis and Internal Optimization
In most of cases, a most of tasks in this section are similar between businesses.
Therefore, here I will focus on some unique information for Shopify ecommerce SEO.
Structure analysis
The easiest way to grow an ecommerce website is to create new landing pages for categories or product filters.
As for GlobalSeaFoods, the growth due to the analysis of the competitors' structures was minimal because of the small assortment.
For your business, this stage may be one of the most important.
How to understand whether the structure of your website is ultimate?
Visually compare the menu of your site and the competitors websites.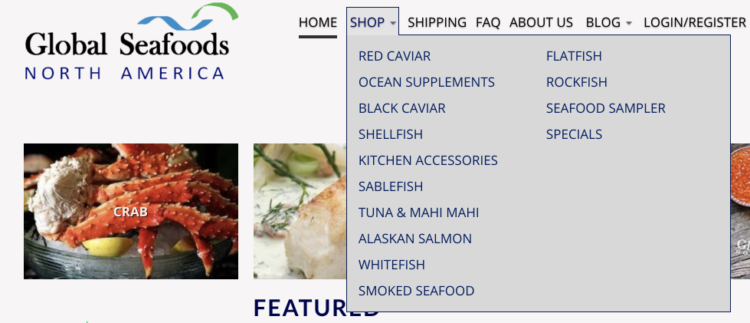 Analyze the top traffic pages of your competitors with the help of Ahrefs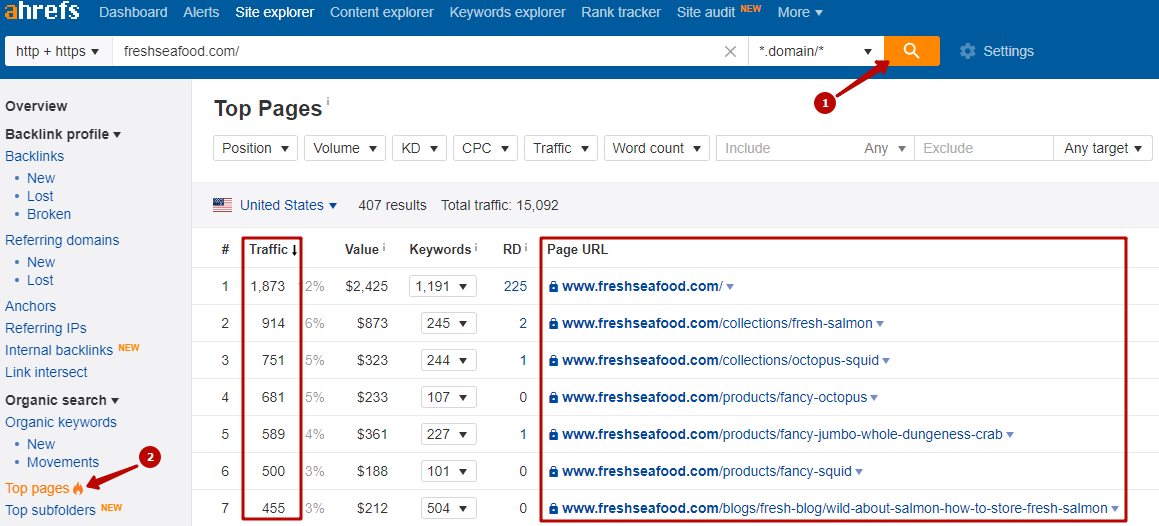 Content update
Improper internal optimization for Shopify store is the second reason why online stores fall short of getting the most out of their sites.
For example:
meta tags are not optimized
keyword research is not properly conducted
search queries are not chosen correctly
low-quality content
Once you eliminate these problems on all pages, you are sure to see the immediate growth of rankings.


So, the implementation of technical and internal website optimization for a number of pages resulted in traffic growth. It increased more than 2 times in 2 months.
Content marketing
Content marketing is a strategy that allows your retail ecommerce business to attract a new audience, which may be interested to some extent in buying your goods.
Since the client's business has a really narrow assortment, it was very important for us to attract as many relevant visitors as possible.
After expanding the structure, we started writing blog posts.
The articles were divided into 2 categories:
Articles about fish
Recipes
Both categories of target audience may be interested in buying products after reading such articles.
Click here to see the example — https://globalseafoods.com/blogs/news/pollock-facts-and-health-benefits
Important!
The main thing is to fully highlight the topic. This allows not only to retain the audience but also to get links in a natural way.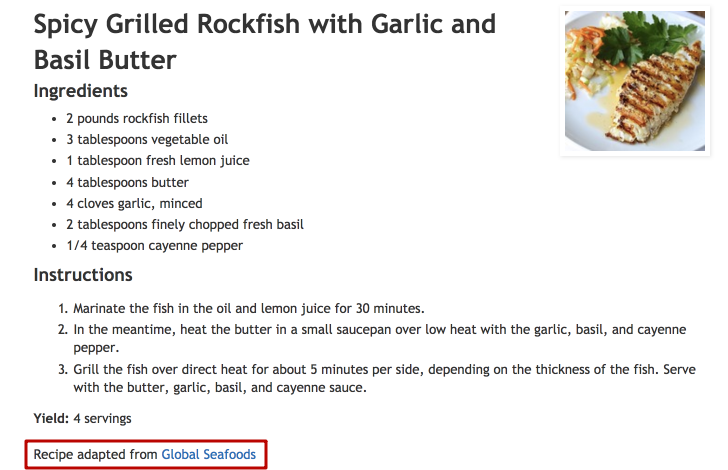 Click here to see the example https://www.karenskitchenstories.com/2017/09/spicy-grilled-rockfish-with-garlic-and.html
This tactic will be described in detail in the link building section. So, keep reading.
Pro tip
Write more content that is interesting to your target audience. Otherwise, you will receive search traffic with a minimum amount of sales.
Example
As for Livepage to get clients, we need to write articles that are interesting to business owners. For example, how to grow blog traffic to 3 million visitors.
Article that would not be interesting to business owners — SEO services that marketers look for to use in their work activities.
Use the same approach when choosing topics for your blog.
Link Building
Our goal was to create a solid backlink profile in a natural way.
Therefore, the work was divided into three directions:
business directories and forums;
collaborations with food bloggers;
creating high-quality content about fish to attract editorial references in media.
What was the most effective way?
Creating high-quality content about fish species that reputable sites used as a source.
Example of such links
https://outlook.monmouth.edu/index.php/ask-the-experts/101–2017-2018/5072-cooking-conundrum
https://www.healthline.com/health/food-nutrition/11-best-fish-to-eat
How to start link building?
Start with forums and QA sites. This is the easiest way for every business.
The only rule is to bring value, not just advertise your product. The link may be just an addition to your answer.
Pro tip
Come up with one important informational topic in your niche and highlight it better than others.
This approach is guaranteed to bring you natural links.
Example
In the Ratatype case study that is an educational start-up, I described this link magnet strategy. For Ratatype, the average typing speed page-analysis was created.
In 4 years, this article has collected more than 300 links from 145 domains.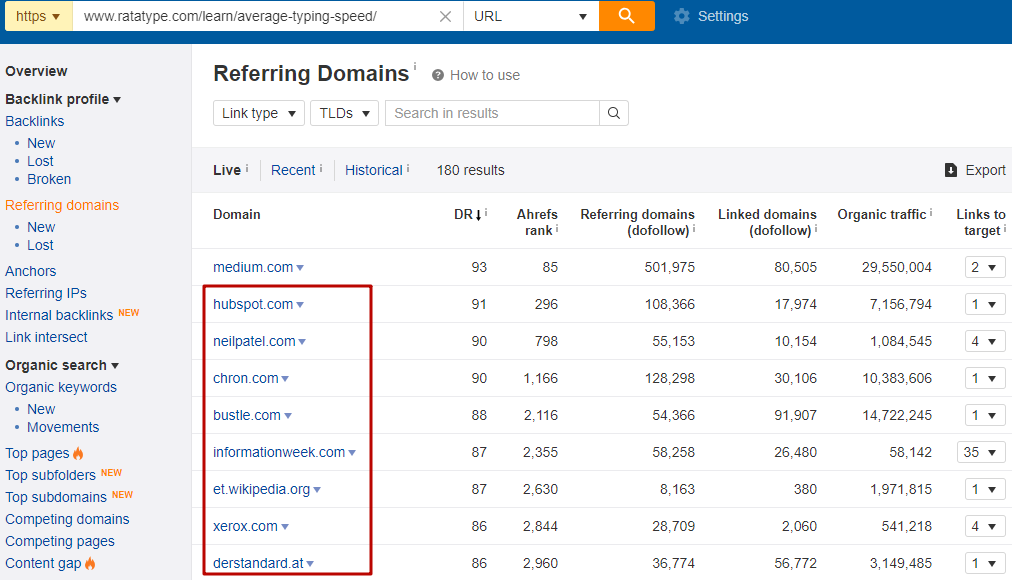 Troubles on The Way
Product availability
This case proves the importance of products availability.
As soon as the product runs out and the «not available» status appears, the search engines see this when re-indexing the site and reduce its rankings.
This is done so that the user is not disappointed with the Google search results and does not try to use alternative search engine.
Real example

Rankings get higher again after the product is «in stock» appears again.
For GlobalSeafoods, such situations were frequent due to the specifics of the business associated with fishing quotas and season.
However, it did not prevent from a stable traffic growth in the long run.
Results
Search traffic increased 12 times in 2 years.
Since it is now low season, the traffic will grow by 30–50% in holiday season.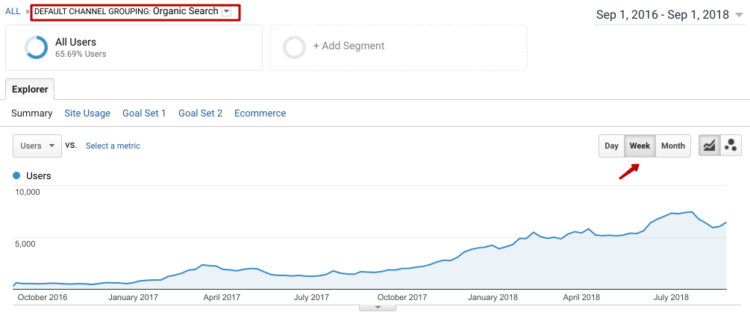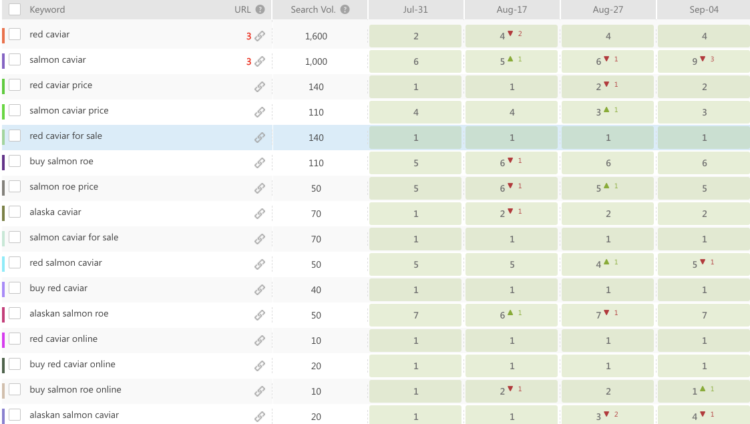 What Else Can Be Done?
Work on Brand Awareness
It is necessary to develop a positive image of the brand so that the buyers view the company as a supplier of high-quality and fresh products.
For example, it's effective to launch more collaborations with food bloggers who can use the product of a promoted business.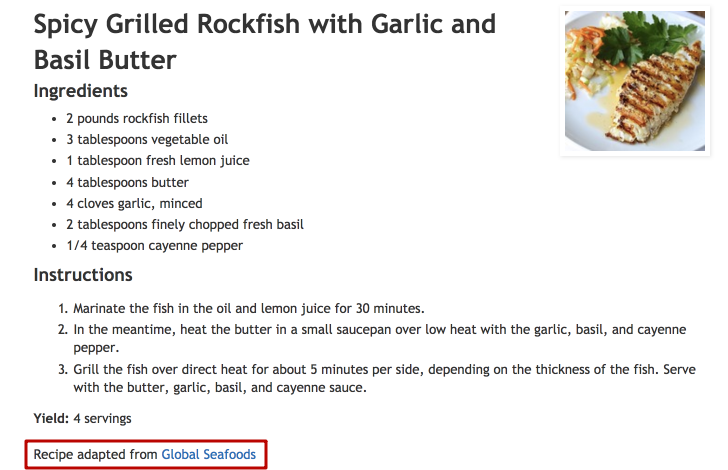 Activities with the Existing Customer Base
Email sequences and segmentation of the subscriber base aimed at personalized communication with every category of subscribers are very effective.
Based on our experience in working with other ecommerce businesses, these tactics show pretty good results.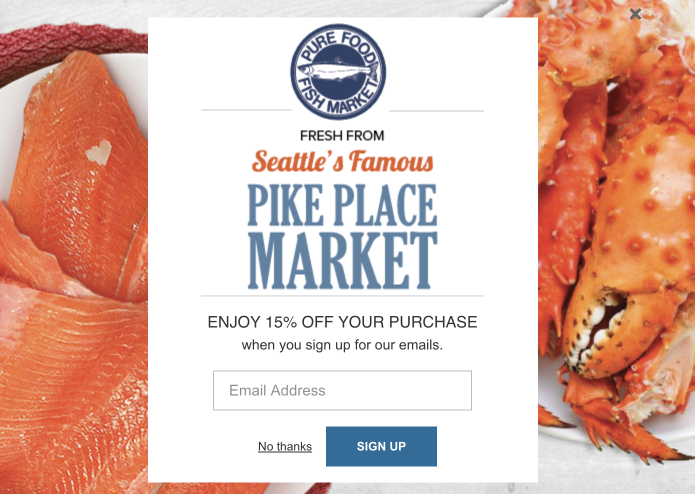 PPC and Analytics
Properly set data analytics and tracking allow to analyze the most converting search queries and run advertising for them during a season.
Narrowly focused campaigns with «tested» queries will allow to focus the budget on the most profitable queries and prevent wasting the budget in vain (according to the analysis, more than 61% of the budget is not used efficiently)
This will enable to get 2 TOP rankings in SERP and increase the chances of visiting the site. After all, even the first ranking in Google has an average CTR below 45%.
Still have questions about Shopify SEO to a food delivery eCommerce store?
Leave a request, and our team will get back to you and help to develop an effective digital marketing strategy.